The Friday Scramble: Round 3
We have seen the highs in round one and then we experienced the lows in round two. What the hell will round three bring us? Who knows. All I know is that I am scrambling!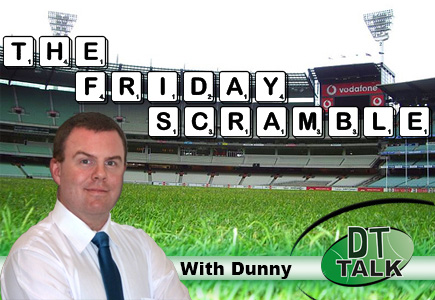 So after we were all geniuses in the first round with some big scores having been had, we came back to earth with a crash this week.  Some of our premo's failed us and the rookies weren't quite the same.  However, having said that, other guys took their place, and that is what this game is all about.  It isn't a sprint, it is a marathon.  Players will have up and down weeks and from that we need to be able to select the guys that we believe will average the most across the year, not have the most points in a single week.
So don't go the knee jerk reactions and just trade out a premo because they had a quiet game.  Remember that you picked them for a reason.  Hold strong!
Who are people looking at trading out?
Now for those that are new to DTTalk and also any of the forms of fantasy that we play, we have a simple rule.  In AFL Fantasy where you have two trades a week you can trade out when someone if they are going to miss games.  However, in RDT and Supercoach you don't trade out for injury unless they are going to miss more than two weeks.  In those games trades are like gold.  We can't afford to blow trades for short term injuries.
There is a lot of talk about Rocky being on the chopping block!  Well if you are playing AFL Fantasy then I suggest that is a good idea. We have heard that he will be out for 2 weeks, but some may think that this is a bit optimistic.  If you are of that mindset you may want to trade him out.  If  you are going to trade him out then players that I would be considering would be Luke Parker who is not much more expensive than Rocky in AF, in RDT you could basically straight swap to Fyfe or for a bit less you could get Macrae or Priddis.
Daniel Rich is another that alot of people are looking to trade out after he struggled on the weekend.  In defence of Rich I would put it out there that he came up against one of the only taggers in the league.  The week before remember that he had a great game.  Now he is named after being a chance to miss with a hammy injury.  So just keep an eye on the last minute teams on Friday night as well as any whispers of a late out.  No matter what make sure that you have good bench cover juts in case.
Michael Barlow is the other big name that is on the outer with people.  Particularly our mate Freako who was laying into Barlow left right and centre on twitter!  But the key thing was that Barlow only attended 3 centre bounces for the game and none in the second half.  Most of us picked him up on the understanding that he would be spending more time in the midfield this year.  Clearly (for the first time ever) Ross Lyon has lied to us!  Well he has been named this week, and you have a tough decision to make.  For me, well I am going to hold.  Hopefully he can turn it around.  Given the fact that the Dockers have been ordinary so far, as soon as they start firing hopefully that means that Barlow will come good.
Got Your Rookies?
In RealDreamteam and Supercoach this is the last chance we get to make trades before the prices start to move.  After this weekend the vast majority (all those that have already played two games) will see their price change for the first time, so if you don't have the big name rookies in your side, you must get them in now.  I won't steal too much from Jeppa (check out his article from Wednesday) but the ones that you MUST have in your side would include Marcus Adams, Ben Kennedy and Sam Kerridge.  I know the last two aren't true rookies, but they are certainly rookie priced.  The other that you could really consider is Parish who has been very good in his first two games.
#AskDunny
@pkd73 @DTTALK Is Barlow worth holding? Better to instead pick up rooks for cash making?

— Rowan Potter (@RowanPotter) April 6, 2016
As I said above I will be holding Barlow for now. The thing is, if you are going to downgrade him for cash and rookies, this will mean that you will more than likely have a heap of cash in the bank that isn't earning you points.  What I would suggest instead is, if you are really keen to trade him out, then I would look to someone that is a little cheaper but still a high scorer or known entity.  So if you don't have Aaron Hall in RDT you could downgrade Barlow to him and make $90k and still get great scoring.  The other one that you may have missed and could make you some cash is Daniel Wells. That would be my preferred strategy.
@pkd73 Gday mate. I can get rid of Harwood via DPP into forwards. RDT. Thinking Alex Sexton or Ben Kennedy for more DPP. $289.9K. Thoughts?

— tyrone park (@woosha73) April 5, 2016
Easy decision for me on this one.  I like getting rid of Harwood, he hasn't been what we thought he would.  But of those two, Ben Kennedy every day of the week.  I know that Supercoach Paige and Jimbob will agree with me.  We have been big fans of his for a few years now and with no vest he is showing exactly what we expected.
@pkd73 @DTTALK what's the priority.. trade out under performing premos or rookies… aka Barlow v Kent/harwood

— Liam Blampied (@blamps32) April 6, 2016
This is a question we all face at this time of the year.  My answer is always the same.  You must make cash to get your team upgraded as best you can.  You won't get that by sideswapping premiums.  So in my opinion you must be getting your rookies right first before you worry about other things.
@pkd73 @DTTALK Would you trade Brad Crouch to Lachie Hunter? #AskDunny

— Pete Higgins (@petehiggo) April 6, 2016
I like both of these guys.  Crouch is working his way back into things after having a season out of the game.  Whereas Hunter is on fire early, just like his team.  If this is for RDT I would be very cautious as you have limited trades as we know.  However in AF, I would say do it and do it now!  The issue is that Hunter is more costly, so make sure you have the cash to do it, but don't mortgage the farm.
Things To Remember
Leagues are up and running in SC and RDT this week.  So get sledging with your mates!
Captains are important now that matchups have started!  Get across everything Calvin had to say earlier in the week.
Make sure that you have the key rookies in your side so that you can make yourself some cash.
Another week and our RDT and SC leagues all get started this week.  So best of luck (unless you are playing me of course!) and hopefully you can get your season of to a great start with a win in round one!