The Weekend Wash-Up – Round 2
Matt needed a bit more time for the Wash Up this week, not only because he was interstate, but because there was so much trash… here it is! Enjoy!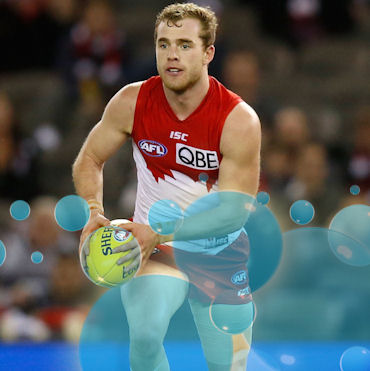 Where to begin… In your time have you ever seen a Round of Fantasy that dismal. Abysmal. Brent Prismal. I could compare last weekend to a whole number of catastrophic historic events, but none compare to the carnage of Round 2, 2016. Not even when Twitter introduced 'moments'. It's that bad. Luckily I was in Melbourne over the weekend and saw plenty of the games live (Hence the late article) so there's plenty to discuss. We're mostly in the same boat, so let's all jerk together. Knee-Jerk… It's time for the weekend wash-up!
Legends
T.Mitchell (143) – Get me 3 of them! We need more Titch's in this world. Here's a stat for you. In Mitchell's last 5 games he has averaged 143.6, scoring at least 130 on every occasion. He was my captain last weekend and will be a Fantasy legend. Firstly make sure you have him, then make sure you give him the armband!
Houli (119) – Bachar was awesome on Friday night, getting the ball off half back at every opportunity. I watched him closely and can see Houli averaging upwards of 90 this season. I doubt many teams will tag this year and there is a lot of ball to be won on the half backline. Guys like Houli, Laird and Johannisen should be high on your radar!
D.Martin (114) – After a quiet first quarter Dusty finally got into his groove, successfully dishing out as many don't argues as he did disposals. Those who didn't start with him will be praying he doesn't hit peak form until mid-season, but you had to like what you saw after quarter time. A break even of 105 suggests he won't get much cheaper than $549k.
Gray (127) – Robbie Gray has started the season like a house on fire, racking up 37 disposals in a losing team. Perhaps he played more midfield time as the ball wasn't getting forward, I wouldn't pull the trigger to bring him in just yet.
Wines (124) – There is no denying Wines was underpriced, and he proved it on the weekend. He wasn't quite at full fitness for Round 1 but it didn't show on Saturday, making 7 tackles on his way to a massive 124. He's priced in the Rocky ball park and should be strongly considered.
Laird (136) – What an absolute jet! Laird was polaxed in the second quarter but still monstered his way to a triple double (15 kicks, 18 handballs, 12 marks). He might be inconsistent but so will most defenders, definitely get him in if you have the chance.
Merrett (136) – Of all the players I saw first hand this weekend Zach Merrett was the most impressive. He gets so many handball receives, Essendon love getting the ball in his hands. Merrett may only be 20 years old but he's now one of the most experienced Dons players! He plays in the guts and has free roam around the ground. I love Merrett's role and I love the way he goes about his footy. I'm slightly concerned that he'll tire over the course of the season, and you have to be worried about what happens when Essendon come up against tougher opposition… However while he's priced at $536k I say get on board!
Zaharakis (126) – Zaharakis was just as good! Once again there is the concern that Essendon may start to struggle and guys like Zaha will slow down, but for now he looks a bargain. If you went Zaha over the Crouch brothers give yourself a standing ovation! If you're like me and got scared, he's @$470k with a B.E. of 30. Going, going, gone this week. Make your decision! I'm being weary of over committing to Dons players, but they're senior players are looking good.
Parish (102) – It's not just their senior players carrying them! Parish is a freak, put him down as the one we missed during pre-season. Now priced at $319k you'd need him to average upwards of 85, and although he's capable it's probably too late. Essendon won't continue at this rate mark my words. Even so, gun!
Hunter (130) – Thanks for coming. I pushed for Hunter all pre-season and 8% are laughing! That figure is quickly increasing and so it should, but I think this is your final chance to grab him. Priced at $473k he will be over 500k before you know it. I only had him down to average between 95-100, I think low 100's is certainly a possibility. Fantasy gold!
Johannisen (113) – Boom! The Doggies are hot property, and Johannisen is undoubtedly the competitions most improved player. Sure he runs an alternative program with regards to hair fashion, but he can kick a footy. Some may have called it pre-season hype, but JJ is a superstar off half back. The Bulldogs will share it around half back all season and he will definitely be a top 6 defender. He remains value at $470k, but won't for long. There's also the possibility of a tag, but Murphy is just as damaging and I can't see it happening. Get on board.
Adams (101) – What a find! Marcus Adams has showed why mature age rookies are the way to go. Stupidly I had him on my bench and didn't even consider bringing him on. He's now locked at D5 and won't be moving anytime soon! Expect a solid average of 70.
Hall (126) – I've run out of superlatives for Aaron Hall. 17 kicks, 15 handballs and 11 marks at 87% efficiency. Say no more, we have our pick of the season. He could even be the top scoring forward! 65% of teams are simply doing it wrong…
J.Martin (112) – Who would've thought that after 2 Rounds Jack would be the highest scoring Martin! I didn't get to watch the Gold Coast upset Freo but I've heard Martin was fantastic. He's averaging 101.5 and  needs to be considered at $392k. I'm concerned Martin will have quiet games as he's not solely running through the midfield. He had just 16 disposals on Saturday, getting over the ton thanks to 11 marks and 4 goals. I reckon he'll average around 85, future superstar but perhaps the 2016 ship has sailed.
Scully (138) – Is this the year Tom Scully finally breaks through as a premier midfielder? He was super impressive in Round 1 and backed it up with a massive score against the Cats. What I like the most about him is his tank. With the new interchange rule affecting some players game time, Scully played 96% TOG! Those are huge figures for a midfielder, he's another to consider bringing in this week…
Gibson (157) – As an Eagles supporter that was painful. Gibbo had a day out and whilst we don't give him enough respect in Fantasy, he's not worth $500k. He did get me over the line in my draft matchup thanks to this monster score, so I won't complain!
S.Mitchell (146) – Are we missing a trick not picking Mitchell? He used to be tagged week in week out (First sh*t cliche of the season) but taggers seem to be dead. He looks on target to average 110 if he's allowed to collect his own footy, but I couldn't justify paying over $600k for Mitch.
Losers
I'd like to bring it to the attention of those bagging AFL Fantasy for having "unlimited trades", it's not. I wish it was as I'd be making 15 trades this week. Play on, let the carnage ensue.
Ruckman – Here's a funny story. I was actually at the Essendon Melbourne game live and got a good look at their value options. The half time siren rang and I was stoked with Ben Kennedy's second quarter, and good on Tipungwuti for bouncing back. It was only when scrolling down for Dea's putrid half time score that I stumbled across a tall figure. I genuinely watched the whole first half and not only did I forget I had Leuenberger, I didn't even know he was playing. That's impressive. I can only wish to rewind back to that moment when I found out he was playing, because watching him lope around is not something I would wish upon my worst enemy. There was one thing keeping me sane however… Max Gawn was just as bad!!! Incredibly Leuey was actually value this week, because the days of ruckman dominating the Fantasy scene have lasted 12 months. They're Gawn. Goldy 61. Lobbe 67. Kreuzer 64. Hickey 50. Nicholls 52. Smith 41. Hampson… Never mind. Only one ruckman made it over the ton this weekend, and that's because he played forward (Tippet). They're done, which is why we're going to have little choice but to bring in the steeplechaser if this trend continues. Perhaps Blicavs 95 average doesn't sound so bad after all…
Harwood (16) – Pick Harwood they said. He's a running half backman they said. I certainly said it! Luckily we dragged 20% of the competition down this trap because he is bloody useless. I didn't actually see the game but I didn't need to. I have just one question… How can you be that bad?
Rockliff (24) – This one is hard to take. We can't be too upset, Rocky has given us so much over the past few years. A season average of 134. A finals average last year of 147. Never has he given us a score of 24 though. It was actually 30 before he started going backwards. Leppa obviously had him as captain and decided enough was enough, he might've finished negative. He's clearly injured (Confirmed calf strain), but that doesn't excuse a score this putrid. I think it's best that we just trade him and forget this ever happened.
Yeo (40) – Sadly I can't forget this ever happened because I witnessed it first hand. Yeo has played the perfect role all pre-season, and besides a little bit of dodge ball he should have been a solid pick. I'd love to know what Simmo was thinking lining him up at full back, but the result would suggest it didn't work. Surprise surprise Yeo went forward in the second half, took a few grabs and got himself into the game. Ok that's being kind, he was still pretty useless but at least his scored moved a little! He's way too good to be wasted down back so hopefully this is a one off. I'm holding him, but I only selected him in the first place because I wanted a West Coast player! I wouldn't bother if you're not behind the blue and yellow.
Bartel (52) – I didn't see the game so I can't tell you what happened, but Geelong need to take a lesson from Hawthorn. Sure they're different players, but Bartel was one of the competitions best midfielders for a decade. Why hide him in the back/forward pocket? Sam Mitchell is 34 and continues to dominate teams in midfield, I feel as though the Cats have missed a trick trying to squeeze out their older guns. I selected Bartel because he had never averaged under 95 (Minus last years sub affected scores) and I think I'm going to stick by my guns. Sure he will bleed cash, but I selected him to stay there for the whole season and I think it's a bit reactive to trade him now. I'm just going to have to chew down on a rag for the time being…
Howe (48) – The Hawks had complete control against the Eagles, dominating the uncontested possession count. Sadly Howe missed the memo, collecting just 10 disposals on his way to 48. Hardly worth the wait, but I guess I'll take that score all things considered. Who am I kidding, if that score is acceptable I've lost my touch! He keeps his spot in my team by default but this is easily my worst pick of the season, and that's saying something…
Barlow (59) – Shamefully I used to call this man Mr Dream Team. He didn't know what it was like to score under 90, and averaged a whopping 110 just 2 years ago. What happened? Dementia? Parkinsons? Looks like it… Gone. G.O.A.R.N. Get out, good bye, let the door hit you on the way out.
Aish (36) – If anybody had hopes that Aish might provide some relief for your defence, quickly crush them. He was hardly seen on Friday, kicking the ball once all night. We thought he struggled last year because he wasn't happy at Brisbane, but maybe he's just not that good at football.
De Goey (62) – Selecting a youngster always has its risks and De Goey has showed why. Not only is he playing the majority of his football up forward, he's inconsistent. Admit it was a wrong call and move him on ASAP.
Wingard (32) – When I see scores like this that I want to vomit in my mouth. Forget that he picked up an injury in the final quarter, that was just god giving himself a reason to rage trade. How a player with so much talent doesn't take a single mark is beyond me. BUT AT LEAST SHOW SOME EFFORT. 0 tackles and probably a negative score in the pressure gauge, on your bike Chad.
Kent (10) – Sometimes in life you get what you pay for. This is one of those times. Hey, at least each of Kent's 5 disposals were effective! Probably scored 80 in Supercoach…
Oliver (49) – This hurts me because I've grown fond of Clayton, but it's just all wrong when I had to watch him and Parish play each other. Oliver genuinely spent 70% of the second quarter on the bench, hell he might as well be wearing the vest! In the second half he found himself in the forward line. I'm not sure if he's carrying a niggle (Unlikely) or whether he's just not AFL ready, but either way I'm stuck with Oliver on my ground. Gun player, but not a Fantasy player just yet…
Rich (36) – I did say that Rich scored a ton in Round 1 last year only to fall off the face of the Earth. The fact that Ben Jacobs was a late in must burn for most coaches, he's not much of a footballer but heck he can shut someone out of the game! If you have a spare trade it's worth trading Rich, but that's like me saying if I had a spare mil I'd buy a boat. If Rich is named you have to stick with him.
Dawson (10) – I absolutely love the fact that over 2000 people traded in Zac after his miracle 67 last week. This performance was impressive even by his own standards!
Duncan (16) – There's 2 sides to this story. How Duncan could only manage 16 points by half time is beyond me, give him no excuses for this woeful score. Does woeful even cut it? 60 is a shocking score, how do you score sixteen?! However I urge you to give sympathy when trading him this week as he's probably unlikely to ever walk again. Watching everyone one of Mumford's 120 kegs steamroll Duncan made my body hurt. That is the single greatest example of Newton's first law in history, I'm sure Isaac smiled in his grave. If you want to learn about inertia, try running head on into a Tram and you'll feel what Duncan felt. RIP.
Selwood (69) – New year, same Selwood. There is no sign that we're going to get the old Joel Selwood back, Cotchin is a perfect example. Just because a player has averaged 105+ in the past doesn't mean they will suddenly repeat that if out of form. Trade.
Jetta (34) – I thought I'd throw in Jetta's name not for Fantasy sake, just because the Eagles look like being the first team to ever lose 3 ways in a trade. We got Jetta, we lost Sinclair and we kept Lycett.
Golden Stubby
You may think it's not worthing having a Golden Stubby this week, but I disagree. It's those who perform in the toughest times that have the most character… More crap football lingo but whatever, here's this weeks nominations.
Hunter – I'm officially laying claim to Hunter, everyone hands off! 35 disposals and 10 marks if you don't mind, he's the perfect Fantasy specimen.
T.Mitchell – Or perhaps Tom Mitchell is the perfect Fantasy specimen. I'm going to have to choose between 'my boys' in this weeks poll, but both deserve it. Aside from his 33 disposals and 8 marks, he laid 9 tackles for the second week in a row! The best Fantasy midfielders tackle, and Titch loves a hug. Get voting.
Merrett – Those who started with Merrett must be stoked, what an awesome pick!!! Definitely deserved on the back of 32 disposals, 8 tackles and 2 goals. Fantasy gold.
Laird – Rory was a popular pick pre-season and it's clear why! 12 marks!!! Get around him.
Hall – If anyone is to challenge my boys this week it's Hall. Amazingly he didn't win the stubby last week, so Aaron though he'd just up the anti with a lazy 11 marks to go with his 32 disposals. Brownlow smokey? He's class.
Who gets your vote?
This Game Sh*ts Me
You could have been forgiven for thinking half your team had worn a vest this week. I thought players weren't meant to score 20 anymore? What doesn't sh*t us Fantasy coaches in weeks like this. Our players for running away from the ball. Our players for getting themselves injured. Our players for being pre-season specialists. Ourselves for making ridiculous selections. There was very little that went wrong last week that could be considered 'unlucky'. In fact more things went right which wasn't many. Nope, it was just a week of complete and utter spuddery (Add it to the dictionary).
One thing I notice is a lot of us threaten to hover the mouse over the 'delete team' button, but how many coaches have ever gone through with that threat? I honestly don't think 1 person ever has. Here's why… "We hate, but can't live without it."
The Other Bits and Pieces
Last year WA's potato regulator stopped rebel vegetable producer Tony Galati from growing more spuds than he is allowed. I'm the new Monopoly in the market. Ok I exaggerate, 1806 isn't too bad all things considered. That was all thanks to a select few carrying my flag, over half my squad failed to reach 60. SIXTY! Bring on next week, Friday can't come quick enough…
As always hit me up with your stories in the comments, I reckon there might be a few beauties this week…
Me @ the Fantasy Gods. Turns out putting your arms in the air for show doesn't actually do much.