Inside the Fantasy Numbers – Round 2
Pete from aflratings.com.au takes a look inside the AFL Fantasy Numbers each week.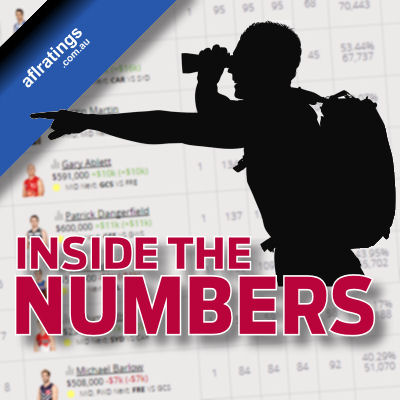 A week is a long time in football and what was apparent last week quickly changed at the end of Round 2, whilst it is only early in the season and the sample size is still relatively small there are some early season trends that need addressing. A look inside the numbers this week does enlighten us further on what we can expect this year so that team planning can be adjusted accordingly.
Round 1 Average Team Scores: 1594.5
Round 2 Average Team Scores: 1537.3
After giving up enormous numbers in NAB Challenge games and against Gold Coast in Round 1 who were Ranked 18th the last 2 years for scoring AFL Fantasy points the Bombers appeared to be great opponents for any team this year, then in step Melbourne and deliver a terrible performance that not only allowed the Bombers to win the game but destroyed any Fantasy prospects delivering a disappointing 1259 total Team Points.
Click here for more great stuff from aflratings.com.au
Brisbane (R2: 1256pts) are the only team to have scored fewer points than what Melbourne did in Round 2 so far in 2016, after watching both games the Demons have really only played 1 Qtr of football in 2 games. For Melbourne they are likely in a transition phase this year which could provide a volatile Fantasy output, as for Essendon it is still likely they are going to concede a generous amount of Fantasy points to above average teams.
Top 3 Team AFL Fantasy Points
Western Bulldogs 1921.0 Ave
Hawthorn 1716.0 Ave
Essendon 1709.0 Ave
Worst 3 Team AFL Fantasy Points
Brisbane 1312.5 Ave
Melbourne 1384.0 Ave
Fremantle 1419.5 Ave
CLUB
PTS
FOR
>100
FOR
>120
FOR
PTS
AG
>100
AG
>120
AG
ADE
1640
2.5
1
1416
2.5
1.5
BL
1310.5
2
0.5
1638
3
2
CAR
1518
2.5
1
1536
2.5
1
COLL
1450.5
2
0
1656
5.5
1
ESS
1707
5.5
1.5
1536
3.5
1.5
FRE
1419
2
0.5
1715.5
4.5
1.5
GC
1647.5
4
2
1484.5
3
1
GEE
1464.5
1
0.5
1572.5
3.5
1.5
GWS
1554.5
3.5
0.5
1448
0.5
0
HAW
1714
5.5
2
1432.5
1.5
0.5
MELB
1383.5
1
0
1679.5
5
1
NM
1523.5
2
1
1362
1
0
PA
1541
4
2
1754.5
5
2
RICH
1506
3.5
0.5
1537
2.5
1.5
STK
1590
3.5
1
1822
5
1.5
SYD
1686
4.5
1.5
1432
2
0
WB
1917.5
5.5
1.5
1446
2
0
WC
1596
3
1.5
1636
5
1.5
If you started with a combination that included 2 of either Nic Natanui, Kurt Tippett or Marc Blicavs you are quite comfortable with the results thus far, otherwise all other Rucks have disappointed in overall average or a disparity between the opening 2 Rounds of the Home & Away season. Even the combination of Stef Martin & Todd Goldstein has been underwhelming early, both are currently not Ranked in Top 3 for average.
Nic Naitanui (103.5 Ave) is currently Ranked No.1 for Rucks this year after 2 Rounds, he is the only player over the 100.0pt average mark. There are only 4 Rucks to have exceeded 100pts or more in a game this year, what proceeded or followed for each of those scores was a secondary score of fewer than 81pts.
So what are we to make of the poor performing Rucks this year, why are the scores so unstable and what can be done to ensure some solidity in your team?
Firstly and remembering it is still only early in the season, the limiting of interchange rotations to 90 may have subtlety changed the role for Ruckmen with many now forced to move forward as to allow midfielders to rotate on and off the ground.
Secondly, another scenario that could have impacted the scoring for Rucks is that the game is far more open than last year so if your man is not getting to contests and not being involved in general play it is likely the volatility will continue for at least the short term.
Finally, trying to find a solution that is likely playing out for many Fantasy coaches this year at the Ruck position can be rectified with a couple of simple moves. The answer could be within a players ability to either hit the scoreboard when moved forward or their ability to provide a decent disposal count -Now that is 'Captain Obvious' for some AFL Fantasy coaches but others may have chosen a different path to start their season.
Some very interesting figures from @aflratings' Inside The #AFLFantasy Numbers.

READ: https://t.co/0IGhbJwrUS pic.twitter.com/UTv8APvedm

— DT Talk (@DTTALK) April 6, 2016
Looking at a low price and hoping for good results is almost a certain end to any hopes of success this year, getting Ruck players in that get involved in a game could provide the stability needed so other areas of concern can be addressed.  The one player that could provide some stability is Mark Blicavs, his role is in the midfield in undeniable at Geelong and with scores of 91 & 99 to open the year he is the only player at Ruck position to score 90+ in both games.
Kurt Tippett is another option for his ability to hit the scoreboard, his scores may be a bit more volatile with Sinclair in the team but on his day can provide a very good ceiling of points. Brodie Grundy is another that can provide decent Disposal numbers, so far the Magpies have not gone with 2 established Rucks in the team so there may be an opportunity available to add him in to your roster.
It is fully expected Todd Goldstein & Stef Martin will return to normal scoring duties after they matched up on each other last week, they are highly likely to be Ranked No.1 & 2 by season end so if you can find the trades & cash available to slot them in to your team it is very much recommended.
Nic Natanui 103.5 (+15.2 Differential compared to 2015)
Kurt Tippett 98.0 (+17.6 Differential compared to 2015)
Mark Blicavs 95.0 (-2.4 Differential compared to 2015)
Good Luck for Round 3