Calvin's Captains – Rd. 3
The pirate is back with his top picks for captaincy options this week. He's been busy crunching numbers from all angles, so get in there and check it out.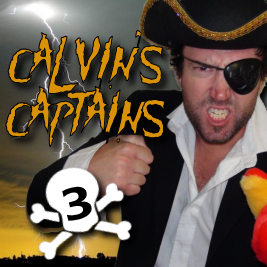 HISTORY SAYS "NO"
Although my mate 'History' says NO here, I think I'll say yes.
However, these guys will not make my top 5 this week, as they don't tick all the boxes.
Patrick Dangerfield has a shocking record against the Lions with 0x100+ scores in his last four games against them and only 1×100+ against them in his career 10 games. Danger plays on his home ground for the first time this week since joining the Cats and you'd like to think he'd carve it up. The Lions give up the 6th most Fantasy points in the competition, but with that said, Danger is coming off 75 from last week.
The GWS is one of Luke Parker's worst team to play with 0x100+ scores against them in his career 6 games against them. Parker has had 106 and 135 in his first two games and should be fine this week, although he'll have history and the form of GWS against him. Read on so see why…
GIVING UP THE POINTS
Did you know that Port Adelaide have given up the second most Fantasy points this year and 5×100+ scores a game? Enter David Zaharakis and Zach Merrett.
Warnie's mate Zaharakis has averaged 126 (ranked #6) this year and has even scored 97, 118 and 115 on the Power in his last 3. Zach Merrett is currently ranked as the #1 forward in the game with an average of 128. Until this year, his best 2nd best ever score was 118 and that was against… you guessed it, Port Adelaide last year.
Collingwood have given up the most 100+ scores this year (11) so expect Jack Steven to rack up big time on Saturday arvo. He had 138 on them last year and is averaging 114 so far this year. I love this bloke and he'll reward you well this week.
In the same game, which will be very high scoring as both teams bleed points, Scott Pendlebury and Taylor Adams will also be great. Pendles role is somewhat questionable as he has only managed 98 and 84 so far this year. He has averaged 113 on the Saints in his last three but sadly, he comes with too much of a risk here based on his efforts so far.
Adams would be my pick and although he hasn't been awesome (101, 95), he is about to explode against the team that has given up the most Fantasy points this year and the 2nd most 100+ scores.
RESTRICTING THE POINTS
On the flip side… some teams are strangling their opposition and not allowing the points to flow like we'd prefer. Dustin Martin meets the Crows this week and they are currently the 2nd hardest team to score against. Dusty had 114 last week though and 116 last year against them and should buck this trend this week at Etihad Stadium, a ground he averages 96 on in his last 3 games.
Daniel Hannebery and his Swan's team mates also might have a battle on their hands as they meet the Giants, a team that has conceded the smallest amount of 100+ scores (1) in their two games. Add to this, Hannebery hasn't scored 100 yet this year and only managed 83 and 111 against the Giants last year. Bugg tagged him in his most recent game(83) which means maybe this week, he'll most likely get a Coniglio tag, after he held Dangerfield to just 75 last week.
WHAT CAN WE EXPECT?
Hawthorn – the 4th hardest team to score against and the 2nd highest scoring team.
Western Bulldogs – the 5th hardest team to score against and the highest scoring team.
A game of free flowing footy, or a game of lock down? Combined, both teams have only given up 7×100+ scores so far this year. However, I think it'll be a high possession game, with both teams being very reluctant to turn the ball over, as they know it will come back faster than ever.
Lachie Hunter had 130 last week and can junk it up with the best of them. He averages 121 in his last three under the Etihad roof and should get busy along with Sam Mitchell who is coming off scores of 146 and 124. He loves playing the Dogs and has scored 120 and 125 against them in his last two and goes for his 6th straight 100+ on them this week.
Jordan Lewis hasn't put a foot wrong this year with 110 and 134 and has even had 152, 102 and 106 on the doggies in his last three. He prefers the MCG though, a ground he averaged 14pts more on last year compared to Etihad.
FUTURE PIG
Who can smell bacon? Tom Mitchell is on fire and is currently ranked as the #1 midfielder in the game with scores of 143 and 132 (avg. 32d, 9t). Now, Mitchell didn't play against the Giants last year but scored 93 and 113 on them before that. So  I've already covered the fact that the GWS have given up the fewest 100+ scores so far this year and honestly, that is a concern. It's only two weeks of data, but we still need to be aware.
Will he cop a tag from Coniglio? Very unlikely… the way he plays basically makes him untaggable. The Giants will most likely target Hannebery, Parker and many others before him.
Tommy loves the SCG though so to put your mind at ease, look at his last 4 games there. 132, 163, 138, 132. There you go, I think I've said enough. #oinkTOMoink
IN A FEW WORDS…
Todd Goldstein v Melbourne @ Blundstone Arena (Hobart): 155 on Melbourne last year but can he be trusted after 62 last week? You can call that one… but rucks are dodgey as right now.
Sam Gray v Essendon @ Adelaide Oval: Amazingly he's never played Essendon and is coming off 70 from last week. The Bombers haven't bleed the points we've expected. Too risky although I think 120 is within reach.
Gary Ablett v Carlton @ Metricon Stadium: Last week the Swan's midfield, Mitchell 143, JPK 106, Parker 106, Jack 97 and Hanna 96 all scored well against the Blues and so will Gaz back on his home ground. He had 114 on them in his last game back in 2013 and should be awesome on Saturday night.
Stefan Martin v Geelong @ Skilled Stadium: Stef monstered the Geelong rucks last year (134 and 124) but how will he go against Zac Smith and how will he go after starting 2016 with an average of just 88? Mumford had 94 on the Cats last week and I think Stef can have a solid 110+ this round.
Aaron Hall v Carlton @ Metricon Stadium: 126 and 125 in his last two games, Hall is on fire. He averages 113 in his last four at Metricon and is one of a few, that you could lock in as you captain with confidence.