Roy's Trade Talk – Round 3
If you have avoided any forced trades this week, you are in a minority! So here are a few guys to consider before discussing your trade ideas in the comments.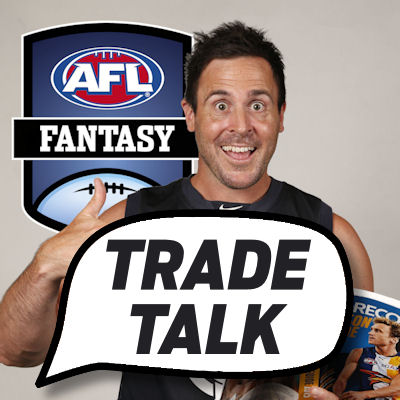 It looks like a few forced trades are on the cards this week with the likes of Rocky, Rich, Sheridan, Barlow and Duncan all having question marks on them, if not ruled out already! This week I am going to mention my pick of the bunch from the defenders, mids and forwards.
Defender:  I am a huge fan of Jason Johannisen (DEF, $470,000), but I can't talk about him every week, so
Rory Laird (DEF, $506,000) is my boy in the back line. Coming off a sensational break-out last year, he has hit the ground running with scores of 90 and a whopping 136 from 33 touches, 12 marks and a goal. He is certainly in the mix to be the highest scoring defender at the end of the year, yet is currently only owned by 15 % of the competition. He is currently ranked 13th in the competition for points and has a break-even of 60 leading into his game against the Tigers.
Mid: At the risk of sounding like a broken record, I am going to sound like a broken record because I thinks it's in everybody's best interest… Well everybody who doesn't currently own him. I was in love with Lachie Hunter (MID, $473,000) all pre season, and he has not disappointed the 7% of coaches that snapped him up from the beginning. He started the season with an impressive 108 and backed it up against the Saints with a game high 130 from 35 touches, 10 marks and a goal and his work in 4th quarter junk time was something to behold. He is currently the 8th ranked player in the competition and has a break-even of just 38, which makes it an easy decision to bring him in.
Forward: Aaron Hall (FWD/MID, $476,000) is the obvious choice for the 67% of coaches that don't own him but I have to show young Bomber Zach Merrett (FWD/MID, $537,000) a bit here after an amazing start to the season which has resulted in an average of 128 over the first two games. He is nice and unique with an ownership of just 3%, mainly because people were scared of the scoring potential of the Bombers and although they have had a soft draw, they are scoring well (3rd highest in the competition). He has a break even of 56, which shouldn't be an issue based on his most recent performance which consisted of 32 touches, 8 tackles and two goals for 136.
Rookie: The must have rookie is Marcus Adams (DEF/FWD, $216,000). Even after increasing in price by
$61,000, Adams value is almost immeasurable given his seamless transition to the top level and the consolidation of his spot in the high scoring Dogs backline. He has a break-even of -25 and has a high ceiling as we witnessed with his maiden ton on the weekend which included 24 touches, 5 marks and 5 tackles.
Discuss all you trade ideas in the comments below! It's the best place to throw your ideas off other coaches! Happy trading,
@RoyDT the coach of destROY
CLUB
PTS
FOR
>100
FOR
>120
FOR
PTS
AG
>100
AG
>120
AG
ADE
1640
2.5
1
1416
2.5
1.5
BL
1310.5
2
0.5
1638
3
2
CAR
1518
2.5
1
1536
2.5
1
COLL
1450.5
2
0
1656
5.5
1
ESS
1707
5.5
1.5
1536
3.5
1.5
FRE
1419
2
0.5
1715.5
4.5
1.5
GC
1647.5
4
2
1484.5
3
1
GEE
1464.5
1
0.5
1572.5
3.5
1.5
GWS
1554.5
3.5
0.5
1448
0.5
0
HAW
1714
5.5
2
1432.5
1.5
0.5
MELB
1383.5
1
0
1679.5
5
1
NM
1523.5
2
1
1362
1
0
PA
1541
4
2
1754.5
5
2
RICH
1506
3.5
0.5
1537
2.5
1.5
STK
1590
3.5
1
1822
5
1.5
SYD
1686
4.5
1.5
1432
2
0
WB
1917.5
5.5
1.5
1446
2
0
WC
1596
3
1.5
1636
5
1.5