The Friday Scramble: Round 2
An action packed round one is behind us, lockout has occurred and we are all up and about ready for Round 2! Unless you have been kissed and selected the perfect team it is time to scramble!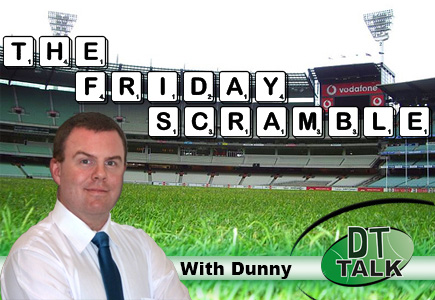 Well that was quite the interesting round of footy!  We had rookies firing, premiums struggling and then on top of that we were hit by both injuries and the MRP!  Bloody hell we had absolutely everything!!
We finally got through lockout and this week we are back to normal.  I think a lot of us were quite happy as lockouts started to occur so that we couldn't tinker any more.  Let's just hope that your tinkering all worked out!
Now… let's get into it!
Let's start with the good news!
Mid Price Mayhem finally paid off for us this week!  Of all the times we have tried it and realised that we shouldn't do it, this is the one year where it actually worked.  Daniel Wells proved to us that he is the real deal this year.  If he can keep his body ship shape then he should generate us a good amount of cash.  Libba had a fantastic game in Supercoach but struggled in RDT.  Don't worry about it, like they say I am sure he will be better for the run.  And with the Doggies in red hot form (well for one week anyway) I am sure he will join the party.  One Doggy already at the party is Lachy Hunter he was great with his 108 DT points!
The other good news that we had this week was that quite a lot of our rookies fired up and were good.  Guys like George Hewett, Tom Papley and Clayton Oliver as well as our rookie priced experienced guys like Sam Kerridge and Ben Kennedy all posted good scores that justified our selection of them.  The next trick is to get the right combination of these guys on the field each week.  The experienced guys like Kerridge and Kennedy will be fine, but don't stress about the real rookies as they will have up and down weeks and catching lightning in a bottle and getting the right ones won't be the easiest thing in the world to do.
If there is good news then there must be some bad news…
We will all be wearing black armbands this week at the falling of the original fantasy pig, Swanny.  Obviously if you have him then he is a must trade out of your side as he will struggle to get back this year by the looks of it.  Other big names that went down this week included Mitch Robinson who is listed as being out for 1-2 weeks with a calf.  In AF, trade him out, but in the restricted trade versions then I would consider perhaps holding if you think he will score well when he returns.  2 weeks is the tricky length. If it were definitely three then I think we all agree that we would trade.  Steele Sidebottom is out through his own actions and not through injury, so he will be cherry ripe to go in two weeks.  In his case I say hold (except AF) as you don't want to burn a trade at this stage of the game if you don't have to.
Unfortunately one player you do need to burn a trade on is Luke Hodge as he is out now for what is listed as 6 weeks.  You can't carry him for that long.
The good thing (if you can see it that way) is that these guys like Hodge and Swan are pricey to start with so you do have options in terms of trading them out, you can go to a reasonably good player straight up.  One option you could take is to go to one of the mid pricers that fired on the weekend and you could bank some cash in the process ready for upgrading rookies in a few weeks.  You might want to jump on a guy like Hunter, Crouch or Libba.  You could go for someone like Aaron Hall in the forwards by using some DPP action.
A great option for Hodge is that you can (in AFL Fantasy) slip down to Ablett and actually save $2k  You could also go down to Priddis or Rockliff.  On the off chance you already have all three of those guys you could then pick someone like Danger and that would only cost you $7k.  In the case of Swanny, his 0 did hurt his price and in his range you would be looking at bringing in someone like Marc Murphy, Luke Parker or Robbie Gray.  Or you could spend a little bit more and get Lachie Neale or Callan Ward.  So as you can see there are plenty of options for these two guys.
Selection Carnage?
Hang on, isn't this the week we are supposed to be pissed off because the rookie we picked last week has been dropped?  Well we haven't really seen any of that at the selection table, quite the opposite actually, a couple came in.  However, I am not all that happy that Hartley and Howe have been named as I wanted them to come in about 3 or 4 weeks so their first price change in SC or RDT would coincide with a fully priced rookie ready to be plucked!  Let's hope Petracca spends a couple of weeks at Casey for that.
Of the rookies that have missed out this week we have Craig Bird and Jonathan Simpkin at Essendon who have both been dropped which is quite disappointing.  Three cheaper guys have come in though in Hartley, Fantasia and Kommer.  Oscar McDonald is out injured with an ankle, so I would be trading him out.  Jed Anderson is also injured so he must also be traded.
Of the big names this week the only really relevant fantasy player (other than those mentioned already) was Shane Edwards (pretty unlucky guy really).  In the In column the relevant guys I found included James Aish, Brodie Grundy, Shaun Grigg, Dayne Zorko, Aaron Sandilands, Kade Kolodjashnij, Brandon Matera, Daisy Thomas and Ciaran Byrne (just for Roy).
So really, selection has been pretty good to us apart from the forced changes through injury and suspension.
Should I really trade this week?
I think this is the question we get most at this time of the year.  Yes we all want to rage trade after round one, and the two trades a week in AFL Fantasy allow us to do that, but in RDT and SC, I STRONGLY recommend holding (apart from LTI's of course).  In those two games we know that prices don't change until next week, so if you have a premo that struggled this week, give him another week, it won't hurt you.  And we have seen cases before of someone trading after round one only to have the guy they traded in getting hurt in round 2 and then they have to use another trade.  So in that case, you get doubly burned!
For those who had invalid teams, we've set up a Rd2 #AFLFantasy league. $500+ guernsey from @aflratings. JL4R2LCN. pic.twitter.com/NbuIUyid9b

— DT Talk (@DTTALK) March 31, 2016
Things to Remember
Lockouts are back to normal this week, so Hard Lockout on Friday night for AF and RDT with SC being its usual rolling lockout.
Don't Panic it is just one week.  A poor score last week doesn't mean they will do it to you all year.
Get your captain right and obvioulsy Calvin is the man to help, and you can't blame him for last week, who knew Hanners would get knocked out.
Rookies need to be monitored and the best way to do that is to check out what Jeppa had to say on Wednesday.
Back to a normal round this week with just the Friday, Saturday and Sunday games.  This week in AF, we will see a lot of leagues starting up so make sure the Banter meter is set to full and get amongst it and have some fun!  As always keep your ears and eyes open tomorrow night for the final Sunday teams and also any late changes to squads throughout the day.  As always as we hear them we will tweet them out so make sure you follow @DTTalk @WarnieDT @RoyDT @CalvinDT and me @pkd73.  See you all next Friday!
Click here to subscribe on iTunes.