Versus: Round 2
Johannisen v Rich, Ellis v Dunkley and Hall v Gray. The big questions are asked and answered by Tom.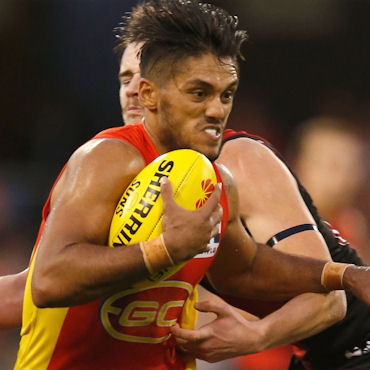 Tom is back for a weekly Versus article right through the season putting two players up against each other for potential trade in targets this week.
Jason Johannisen ($444,000) V Daniel Rich ($423,000)
A solid pre-season saw Bulldogs rebounding midfielder/defender Jason Johannisen heavily entrenched in the minds of a few Fantasy coaches looking for a POD in defence. He scored 74 from 87% TOG (24 disposals, 4 marks, 1 tackle) in NAB 1. However it was his 33 disposal, 9 mark, 5 tackle and 129 Fantasy point showing in NAB 2 which really got coaches considering the South African born running machine. Hinting that Johannisen was to play a more attacking role in either the the midfield or defence was the fact that he recorded 3 rebounds from 50 and 5 inside 50's in this match. There's no-doubt it will be the prototype game for Johannisen in 2016. Last weekend in the big win over Fremantle, Johannisen recorded his career-best disposal numbers and top scored in a Bulldogs team which tallied an incredible 1950 Fantasy points. Johannisen had 35 disposals, 9 marks and was able to push forward and kick a nice goal, all for 121 Fantasy points. But it's the more in-depth analysis into Johannisen's game which really stand out. Just 9 of his 35 disposals were contested and all of his his 9 marks were un-contested. This, combined with the fact that he was named on the wing, shows that Johannisen's speed, effectiveness and ability to break lines is rated highly by the Bulldogs. An aspect which has troubled him for much of his AFL career has been inconsistency and questionable job security. However at this stage of the season, it appears that Johannisen has managed to combine his traits, become more consistent with his output and consequently, his position in the Bulldogs team looks very strong. Expect Johannisen to continue playing off half-back/wing as I believe he is one of the 'Dog's best players to cover that/role role. Another point which could sway you towards selecting Johannisen is that his role fits in well with the Bulldogs attacking mindset. Johannisen will have to get used to playing at Etihad Stadium as the Bulldogs play their next six games there and do not have to travel interstate until they face the Giants at Spotless Stadium in round 9. But in the nearer future, the red, white and blue outfit faces St.Kilda at you guessed it…Etihad Stadium. The Saints gave up 1759 Fantasy points against the Power and will most likely, despite their promising performance for the opening three quarters against Port, struggle to keep up with the Bulldogs electrifying attack. I'm a big fan off Johannisen and he should be at-least considered as an early upgrade target.
Those who started the season with Daniel Rich were greatly rewarded as the 25 year-old pumped out a exceptional performance against West Coast, despite his team loosing by 64 points in a high scoring affair. Although he was only really considered in defence by most Fantasy coaches, Rich's ball winning ability was on show across the midfield at the weekend. Rich registered game-high's in both tackles (11) and inside 50's (8); particularly impressive seeing as West Coast had 115 more disposals and 20 more inside 50's than Brisbane. Throughout the entire match, Rich worked tirelessly, laying tackles, applying pressure, amassing clearances and capped it all off with 2 goals. Although he recorded a below average disposal efficiency of 74%, his 23 disposals, 2 marks, 11 tackles and 2 goal effort reinforced the Lions positive decision to re-sign the 2009 Rising Star. Adjudged Brisbane's best player in their opening match by the club's website, Rich flung his body around and really impacted the game; something some of his team mates were unfortunately unable to replicate. The Lions face North Melbourne at the 'Gabba this Saturday and will focus on restricting their opponents scoring. Could this mean that potential attacking half-back's like Cutler and Rich find themselves playing on the wing instead? Key midfielder Mitch Robinson has recently been diagnosed with a calf injury which will set him back 1-2 weeks. I don't think Rich will fill Robinson's exact role but his midfield minutes should increase. Looking deeper into future rounds, sees Brisbane take on a fired up Geelong team at Skilled Stadium. Unfortunately, I believe that even the Philadelphia 76ers have a better chance of winning than the Lions in this encounter. Geelong's midfield is elite so don't expect another massive 120+ score from Rich, however lets hope he racks up some tackles. It's the Q-Clash in round 4 and it is worth noting that Rich was tagged in the corresponding game last year and could manage just 77 Fantasy points and a further 89 points in the two clubs round 19 duel. Prominent finals contenders the Bulldogs (Away), Swans (Home) and Power (Away) await Brisbane in rounds 5-7. It remains to be seen whether Rich can continue his bright start into the next wave of matches.
Verdict: Johannisen and Rich had outstanding games for their respective clubs in round 1. A common pattern was that the Bulldogs and Lions each managed to tally over 100 points as a team. This will surely occur more often for the 'Doggies'. Both good mid-priced options who could well turn into premiums, however the Bulldogs blistering form, fruitful upcoming draw and attacking mindset are too good to ignore. I'd pick Jason Johannisen if you can bare the extra cash.
Loading ...
Corey Ellis ($180,000) V Josh Dunkley ($180,000)
Richmond midfielder/forward Corey Ellis made a solid if unspectacular start to his AFL career last year. He wore the green or red vest in three of his six games and subsequently wasn't able to score more than 53 points. Taken with pick 12 in the 2014 draft, Ellis is a skilful player however his light frame has seen him deployed in roles on the wing and at half-forward. A left footer, Ellis was up there amongst the best kicks in the draft combine and his impressive work-rate was also a highlight. Over pre-season, adding some extra muscle to his raw teenage body was a focus. Despite tallying just 7 career games so far, Ellis has managed to kick 4 goals. He added one of them in the Tigers recent tightly congested victory over Carlton. Here Ellis had 11 disposals, 3 marks and 4 tackles for a reasonable score of 62 from 81% TOG. A promising sign from that match was that Ellis recorded the equal second least clangers, proving his cleanness. Unfortunately, he recorded a disposal efficiency of just 63.6% which won't please coach Damien Hardwick. Across pre-season, Ellis' team mate and fellow midfielder Connor Menadue attracted most of the attention of the Richmond 'rookie priced players'. However given Richmond has the likes of Deledio and Edwards expected to be returning in a week (Yarran and Conca are set to come back in 5-7 weeks time), Ellis spot in the best 22 may come under fire. Up next the Tigers face a wounded Collingwood team without star midfielder's Steele Sidebottom and Dane Swan. Last weekend the Magpies gave up 5 tons including scores of 135 and 132; consequently they leaked 1708 Fantasy points. Richmond and Collingwood weren't overly convincing in round 1 and will be looking to rectify their performance this Friday night. A tough draw consisting of the Crows (H), Eagles (A), Demons (A), Power (H) and Hawks (H) await them in the coming weeks. It will be interesting to see how Ellis goes against the harder teams and bigger bodies. Regardless, Ellis will make cash and should average around 60, perhaps pushing towards 65. Lets hope he can keep his spot for starters in the 'best 22'.
Late last year, son of a gun Josh Dunkley had to make the tough decision over what club he was to join under the father-son rule. Despite his father Andrew playing 218 games with the Swans, Dunkley nominated the Bulldogs as his preferred destination. In his first match, Dunkley was impressive, collecting 15 disposals, 4 marks, 4 tackles, 1 goal and 71 Fantasy points from 71% TOG. Although he can play a tough inside role, Dunkley spent the majority of this match in an outside role. His 11 un-contested possessions prove this. Dunkley has benefited greatly after starting his senior football adventure at just 15 years-old. A tall midfielder, Dunkley has good smarts with ball in hand, is strong and according to Bulldogs coaches, trains with passion and is keen to learn. Although Dunkley played most of his junior games as a midfielder, he has also excelled in attack thanks to his fierce competitive nature and ability to take a solid contested mark. Dunkley's leadership was highlighted when he captained the NAB AFL Academy team. Over the summer, training sessions with Scott Pendlebury gave Dunkley the confidence that he can compete at the highest level. Dunkley's game has drawn comparison with the inspirational Collingwood skipper. Both are not overly quick but have poise and clean hands. Although, the young Bulldog does, as mentioned above, have the ability to win the ball at ground level. On the flip side, an area which will need to be improved is his disposal efficiency as he registered just 66.7% efficiency at the weekend. Western Bulldogs coach Luke Beveridge has blooded youngsters in the past but some have struggled to consolidate their spots, perhaps because of their size. Dunkley's body is physically ready for AFL football and, along with fellow new draftee Marcus Adams, will look to get weekly runs in the senior team.
Verdict: I rate Josh Dunkley highly, therefore I'd prefer him here. I'd only consider trading in either Ellis or Dunkley for M8 or M9 as the worry with selecting these two youngsters is that their job-security is still unstable yet should hopefully improve in the coming weeks. Although Corey Ellis is now into his second season of AFL football, Dunkley's positive first game is enough to suggest he will average 65-70 and hopefully make us some much needed cash.
Loading ...
Aaron Hall ($442,000) V Sam Gray ($443,000)
Aaron Hall was one of the most hyped up players in pre-season. However, closely following the positive hype, was a sense of doubt. Despite arguably being the best player in the NAB Challenge, some believed that Hall's scoring would drop off with the re-introduction of gun midfielder's Gary Ablett and Dion Prestia. It's only round 1, but that theory has not had an effect on Hall's scoring potential yet. His 36 disposals, 4 marks, 3 tackles, 2 goals and 125 Fantasy points effort against Essendon was packed with class. He recorded career highs in kicks, handballs, disposals and Fantasy points Dubbed as one of the most improved players of late, Hall has various ways of scoring Fantasy points. Against West Coast in NAB 3 Hall amassed 16 tackles, in NAB 4 his 29 disposals accounted for 61% of his total Fantasy score. This point is an excellent asset for Hall as some players tend to rely on getting 30+ disposals, kicking a bag of goals or laying 6+ tackles. After spending lot of time up forward since debuting in 2012, last year, as a result of Gold Coast's rising injury list, Hall transitioned into the midfield. Even though this transition was somewhat of a trial, Hall polled club champion votes in six of the final seven games; amazing considering he had never ventured into the centre very often beforehand. Up next, the Suns go head-to-head with Fremantle (A), Carlton (H), Brisbane (A), North Melbourne (H), Geelong (A) and Melbourne (H). There are certainly some winnable games in their, particularly at home, but be mindful that Fremantle will be looking to correct their poor showing last weekend. They play a game focusing largely on defence, so will that translate into their opponents Fantasy scores? Their have been numerous Fantasy coaches forging up reasons as to why Hall won't score well. However it has gotten to a stage now where it is very hard not to pick Hall. Lock him in at F3/4 or even F2!
Sam Gray is a very similar player to Hall. After being unable to break into the Power's team until round 8, Gray preceded to return scores of just 34, 68, 43 and 37; eventually being dropped again ahead of round 12. Gray was able to force his way back into the best 22 for round 18, and from this moment on his career has lifted to the next level. A 90 Fantasy point match was backed up by scores of 73 and 74. But in the following outings, the 'pig-like' form which he displayed in the SANFL was finally unveiled at the highest level. Against non-other than Hawthorn, Gray had 34 disposals, 3 marks, 3 tackles and a goal, resulting in 115 Fantasy points. By this stage his confidence was building thanks to a new-found sense of security. A 37 disposal, 3 marks, 3 tackles and 117 Fantasy points performance against Gold Coast the following week was even more impressive. Another 34 possession game generated a Fantasy score of 120. For a 176cm small forward/midfielder, Gray was ultra impressive. That excellent form seems to have carried over into the new season. In Gray's last four AFL matches, he has averaged a whopping 35.5 disposals; an increase of 16.6 disposals. Until late last year, Gray struggled to even collect 16 disposals in a single match! Before he posted scores of 78 (82% TOG), 48 (64% TOG) and 107 (79% TOG) in the pre-season competition, Gray was clouded with suggestions that his midfield minutes would drop off. Much like Hall, Sam Gray has pushed those suggestions aside. Whilst the likes of Boak, Ebert and Wines will occupy the midfield for the majority of matches, Sam Gray (along with namesake Robbie Gray) looks set to be rotated in and out of the centre and forward lines. Thankfully, Gray has proven that he can score well in both roles. Gray will line up to face the Crows in the highly anticipated Showdown this week. But after that the Power plays Essendon who conceded six tons last week. The Giants (A), Geelong (H) and Richmond (A) are there opponents from rounds 4-6. A nice downgrade option for the injured Mitch Robinson.
Verdict: Hall versus Gray was and continues to be possibly the most frequently asked comparison; and rightly so too! Hall scored 125 Fantasy points on the weekend whilst Gray managed 118. Interestingly, both Gray and Hall were not used in the midfield until late last season. But it was there, where they were transformed into ball magnets. In some ways, the pair are 'perfect' forward options, coming in at prices well below their current outputs. If I had to choose one, I'd go with Hall. Some are going with both!
Loading ...