Jeppa's Juniors – Round 1
Most of you will know how important it is to get your rookie picks right early in the season and Jeppa's got the full analysis from Round 1 here. Feel free to leave a questions in the comments section for the rookie guru to answer.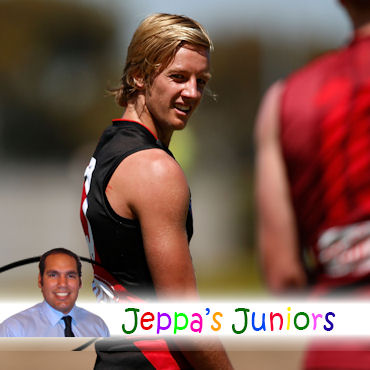 I don't know about you but it felt like a long Fantasy preseason and now that lockout is done and dusted, reality has set in.
Those coaches that went heavier with mid pricers appear to have done better this week than a pure guns and rooks strategy. Bryce Gibbs (127), Aaron Hall (125), Daniel Rich (123), Sam Gray (118), Tom Sheridan (116), Jack Viney (115), Lachie Hunter (108), etc. all paid great dividends but remember it's a marathon not a sprint and a players value isn't determined from one game.
It's mixed news as far as the rooks go. Some performed as anticipated, others exceeded expectations and some flopped. So which rooks are the must haves and who are the ones to avoid? Here is my take on the rookie performances from Round 1…
One Gamers
Essendon's only shining light on a pretty dark day was Darcy Parish (Mid. $282,000, 16 be AF. $206,800 DT). The young midfielder had a slightly limited preseason but that didn't show on debut with his clearances, contested possessions, 2nd and 3rd efforts and tackling all elite. At the final siren, his stat line read 8 kicks, 17 handballs, 5 marks, 6 tackles, 97 Fantasy points and he was one of Essendon's best on the day. The opportunities and the midfield time will always be there for Parish and he's suited for Dreamteam but his price in Fantasy is a bit farfetched in my opinion.
George Hewett (Mid. $158,000, -23 be AF. $128,200 DT) was another to make a big Fantasy impression. His second quarter against the Pies was outstanding and he looked far more comfortable as the game wore on. Hewett finished the match with 15 possessions, 7 marks, 7 tackles, 1 goal and 95 Fantasy points playing between midfield and half forward. He showed plenty of potential and I'm backing him in against Carlton this week, starting him at M8 ahead of Menadue. In the same match, Hewett's teammate Tom Papley (Fwd. $150,000, -14 be AF. $113,300 DT) also starred. The strong bodied, small forward was very active, kicking 3 goals and scoring a healthy 79 Fantasy points. Papley did the one percenters and his work rate saw him named in the Swans best players. If Papley continues to play at a high intensity then he'll keep his spot.
Daniel Wells (Fwd/Mid. $311,000, 26 be AF. $178,500 DT) and Sam Kerridge (Fwd/Mid. $315,000, 30 be AF. $177,100 DT) lived up to their Fantasy preseason hype. They scored 95 and 92 respectably doing little wrong in the process. Both cashcows should be in your team, no question.
Eric MacKenzie (Def. $226,000, 5 be AF. $237,000 DT) made a successful return to AFL after a year out with an ACL injury. Exceeding all expectations, the key defender had 24 possessions, 7 marks, 2 tackles and 86 Fantasy points albeit against an underperforming Lions outfit. Against the Hawks this weekend, Kenz will have a much tougher task so those coaches chasing the cash in Fantasy should keep their expectations low!
Coming into the season we were all worried about how our Essendon rooks would go and unfortunately, Parish and Matt Dea (Def. $188,000, 4 be AF. $163,500 DT) were the only 'juniors' that performed admirably. Playing a customary half back role, Dea finished with 6 kicks, 9 handballs, 5 marks, 5 tackles and 72 Fantasy points at the final siren. This is par with what I'd expect from Dea each week and I'm pleased he's in both my Fantasy team and Dreamteam. Mitch Brown (Def/Fwd. $201,000, 25 be AF. $121,300 DT) tried hard at full back but it's a tough gig at Essendon and he could only manage 52 Fantasy points for the game. As a defender, Brown is in the action more than he would be if he were forward so I'm backing him in for a couple more weeks.
Josh Dunkley (Mid. $180,000, 2 be AF. $121,300 DT) and Connor Menadue (Fwd/Mid. $157,000, -1 be AF. $170,400 DT) were impressive in their games but it didn't quite translate on the Fantasy scoreboard after reaching just 71 and 67 points respectively. Dunkley showed off his composure and decision-making, playing a variety of positions for the Dogs. Menadue was kicking goals and setting them up against the Blues. He finished with 13 possessions, 4 marks, 4 tackles, 2 goals and was easily on of Richmond's best players on the night. Both Dunkley and Menadue are bench keepers.
Lincoln McCarthy (Fwd. $143,000, -5 be AF. $134,300 DT) and Clayton Oliver (Mid. $245,000, 32 be AF. $211,300 DT) started their games in a blaze of glory with 49 and 54 Fantasy points respectively to half time but they couldn't go on with it, finishing with 64 and 61 Fantasy points at the final siren. Both still were notable contributors and they'll play in Round 2 but be wary of their scoring potential. Ryan Davis (Mid. $143,000, -5 be AF. $105,800 DT) is another who could have scored more given the Suns dominance against Essendon. 17 touches, 1 mark, 4 tackles and 64 Fantasy points is still reasonable output given his bargain basement price.
Blake Acres (Mid. $255,000, 17 be AF. $274,100 DT) and Ben Kennedy (Fwd/Mid. $237,000, 16 be AF. $250,400 DT) showed their ball winning abilities. Acres played the best game of his short career, scoring 83 Fantasy points but he's too expensive for a player that will spit out the odd score in the 50's. Dual position Kennedy is a far better trade target and a player I'm looking to bring in this week for Fantasy. The Dees play Essendon and there will be plenty of free flowing, high scoring footy which is Kennedy's game! Consider.
Jacob Weitering (Def. $244,000, 23 be AF. $224,800 DT) lived up to his hype and he looked super confident on the big stage. As good as he was, 71 Fantasy points isn't memorizing and there shouldn't be a rush to trade him in. Remember that key defenders typically provide coaches with yoyo like scores. Clay Cameron (Def. $147,000, -8 be AF. $140,100 DT) was one to sneak under the radar. I wouldn't have thought he was in the Suns best 22 but a role change up forward has had a great affect. Playing as a third marking tall and a bit in defence, Cameron finished with 15 touches, 7 marks, 3 tackles and 71 Fantasy points but it was versus Essendon.
Other notable Round 1 performers include Taylor Garner (Fwd. $245,000, 20 be AF. $258,000 DT) 74, Dean Towers (Fwd. $247,000, 26 be AF. $255,100 DT) 69, Josh Schache (Fwd. $243,000, 24 be AF. $220,300 DT) 69, Dean Kent (Fwd. $187,000, 7 be AF. $218,800 DT) 68, Marcus Adams (Def/Fwd. $172,000, 3 be AF. $121,300 DT) 67, Daniel Robinson (Fwd/Mid. $223,000, 22 be AF. $272,500 DT) 63, Corey Ellis (Fwd/Mid. $180,000, 10 be AF. $197,100 DT) 62 and Zak Jones (Def. $248,000, 33 be AF. $260,200 DT) 61. At this stage, all of these players aside from Robinson and Ellis have pretty decent job security.
Don't panic about Callum Mills (Mid. $234,000, 29 be AF. $215,800 DT). He scored just 59 Fantasy points on debut but he's a clear class above and he'll rack them up in games to come. Trust me!
Jonathan Simpkin (Fwd/Mid. $229,000, 35 be AF. $275,200 DT), Ryan Harwood (Def. $201,000, 29 be AF. $262,800 DT) and Brent Macaffer (Mid. $200,000, 34 be AF. $214,300 DT) are a few expensive and popular options that failed in Round 1. Job security is one thing but scoring 50, 45 and 40 is demoralizing. As bad as they were, I expect all three to improve significantly as we get deeper into the season. No rage trades yet, give them at least two more weeks.
Indifferent form and poor scores from Daniel Rioli (Fwd. $198,000, 22 be AF. $161,800 DT) 53, Mitch McGovern (Fwd. $138,000, 4 be AF. $128,200 DT) 52, Callum Ah Chee (Fwd. $200,000, 24 be AF. $193,300 DT) 51, Andrew Phillips (Ruc/Fwd. $229,000, 35 be AF. $258,200 DT) 51, Jed Lamb (Fwd. $195,000, 23 be AF. $208,700 DT) 50, Jade Gresham (Mid. $192,000, 27 be AF. $148,300 DT) 46, Kyle Langford (Fwd. $190,000, 27 be AF. $208,700 DT) 43, Lachie Weller (Mid. $177,000, 26 be AF. $231,900 DT) 39, Anthony McDonald-Tipungwuti (Def/Fwd. $164,000, 25 be AF. $105,800 DT) 36, James Harmes (Fwd. $243,000, 53 be AF. $279,000 DT) 33, James Sicily (Fwd. $241,000, 52 be AF. $229,900 DT) 33, Wayne Milera (Fwd. $196,000, 38 be AF. $179,800 DT) 32, Corey Gault (Fwd. $170,000, 32 be AF. $226,100 DT) 30, Sam Frost (Ruc/Fwd. $154,000, 31 be AF. $206,800 DT) 25 and Marc Pittonet (Ruc. $171,000, 44 be AF. $128,200 DT) 22 have them all facing the chopping block this week. If you have any of these blokes then look to trade them out as soon as possible…it's a long list! Gault really let me down as did his Collingwood teammates for not giving him a better supply in the forward 50.
Unfortunately Jed Anderson (Fwd/Mid. $212,000, 56 be AF. $256,900 DT) 17 and Oscar McDonald (Def. $206,000, 43 be AF. $217,100 DT) 31 have suffered injuries and they'll be on the sidelines for an extended period. Trade them out immediately.
Please note that if I haven't mentioned a rookie priced player above, it means they're not relevant. Remember rooks are classified as players under $250,000 in Fantasy and/or Dreamteam.
Keep Your Eye On

Start praying to the Fantasy gods for Darcy Tucker's (Def. $158,000, 29 be AF. $121,300 DT) debut this weekend. Given his ball winning ability, Tucker would be a short-term solution to the low scoring, cheap defenders we are currently playing. I'm not guaranteeing greatness but after 21 possessions and 94 Fantasy points in NAB 1 and 22 possessions and 89 Fantasy points in the WAFL on the weekend, the signs are positive. Freo should be making wholesale changes after their Round 1 performance and Ross Lyon seems to like him. Watch this space.
Ciaran Byrne (Def. $125,000, 23 be AF. $144,900 DT) is another defender on my radar. The Irishman creates from defence and the more speed for Carlton, the better in my opinion. Byrne got a big wrap after his 28 touches in a VFL practice match on the weekend and he set up plenty of goals in the process. If he's named to play against the Swans then pick him as he should have a Fantasy impact immediately.
It's likely that Christian Petracca (Fwd/Mid. $238,000, 43 be AF. $128,200 DT) will be given a run in the VFL before being considered for the big time. Petracca was dominant in a VFL scratch match on Saturday and is a must have for all of us this season! Keep an eye out if the Dees do rush him in against Essendon, which is pretty much a training run anyway.
There you have it. Feel free to ask me a question below and don't forget to add me on Twitter @JeppaDT for all things Fantasy and more. Happy trading!