Calvin's Captains – Rd. 2 (REVISED)
Righteo… the pirate is back and ready to steer you straight heading into round two. All aboard the ship to success!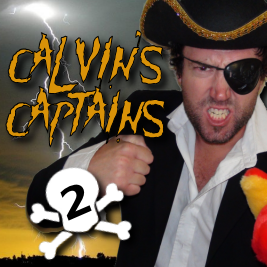 SYDNEY ON FIRE
Tom Mitchell is the one to watch in this game after  coming off a huge 132 (30d, 9t) last week. He loves playing at Etihad, a ground he knocked up 142 and 100 at last year. He scored 110 on the Blues in round 10, 2015 and my only concern here (small one) is the fact that only Lambert (125) cracked the ton on the Blues last week.
Luke Parker has continued his smashing pre-season with a nice 135 last week. He was tagged by Carrazzo last year against Carlton (obviously won't happen) and also loves playing under the roof where he scored 120, 128, 119.
So my number one pick last week copped a knock to his head (thanks Steele) and only managed 76pts. Hannebery was on track for 120 but these things happen. If I was totally confident he wasn't effected by this then and ripe to go this week, he would be in my top 5 again this week. Just slightly risky.
Last time he played the Blues was in the NAB Challenge when he had that 153 and before that in the 2015 season he posted 133.
But I copped some flack about not predicting his concussion so I've set up a poll… see how your crystal ball is for this week. All of these guys are top options to carry the 'C' for you this week and if I had a top 7, Parker would sit at 6 and Hanna at 7.
TAGGER WATCH, TAGGER GONE
Will North Melbourne name Ben Jacobs who was named as the emergency in their win last week? This question will be answered on Thursday, and one that Tom Rockliff will be watching. Firstly, after a win, I'd be surprised if the Roos tinker with their side too much and I feel Rocky will be safe.
So why the concern? Last year, Jacobs tagged Rocky to just 53pts and only 16 touches.  Last week, the Roos didn't allow any Crow player to score over 100 but this game is at the GABBA and things should be different on Saturday arvo. Rocky has scored 149, 143 and 123 in his last three games on his home ground and should be on fire, if his arm is ok (that's another story) and if Ben Jacobs is out again.
Speaking of taggers, I found it funny as that Crowley went to Gary Ablett last week, just for old time sake, even though he had no intention of playing on him.
For those young pups out there, these two have massive history, and history that would lean in the favour of Crowley. Gaz last played the Dockers in 2014 and Crowley held him to just 80. But of course, Crowley isn't at the Dockers anymore and they no longer tag.
Last week, the Bulldogs had 7×100+ scores on the Dockers, however the leading scorers were defenders with 121, 120 and 114. The ball winners were solid but didn't have the massive impact you'd expect in this game. Hunter (108), Macrae (107), Libba (80) and Bont (80) really failed to smash the scoreboard, considering that the Dockers allowed five Bulldogs to find the ball 30+ times.
Ablett is fit and firing though and already has 134pts in his pocket after running rings around the Bombers last weekend. Get on.
STEF v GOLDY
The battle of the big two will take place at the GABBA on Saturday arvo. Goldy is coming off a nice 121 and Stef only 79. Last year when these two battled, Goldy got the honours on both occasions with scores of 103 and 153, compared to Stef's 96 and 94.
You can't make either of them captain this week, as the risks are too high. However, I'm tipping Stef to bounce back this week with a nice 120 to claim the honours against Goldy who I predict will score 105. Let's see if I'm right. What do you think?
Max Gawn is another ruck man who has been spoken about over the last few days after his 146 on the Bombers last year. Berger will be his opponent this time though and although he'll tear them to bits, the risks with this are obvious after his 78 on the weekend.
DANGER! BIG GUNS WILL FIRE
43 touches and 137pts is enough to get anyone excited, and when Dangerfield does it, it looks so good. He was simply brilliant on the weekend against the Hawks and will continue that at Manuka Oval on Sunday. Last time he played the Giants he had 110 but I'm tipping this week he has to get some attention from Tom Scully. They just can't let him run loose… and if they do, good luck to them.
Jordan Lewis is coming of a nice 134 from round one and constantly gets over looked. He is only owned by 3.6% of coaches and if you are one of the lucky ones, lock him in with the 'C' this week. He scored 114, 98 and 118 on the Eagles last year and they do bleed points. Rich 123 and Rocky 109 were solid against the Eagles last week, and they lost by 10 goals. With Hodgey on the sidelines, Lewis will step up even more.
In the same game, Sam Mitchell will be great again after his 124 last week. He posted 114, 108 and 117 on the Eagles last year and will dominate like he does every single week.
Jack Steven rocked out a nice 123 last week and meets the Dogs, who Lachie Neale had 32 touches on last weekend. Steven scored 113 and 142 on the Dogs last year and carries a lowest score of only 93 in his last 13 games under the Etihad roof. This guy isn't slowing down after what many thought was a 'fluke' in 2015.
Expect Dusty Martin to bounce back after his poor 75 against his arch nemesis last week. That was Dusty's 13th score under 95 in a row against the Blues, but this week will be different. In his last 3 games against the Pies he has scored 126, 109 and 107.
IN A FEW WORDS…
Taylor Adams v Richmond @ the MCG: 95 last week in a train wreck and will be better at home on the MCG, a ground Adams has scored 127 and 135 on in his last two games. 107 and 67 on the Tigers last year, expect 120+.
Matt Priddis v Hawthorn @ the MCG: 137 last week was exactly what Priddis does. He struggled against the Hawks last year though with 86 and 87 in his last 2 games.
Jack Viney v Essendon @ the MCG: Anyone playing the Bombers needs to be looked at and Viney is the best option this week after his 115. The Suns' big 3, Ablett 134, Hall 125 and Prestia 122 all killed it and so will Viney.
Scott Pendlebury v Richmond @ the MCG: 94 and 77 against the Tigers last year, two of his worst scores of 2015. Sadly it's a pass.
Lachie Neale v Gold Coast @ Domain Stadium: 106 last week and 109 last year on the Suns, could be massive.
Nat Fyfe v Gold Coast @ Domain Stadium: Despite getting thumped, Essendon still managed 4×115+ scores on the Suns last week. Fyfe had 119 on them last year and will smash them, despite his 54 last week after a corkie might have slowed him down.
Jack Macrae v St Kilda @ Etihad Stadium: This ball winning jet who had 117 and 90 on the Saints last year. He'll be great again.
EXPLANATION ON REVISED ORDER
Gary Ablett scored 134 last week in a 60pt win at home. Reverse that and this week, he'll lose away from home to the Dockers. This has me slightly worried and therefore he drops from #2 to #3.
Tom Mitchell moves up to #2 as I feel he is one of the safer options for the weekend. Loves Etihad and has a good record against the Blues.
Tom Rockliff comes into the 5, after Ben Jacobs wasn't named as a potential tagger for him. Danger drops out because of this, but he's still a great option of course.