Inside the Fantasy Numbers – Round 1
Pete from aflratings.com.au takes a look inside the AFL Fantasy Numbers each week.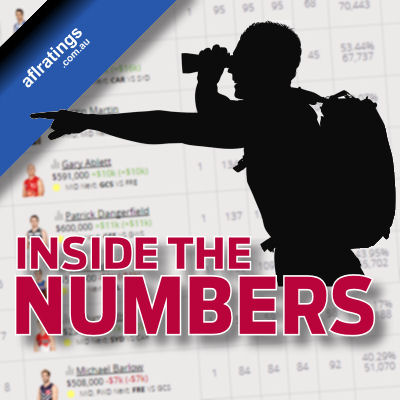 If the Bombers were not already trending in Fantasy circles last week they certainly are now, they gave up a whopping 1814 AFL Fantasy team points against Gold Coast in Round 1. To put those numbers a little bit in to perspective, Gold Coast were Ranked 18th in 2015 with a team average of 1406.7pts per game and also 18th in 2014 with an average of 1462.1pts per game.
Click here for more great stuff from aflratings.com.au
Whilst decisions are being made on which players to trade in and out post Round 1 it may be an idea to take a peek at which teams play Essendon in the coming weeks:
Round 2 Melbourne MCG
Round 3 Port Adelaide AO
Round 4 Geelong MCG
Round 5 Collingwood MCG
The most alarming numbers in relation to team points were Fremantle, Ranked 7th last year conceding an average of 1558.5pts the Dockers conceded 1950 points against the Bulldogs in Round 1 – The Bulldogs has a remarkable 498 Disposals and play their next 6 games at Etihad Stadium.
As much as that does sound appealing for Gold Coast this week in Perth expect Fremantle to bounce back in a big way, the last time Gold Coast played Fremantle in Perth the Suns had only 1338 team points with Gary Ablett finishing with 80pts in Round 2 2014.
As for the Bulldogs they had 7 individual 100pt games in Round 1, the most they had in any Home & Away game last year was 5. Round 2 could provide another fantasy feast for the Bulldogs as they match up against a St Kilda team that conceded 1759 team points in Round 1.
A few would be disappointed by the scores delivered by Matt & Brad Crouch, when you consider Nth Melbourne were Ranked 4th last year conceding AFL Fantasy team points and allowed an average of just 3.1 individual 100pt games  anything above 80pts would be more than acceptable. Port Adelaide allowed 5 individual 100pt games in Round 1 vs St Kilda, a quick turnaround to a solid average is possible for some of the Adelaide players.
In the Port Adelaide – St Kilda game there were 11 individual 100pt games, there were 3460 total AFL Fantasy game points scored – Only 2 games exceeded 3400pts in 2015.
Todd Goldstein cranked out another 120pt game in Round 1, he has now scored 120pts or more in 10 out of his last 21 games (Strike Rate: 47.6%). Jack Steven continues his accumulating madness, he has now scored 120pts or more in 9 out of his last 21 games (Strike Rate: 42.9%).
Follow @aflratings on Twitter
TOP ROUND 1 TEAM POINTS (INCREASE FROM 2015 AVE)
Western Bulldogs 1950 (+379.0)
West Coast 1869 (+263.5)
Gold Coast 1814 (+407.3) *Bombers will give up plenty in 2016*
Port Adelaide 1759 (+174.8)
Sydney 1708 (+48.7)
BOTTOM ROUND 1 TEAM POINTS (DECREASE FROM 2015 AVE)
Brisbane 1369 (-128.1)
Richmond 1408 (-148.2)
Collingwood 1408 (-175.6)
Fremantle 1413 (-188.5)
Adelaide 1472 (-92.3)
AVERAGE TEAM POINTS ROUND 1 2015
1501.6
AVERAGE TEAM POINTS ROUND 1 2016
1594.5
CLUB
PTS
FOR
>100
FOR
>120
FOR
PTS
AG
>100
AG
>120
AG
ADE
1472
0
0
1509
3
1
BL
1369
2
1
1869
5
3
CAR
1581
3
2
1408
1
1
COLL
1408
2
0
1708
5
2
ESS
1544
4
1
1814
6
3
FRE
1413
2
0
1950
7
2
GC
1814
6
3
1544
4
1
GEE
1542
2
1
1525
3
2
GWS
1489
3
0
1509
1
0
HAW
1525
3
2
1542
2
1
MELB
1509
1
0
1489
3
0
NM
1640
3
1
1472
0
0
PA
1759
6
2
1701
5
2
RICH
1408
1
1
1581
3
2
STK
1701
5
2
1759
6
2
SYD
1708
5
2
1408
2
0
WB
1950
7
2
1413
2
0
WC
1869
5
3
1369
2
1