The Weekend Wash-Up – Round 1
Matt is back! We love our weekend washup and the round one edition is a thumper! Sit back, relax and take in the trials and tribulations of the first week of AFL Fantasy for season 2016!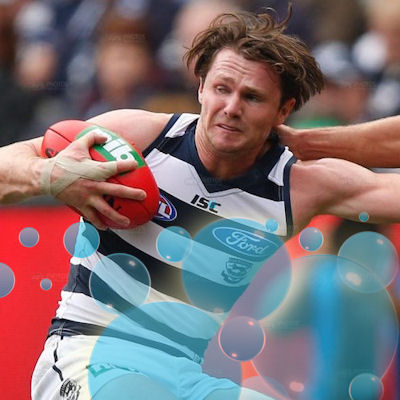 So… Mixed emotions. First of all, welcome back for another year! This is the most anticipated week in the calendar (unless you're a Hawks supporter). Pre-season is LONG and it's great to finally have the footy back. Unfortunately, that's about where the positives end for us Fantasy coaches. Every year no matter how much planning we do, we always manage to screw it up. By that I mean make 90% of selections correct, but curse our idiocy at one or two poor calls. When things seem bad however, I encourage you to go and re-visit Round 1, 2015. You're welcome. We're back for another year of carnage with the occasional high, and it's time vent. It's time to wash-up the first weekend of football!
Legends
Here's a novel dedicated to all the players I should have picked…
Gibbs (127) – This is a classic case of our teams in January outperforming our final squads. Gibbs was in a lot of teams before his poor NAB challenge, so what form do we believe? He was everywhere on Thursday night, but you'll need to get him this week before his value dissipates. Massive luxury trade.
Murphy (126) – You can tell from Murphy's game time (73%) that he wasn't fully fit, but what a game he had. He's at an awkward price, another one to consider if you somehow have 2 luxury trades… Which applies to no one.
Simpson (118) – Where was that effort last year Simmo?! I had him in just about every format during 2015 and not once did he dominate like that off half back. Simpson played a similar role on Thursday so I wouldn't expect these scores consistently.
Kerridge (92) – Massive tick. He's easily capable of averaging 85 which at his price is a no brainer. If you didn't start with him, don't line-up without him in Round 2. You'll get no sympathy, not even here.
Wells (95) – Same deal for Wells. If you whatever reason you weren't comfortable selecting both Kerridge and Wells you have 2 trades this week to make amends. It's easy to skip past this score thinking everyone owns him, but I can tell you over 50,000 don't!
Parker (135) – I hate myself for not sticking with Parker. He's going to take his game to an elite level (if he wasn't there already) this season. Great call if you picked him! If you have a trade up your sleeve I reckon he's worth bringing in.
Mitchell (132) – We all know Titch is a Fantasy genius and he proved it again on the weekend. He still has to play second fiddle to Parker, JPK, Jack and Hannebery but that doesn't bother him. 132 from just 71% game time if you don't mind!
Viney (115) – Another tick for the pre-season watchlist. Viney has moved on from his tagging duties and is be a natural ball winner. He looks to be a great differential, however we can't have them all! So many options this season…
Shaw (109) – Heater did what he does best. In fact Shaw had a dirty day at the office by his standards and still managed to crack the ton. Sure the mid-priced backline worked wonders this week, but Heath Shaw will save you headaches down the road… Never thought I'd say those words.
Hall (125) – BOOM! Believe it or not even after his awesome pre-season, Hall still had doubters. The fact is he's currently playing at an elite level in midfield, it doesn't matter who's still to come back into the side! Must have.
Ablett (134) – Bald Jesus was at it again, if I didn't have him I wouldn't be able to watch Gold Coast play. You'll sleep better with Gaz in your side, I don't need to tell you how good he is. He's pretty good.
Zaharakis (125) – You'd be well advised to not go near the bombers with a 40 foot pole, but Zaha has to come under consideration. Priced at $415k there's no doubt he presents value, but you'll have to think quickly before his price corrects. One for the Bomber fans I'd suggest.
Parish (97) – Forget how tough the year will be for Essendon, Parish is a jet. In fact so is this whole draft group. Parish should be capable of averaging 75-80, the concern is that Essendon will face bigger tests than Gold Coast. Darcy ticked every box on the weekend.
Goldstein (121) – It's time that the 78% of the competition who didn't back Goldy take a long hard look in the mirror. Sure there may not be as many stoppages this year, but with less rotations his tank is vital. He'll play >90% of game time week in week out (I needed to get at least one horrible cliche out of the way) and we need to get him ASAP! Those without Goldy (Me) will be praying his price drops. We may be on our knees for a while…
Greenwood (115) – Even though Collingwood were well beaten, Greenwood managed to continue his strong pre-season form. There is SO many options this season, but you could do a lot worse than Levi. Ball magnet.
Johannisen (121) – In the past more experienced Fantasy coaches have suggested that the NAB Challenge doesn't matter. This is the prime example of why it does. JJ was everywhere against Freo, the Doggies love setting up attacks off half back. He'll get a lot of the ball this year and I'm confident he'll be a top 6 defender. Get on board! *Warning: Almost certain tag incoming next week*
Sheridan (116) – Fair play to those who backed Sheridan. He looks like he can certainly average 80-85 and make some solid cash this season. Having said that, I don't think he has ever seen that much of the football in his career. The ball lived in Freo's backline! Don't expect these scores often, but you can be stoked with his selection.
Hunter (108) – I had to include my boy! I was all over Hunter at the end of last season, I was all over Hunter during pre-season and thanks to Libba's last NAB challenge turn out, many of you are on board as well! He's a ball magnet and will average around 100 this season. Enjoy the ride!
Gray (125) – Watch out for Robbie Gray's DPP addition in Round 6, he's a jet up forward! He'll average around the 100 mark, splitting his time 50/50 between the midfield and forward lines. Have the finger on the trigger if (when) he becomes a forward!
Gray (118) – Sam Gray on the other hand is a pure ball winner and it's a joy to watch. You couldn't ignore his form at the end of last season + the NAB, another 37 possession game was no surprise. Absolute lock!
Steven (123) – Anyone doubting whether Jack Steven could reproduce his average from last season was quickly reminded of how good his engine is. I doubt many started him in Fantasy but he rewarded those who spent the big bucks!
Hickey (120) – Forgetting the awkward last name, Hickey is one to have on our watchlists. Every season a ruckman seems to breakout from average to elite. He's 25 years old and primed for a massive season, if Hickey goes big again he'll be hard to ignore for those who didn't get both Goldy and Stef straight off the bat.
Rich (123) – Daniel Rich is back in the midfield and looking awesome. 11 tackles helped him to a massive score this weekend, and whilst I wouldn't expect that every week he is value as a defender. One thing to note is he started off 2015 with 111 in Round 1, then failed to ton for the rest of the year. Buyer beware, the tags may come. Luckily tags aren't in vogue right now.
Priddis (137) – I love this man. His curly hair, his candy shop, his tendency to get leather poisoning. Absolute legend! (Not relevant aside from draft leagues)
Naitanui (131) – Wow. Nic Nat gave Stef Martin an absolute bath on Sunday and you have to wonder how good Nic could be. He took 6 contested marks, something which has always been a problem for him. He also managed a lazy 43 hitouts and 22 possessions from just 67% TOG. Those are crazy figures, if only he could borrow Goldy's tank! I wouldn't worry too much about that, he was rested for the majority of the last term when the game was iced, great option in all formats.
Lewis (134) – What else did you expect? Lewis will average 110+ again this season, safe as houses to be a top 8 midfielder.
Mitchell (124) – Another player who seems to be continually written off due to his age. Probably not relevant in Fantasy and it's too late to call him a draft slider (Unless you're drafting this week), so congratulations to those who snagged him!
Dangerfield (139) – Brownlow markets around the country were suspended as Danger blitzed the Hawks. 43 disposals, 7 clearances, 10 inside 50s and somehow only 3 behinds. I got rid of him to squeeze in Gaj, now I'm cursing myself for not picking both. It's going to be a long road to find the cash to get him in! Absolute gun.
Kennedy (180) – I swear JJK does this almost every year! He loves to bully the minnows and Sunday was no different. He could have easily gone 200+ if he wasn't so unselfish! A perfect player to have on your bench as a power play in draft leagues, awesome work if you got him! If you picked him in Fantasy, you genius bastard you. Enjoy the price rises.
Sydney Rookies – Boom! When I say boom, I say it for just about every other Fantasy coach in the Country apart from myself. Hewett (95) and Papley (79) were brilliant! At the very least they've earnt themselves a couple of weeks in the side, which is enough for them to make some serious money. I won't listen to any of the complaints about them outscoring your rookies on field, at least you picked them!!! I made a note of avoiding them because Sydney have players to return and didn't think they'd last beyond Round 2-3. WRONG. It's a cash train I could only wish to be on board, enjoy it.
Losers
Let's be honest, this is what you're here for. There was so many success stories, but we're never fully pleased. Strap yourselves in, there's a few sprays needed.
Essendon – Oh Bombers, where to begin. I have completely screwed my team by over committing to Bombers players, exactly what I promised myself I wouldn't do! Firstly Simpkin (50). My god I hope I don't have to hear about him being a premiership player again, it must have been a cozy armchair ride. Woeful, I'm not really seeing that VFL form I'd heard about! He's gone for me this week. Next. Leuenberger (57). Christ almighty I've done it again. Last year my best decision was not to pick Leuey, he'd burnt me before and Stef was clearly the number 1 ruck. I honestly thought Matty would thrive in the lone ruck role, and he still might… The signs on Saturday however pointed towards a long 3 months finding the cash to get Goldy. Hopefully this performance was just due to a lack of match fitness! Brown (52) was ok, but hardly worth the extra $70k over a basement priced rookie like Clay Cameron. He earned himself a second chance thanks to his last quarter. Tipungwuti (36) however did not. This annoyed me on multiple fronts. He seemed so confident and at home on the big stage against the Eagles, charging around collecting +6's on the half back line. He had SO many chances to do the same on the weekend, but he looked like a schoolkid afraid to touch the ball. Not once did he present himself as an option! The worst part? He was my emergency and ended up on my ground, I'm guessing I wasn't the only one to suffer this fate. He's not worth a trade, but he won't be leaving D8 that's for sure.
That feels better. Perhaps Melbourne next week will give the Dons a shot at redemption. I'll be watching with my eyes half open.
Kruezer (59) – Kruze just doesn't look like taking the next step to premium status. It's a shame because he has all the attributes to be a 90+ average ruck. Trade.
Cotchin (76) – I'm going to sincerely hope no one blindly backed in Cotch to try and start winning the ball again. He's happy to cruise around and collect 20 touches and as a non-owner that's fine by me! As the Richmond captain maybe not so fine.
Martin (75) – Most of us knew Dusty struggled against Carlton and that was exactly the case on Thursday. Don't worry, he will be fine. It's a tough pill to swallow if you started with him but I'm confident he'll bounce back this week. Don't get smug for not selecting him just yet.
Ellis (70) – It was an uncharacteristic performance by Ellis but once again I'm sure he has now blown out the cobwebs. Expect a big score next week.
Greene (56) – There were no cobwebs for Toby Greene to blow off, just tumbleweeds to pick up as he was hardly involved in the action all game. Epic fail, make him a priority trade.
Steele (47) – Amazing. Treloar's lock and load replacement turned out not to be Treloar's replacement! Is it just me or did that rumour only start after his last NAB Challenge performance? To be fair he was still around the ball, only he had his magnet the wrong way around. This is a tough pick to fix, but I'd be doing my best to get rid of him…
Seedsman (59) – Seedsman always has hot and cool patches during games, and that's fine. What I can't deal with is when a player becomes frozen f**king cold. I honestly thought his heart must have stopped as he recorded one kick in 2 full quarters of footy. There's plenty of alternatives around him so take your pick! You can almost pen the Seed in for a ton next week, but your sleeping pattern will be all the more stable for getting rid of him.
Hannebery (76) – It's lucky that I wasn't a Hannebery owner otherwise you probably wouldn't be reading this article. I feel awful for those who had him, and my heart bleeds for those who captained him. It's just typical Round 1 luck. You guys will bounce back next week I promise, and it will probably be on the back of a Hannebery 150. Karma always comes around! Most of the time.
JPK (63) – Not really sure how you can justify that performance. Let's just conclude that he's a player built for the second half of the season, fallen premo incoming!
Swan (0) – I felt sick when Swanny's leg was bent at about 355 degrees. Turns out his poor hoof took the brunt of the damage. Let's just hope for a swift and safe return for the one and only original DT pig. Nobody wants to see a great career ended in this way, get better soon Swanny!
Macaffer (40) – When you have guys like Parish, Oliver and Mills costing a pinch more, owning Macaffer is crazy stuff. Drop him like it's hot, because he's not.
Fyfe (54) – If you haven't heard that Zac Dawson outscored Nathan Fyfe on the weekend, then let me catch you up. Dawson scored more Fantasy points than Fyfe. WE GET IT! I may have drafted him so this is a personal matter, I can't imagine those who hoped to bank his points at $580k. Having watched Gaz and Danger kill it surely Fyfe will come roaring back into form. Let's just hope this corky isn't too serious. Either way, fallen premo alert!
Mundy (67) – Not relevant in Fantasy, but very relevant in Draft! Hopefully champion data can come up with another crazy excuse to make him a defender, otherwise this will be the last you see of him in the Wash-up.
Harwood (45) – This was disappointing Ryan, but I'm taking a calm approach this season. I had him all pre-season and I'm still confident he can average 65-70. Back him in. You can go a long way by being patient.
Bartel (71) – Goodbye Jimmy that was sh*thouse. Oh yeah right, patience. Bartel is a Fantasy legend and I'm going to give him a chance to repay me, but he needs to stop getting hit in the head! Having said that it's amazing how many players get 'accidentally' hit in the head by Hodge… Moving on swiftly, I was in a state of utter panic when Bartel was going off the ground dazed with blood coming out of his ear. Not because he was on 38 points and set to bleed cash out of places I never knew possible. No, because I was stuck on 1999 points. As typical as it would have been for Bartel to be concussed and leave me headbutting a line of nails, he came back and scrounged his way to 70. It's worth noting he didn't get involved in any of the junk time +6 action and didn't get a handball receive for just the third time in his 283 game career. Not great signs, you're on notice Jimmy.
Robinson (65) – I tweeted last week that there's a chance Robbo will be injured or suspended more than he plays. After just one game he has already been reported and is under an injury cloud. In fairness the report was soft and was rightly thrown out, but we'll need to wait for word on his calf problem. He's good for the game, I honestly hope he's fine! That doesn't mean there's a part of me deep down that would love to see him miss one week, I guess that's why I find myself on the end of every other piece of bad luck.
Talking point
Putting Fantasy aside for a second, there was one clear winner this week. FOOTBALL! These new rules are the best thing that has happened to the game for years. We're getting open, exciting contests. Hell even the Demons were viewable and that's saying something. The 10 metre rule is fantastic, the players aren't running the ball over the boundary line every 30 seconds and there isn't an interchange 40 seconds into a quarter. The next step would be to pay a free kick against the last team to send the ball over the boundary line, AFL must be one of the only sports where taking the ball out of play ends in a neutral contest. That's something for down the road however, for now I'm loving where this season is heading!
From an AFL Fantasy perspective, the interchange rule is having an impact on some midfielders. It's benefitting guys like Parker and Dangerfield who can rest forward and play 90% game time. On the other hand players like Tom Mitchell are finding themselves stuck on the bench for the first 6-7 minutes of every quarter. It was no surprise to me that he played just 71% game time, he isn't quite first choice in Sydney's midfield and isn't suited to playing up forward. Take note of your players TOG figures as they're likely to be similar all season, for example Matt Crouch's 67% suggests he will find himself on the bench a lot. All in all it was a fantastic week of high scoring footy!
The Golden Stubby
Narrowing the best performers down to just 5 was near on impossible, but based on your tweets this is who I have come up with… Don't hate me.
Parker – There were a few nominations for Mitchell, but Parker outshone him this week. He is an unbelievable player, what a bargain! 5% of coaches will be walking around their workplaces with big chests tomorrow.
Johannisen – Ball magnet! Considering our defensive woes in recent years, JJ is absolute gold. Once again he was a differential, owned by just 6% of coaches.
Hall – It's easy to take this score for granted after his popularity increased, but considering he was a risky forward option priced at $422k this was huge! What a gun.
Dangerfield – I don't need to add anything to Danger's performance today. He is a joke of a footballer and surely the clear brownlow favourite.
Kennedy – You can't score 180 and not get a nomination! I faced him in my draft match-up and every person who had him will be proclaiming themselves the next coaching maestro. What a beast, we don't give him enough respect in Fantasy!
Special mentions to Gazza, Mitchell, Gray, Naitanui, Lewis, Sheridan (Surprised he didn't get a single mention!)… I rated their performances highly but couldn't squeeze them in. Now get voting!
Who will get your vote?
This Game Sh*ts Me
It could be the fact that everyone blindly gambled on Sydney's cheap rookies and I'm left with Corey Ellis and Mitch McGovern. It could also be the fact I didn't select a single midprice defender because I was scarred from last year. Kade Kolodjashnij and Heritier Lumumba, I will never forget that pain. Of course everything went right for that suicide strategy… 1 Round in and I'm already getting salty. No, it wasn't even that. It's the AFL for announcing the line-ups for Monday's game just an hour after lockout! Personally I think it should be a rolling lockout just for Round 1 (At least if there's a Monday game). Please do tell me Clarko, what had Daniel Howe done wrong? He was classy all pre-season. He was their top draft pick 2 years ago and he's a left footer with great ball use. I thought that was Hawthorn's only requirement?! Not only that, Shiels was ruled out and Howe plays off a wing. Good to see that tactical call paid off Clarkson! What's done is done, and I was left to watch Tipungwuti run away from the ball at all costs. This game sh*ts me.
The Other Bits and Pieces
After last season I'm getting used to being ranked in 5 digits, it's not really a co-incidence anymore. 2032 has left me ranked around 15k, room for improvement I guess… I'd love to say the only way is up, but I know for a fact there's lower depths than this. If you're there right now, tell me you story! I love hearing about other peoples pain, that's why you guys are reading this article aren't you? Don't worry, you won't have to worry about smugness here. If I could summarise my round, it was pretty similar to Clayton Oliver's points graph. Things were going so well early… Then it all fell apart around 3:30pm EST on Saturday arvo. Onto next week I suppose, if that's all you've got for us Fantasy gods we'll be laughing! (Guaranteed to regret this comment next Sunday)
*When you score 2100+*