Get well soon, Swanny – Rd 1 Fantasy Review
Post your round one scores and have a brag/vent in the comments.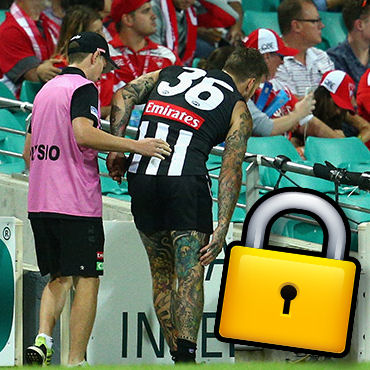 Copy and paste the following in the comments and fill it in. Post both AFL Fantasy Classic and AFL Dream Team results.
Team Name:
Round 1 Scores:
League Results:
Studs:
Duds:
On the Chopping Block:
Vent/Brag/Whatever:
Stay tuned to DT TALK this week for all fantasy advice you could ever need!
---
Listen to the boys go live from 6pm AEDT on City Park Radio for the AFL Fantasy Hour. This then becomes the podcast that you can hear on the website or on iTunes. Listen via www.cityparkradio.com or search for the station in the TuneIn app on your smartphone.
New Prices & BEs for Bris v WCE
JJK -ve BE!!#AFLFantasy @DTTALK
All games on my new site https://t.co/1ufzPSI6Sr pic.twitter.com/9MnddLeVOC

— NixTrader (@NixTrader) March 27, 2016
Price changes & BEs for Port v St.K
S.Gray!#AFLFantasy @DTTALK
All games on my new site https://t.co/1ufzPSI6Sr pic.twitter.com/LrwPPSqwIM

— NixTrader (@NixTrader) March 27, 2016
Price changes Freo v WB
Now with added BEs for R2!#AFLFantasy @DTTALK
See my new site https://t.co/1ufzPSI6Sr pic.twitter.com/Sr7UebykwM

— NixTrader (@NixTrader) March 27, 2016
Thanks @gnburgan
#AFLFantasy @DTTALK
Update to Coll v Syd with Callum Sinclair fixed pic.twitter.com/TNohiJeQuB

— NixTrader (@NixTrader) March 26, 2016
Price changes Nth v Adel.
Wells 1 Crouches meh#AFLFantasy @DTTALK
See calculator at https://t.co/0pHF26TFAV pic.twitter.com/lmmAXhpLjB

— NixTrader (@NixTrader) March 26, 2016
Price changes Melb v GWS. Steele what was I thinking!#AFLFantasy @DTTALK
See calculator at https://t.co/0pHF26TFAV pic.twitter.com/7IIngYXlYB

— NixTrader (@NixTrader) March 26, 2016
Price changes Ess v GC. Parish worth$!#AFLFantasy @DTTALK
See calculator at my new site https://t.co/0pHF26TFAV pic.twitter.com/Njw1stYuNp

— NixTrader (@NixTrader) March 26, 2016
Likely price changes after Round 1 Game 1#AFLFantasy @DTTALK
Only Kerridge & Menadue for me. pic.twitter.com/P8cKlO95sJ

— NixTrader (@NixTrader) March 24, 2016