The Friday Scramble: Round 1
One game down and a heap to go. Don't despair if you didn't do as well as you would have liked last night, there is plenty of time to redeem yourself. Today isn't so much a Scramble but a Leisurely Peruse as we have the WHOLE day off work and no games tonight to sort our teams out before lockout on Saturday in AF.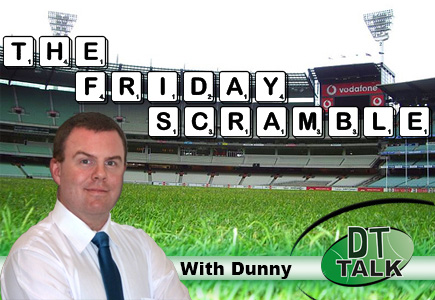 One game down, heaps to go!  How did you go last night?  Hopefully you are off to a blistering start to the season with some huge points.  Did you give the Loophole a crack?  We will have a look at all of the big issues from last night as well as preparing us for tomorrow's games.
Thankfully given it is Good Friday and there is no footy on today we have plenty of time to have a good hard look at our teams and make sure they are in tip top condition for the AF lockout tomorrow and the remaining rolling lockouts for RDT and SC over the weekend.
Rich V Carl Wrap
Our first game of the season threw a few interesting scores and here are the key scores from the night.
Bryce Gibbs! Did we see that coming?  I certainly didn't.  I knew he could score well but a 127!  I was equally surprised with Murphy's 126, there were doubts about him playing, I guess he was feeling ok!  Other notables were Kane Lambert with 125, he would have certainly rewarded the players that drafted him as I don't know that he would have been in too many regular teams.  Nick Graham and Sam Kerridge with 92 was nice.  Weitering with 71 was very handy as was Menadue with 67.  The big disappointment (although Calvin predicted it in his captains article) was that Dusty  only got to 75.
Loophole Decisions
Did you put the VC on anyone last night?  Here are a couple of the options and their scores and my thoughts on what you should do.
If you went with any of Gibbs 127, Murphy 126 or Lambert 125 (yeah right, only his family would have him VC) then lock and load the VC and get a non playing player on the field as you Captain.  If you went with Simpson 118 then you have a choice to make.  We normally say that the cut off is 120.  So this is line ball really.  Personally I probably say no.
If you went with anyone else that played last night then you need to find yourself a captain from the other 8 games.  Of course our man Calvin is here to make the tough decisions for you.  If you have Hannebery then he is your man according to the Pirate.  If you don't have him then you will have to go back and have a read of the article to see who he lists as the highest likely scorers to pick your captain.
The Traders' Round 1 PreviewPartial lockout is in effect! The Traders preview the rest of round one ahead of FULL LOCKOUT. Make sure you team is set by 1:40pm AEDT on Saturday 26 March.It's not too late to register and pick your squad. http://fantasy.afl.com.au

Posted by AFL Fantasy on Thursday, 24 March 2016
Team Selections.
The thing that we are most interested in at the start of Round one is the Rookies!  Who was named and who wasn't??
Well we were looked after pretty well by the Fantasy Gods with our round one teams.  This is quite unusual and given the lack of really great rookies this year it is nice that most of them have been named for round one.  Of course don't forget that there is every likelihood that they may not play round 2, but we can't really think about that at this point, you can only deal with the information that is put in front of you and this is all we have to work with.  So for me, I go for 30 green lights on my team because even if they only play one game (in AF) or three in the other formats they will make some cash of some sort (unless they are a complete and utter spud).
Firstly the BIG news that Gazza is IN!  So if that is what you were waiting for then wait no longer and lock him into your side.  He should run rampant against the Bombers unless they decide to use Crowley as a tagger.  Hopefully they don't.  Also in is Brad Crouch who was another favourite in the pre-season until he failed to play a game.  He is also right to go so if you were considering him then lock him in.
On the rookie front, Clayton Oliver, Matt Dea, Mitch Brown, Jonathan Simpkin, Darcy Parish, Anthony McDonald-Tipungwuti, Ryan Davis, Wayne Milera, Callum Mills, George Hewett, Marcus Adams, Jade Gresham, Josh Schache, Daniel Howe and Lincoln McCarthy were all named by their teams.  Just be careful with those playing Sunday and Monday as they are still squads.  However, quite a few of these guys were named on the field with Adams at full back, Mills on a wing and Schache at full forward just to name a few.  We know that we can't always take complete notice of this, but it is certainly a good sign if the guys are on the field.
Unfortunately Hartley missed out on a game for Essendon which is a bit of a surprise to most of us.  What this means though is that he is now on the list with guys like Petracca as downgrade targets at some stage early in the season.  Also a surprise (sort of) was that Leuenberger was named.  However note that he is listed on the bench and McKernan is their first ruck.  So I would still be steering clear of the Berger.  Also of interest at Essendon was the Nick Kommer is only an emergency which is a bit of a surprise, many of us thought he would get a game fairly comfortably.  Another to put on your potential downgrade list.
Personally I will be adjusting my team to bring Gazza in and Crouch will certainly be starting for me now.  Of the Rookies I think Oliver, Dea, Brown, Tippa, Davis, Milera, Mills, Hewett, Adams and McCarthy are all likely to get a run in my team, dollars permitting.
But of course, I am not the expert on Rookies, make sure you go back and read Jeppa's Article from last weekend.  It is huge and more often than not he hits the nail on the head with his selections.
Lockout Reminders
Remember that we have unusual lockouts in RDT and AF this weekend.  RDT will be a full rolling lockout for this week.  That means that each team has its' players locked out as their respective game starts.  For Supercoach players, this is exactly what we see in that game each week.
In AF this week we had the partial lockout last night, but ALL remaining players will be locked at the beginning of the Melbourne V GWS game tomorrow.  Be Warned!  Don't forget to have your line up fully set before the start of that game.  I would plan to have it done earlier that morning so that you don't have to scramble at the final minute and risk missing the lockout.
Things To Remember
Picking through the rookies?  Make sure you refer back to Jeppa's article to see who he thinks is the best person for your team.
Loophole didn't work for you?  Have a read of Calvin's Captains to see who he thinks is your best bet as a captain for the rest of the round.
Are you set with leagues?  Get your leagues finalised.  Fill them up with celebs if you can't get them filled.  If you don't you will get allocated random players to fill them up.
Don't Panic!  If you had someone that spudded it up last night like say Andrew Walker or Steven Morris, don't worry, it is only game 1. All of us will have a dud on the field at some point in the year, you just got yours out of the way early.
As we have a rolling lockout in RDT, make sure you keep an ear out before each game for any late outs as we do have the opportunity to fix up any issues we may have.
Best of luck for not only round one but for the entire season.  I am sure that we will all get very frustrated during the year, but don't give up, there will be others in the same boat as you.  Make sure you stay close to twitter and keep an eye out for any late changes.  Given the RDT rolling lockout this week you can make changes after we hear about these things so we may as well make the most of it.  I will catch you all on twitter over the weekend and the season, you can find me @pkd73.