The Friday Scramble Round 1 Early Edition
I'm here with the Early Edition of the Scramble on a Thursday as our season gets underway with the first game of the year. Jump on in for a few last minute thoughts.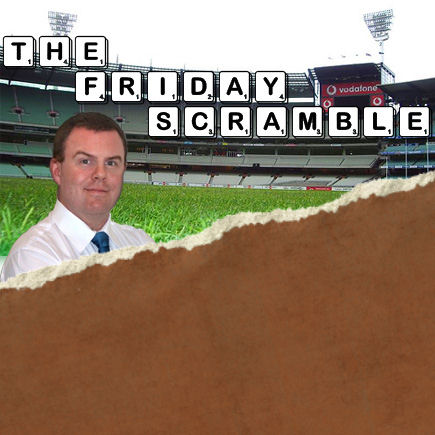 Here we are, on the precipice of greatness.  All of us have the squad that will win the prize this year and finish first!  Well that is what we all like to think anyway.  In reality only one of us has that squad.  The rest of us are playing for league glory only.  But there is nothing wrong with that.  Taking bragging rights and or cash of our mates is still very important!
So tonight we have the first game of the round and that is Carlton v Richmond.  Some of the key things to think about and remember for tonights game are…
All formats will lock the Carlton and Richmond players tonight, however all other players will be available to be moved around.  Fantasy has full lockout as of Saturday's Melb v GWS game.  The other two formats will have full rolling lockouts this week.
Remember for AF we won't have final teams for Hawthorn v Geelong prior to lockout, they will only come through on Saturday night given it is a Monday game.  So just beware if you are going to be naming any rookies from those two clubs.
Key ins and outs for tonights game include…
No Nathan Broad so get him out of of your line ups now!  So from here we hope that he doesn't get picked for a few weeks whilst some of our other rookies go up in price a bit.  Have a listen to my chat with Warnie to hear why I don't think you should start with him.
As reported earlier Brett Deledio isn't playing either.  So another premo will need to come in for him.
Jacob Weitering is in for his first ever game.  Given he is a rookie (well an expensive one) and he is actually playing it wouldn't be a bad idea as we don't know which other rookies are in just yet.  If you have time to change your side after teams tomorrow and before the bounce you could swap around then if you really don't want him.
Mark Murphy has been named.  But if you are going with him just check for late outs, I'm still not convinced he is 100%.
I had a chat with Warnie earlier about my starting squad as it stands before final teams and also about a few Fantasy strategies and answered a few questions from you guys.  Have a listen, and also check out how my team stands at the bottom of this article.
Things To Remember
Don't Panic!  Only your Tigers and Blues are locked out, all the rest are good to play with tomorrow.
Leave yourself some flexibility.  Once the other teams are named tonight you may need to make some changes to your rookies (I think we can count on that) so make sure you don't paint yourself into a corner and have no way to change them around.
Check out Calvin's Captains.  He has all the info you need about how to enact the Loophole tonight.  If you don't understand it, check his article, all is revealed.
Get your leagues filled up!  Speaking of leagues…. TF2CRYR7  Last one from me this season.  Jump on in and take me on (unless you jumped in last week's league).
I'll be back tomorrow with a regular dose of the scramble for Good Friday.  See you all then!