Calvin's Captains – Rd. 1
Arrrggghhh! Calvin's Captains is back with a very special edition for round one… and hey, he explains the loophole!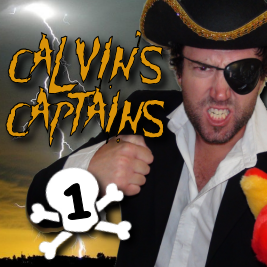 #1 – Dan Hannebery v Collingwood @ the SCG
After smashing out a NAB Challenge high of 153 (38d), Hanna made many coaches take notice and unlike Rockliff, he has runs on the board. At the SCG last year he averaged 127 in 8 games and just loves clocking up big scores on the Fantasy friendly ground.The Pies leak Fantasy points as they are not overly defensive and love going head to head against their opposition. Last year against the Pies he scored 119 (31d, 6m) and my only concern here is a possible tag from Brent Macaffer or Crisp. Back when Macaffer was fit and tagging in 2014 he claimed some huge scalps. However, when he met the Pies that year, he went to Kieren Jack. Macaffer didn't tag over the pre-season and I doubt he will this week, so rest easy Hannebery fans, another huge score is on the cards in this exciting opening round.
#2 – Tom Rockliff v West Coast @ Domain Stadium
Rocky scored only 66 against the Eagles last year on a day he spent a lot of time forward for only 16 touches. However, let's not forget how this little Piggy finished the year with scores of 149, 159, 140, 143. In 2015, the Eagles bleed Fantasy points to be one of the easiest to score against in the competition. In the Grand Final last year, the Hawks managed 9×100+ scores and although the Lions are far from the Hawthorn outfit, the message I'm sending here is very clear. They give up plenty! A slight issue is the fact we haven't even seen Rocky this pre-season and also the fact he is under a small injury cloud  at the moment. This reason alone is the reason he doesn't sit at number one this week… but he'll be fine come Sunday afternoon to pump out something huge as you'd expect.
#3 – Tom Mitchell v Collingwood @ the SCG
Tom Mitchell is another lover of the SCG, a ground he averages 135 on in his last 4 games. Last time he played the Pies he scored a team high 138pts from 41 touches. For points per minutes played over the NAB, Mitchell was the highest rating Swan and therefore a sneaky option for captaincy this week.
#4 – Stefan Martin v West Coast @ Domain Stadium
Stef scored 119 against Nic Nat last year and ended the year with scores of 152, 107 and 151. He only managed to play one NAB game and that was enough for his 118pts. If you've paid the big bucks you will be rewarded straight up.
#5 – Scott Pendlebury v Sydney @ the SCG
Pendlebury has a great record against the Swans that has seen him score 113, 152 and 117 against them in his last 3 outings. The 'new' role for Pendles that we keep hearing about does offer some doubt on him in the opening round, but it's a role that could also produce more easy +6's across the back half.
In Order of 2015 Averages…
Todd Goldstein v Adelaide @ Etihad Stadium
Goldy played against the Crows in the opening round last year and only managed 85. Pass this week.
Jack Steven v Port Adelaide @ Adelaide Oval
Steven scored well at Adelaide Oval last year with 98 and a nice 106 which he scored on the Power.
Luke Hodge v Geelong @ the MCG
In round one last year, Hodgey played the Cats and posted 115. He backed that up in round 20 (109pts) and is always a top option. I just don't want to wait till Monday to see my captain play.
Jordan Lewis v Geelong @ the MCG
Same deal with Lewis. Monday is a long way away although he might reward the patient coaches out there. Last year in the opening round he set the MCG on fire with 156.
Dane Swan v Sydney @ the SCG
Swanny had a game high 138 on the Swans last year at the SCG but apparently, Nathan Buckley thinks he is better suited as a forward. Go figure. He had 39 touches that day and must be passed up on based on his new role.
Leigh Montagna v Port Adelaide @ Adelaide Oval
Only 90 on the Power last year, isn't enough to get my juices flowing.
Josh P. Kennedy v Collingwood
JPK whipped up 120 on the Pies last year and has once again been over-looked by many but not the 4% of coaches who have locked him in. Great option if you are an owner.
David Armitage v Port Adelaide @ Adelaide Oval
He scored 77 on the Power last year and hasn't cracked over 100 against them in his career 6 games. Not the record you want heading into round one.
Patrick Dangerfield v Hawthorn @ SCG
Danger smashed the NAB scoring 1.36 points per minute and has a record against the Hawks worth bragging about with 105, 105, 132 and 142 are his last 4 scores against them. But how will be fair when the really stuff starts, in a new kit, with new team mates, on a Monday at the MCG? I think he'll thrive and you should consider giving him the big 'C'.
David Mundy v Bulldogs @ Etihad Stadium
Nothing over 75 in his last 3 against the Dogs so it's a pass for me.
Nat Fyfe v Bulldogs @ Etihad Stadium
109 last year was a solid effort from the Brownlow Medallist. We have better options than Fyfe this week though.
Andrew Gaff v Brisbane @ Domain Stadium
He only played the Lions once last year for 94 but loves playing on his home ground where he scored 125 and 121 in his last two games. He scored 10×100+ scores there from 12 games last year and is a rock solid option each week.
Jack Macrae v Fremantle @ Etihad Stadium
He never played the Dockers last year and only managed 97 on them in 2014. I love this kid and although he is a pig in the making… it's a pass.
Matthew Boyd v Fremantle @ Etihad Stadium
Old man Boyd scored 99 on the Dockers last year and way back in 2011/12 he went on a terrific run against them scoring 162, 155 and 133. Too risky against Freo unfortunately, although he does love it under the Etihad roof.
Sam Mitchell v Geelong @ the MCG
Mitchell can be a little up and down against the Cats with scores of 110, 76, 116, 95 and 87 in his last 5 games. The turn off for me is the score of 76 that he scored this time last year against them in the opening round.
Gary Ablett v Essendon @ Metricon Stadium
Obviously, Gaz isn't in the top 20 averages of last year I have studed but of course he needs a mention. If Ablett was 100% fit then he would have been my #1 this week but it's just too hard to tell. He scored 136 and 160 in his last games against the Bombers and that was when they were good. He scored 176 in his last run at Metricon and although there are rumours that Crowley might tag him, I highly doubt that will be the case. We need to see Gaz at least once before we give him the responsibility of the big 'C'. Another guy to consider here and a mega smokie is the inform Aaron Hall. He had a season high 121 on the Bombers last year and as we all know, this tim eit will be a lot easier.
How does it work?
It works because of the partial lock-out on Thursday night. We get this on all partial lock-outs this year.
Let's say you place the VC on Dustin Martin who plays Thursday night. He scores 150 (300 doubled) and you want that as your captain's score. All you do is, then place a non-playing player on your field (usually from your rucks, like Mason Cox) and make him your captain. This will allow Martin's VC score to stay and double when Cox gets a zero for not playing.
Just make sure you have a player NOT playing and that you have also clicked on an 'emergency' in that position to replace the zero as well. Example: Put Stef Martin on your bench (EMG) and Cox on Ground (C).
If Dusty sucks, then put the 'C' on Rocky or someone as you normally would and soldier on.
It just so has it that Dustin Martin will suck based on his previous form against the Blues. They are by far his worst team to score against with nothing over 95 against them in his career 12 games. Bachar Houli had a great NAB Challenge but only managed 57 and 78 on the Blues last year making our options here pretty bloody limited.
Brandon Ellis might be one of the best options as he had 121 and 96 on them last year. Either way, they'll need to score 130+ for me to keep the score and at the end of the day, it's a free hit so stab away. It doesn't really matter.
REMEMBER THESE TIMES: All Carlton and Richmond players are locked in at 7:20pm AEDT Thursday with all other players still free to be moved and traded. Full lock-out of everyone is on Saturday 1:40pm for the Melb/GWS game.