The Friday Scramble: Pre-Season Edition
With a week to go until the start of the season, I have dropped by to give a few thoughts for your preparation as we head to lockout.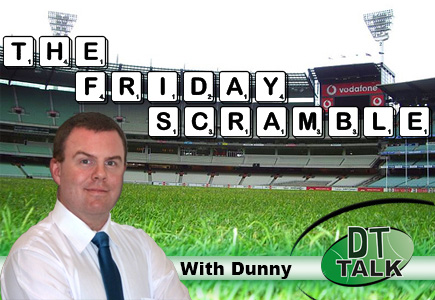 Really?  It is time for the season to start again?  Already?  Well stuff me, here we are, just 6 days out from the season opener between Carlton and Richmond.  So what does that mean, we need to make sure that our teams are all set and ready to go.  I will be back next THURSDAY morning with a quick look at round 1 then again on Good Friday for the first official Scramble, but this week I thought I would just cover a few things from the NAB cup to help you as we head towards that first lockout.
Who's In and Who's Out?
Over the next week you need to get a handle on who is actually going to play and who isn't.  First port of call is the tribunal and who is suspended.  But don't just look at the guys who were suspended during the NAB that won't be playing, Sandilands and Daisy are the ones that spring to mind along with Zorko.  I just want to pause and thank the tribunal for taking the Daisy Thomas decision out of our hands.  You also need to look back to the end of last season and see who has suspensions hanging over from last year.
Next we need to look at injuries.  Who is broken down already.  Reece Conca was getting a few headlines but now he is out for 10 weeks with another hammy injury.  The bigger name though is that of Dayne Beams who is out… wait for it…. indefinitely!  How scary is that!!  There is always a beneficiary though and in the case of Beams, Rocky tends to score better without Beams there.  And with Conca out it would appear that one of the Tiger rookies will have a better chance of getting a good run on the ground.  Speaking of the Tigers it looks like Shane Edwards should be ok, but I would be very careful.
As for who is in, the most important thing is to keep an eye on rookie elevations.  These guys are generally being elevated for a reason and with no green vests anymore if they make the team they should score some reasonable points.  Keep an eye on Twitter and whenever we hear anything we will certainly let you know.
Midprice Mayhem?
Every year we toy with the idea of having mid pricers in our side and every year it burns us.  We all know that the key to this game is Guns n Rookies.  So why oh why do we toy with midpricers?  Well there are always a few that we have to take a gamble on.  If you are going to take a crack at a mid pricer, the ones that I would suggest looking at are those that are guys who can score at a premium level.  We often find these guys are someone that had an injury riddled season last year or something similar.  The ones that spring to mind are Libba and Brad Crouch.  The others are ones that have gone elsewhere for opportunity.  Sam Kerridge is the one that I would see as being an obvious one in that category.
No Form is Good Form?
We all locked both of these guys in straight away based on talent and discounted prices.  Gary Ablett and Brad Crouch were locked into a LOT of teams. UWPSWJPC  However, we haven't seen either of them in the preseason (however Brad did play in an SANFL game which was fairly close and the Crows lost).  This is another golden rule of DT that we are all lining up to break this year.  We all know that we shouldn't pick a guy that hasn't played in NAB.  At least in the case of Crouch we know he didn't play because he got on the cans when he wasn't supposed to.  But for Ablett I am worried.  Is he over the injury?  Will he play round one? Will he play 20+ games?
LOCKOUT DETAILS
Since we have a Thurs night game in round 1 we have a few Lockout differences.
Firstly the obvious, Supercoach will be as per normal with full rolling lockout each and every week.
AFL Fantasy is a Partial Lockout, which means Thurs night guys will be locked out at the start of that game and then all other players are locked out at the start of the first Saturday game which is Melb v GWS.
Real Dreamteam is implementing a full rolling lockout for round 1 Only.  So this means it will be the same as Supercoach, all teams will lock at the start of their respective games.  Just remember this is only for round 1.
Things To Remember
Just under a week to go!
Make sure you read Jeppa's Juniors wrap of the NAB.  You won't find a more comprehensive take on all the rookies anywhere else.  Look for it very soon!
Byes are later in the season this year, so they aren't quite as important for planning at this stage, but they need to be in your upgrade plans as you will have upgraded some of your rookies prior to the byes hitting.
Don't get yourself locked into rookies at this stage, you need to make sure you have some wiggle room for when the teams drop next week.
That's just a few random thoughts for you as we head to the last week before lockout.
All the best for your last weekend off until October.  I know I will be making the most of it.  Check back in with me next week for a special THURSDAY Scramble before the R1 opening game and then I will be back again on Friday for the regular scramble.  Keep an eye out for the guys and myself on twitter.  You can find me @pkd73 and then some of the other guys on @warnieDT @calvinDT @royDT @tbetta9 @jeppaDT