What we learned from the NAB Challenge 2016
The DT Talk team take a look at each club and what we got out of their performances (or lack of) in the NAB Challenge over the last four weeks.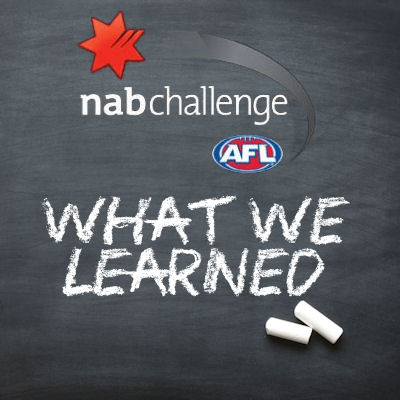 The DT Talk team take a look at each club and what we got out of their performances (or lack of) in the NAB Challenge over the last four weeks.
IMPRESSING
Matt Crouch (MID, $396,000) is a freak! A dead set freak and should be in your team. Before the NAB Challenge some genius (me) was quoted in the AFL Record saying "Players who are entering their third season of AFL tend to break-out in a big way. Crouch averaged 85 in the 10 games he avoided the vest last year and with Dangerfield gone, there should be more opportunities." NAB Challenge starts and BANG, Crouch ranks as one of the best (if not the best) is the 'points per minutes played' category.
He has scored 81, 105 and then 100 in his last game with only 69% time on ground. Make no mistake about it, this kid is the real deal.
After Rory Laird (DEF, $489,000) broke out last year to average 88 it seems many coaches have forgotten this man who has flown under the radar. Owned by 11% of coaches he hasn't put a foot wrong scoring 72 and 96. @FantasyFreako also told us that he ranked at No.1 in the defensive half for handball receives over the NAB Series and shouldn't be written off.
START STRESSING
Is Dean Gore (MID, $125,000) in the Crow's best-22? I have my doubts. He scored 70 in NAB1 and got everyone excited and in NAB2 he racked up 20 and then wasn't even seen in the final NAB game, where he managed just 11% time on ground, even when there was time available when Brad Crouch and Rory Atkins were omitted for being naughty boys. Wait and watch with little hope.
STILL GUESSING
Matt is on fire, but we haven't seen older brother Brad Crouch (MID, $415,000). All we are hearing is that he's been dominating other games such as intra-club (41 touches) and the SANFL trail game (40 touches) without actually playing in any of the real NAB games. Am I worried… yep, but with that said, he a magnet and obvious back to playing great footy with the amount of ball he has been finding.
Finally, Paul Seedsman (DEF/MID, $353,000) is another one I get asked about all the time and for good reason after he racked up 105 on the weekend, backing up the 72 he had in NAB2. Seedsman appears to be right at home now at Adelaide and could have a break-out year after only averaging 64 last year. Will I roll with him? No… but 14% of coaches currently are and I won't be talking you out of it.
IMPRESSING
Across both of the Lions' preseason games, Mitch Robinson ($504 000, FWD/MID) has lead from the front and delivered on both occasions. Scores of 91 and 110 make him almost irresistible to pass up given the minimal risk he has. Robinson is still owned in less than 5% of teams despite being one of the surest prospects of the NAB Challenge. If you watched Brisbane's game against GWS, chances are you saw Tom Cutler ($317 000, DEF). He has assumed a greater responsibility in the defensive half and looks to be the Lions' first choice rebounding defender going forward. He has scores of 81 and 89 in the NAB Challenge and looks every possibility to break out this year. Stefan Martin ($631 000, RUC) needs no further introduction and should be a lock in every team. He scored 118 points against GWS which is child's play for him these days.
START STRESSING
Former Blue Tom Bell ($492 000, FWD) has struggled in both outings for his new club, averaging just 56 points in his two encounters. After averaging 88 last year, Bell's midfield time looks marginalised considering he played as a medium size forward even without Rockliff and Beams. Fantasy king Tom Rockliff ($579 000, MID) insists he'll be right for Round One, but nothing is a guarantee in this day and age. Failing to play a preseason game, we can't help but be a little bit concerned by the prospect of Rockliff not suiting up in the opening week, as unlikely as it is.
STILL GUESSING
With their second game washed out and having not played in their third, Ben Keays ($176 000, MID) enters Round One with only game to his name. As a rookie his exact role is still murky and coaches may be forced to look elsewhere to fill that M7/M8 spot. On Saturday, he played in a NEAFL practice game as midfielder, but there's really not much we can look into that as a true indication of his role.
IMPRESSING
Sam Kerridge (FWD/MID, $299,000) backed up his impressive game against the Hawks with an outstanding game against the Swans, scoring 105 from 26 possessions and three goals. The most impressive thing about Kerridge is that he has found a way to score in both games, whether it be tackles or goals to add to his impressive possession tallies. He is very important to the Blues and I can't see any reason not to pick him.
START STRESSING
Stressing in a positive way… if that is possible at this time of year. Stressing about being a 'NAB hype' coach is a big thing and if you pick a player on the back of good NAB form and they stink, it sets you up to be the laughing stock of your mates. Look at this: A team high 93 from 18 touches and 2 goals, a team high 90 from 24 touches and two tackles, a team high 122 from 30 touches, 6 marks, 4 tackles and a goal. All this from a bloke that is just $353,000. Why aren't we considering Nick Graham? Other than the fact you have never heard of him and you are sh*tting yourself about how much crap you will cop if he stinks it up. For your information, he is heading into his fourth year and is about to go bang! If I wasn't so scared about the harassment from my sh*t mates, I would definitely be thinking about it.
STILL GUESSING
I had almost written off Bryce Gibbs (MID, $449,000) after his lacklustre game against the Hawks, but reminded myself he should get more outside ball when a few key personnel returned to the midfield. We saw against the Swans, that this was the case as he looked far more potent with 94 from 23 touches. I still think he is heavily under-priced, but I can't bring myself to do it… Blame it on the bun.
After a massive second year, could the Blues best player Patrick Cripps (MID, $477,000) have a third year break-out? Has he already broken out? How high can he go? Will he be tagged every week despite the difficulties of tagging inside midfielders? I don't have an answer to any of these questions, but what I do know is that he is now in the mix for a sliding door, mid price position in my team. In his one and only NAB Challenge hit out, he was amazing against very impressive opposition with 87… from 53% game time. That's right, the massive midfielder had 24 touches (handball happy: 16), 3 marks, 4 tackles and a goal in a little over a half of footy. He could be a stroke of genius as he is currently owned by less than 10% of the competition.

IMPRESSING
Taylor Adams (MID – $560,000) has had a stellar pre-season with returns of 33 (36% TOG), 100 (69% TOG) and 113 (73% TOG). He played with a vigour and ferociousness that was unmatched and which will no doubt continue into the season-proper. He looks primed to increase on his 2015 average of 101 and push into the super-premium category.
Another Pie who impressed in the NAB Challenge was Jordan DeGoey (FWD/MID – $342,000). He put together two solid outings of 102 (77% TOG) and 81 (81% TOG). He didn't play in the second week of the NAB. He is a contested beast and his skills are exquisite. If he can get the midfield time he will be a great value pick.
START STRESSING
If anyone has James Aish (DEF/MID – $293,000) or Brodie Grundy (RUC – $504,000) then it might be time to start shuffling the team around and removing these guys from your line-up. Aish played every NAB Challenge game but his stats were less than average (46 from 80% TOG, 60 from 73% TOG, 9 from 23% TOG) and after listening to Swanny on the podcast the other night it doesn't sound like he will be lining up round 1. A bit of mystery surrounds Grundy, who had an underwhelming pre-season (71 from 87% TOG, 32 from 44% TOG, DNP). It's unknown whether he is injured or just not in Buckley's best 22 at this stage. Either way he is best left out of your AFL Fantasy squad.
STILL GUESSING
It seems silly to be guessing about two of the greats of the game but there are some serious question marks over the roles that Scott Pendlebury (MID – $615,000) and Dane Swan (MID – $609,000) will be playing in the Pies line-up this season. Pendlebury had a solid NAB Challenge campaign (DNP, 75 from 73% TOG, 86 from 81% TOG) but was seen at times coming off the half-back line rather than his usual role in the middle. Similar can be said about Swan (60 from 80%, DNP, 104 from 81%) but rather than playing in the back-line Swan was spotted deep forward. These two fantasy stars should still exceed an average of 100+ but it's a guess as to how much they will exceed that figure by.

IMPRESSING
With so many options at the Bombers due to the ASADA stuff and the CAS finding, the NAB Challenge was interesting for a few guys to cement their spots. Anthony McDonald-Tipungwuti (DEF/FWD, $162,000) locks himself into our teams. It just depends on where you want him to fit your structure. He is my D6 at the moment, however it might be safer to have him on your bench. 76 on the weekend after a big start (slowed down when switched forward) is enough to give you faith you could start him. Tippa (or Walla to his mates) is a sure thing to play round one.
Matt Dea (DEF, $170,000) played two games for 52 (74% TOG) and 81 (80% TOG) and sits himself on field at the moment. A better option than Brown (more on him down below).
I have to say the David Zaharakis (MID, $415,000) is impressing me, despite what Roy and Calvin say. Yes, he will cop more attention than what is out there in the NAB Challenge, but he will be the frontline midfielder – who is underpriced in fantasy – and likely to hit a high 90s average. Heck, I think he can be 100. He has gone 101 (80% TOG) v Carlton and 89 (81% TOG) v West Coast. Risky to go with him with the Bombers likely to be on the end of some hidings, but geez… you can see that Zaharakis will have a good year.
START STRESSING
Cross Craig Bird (FWD/MID, $321,000) off your list. I was keen on him and still think he can be solid, increasing his numbers, but I can't do it. It's more about his price compared to others. Go your Kerridge and Wells instead. No room at the inn for the word.
I have to mention Matthew Leuenberger (RUC/FWD, $301,000) here… but not writing him off, just stressing. The 'Berger has had an interrupted pre-season (achilles complaint), and didn't play a NAB game. He did however play in the VFL on the weekend and racked up about 20 odd touches for a pretty impressive effort – well, so says my insider at the game, Flash. Leuenberger is looking likely to be named for round one, but it will take some big kahunas to select him. I'm not sure that I can, but man he saves some coin. Just too much risk.
STILL GUESSING
Plenty of coaches had Mitch Brown (DEF/FWD, $194,000) firmly on their ground in D5 or D6. Easy pick as he would be playing and scored pretty well in last year's NAB Challenge when he was a replacement. The 83 he scored against the Blues made us all at ease with our decision to field the former Cat, but then backing up with a pair of 36s makes it hard to keep him as there will be some pretty low scores coming from him and we may as well do that with blokes priced cheaper. For now, he is out of my team… but he has better job security than most blokes under $200K. A big decision will need to be made over the next week or so.
Darcy Parish (MID, $260,000) is a gun, but I don't think we can do it when Mills and Oliver are sitting there a bit cheaper.
At his price, Jonathan Simpkin (FWD/MID, $226,000) was looking like a must have. He scored 55, 51 and 78 in his three appearances. Don't take him out based on these scores. Simpkin looked much better against the Eagles, finding the ball 19 time and taking 7 marks. Still a worthy starter because of the price. But it would have to be a F5 or F6. Structure is very important here.
I could go on all day about some Bombers who we don't really have answers from based on NAB. Nick Kommer (FWD, $125,000) will be playing, but does he score enough to go up in price enough – or are there better $125K options for us? Do we go with Sam Michael (RUC, $140,000) on the bench? He'll be a chance to get a game through the year. Ahh.. so many questions but we will be covering plenty of Essendon stuff next week! Stay tuned. I need Jeppa's Juniors.
Ok before we even get into the nitty gritty of Fremantle, I have to issue a disclaimer. Here goes… My pick for 'Start Stressing' will be wildly controversial but I stand by it…..(for now anyway). I have a very good mate Ryan who is probably the most one eyed Fremantle supporter this side of the country and even he agrees with me. In fact, it was he who first suggested this particular player in the first place (great handball Leighroy J). Sure, the Dockers have their fair share of 'bad' Fantasy players but to put them into the 'Start Stressing' column would quite frankly be boring and obvious. In addition, the bad players I speak of are largely not Fantasy relevant anyway and as such it would be nonsensical for me to even bring them up. Enjoy!
IMPRESSING

  
This one is so very obvious. Pull out your phones, open the AFL Fantasy app and lock in Michael Barlow (MID/FWD $515,000) as your F1/F2 or even F3 depending on your team structure. We heard rumours this preseason that Barlow would be playing a more midfield role this year as opposed to last year where he was played up forward a lot and recorded his worst Fantasy average since 2011. This year he looks back to his very best and the stats speak largely for themselves. In his first preseason game against the Tigers, he amassed 14 kicks, 7 marks, 13 handballs and 1 goal 3 behinds. This resulted in him scoring a crowd pleasing 125 points from 89% TOG. Regardless of whether Richmond brought their B team on the day, his score brought a smile to the many Fantasy coaches across the land who had him locked into their imaginary teams since January. The only real question was whether or not Barlow would be able to back up his 125 in the next hit out. Along came game 2 against a relatively strong Adelaide outfit. Once again, Barlow put on a display and ended up with 90 points from just 68% TOG. As they say, 2 out of 3 aint' bad and he would have been forgiven for having a dip in points come their last game of the preseason competition. Alas this was not the case and Barlow finished with 11 kicks, 16 handballs and 6 tackles for a grand total of 93 points from 75% TOG. These numbers are not flukes people. Barlow is in the prime seat this year with his DPP status to finish as a top 6 forward and I urge you to try and find a way for him to be in your team. A few people are opting to take a somewhat riskier option and backing in Bennell over Barlow. Again, I sit squarely on the fence with that debate because although I feel Bennell is a slightly better player these days, he carries a lot more risks than the already established Barlow. Time will indeed tell the story on that one, and although I love what Barlow has produced this preseason the risk vs reward attached to Bennell is very, very tempting.
START STRESSING
Ok, if you're still reading on let me remind you that I did warn you that this might rustle a few feathers…. My choice for 'Start Stressing' is none other than last year's Brownlow Medallist Nat Fyfe (MID $581,000). Allow me to explain. Firstly, I am by no means saying Fyfe isn't the competitions best player. In fact, personally he's my favourite player (after Dangerfield of course). He oozes talent and motivates his teammates to be the best they can be. Make no mistake he is a star and will continue to be so for many, many years to come. My issue then comes with his price and what exactly you are getting for your $581,000 investment. Week in week out Fyfe will cop not only the number 1 tag but also the attention of those players who just want to stir the pot. Every game I've watched him in, it seems someone is roughing him up and trying to get a reaction out of him. Moreover, a great many times this has happened, Fyfe has bitten back and not so much lost his temper but shown that he can get rough too. He's no stranger to the MRP looking at him and quite frankly this adds more stress for Fantasy coaches who are looking to fork out over 5% of their budget for him. For that kind of money, it is hard to find a player who won't cop a tag every now and then but with Fyfe, you can be sure that every opposition player wants a crack at him. Unfair I know but tis' the game we all love. He has shown that he can quite easily play with a broken leg but this doesn't fill me with confidence. His troublesome back could also mean late withdrawals at stages and that spells disaster (given it does take a LOT for him to put his hand up and say he cannot play). When it comes down to it though I don't want my 550+ k players playing through injuries! Lately he is also very handball happy. In his three preseason games this year he never kicked the pill more than handballing it. I like my players kicking not handballing. In his first game this year he managed 58 points from 44% TOG. That's not bad to be fair but the next two matches he didn't set the world on fire even though he played over 80% on both occasions. In his second game he managed 10 kicks, 16 handballs and 2 goals 1 behind, helping him to a total of 98 points. In his third hit out against Geelong he once again played a handball happy game (19 handballs, 7 kicks) and only managed 75 points from 82% TOG. I don't know, maybe I'm being too harsh, maybe my expectations are too high? The thing is, he's priced around guys like Rocky, Ablett, Dangerfield, Tom Mitchell, Treloar etc. There is a plethora of talent there and quite honestly I would pick all of those players over Fyfe for the reasons mentioned above. Over the years I've been playing head to head matchups on AFL Fantasy I've always tried to pick players that don't make me nervous and to be truthful the massive tag risk that Fyfe comes with is enough for me to pass. Absolute legend of the game but from what I've seen so far this preseason not a necessity in AFL Fantasy.
STILL GUESSING
I alluded to Harley Bennell (FWD/MID $509,000) earlier when comparing him to Barlow and realistically I'm still guessing as to what he will produce this year. Make no mistake he is a jet and he showed it against the Cats in the Dockers last NAB Challenge game of the season. For just 58% game time, Bennell racked up 10 kicks, 5 marks, 7 handballs and 1 goal 2 behinds for a total of 71 Fantasy points. He was playing very unselfish footy too, gifting goals to his new teammates left right and centre. I heard that Ross still wants him to play in the WAFL before he gets a call up for round 1 so I will be monitoring that, but for me if he is selected round 1 I will swap Barlow out for him as my F2. Big call I know but the reward could be massive! I feel like he's just got to get a bit of confidence back and we will see him running around the ground playing wherever he is needed be it on the ball or in the forward line. I put him in the 'still guessing' section because realistically we haven't seen enough of him yet to make an informed decision. Who knows, he could well be a top 6 forward come years end if he plays most of the season. For now, we'll just have to wait and see.
Another player I'm really liking this year is none other than Tommy Sheridan (DEF $359,000). With a lot of people opting to go for a budget/midpriced defence this year, Tommy could find his way into your team quite easily. In his first NAB hit out this year he gathered a whopping 23 disposals, 13 kicks, 10 handballs, 3 marks and 1 tackle for a nice 70 Fantasy points. These aren't ground breaking stats by any means, but he was able to back it up in the following weeks. In his second game against Adelaide he played just 76% TOG but amassed 89 Fantasy points and in his final NAB performance finished up with 75 points from 80% TOG. Again I'm by no means saying he's a lock but there is a chance for a breakout this season if all things go to plan. He's priced around some other popular picks in Jesse Lonergan and Zac Williams but personally I'd take Sheridan over both due to his current form, job security and potential. To be honest, he only JUST edges out Lonergan and there is still time until round 1 lockout, but for now he's in my team comfortably.
IMPRESSING
I don't really need to add much about Dangerfield that hasn't already been made clear during pre-season. He hasn't missed a beat, and whilst Danger won't run around unmarked every game this season, he looks like he'll dominate regardless. You're taking a massive risk starting without him, based on his early form he's set for his best season yet.
START STRESSING
I was going to have Jimmy Bartel here, but I just don't believe we need to stress about him. He'll be fine. Mark Blicavs is a utility player, and that's the role he has performed for Chris Scott during the NAB. Unfortunately, the role he hasn't been given so far is ruckman. During his 3 games in pre-season, The Blix has managed just 11 hitouts. For comparison, he averaged 16 hitouts per game in 2015. I wrote in the deck that I believed he needed at least a backup ruckman role to increase on his average, and it doesn't look like that is the case. He will still run through the midfield, tackle like crazy and average around 90 but without those extra hitout points I can't see his output matching his price tag. Of course if Rhys Stanley or Zach Smith get injured, Blicavs will surge straight back onto our radar.
STILL GUESSING
It's impossible not to wish all the best for Daniel Menzel as he tries to get his career back on track following FOUR ACL's. He put in a great showing in NAB 1, scoring 81 from 82% game time. Priced at just $260k he's in a lot of teams. Unfortunately we haven't seen him since that first weekend thanks to a 'minor' calf problem. He's still pushing for Round 1 selection but this has to be a concern. Will his body stay fit? Will he play Round 1? They're not exactly questions you want to be asking heading into first lockout. Monitor his progress closely.
IMPRESSING
The career upheaval of Aaron Hall ($422 000, FWD/MD) has been remarkable since the midway point of last season. Heading into this season, concerns were again raised about his ability to score similarly once the familiar faces of the Suns' midfield return. With some of those names not yet returning, Hall has been able to dismiss claims and all but lock down a midfield/wing spot. He has scores of 130, 107 and 67 (4th highest of any Sun vs Brisbane) across the tournament and will be a popular pick this season. Jesse Lonergan ($346 000, DEF/MID) also seems poised to kick it up a notch this season after a string of impressive performances in the NAB Challenge. His most notable performance, 81 points in the first week of games catapulted him into selection consideration.
START STRESSING
Gary Ablett ($581 000, MID) has failed to play a NAB Challenge game for the second year which raises more concern about his lengthy run with injury. Despite Rodney Eade stating he will be absolutely 100% fit in time for Round One, it's discernibly hard not to treat Ablett with caution. After all, we were all in the same predicament just one year ago. Whether or not Daniel Currie ($125 000, RUC) will play as the second ruckman to Tom Nicholls in the regular season is too, murky. While it's not high on our priority lists it'd be nice knowing we have a playing bench ruckman in the opening round.
STILL GUESSING
Matt Rosa ($411 000, DEF/MID) remains a large question mark emerging from the NAB Challenge. Once a player capable of averaging 90, he was tipped to return to that calibre this season. He has returned to the wing where he produced his best football at West Coast, but has failed to capitalise with fantasy scores of 53 and 52. Despite his low scores, Rosa average 20.5 disposals in his two games which is it all the more confusing.
IMPRESSING
Heath Shaw (DEF $532,000) should have been locked into your defensive line for a few weeks now. The premium defender showed that last year was not a fluke, and with scores of 99 & 118 from his only two outings, he looks one of the safest bets of all defenders.
Steve Johnson (FWD $479,000) has reportedly had his best preseason in six years, and although the 57 points he scored against Brisbane looks meagre, he scored that from just 39% game time! From 86% game time the week before he scored a decent 85. The only problem with Johnson is fitting him in with so many other forward options.
STILL GUESSING
Jack Steele (MID $324,000) looks set to take over Adam Treloar's inside clearance role at the Giants in 2016; but it's no certainty he can get large enough scores to pick him at his awkward price. Having played in all three NAB games, Jack scored 46, 51 & 119. If you take a punt on him, you'd want to hope for his form against Brisbane to continue.
Nathan Wilson (DEF $266,000) may have won himself a round one position as the go-to rebound defender due to his pace and his kicking, but he isn't a proven scorer. Despite his 102 against Brisbane, he scored 52 against the Dogs and 74 against the Swans. There are worse options to have as an on the field cheap defender, and his price is impacted by waring the sub vest last year, but don't except high scores every week.
START STRESSING
Dark horse defender Zac Williams (DEF $358,000) looked a good option going into the NAB Challenge. After a good end to the year last season where Zac moved up the ground to help cover the loss of pace from Dylan Shiel and Tom Scully, he looked to be an underpriced defender who could average 80+. But the form of Wilson has basically forced Williams from the ground. At this stage I'd be surprised if he is named for round one.
Adam Tomlinson (DEF/FWD  $337,000) may have been on the radar for some, but his scores of 56, 52 & 51 (all from 75%+ game time suggest he's not ready to break out yet.
IMPRESSING
In the 2014 national draft, the hawks selected Daniel Howe with the 31st overall pick. He played 4 games in 2015, looking remarkably composed off half back, and his 2016 preseason looks promising as well. He scored a massive 111 points from 72% game time in NAB1, 69 points in 85% game time in NAB2 and 72 points in NAB3, and showed that he doesn't look out of place at the top level – and he can score! He looks to me like an Andrew Mackie type. If he gets a game in Round 1 vs the cats, he must be considered. Don't buy into the hype that Jordan Lewis doesn't have any "upside" – 123 points from 79% game time in NAB1 is not a bad return! Brendan Whitecross' recent injury troubles have been well documented. After doing his knee in the 2013 prelim (after coming on as the sub mid-way through the 4th quarter mind you!) he has barely been sighted. He had the chance to leave the club via free agency at the end of 2015, and decided to stay on and fight for his spot. Although he didn't play NAB3, scores of 51 points from 73% game time in NAB1 and 63 points in 76% game time in NAB2 don't jump off the page, but he ran freely to be a good link up player when the hawks were in possession of the ball – lots of handy +6's. He's a smart player – must be considered if selected in Round 1. Oh, and did you hear Sammy Mitchell had 142 in NAB3, from 45 touches? Like a fine wine.
START STRESSING
For those of you who read my article on Jack Gunston in the Deck of Dream Team, you would have known how bullish I was on his prospects in 2016. This was written (and published) prior to the massive news out of Waverley that Jarryd Roughead will miss half the season through injury. I can't help but think this will also, to some degree, impact the scoring of Jack Gunston. Without Roughead up forward, Jack Gunston all of a sudden becomes a very real chance to get most of the targets up forward – which also comes with the most opposition attention. We just don't know how he will go as the number 1 forward at the hawks. He also missed NAB1 and NAB2, but scored 68 ponts from his first hitout in NAB3, but question marks hang over his head regarding his fitness early in the season. Start stressing? Maybe a bit over the top. Proceed with care? Absolutely. Jack Fitzpatrick has been given an opportunity to find a spot in the hawks forward line early in the season, and has hardly done much to cement that spot. 50 points from 77% game time in NAB1 (and a ridiculous attempt at a snap shot at goal) and 39 points from 65% game time in NAB2 (and a dodgy ankle) aren't filling me with much hope. Pass.
STILL GUESSING
Taylor Duryea has massive breakout potential in 2016, if his 2015 finals series is anything to go on. Given Hawthorn's rotational policy throughout the NAB challenge, we are none the wiser as to "Doc's" role and scoring ability – nothing he did screamed "pick me". He scored 57 points from 80% game time in NAB1, 70 points from 85% game time in NAB2 and just 56 points in NAB3. Jonathan O'Rourke also has breakout potential in 2016, given Hawthorn's desire to get more game time into their kids – he scored 53 points from 76% game time in NAB1 and he played only 26% of NAB2, for a total of 16 points. A score of 77 in NAB3 tells me he is in the mix – but he is yet to cement his spot in 2016. One final player who has been touted this preseason is Billy Hartung. The speedster was dropped for the grand final in 2015, and he is rated incredibly highly within the confines of Waverley Park. A unique pick in AFL Fantasy this year, can you trust him? He scored 64 points from 77% game time in NAB1 and 40 points from just under a half in NAB3.
IMPRESSING
The biggest stand-out for the Demons throughout the NAB Challenge, and the player who would find himself in quite a few Fantasy squads as a result, would be Max Gawn (RUC – $509,000). He was great throught the NAB campaign with scores of 92 (70% TOG), 86 (82% TOG) and 87 (91% TOG) and at times he looked absolutely dominant against his opposition ruckman. He has no competition at the Demons for the ruck spot so barring injury he will be first picked every week. Lock and load!
The other Demon that looks set for a massive year is Jack Viney (MID – $462,000). It seems he has been let off the leash and he dominated around the middle, putting together scores of 86 (73% TOG), 85 (79% TOG), and 102 (78% TOG). He is a contested ball winning and tackling machine so you just know that he is going to rack up solid points on a weekly basis no matter how the team as a whole performs. You could do worse at his price.
STILL GUESSING
Two players that had solid NAB Challenge outings but are still questionable to line-up round 1 are Clayton Oliver (MID – $238,000) and Ben Kennedy (FWD/MID – $221,000). Both started off the pre-season slowly but came good in the last week. Oliver had scores of 41 (57% TOG), 48 (71% TOG) and 94 (68% TOG) and Kennedy had scores of 62 (69% TOG), 56 (71% TOG) and 80 (79% TOG). With such an array of midfield/forward types at the Demons who knows which players will put themselves forward for round 1 selection, but if these guys get a gig they should be under consideration for your AFL Fantasy team.
START STRESSING
Christian Petracca (FWD/MID – $238,000) has not been sighted this pre-season due to ongoing injuries so its going to be hard to spend the money on him and be confident he firstly lines up in round 1 and secondly he scores enough to justify the spend. It was reported that he is a chance for round 1 but seeing him perform before including him in your team may be the more sensible option.
If you have Heritier Lumumba (DEF – $315,000) in your team you should seriously consider giving the game away. Just don't do it. Just don't.
IMPRESSING
Daniel Wells ($293,000 mid/fwd) came into this season underpriced and 'not a chance in hell in AF' (according to the comments I got from the Deck of DT) but after blitzing his NAB challenge games with scores of 78 from 73% TOG and 104 from 77% TOG he is in ripping shape and showing North exactly what they were missing last year. Put simply, lock him into your side now.
START STRESSING
If Jed Anderson ($224,000 mid/fwd) was in your plans this year then you'd be pretty disappointed in his output during NAB. Coaches were hoping that with more opportunity this former Hawk would see his scores improve, but with 49 from82% TOG and 50 from 75% TOG I'm thinking we've seen exactly what we can expect this year!
Luke McDonald ($285,000 def) jumped onto a few peoples radars after a strong showing against the Saints in the first round, going at 100 points per minute scoring 74 points from 74% TOG. He then followed that up however with 53from 86% against the Magpies and 66 from 92% TOG against the Hawks. That's should be enough to take him off your watchlist now.
STILL GUESSING
Todd Goldstein's ($630,000 ruck) scores didn't look too appetising with a 63 followed by an 83. While that doesn't look too safe when thinking about the amount of cash you're dropping to get him into your side this year, comparing it to his TOG % shows that North's Mr Reliable is still going at 100 points per minute. While 100 points per minute is great for a ruckman, you're paying for a 113 point average.
Was Goldstein taking it easy during NAB? Will you still be happy if you've paid $630K and he drops cash in the first few rounds? These are the questions he still has us guessing over!
IMPRESSING
All the hype for Port this pre-season in fantasy circles has been about Sam Gray (Mid/Fwd $427,000).  I must admit I didn't think he could maintain high scoring with the Power midfield back.  I was wrong.  In particular in NAB3 when only Polec was missing from the midfield he had 28 touches and 107 points, the only Power player to tick over 100.  He isn't cheap, but could be worth it if he keeps this up.  Whilst his scores weren't as high as Sam, Jimmy Toumpas (Mid $319,000) seems to have found his way into the best 22, however, whilst that is good for Power fans, at that price he isn't producing well enough to be in your Fantasy side.
START STRESSING
One of the biggest locks for all of us once Ryder was ruled out was Matthew Lobbe (Ruc $431,000).  He isn't a high possession getter like Martin and Goldy, but he does like a tackle.  However, against Max Gawn he was monstered and only scored 60 points and then against Shaun Hampson and Richmond he scored 55 with 31 of them coming from hit outs.  With this current form he should not be in your side currently.  Look elsewhere.
STILL GUESSING
After missing a large chunk of last season with injuries, Ollie Wines (Mid $513,000) was looked upon as someone that could take his game to the next level.  However, against Melbourne he went missing scoring only 24 (from 66% TOG) but then bounced back against Richmond with 90 points.  This is a concern as we can not have our players bouncing around like this with their scoring.  Hopefully that first game was just him blowing out the cobwebs, but we can't have him making a habit of that.  Robbie Gray (Mid $536,000) is another that I would be cautious on now that he is no longer a forward.  64 from 86% TOG against Melbourne and then 77 against the Tigers is not what we would be looking for from him.  Not worth the spend as a Mid only.
IMPRESSING
My boy Brandon Ellis ($568,000 mid) just keeps quietly going about it. He's an accumulator though and showing no signs of slowing down this season. Went at about 111 points per minute (rough estimate until Fantasy Freako drops the exact total) during NAB and will be a great POD again this year.
Bachar Houli ($481,000 def) really stood out this NAB challenge! 116 against the Hawks followed by 125 against Port. He is leading his team in Rebounding 50's and handball receives, showing that his team mates are keen to get the ball onto his boot!
START STRESSING
If Ivan Maric ($455,000 ruck) was in your plans then you might be stressing now! He's only played 73 minutes of one NAB match, scoring 50 points. Match fitness is pretty important for physical ruckmen like Maric so he could see a slow start to the year scoring wise, particularly with a cap on rotations.
STILL GUESSING
After the injury carnage that hit Richmond during their last NAB match. There rookies have become even harder to separate!
Corey Ellis ($166,000 mid/fwd) has attended just as many centre bounces as Richmond's elite mids but was then rested for the Port game, Connor Menadue ($138,000 mid/fwd) had a cracker against the Hawks with 2 goals and was classy against Port until he copped a cork and Nathan Broad ($125,000 def) showed that he loves to kick and will certainly be needed to give support in defence now!
We know for sure that they will get opportunities early now but they're hard to split on who will be able to hold his spot once the injured players return.
IMPRESSING
Can't go past Jack Steven (MID, $618k). Many would doubt him, but he's been building up to this with averages of 83.5 ('12), 98.2 ('13), 86.4 ('14 – with an interrupted preason/start to the season), 111.5 ('15). Looks stronger than last season and can run all day. Will be the guy the Saints lean on again this year. Low ownership due to being the most expensive midfielder – but who wants to be vanilla, right?
The stocky pick 18 with the unusual ball drop in Jade Gresham (MID, $187k), is awkwardly priced, but if he's picked for round one I don't see why he can't hold his spot and make everyone cash. He looked at home on Sunday, and I reckon he'll handle the rigor of AFL just fine.
START STRESSING
Nick Riewoldt (FWD, $520k) turns 34 this year, and the experiment to play him further up the field didn't really work out too well. I think durability will be a problem this season – as shown in the NAB – so for his price at his age, it's a pass for me, but happy to be proven wrong.
STILL GUESSING
Jobe Watson's cousin, Seb Ross (MID, $394k), has us piqued by his NAB form. He was St Kilda's first pick (25) in the 2011 draft, and went after future hall of famers in Josh Bootsma and Murray Newman. Seb showed us his in-and-under capabilities against North in NAB 1, scoring 107 and leading the contested possession count for the Saints. He was a little quieter Sunday with Steven having more playing time, but he still managed 83 points from 28 possessions. He averaged around 85 over the last five games of last season, and if he can stake a claim in the midfield rotations there's no reason why he can't up that to 90-95.
I love Jack Billings (FWD, $452k). He reminds me of a younger Stevie J. I would love to pick him this year but I think he's just one more year away from having a true break-out season. He scored 90 on Sunday, but I can't see him kicking three goals every week. He also started on the wing on occasions, but still only scored 35 points in the second half. He was restricted to nine games in 2015 due to injury, but with this year under his belt, I can see him getting major midfield time next year.
IMPRESSING
Have you heard about a youngster by the name of Callum Mills? Another steal for the swans as part of the academy – believe the hype in this kid. 81 points from 75% game time in NAB1 was backed up with 63 points from 75% game time in NAB2. He then rounded out his NAB challenge with a very tidy 78. He plays round 1. Luke Parker and Tom Mitchell are two incredibly talented ball winners, both should be very high on your watch list. Parker had 2 scores of 100 in NAB1 and NAB2, followed by a down-to-Earth 73 in NAB3, and Titch had scores of 92, 93 and 94. You won't be disappointed if you start with either (or both!) of them. One more we can lock and load – Dan Hannebery. A chance for the Brownlow this year – he racked up 153 in NAB3. Not bad.
START STRESSING
Up until NAB3, it was Lance Franklin. We know he doesn't take the NAB challenge too seriously, but come on – scores of 27 (from 71% game time) and 49 (from 95% game time) are cause for concern – especially given the claims from John Longmire that he will be used in the midfield more. He did, however, score 108 in NAB3 – albeit, against the blues. Obviously tempting at that price – but can you trust him, given the plethora of forward options? It will take some balls to pick him.
STILL GUESSING
Callum Sinclair was traded to the swans after the retirement of Mike Pyke (that Canadian dude who used to play rugby). It was assumed he walks into the number 1 ruck role – but does he? Whispers regarding Kurt Tippett playing more ruck in 2016 don't fill me with much confidence that Sinclair is a first choice ruck. While I think Sinclair is a talented player – I'm not sure I could commit to him, not really knowing his scoring capabilities in a new system. He's probably a 75 point player – not good enough. Confirmed in NAB3 with a 73 point day – while Tippett scored 61. Pass on both.
IMPRESSING
As unsexy as they might be, there's no denying that Matt Priddis ($570,000 MID) and Andrew Gaff ($579,000 MID) are going to churn out fantasy points this season. Both have been flying at over 1.01 PPM this NAB Challenge, and while it's hard to see either 'breaking out' in the traditional sense, their trademark consistent scoring will be there all season. With Gaff especially, there's certainly potential to bump up those numbers as the West Coast midfield around them matures another year.
Nic Naitanui ($489,000 RUC) is in many ways a big enabler for these workhorse midfielders and the headline act of his pre-season was shoving the footy down his teammates' throats from centre clearances. In fact, our mate Fantasy Freako let slip that NicNat was second only to behemoth Todd Goldstein in terms of hit-outs to advantage – pair that with a healthy 1.01 PPM of his own and the abolishment of the sub rule (and hence more time on ground, presumably) and we could see a nice bump in scoring from Naitanui this season.
START STRESSING
He was on a very vague watchlist of mine way back in December days, but groin and adductor injuries has sent Jack Redden ($537,000 MID) way down the list of midfield possibilities this season. Redden's first appearance was amongst the Essendon belting scoring 60 from 61% TOG and by his own admission he was struggled with the heat and uptick in tempo. The former Lion is priced at 97 which is miles below a the huge 109 points he averaged back in 2011, but unfortunately match fitness rules him out of Classic and probably pigeon holes him as a possibly under-appreciated Elite pick.
Fellow midfielder Dom Sheed ($389,000 MID/FWD) is in the same basket, with health concerns holding him out of a huge chunk of the pre-season. Many coaches were cautiously interested in giving his shiny new MID/FWD dual position status a whirl, but his lack of NAB Challenge exposure makes him a serious flight risk.
STILL GUESSING
Adam Simpson's love of versatility makes the selections of Jeremy McGovern ($324,000 DEF) and Elliot Yeo (436,000 DEF/MID) extremely difficult to execute with any sort of safety. McGovern has been a standout this pre-season with some trademark clunks leaving him a slither under 1.00 PPM for the round robin. However, he's had a lot more freedom geographically than he earned last year and with Mitch Brown injured yet again, there's every chance that Gov reverts back to a more lockdown mindset.
Likewise, Yeo could be asked to call upon his defensive nous but has been underwhelming all NAB Challenge anyway, managing totals of just 37, 45 and 78 across his three starts.
And finally, Liam Duggan's ($250,000 MID/FWD) DPP status earned him a spot on the radar at bargain price but he produced lukewarm scores of 43, 42 and 64. While Duggan looked very capable, it didn't exactly translate to fantasy scoring and he's probably too pricey to consider over other FWD rookies who'll damage your hip pocket a lot less.
IMPRESSING
Right off the bat, Lachie Hunter (MID, $433,000) is the answer for a mid-priced midfielder. He has been sensational this pre-season, scoring 83 and 113 in his two NAB Challenge games. After a few vests last year and a few big scores out of it, Hunter offers more value and less risk than many around his price. Jason Johannisen (DEF, $426,000) could hasn't put a foot wrong with a 74 against GWS and then a huge game playing a fantasy friendly role off half back for 129 points (33 disposals, 9 marks, 5 tackles). The beauty here is that this was a close to full strength side playing at Etihad Stadium where we see the Dogs play their first seven games.
If you were willing to take Matthew Boyd (DEF, $578,000), he was great in his outing on Saturday. 97 points thanks to 30 disposals. Ride him until the bye where the Dogs only leave Melbourne twice (trips to Sydney and Adelaide).
START STRESSING
I had hope that Will Minson (RUC, $384,000) could be a mid-priced ruck option that could get somewhere near his 85+ scoring range that he has done in the past. Put simply, he won't. 69 and 63 plus the possibility that he will a) sharing ruck time and b) may not even be first picked ruck again means the line has to be through him.
STILL GUESSING
In his first game of the NAB, Tom Liberatore (MID, $443,000) looked like a massive lock. 10 tackles and 79 points (going at nearly a point per minute. On the weekend it was 39 points from 79% TOG… not enough. He swiftly left a few teams, including mine. If you want a mid-priced MID, go with Hunter. $10K cheaper for potentially a better result.
Jake Stringer (FWD, $419,000) had the fantasy world buzzing when he posted 92 against the Giants. He backed up with 80. I like the thought of him improving his numbers, but maybe not to the 90 that he would need to be a worthwhile option.
I'm keen on Marcus Adams (DEF/FWD, $155,000) to get a gig in round one. I think he is set after an impressive NAB showing. Adams' fantasy scores weren't that spectacular – 17, 67 and 51 but it is enough for me if he is named to slot him either into D6 or most likely D7. I have him playing ahead of Kieren Collins (DEF, $136,000).