Versus: Higher Priced Rookies
Tom is back with his excellent Versus series comparing higher priced rookies.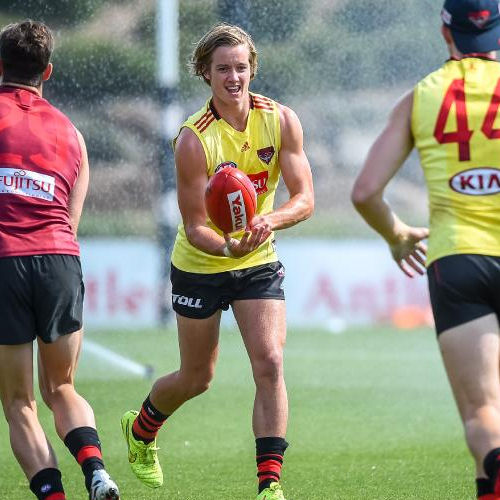 Tom is back with his excellent Versus series comparing higher priced rookies.
Ryan Harwood ($198,000) V Eric Mackenzie ($205,000)
Brisbane defender Ryan Harwood will no doubt be looking to improve on his 'games played' tally in 2016. Since debuting in 2010, Harwood has amassed 59 AFL games but lacked the ability to cement a spot in Lions back six. However 2016 could be that changes his fortune. Set to assume a running role across half-back, Harwood boasts clean ball skills and has the creative spark in defence that the Lions have been missing in the past. With Brisbane's distinct lack of fire power in the back line, Harwood doesn't face a great depth of opposition, meaning he should get extended stints in the best 22. After being selected with the 47th pick in the 2009 Draft, Harwood, born in Tasmania, was recruited as an inside midfielder but has shown more promise down back since igniting his AFL career. Harwood averaged 21 disposals and 4 tackles per game during the Under 18 Championships, proving he has the talent to find the football. An excellent distributor, Harwood only played three games last year for less than exciting scores of 14, 58 and 64. However in 2014 he managed 14 games and finished with an average of 72.5 Fantasy points, including scores of 81, 90, 80, 93, 97, 83, 86 and 82; enough for some Fantasy participants to jump on board, especially at his low price of $198,000. In the Lions final NAB Challenge match, Harwood collected 15 disposals, 2 marks and a whopping 9 tackles resulting in 78 points from 70% TOG. If Harwood can stay fit, he should become a profitable rookie, without setting the world on fire. Don't expect 90+ scores, however returns of 65-70 would be greatly appreciated by numerous Fantasy owners. Given the lack of rookies to start on-field, Harwood is a logical selection for the D5/6 spot in the back line.
Luckless backman Eric MacKenzie is among West Coast's most important players, establishing himself as one of the best key defenders in the competition of recent years. Excellent in one-on-one situations, MacKenzie has never accumulated Fantasy points to the level of Shaw or McVeigh, although he did provide some value in 2014. Scores of 92, 94, 82, 120, 112, 86, 90, 85 and 86 helped him reach a respectable average of 68.1. The main contributor to Mackenzie's scores where his marks. He averaged 7.2 marks with 0.8 of them being contested. These are particularly impressive numbers for a key position player who was given the opponents first or second best forward on a weekly basis. After a 12-month injury lay-off, MacKenzie returned to the Eagles team to face Gold Coast in the third round of the NAB Challenge and despite scoring 37 from 94% TOG, managed to get through the entire game unscathed. Although MacKenzie in unlikely to be playing a rebounding task (a more Fantasy friendly role), he has shown in the past that he can still score reasonably well. Like Harwood, do not expect scintillating scores, but rather 60's with perhaps the odd 80 or 90. Coming in at $205,000, MacKenzie will also make a quick bit of cash before he should be offloaded to a more Fantasy relevant player. Looking at the West Coast defenders, it will be interesting to see who Adam Simpson goes with. Players like Sheppard and Yeo have the ability to play on small and tall players whereas McGovern, Schofield and MacKenzie have the capacity to play on bigger forwards. Captain Shannon Hurn should provide run and carry off half back. Despite his injury concerns, MacKenzie is a good option in defence, at least for the opening few weeks.
Verdict: Harwood wins out here. As mentioned before, neither player will produce massive Fantasy numbers but look solid options to start on-field. Given Harwood is almost certain to feature in a rebounding role, his team mates are likely to supply him with more of the ball. MacKenzie, on the other hand, will be focused on containing his opponents, not his disposal count.
Loading ...

Click here to subscribe on iTunes. (Please leave a rating and review to help us move up the charts).
Ryan Crowley ($226,000) V Brent Macaffer ($199,000)
At first glance, former Fremantle Docker turned Essendon top up player Ryan Crowley may not be the flashiest Fantasy player. With his highest averaging season being 71 points in 2008, Crowley has never really been relevant in Fantasy…until now. His ability to annoy opponents is what gained him respect as one of the league's best taggers. However with new coach John Worsfold declaring he could play an attacking role in the depleted Bombers team, Crowley could rejuvenate his career despite his age. Missing all of the 2015 season as a result of taking a banned substance, Crowley trained hard and kept his body in shape in the hope of reclaiming a spot on an AFL list. Fortunately for him, the Bombers came calling. Crowley's experience will prove invaluable as the season grows older and he should relish a new role and opportunity. As Worsfold stated himself, "Crowley was drafted as a midfielder, as a midfielder that can run". Let's not forget that Crowley averaged 15.9 disposals, 4.8 marks and 3.5 tackles in 2013 as well as kicking 11 goals. Although it's a difficult task trying to predict exactly who will be playing and where for Essendon, Crowley should be amongst the first picked. Goddard and Zaharakis have the chance to lead from the front with James Kelly, Zach Merrett, Darcy Parish, Craig Bird along with Crowley set to occupy the remaining roles in midfield. It seems that at least one of them will have to be rotated across half forward. Perhaps this will allow Crowley to have a greater impact on the scoreboard. At $226,000, Crowley will no-doubt make you cash but can't be relied upon for too many rounds as he probably won't score consistently above 75+, despite a new role.
Collingwood stopper Brent Macaffer was instrumental in the Magpies 2010 success. However major injuries in 2012 and 2015 have prevented Macaffer from further increasing his output. After debuting in 2009, Macaffer swiftly put his name in the spotlight after numerous successful matches where he stopped dangerous players such as Trent Cotchin, Josh P. Kennedy and Joel Selwood. Despite boasting a highest season average of just 75.7 Fantasy points, Macaffer will offer some value this year. Much like Crowley, Macaffer has never been dubbed a relevant option in Fantasy. However he is probably $150,000 under priced this year and should be considered for a spot at M7/8. Regardless of his long injury disruption, the Magpie has worked extremely hard in pre-season, running laps and participating in regular skill sessions. Macaffer stated in January that he "believes the tagging role which led him to a career-best season two years ago has "diminished" in his time away from the game". In Macaffer's absence, team mate Levi Greenwood spend some time negating the opposition yet with the highly fancied Collingwood midfield featuring Pendlebury, Swan, Treloar, Adams, Sidebottom along with Greenwood, it is unclear where Macaffer will fit in. He has spent time on the half back and half forward flanks in the past and may well be required to rotate with perhaps De Goey, Aish or even Crisp. At varying stages during the year, either Macaffer or Greenwood could be called upon to lower the influence of opposition midfielder's. Qualities such as his strong marking and deceptively quick running may see Macaffer return to the highs of his premiership winning year. Maybe we could see Macaffer playing a defensive forward role as well?
Verdict: Despite Crowley and Macaffer have the ability to tag, traditionally resulting in lower Fantasy scores, both should find themselves attracting new roles at either end of the ground. Whilst their is still some doubt surrounding Macaffer's position in the side, I believe the 'Pies will reward his patience with a regular run in the 'best 22'. At this stage, I'd pick Macaffer ahead of Crowley.
Loading ...
Clayton Oliver ($238,000) V Darcy Parish ($260,000)
Melbourne snapped up tough young midfielder Clayton Oliver with pick number four in the recent NAB AFL Draft. Oliver has endured an incredible past two years, seeing him miss selection for Victoria Country but dominate for the Murray Bushrangers and collect the Morish Medal as the TAC Cup's best performer. A fine physical specimen at 187cm and 86kg, Oliver is a strong inside midfielder. Complimenting his excellent agility and classy disposal efficiency, he can also push forward and kick a goal or two. Oliver is a ready made player who should be granted ample time to further develop his game throughout the course of the season. With the likes of Vince and Nathan Jones set to lead the midfield and with Trengrove, Viney and Tyson looking to improve on past seasons, Oliver will probably be used up forward and occasionally rotated through the middle. Possibly the best game of Oliver's TAC Cup campaign came against the Bendigo Pioneers. Here he kicked 6 goals and amassed 18 disposals, 9 marks (4 contested) and was clearly the Bushranger's best player. Although Oliver will not have those types of games at AFL level in 2016, he should still be good for 65-70 scores. In his first competitive hit out, Oliver had 11 disposals (at 90% efficiency), one mark and four tackles resulting in 41 Fantasy points from 57% TOG. Against the Bulldogs the following weekend, Oliver was again far from the Demons worst player as he collected 17 disposals, 2 marks and 2 tackles on his way to scoring 48 Fantasy points from 71% TOG. Just recently, in the Demons final match before round one, the big midfielder scored 94 Fantasy points from 68%, highlighting his promising potential. Although boom Sydney Swans draftee Callum Mills is shaping as the better Fantasy option this season, don't disregard Oliver. A future Fantasy jet, if he can average 65, Oliver will become an excellent early downgrade option or even deserves a spot on-field for round one. The Demon's have a star on their hands!
The Bombers picked up Parish with pick number five overall in the 2015 draft. Regarded by many as the best midfielder up for selection, Parish comes in as the highest priced new rookie in Fantasy. Winning back-to-back U-18 All Australian selections, Parish oozes class and has a good mix of toughness and outside speed. Although his body isn't as ready made as Clayton Oliver's, Parish will still be blooded in the Essendon team in 2016. Parish emerged as a top five draft option after averaging 28 disposals, 7 clearances and five inside 50's in the TAC Cup during 2015. Cool and calm, both on and off the field, Darcy Parish doesn't seem to make mistakes and has drawn comparisons with Dale Thomas and Rory Sloane. Weighing in at just 74kg on the day of the draft, Parish isn't big but his football smarts and flashy outside play should allow him to feature in a role on the wing, especially with Goddard, Crowley and Kelly shaping as the Bombers inside midfielders. The Bombers rookies look likely to play a prominent role in what will be a tough year ahead for the men in red and black and Parish has made a good impression already. Parish is apparently hungry to learn and has trained with the midfield group this pre season but assistant coach Matthew Egan said he could 'drift forward' to gain experience and protect his body. In the Bombers first NAB game, Parish moved well and showed why the club rated him so highly, collecting 18 disposals, 5 marks and 64 points from 58% TOG in the shock victory against the Blues at Ikon Park. I can see Parish averaging around 70 this year, but his price tag ($260,000) will discourage many Fantasy coaches.
Verdict: Given that Oliver is ready to step straight into senior football I'd be inclined to pick him ahead of Parish here. They both posses excellent ball winning ability as well as polish. Darcy Parish and Clayton Oliver are names we will be hearing a lot more of in the future. Potential Fantasy guns.
Loading ...
Jonathan Simpkin ($226,000) V Ben Kennedy ($221,000)
Simpkin has become quite the journeyman across the duration of his 37-game career. After being picked up by Sydney via the Rookie Draft, he was then de-listed only to be acquired by Geelong. But after just four games at the Cats, Simpkin moved on to the Hawks after Geelong didn't renew his contract. It was at the Hawks where he played in their 2013 Premiership win. However the fairy tail ended yet again as he ended up playing the majority of 2015 for the Box Hill Hawks. Although it was at Box Hill where Simpkin played arguably the best football of his career, averaging 27.5 disposals per match and taking out the VFL team's best and fairest award. A chance at yet another AFL club was offered to Simpkin by the Bombers, who in a time of great need, Simpkin was happy to play for. As a result of his leadership and ball winning abilities, Simpkin's place in the Essendon side looks secure. A role on the half forward flank looms large but given his capability to collect tallies of 25+ disposals, he could spend some time in the midfield. In NAB 1, Simpkin scored 55 Fantasy points from 17 disposals and 5 marks all in 75% TOG. 51 points off 81% TOG was enough to discourage any thought that he was a 'lock'. Although his 78 points from 78% TOG including 19 disposals, 7 marks and 2 tackles against the Eagles was enough to keep him on our radars. Whilst a downside to picking Simpkin is that the ball will be in the opposition's half for a large proportion of matches, a plus is his job security. It is hard to pick Simpkin ahead of players such as Kennedy, Anderson and slightly more expensive options like Wells and Kerridge. However one would think he will be consistent scorer. Jonathan Simpkin has already proven he has what it takes to be an elite VFL midfielder/forward but the step up to AFL football is big. A 70 average should be enough to satisfy his many Fantasy owners.
After struggling to cement a regular spot in Collingwood's team, 175cm midfielder/forward Ben Kennedy made the switch to the Demons in the hope of playing regular games. Drafted with pick 19 in 2012, Kennedy has bagged 15 goals in his 25 senior games, highlighting his fine goal sense. Despite playing the majority of his junior football as an electrifying midfielder, the pocket rocket could spend a fair bit of time across half forward. In 2015, Kennedy collected 55 total disposals in his five appearances but registered just 61.8% disposal efficiency; something he will have to work on. However if his NAB Challenge form is anything to go by, a much improved season awaits. Kennedy was excellent against Port Adelaide, gathering 15 disposals (73.3% efficiency) and 4 marks whilst kicking a goal in the process, resulting in 62 Fantasy points from 69% TOG. He did start off slowly but managed to get involved later on in the piece and was named in the Demons best players after the match. The following match, he collected 16 touches on his way to scoring 56 off 71% TOG. A interesting statistic from these particular games was that Kennedy had the second highest scoreboard impact against Port including two goal assists and added another assist against the Bulldogs. This meant Kennedy had two more goal assists than any other Demons player; something coach Paul Roos will be demanding from Kennedy. However his best Pre-Season match came against St.Kilda where he scored 80 Fantasy points (79% TOG) from 16 disposals, 5 tackles and 5 marks. So after three positive matches, Kennedy's position in the Melbourne team looks fairly safe for the time being. The only spots in Fantasy where Kennedy should be considered is at F6, M7 or M8 in my opinion. Although he should be good for a 65-70 average, expect the odd under-par game – especially if the Demons get smashed. A risky option but a new club will hopefully improve his Fantasy output.
Verdict: Both players switched clubs in the off season and look set to play roles across half forward, perhaps rotating through the midfield at times as well. Whilst the pair will make a fair amount of cash, Kennedy, given his promising NAB Challenge, blistering speed and ball winning ability, comes out ahead of Simpkin I believe.
Loading ...