NAB Challenge Notes – Week 4
The DT Talk team will update each game of the weekend with our notes from them.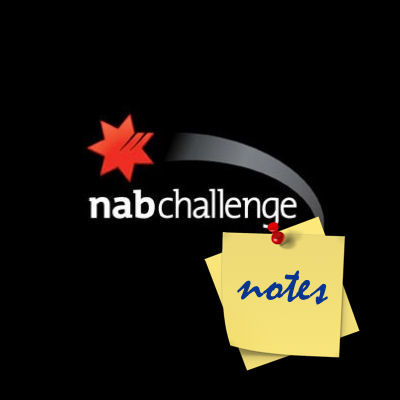 The DT Talk team will update each game of the weekend with our notes from them.
Richmond v Port Adelaide – Etihad Stadium
Thursday 10 March – By Calvin
Click here for DT Live stats/scores.
A fiery contest that might see a few guys in trouble. Sooo many injuries will be the talking point of the game though and with 6mins to go, half the Tigers team went and sat out the game (finished the game with 15 players). From this point it was Port v Witches Hats.
Hamish Hartlett will get looked at for a head butt and even Dusty Martin (FWD/MID, $573,000) got angry with a few jumper punches in an incident that will be looked at. But, seriously nothing in it.
Dusty was most likely crabby over his relatively quiet night for his 53. However, he was doing what Dusty does and was cruising through the middle and will raise another level when the real stuff starts. Don't get fancy here and chase value, ride him out along with the millions of coaches who own him. Eddie McGuire wouldn't stop crapping on all night that Dusty's dad is in a little trouble and therefore his mind might have been elsewhere. Either way, shut up Ed.
Trent Cotchin (MID, $506,000) looked sharp for his 72 and Brett Deledio (FWD, $530,000) was ok early for his 47 but they guy who serious caught my eye (again) was Bachar Houli (DEF, $481,000) who is in only 7% of teams must be considered as a POD, considering Heath Shaw is owned by 22%. Bachar averaged 87 last year (Heath avg.96). Bachar scored 116 in NAB 2 and after his game high 125 (27d) tonight, seriously consider him in your backline as he will improve on his 2015 season.
Robbie Gray (MID, $536,000) is a top pick in Elite and should gain FWD status by round 6 or 12 this year. He scored 77 and was busy all night. Elite sleeper alert!

Click here to subscribe on iTunes.
It's no secret that Roy (and now everyone) loves Sam Gray (FWD/MID, $427,000) and for good reason. He was super tonight.. in fact awesome for his 28d and 103 points. 4.6% coaches own him but that will change. He ended last year with scores of 120, 117 and 115 and serious could average 90+ this year and is priced at 77. Get him in your plans but you'll need to do some shuffling at this price. Greene or Gray?… I'm voting Gray!
Awkwardly priced Brendon Ah Chee (MID, $314,000) scored 92 and let's not forget he finished the year with scores of 83, 79, 110 and 108. Priced at an average of 57, he is value but his price is just too awkward.
Ollie Wines (MID, $513,000) was simply on fire early with 90 and will come into many teams after his game tonight. He did cramp up mid-way through the third and did slow down his scoring. He left the field before the quarter, but played on in the fourth. Cramping was the flavour of the night though with many joining him late. Priced at an average of 93, he offers value and is currently owned by 5% of coaches.
Did you see Matthew Lobbe (RUC, $431,000)? He looked like an American college basketballer trying to find his feet in the AFL. Man he was bad. He finished with just 58 with 31 coming in hit outs.
Not making the cut tonight in what was a 'full strength' appearance by both clubs were Corey Ellis (FWD/MID, $166,000) and  Darcy Byrnes  – Jones (DEF, $125,000). For now, cross these lads permanently off your list, but with the injuries, Ellis may be back on the radar.
On the other hand, these young cheap options got gigs, which is very pleasing for their round one prospects:
Dougal Howard (FWD, $125,000) started forward as expected and did a few good things. He scored 34 and scored 52 in NAB 1. Touch and go with him, but cheap nevertheless and must be in Port's plans to be playing tonight. Bench option only in named round one.
Connor Menadue (FWD/MID, $138,000) was busy and will be named round one. Edwards left the game with a broken collar bone, an unfortunate incident which opens the door even wider for Mena. This was confirmed by Doc Larkins and Dr. Eddie McGuire who said it's a 5/6wk injury. Menadue finished the night on 47 points and should be in your team right now. He did cop a little bump late in the game and wanted to go off… but with all the injuries, he was forced to stay on. Should be ok though, looked like a cork at worse. He hobbled on.
Nathan Broad (DEF, $125,000) he's locked already in our teams but is he good enough to play on our field? He'll play come round one after the injuries that went down tonight. He scored 66 and I reckon that's what we can expect, which is good enough for me at his price.
Carlton v Sydney Swans – Etihad Stadium
Friday 11 March – By Nic
Click here for DT Live stats/scores.
Carlton and Sydney squared off in the second of five matches at Etihad Stadium this weekend because the AFL really wants to see how much battering that rock-hard turf can take.
The Swans were too good for a gallant Carlton and they were spearheaded by Daniel Hannebery (MID, $613,000) who forgot it was preseason and decided to collect 38 disposals, 10 marks, lay six tackles, kick a goal and score 153 points.
Hannebery was everywhere and dominated from start to finish. He was so good that he actually got the ball while being attended to by doctors.
The other player that'll have Fantasy coaches quickly reshuffling their teams was Lance Franklin (FWD, $452,000) who looks in better shape than ever and did everything from kick goals to assist in rebound 50's so he's clearly got scoring potential this year.
Franklin will probably average in the high 90's and that price tag would allow you to use $100,000 elsewhere. He is very tempting.
From a Carlton perspective, Nick Graham (MID, $353,000) has completed three weeks of NAB Challenge dominance collecting 72 disposals and kicking three goals across the tournament.
Graham top scored for the Blues with 122 points and given Carlton's lack of midfield depth, it seems plausible that he could be a decent scorer this year.
I wouldn't be expecting him to average more than 80 to 85, but with so much doubt over the likes of Brad Crouch and Jaeger O'Meara, Graham could be a last minute fix given he gets a lot of the ball, lays tackles and kicks goals.
The man that had Fantasy coaches licking their lips was Sam Kerridge (MID/FWD, $299,000) who cemented his spot in a lot of peoples 'F5' position. If you play Real Dream Team, selecting this guy is the easiest decision in the world, but his heftier price tag for Fantasy makes it a little tougher and dependant on your team structure.
Kerridge's 105 points were scored in a way that you can see being repeated during the season and makes him an option well worth the increased price tag.
Tom Mitchell (MID, $593,000) played well scoring 94 points from 75% TOG and he outperformed Luke Parker (MID, $533,000) who scored 74 points, but given these two are seemingly stuck in an eternal struggle of competition for Fantasy sides, Parker still has the edge in my opinion due to his price.
Bryce Gibbs (MID, $449,000) would have a few coaches interested and did his chances no harm with 94 points despite, honestly, not really doing much.
Gibbs is one of those players that gathers 23 disposals and six tackles, but you don't actually notice him much during the game. I certainly wouldn't have guessed that he scored 94 points.
The other stand outs scorers from the game were the ever reliable Ed Curnow (MID, $442,000), Jake Lloyd (MID, $407,000), Zach Tuohy (DEF, $379,000) and Blaine Boekhorst (MID/FWD, $276,000) but I can't see any of them getting a run in many teams.
Speaking of reliable, Jacob Weitering (DEF, $232,000) may have only scored 56 points from 73% TOG time, but he did more than enough in my opinion to make him the front runner for D5 or D6 slots in your side.
Weitering will play 20+ games this year and is really the only backline rookie you could trust in your starting side.
He sat out most of the second and final quarters, but he played the entirety of the other two and looks like a Dream Team lock of the future and a +6 king.
The other rookie who looked good for round one was Callum Mills (MID $227,000) who scored a nice 78, but probably did more than enough to cement his place in the Swans' round one team – and you don't have to worry about that damn green vest anymore!
The concerns coming out of the game were Josh Kennedy (MID, $594,000) who was soundly beaten by Ed Curnow during the game and then was seen with ice on his calf post-match. Just keep an eye on that.
Kieren Jack (MID, $523,000) seemed to have some kind of rib soreness during the game, but came back on the field and looked alright for the remainder of the game.
Finally, the saviour and superhuman Patrick Cripps (MID, $477,000) scored 87 points from 53% game time because he is better than you, me and everyone else.
Sorry about the delay getting the notes up, hope these are comprehensive enough for you!

Gold Coast v Adelaide – Metricon Stadium
Friday 11 March – By Warnie
Click here for DT Live stats/scores.
This got a bit later than I expected, but there was plenty for us to watch and sink our fantasy teeth into up at Metricon Stadium.
First things first, who was missing… the Suns were without Gary Ablett and Dion Prestia – who may or may not play in round one, if they do, they'll be under done. Jaeger O'Meara and David Swallow were also missing from the best 22 with the latter likely to miss the first half of the season. Prior to the game, Kade Kolodjasnij, Daniel Currie and Matt Shaw were cut from the squad/rested. As for the Crows, Brad Crouch and Rory Atkins were omitted from the original squad due to disciplinary action.
The story of the night has to be Aaron Hall (FWD/MID, $422,000). Plenty of coaches have been big on him during the pre-season and his popularity increased after his massive 16 tackles last week. He enjoyed a predominantly midfield role tonight, racking up 29 disposals (21 kicks, 8 handballs… nice!), five marks and five tackles. He also had five shots on goal, kicking two majors to help him to a game-high 130 points (just 71% TOG). Roy has sung his praises and I am tipping his >5% ownership will be a little different probably by the time I finish writing this paragraph! Hall looks fairly safe to play as a sub-premium forward, especially while the Suns are without some of their big guns… and I'm sure Rocket will continue to play him in the favourable role because form is form. Hall wants the ball and will hunt it hard. Probably one of the players this pre-season who is giving their all in the NAB Challenge. Work-rate was superb.
NOW TRENDING: Aaron Hall (FWD/MID $422K). #AFLFantasy pic.twitter.com/F0JlbijJhB

— AFL Fantasy (@AFLFantasy) March 11, 2016
Sam Jacobs (RUC, $533,000) did was Sauce does. Dominated the hitouts with 41 to help him to 111 points. He is a safe R2 to at least do what he did last year, if not improve. He should be clearly #3 in your draft rankings behind Stef and Goldy (not that far behind Goldy though, in my opinion). He was up against Tom Nicholls (RUC, $409,000) who finished with 25 hitouts, but only 50 points from his 75% TOG. It was interesting to see Daniel Currie (RUC, $125,000) left out. To me, it looks like the Suns will go with Nicholls and two-metre Peter Wright (FWD, $146,000) will chop out. Just on Wright, he looked less like a baby giraffe in this match, covering the ground well to take 3 marks. Only 48 points, and not really a Fantasy option I don't think.
With his brother Brad out for being a naughty boy and apparently getting on the cans the weekend before, Matt Crouch (MID, $396,000) leaves us no reason not to select him. Obviously Brad hasn't been in the team, but the junior Crouch is an extractor and will definitely increase in value, whilst averaging 90-odd points. His 100 points came from just 69% TOG to keep him rolling around that 1.5 ppm figure. Pre-season hype? Maybe, but just pick him!
A couple of Crows defenders performed well in the win. Rory Laird (DEF, $489,000) surprised everyone last year and finished with 29 touches for 96 points. New recruit down back, Paul Seedsman (DEF/MID, $353,000) played all over the ground for 105 from 78% TOG. Also, Brodie Smith (DEF/MID, $391,000) gave us his usual pre-season glimmer of hope racking up 82 points (80% TOG).
There was plenty to get out of this game that was quite scrappy… so I'll dot point a few other things not to bore you too much!
Cross off Dean Gore (MID, $125,000) from your watchlist… for now.  He didn't get onto the ground until halfway through the last quarter. Won't play round one.
The Suns may look to upgrade Ryan Davis (MID, $125,000). Mature aged (turning 27 this season), he will be ready to go. Davis averaged 21 disposals, 5 marks and 6 tackles in the WAFL last season. 65 points 968% TOG) came from 13 touches, 3 marks and four tackles tonight. He also hit the scoreboard with 1 goal and 2 behinds. Keep an eye on elevation and if named round one, lock him on your bench.
If Trent McKenzie (DEF, $287,000) came into your team last week, there isn't a real reason to dump him after 54 (65% TOG). He looked solid without making a real impact on the contest playing a key defensive role – which will obviously hurt his scoring week-to-week.
A smokey forward option could be Mitch McGovern (FWD, $125,000) to slot on your bench. He took six marks, to help him to 88 points (73% TOG). I will remind you that he played in the first to NAB Challenge games for scores of 17 and 28 to average just 42 points per 100 mins.
Other rookies that are still worth a look for round one include Wayne Milera (FWD, $199,000) with 67 (69% TOG) and Tom Keogh (FWD/MID, $125,000) 53 (79% TOG). Milera would have to be a good chance to debut, but can we spend our money better?
Rory Sloane (MID, $527,000) was in second gear and looked fine while Matt Rosa (DEF/MID, $411,000) may have slipped down the 'lock-list'… however he did have four frees against in his 52. Nick Malceski (DEF, $374,000) is going to be hard to pick, even though there is a part of us that knows he could be an 85+ dude.
Adelaide scored 1746 points to Gold Coast's 1421.
There you go! It's late! I'm off to bed. Let me know if I missed anything in the comments. Massive weekend of footy watching. So many tweaks to come!
Collingwood v Western Bulldogs – Etihad Stadium
Saturday 12 March – By Pearcey
Click here for DT Live stats/scores.
Two top 8 aspirants squared off on Saturday afternoon at Etihad Stadium in a game where both teams took in full-strength squads. It was a tale of two halves with Collingwood running out winners by just 2 points.
What stood out to me from the first bounce was the hair style of Jason Johannisen (DEF – $426,000). He seems to have taken his motivation from Sri Lankan fast bowler Lasith Malinga. Disregarding his questionable haircut Johannisen was very good, playing a fantasy-friendly game off the half-back flank scoring a game-high 129 fantasy points.
The one man everyone will be keen to hear about is Tom Liberatore (MID – $443,000). In a word he was underwhelming, barely sighted in the second half and ending the game with only 39 fantasy points from 14 possessions and 4 tackles. Being priced at 80 a few fantasy coaches might be reviewing his place in their team after today's game.
There seemed to be a few players for the Bulldogs that performed as expected, with Luke Dahlhaus (FWD/MID – $540,000) playing on a wing and scoring 85 fantasy points, Jack Macrae (MID – $579,000) playing midfield and behind the ball with 102 fantasy points, Matthew Boyd playing out of the backline for 97 fantasy points and Marcus Bontempelli (MID – $511,000) playing midfield and deep forward for 84 fantasy points. You get what you pay for with these blokes; just don't expect any huge average increases on last season.
A couple of Bulldogs that could be value picks this season include one of Roy's favourites, Lachie Hunter (MID – $433,000), who seemed to play the majority of the game between the arcs for an impressive 113 fantasy points, and Matthew Suckling (DEF/FWD – $444,000) who was coming out of defense and scored 85 fantasy points.
Hunter piled on 111 #AFLFantasy points while Libba managed 39 from 14 disposals. Adams with 113 and Swanny got to 104.

— Fantasy Freako (@FantasyFreako) March 12, 2016
A couple who were playing different roles from last year were Mitch Wallis (MID – $495,000) who played mainly forward for a solid 92 fantasy points and Liam Picken (MID – $559,000) who played a very defensive role only scoring 52 fantasy points.
Marcus Adams (DEF/FWD – $155,000) looks to be locked in to the Bulldogs team for round 1, playing a key defensive role on Travis Cloke, returning 51 fantasy points. If he can average 60 and string a few games together he could earn us some decent cash. On the flipside put a line through Kieran Collins (DEF – $136,000) who scored 0 and was not sighted on the ground.
For the Pies, Taylor Adams (MID – $560,000) continued his ripping NAB Challenge form, scoring a team-high 113 fantasy points. He goes at it hard, tracking the ball and the man. Look for him to bring this NAB Challenge form into the season proper.
The usual suspects from the Pies did as expected with Dane Swan (MID – $609,000) scoring 104 fantasy points even though he played deep forward in the first half and only had 30 fantasy points at half-time. Once in the midfield he racked up the possessions at will. Steele Sidebottom (MID – $565,000) just floated around the ground for a solid 103 fantasy points and captain Scott Pendlebury (MID – $615,000) seemed to be playing behind the ball more than normal for 86 fantasy points. His role today really raised question marks of how he will score going forward.
A player who has been added to a few watch-lists in the NAB Challenge is Jordan De Goey (FWD/MID – $342,000). He played a combination of midfield and forward for a solid 81 fantasy points. He had 21 possessions and his ball use is exquisite, it's just hard to see him getting a full time midfield role with all the other gun players the Pies have. Should increase his average on last year but by how much is the big question.
The Pies had a couple of players coming out of the backline that scored well in Tom Langdon (DEF – $442,000) who scored 89 fantasy points (even with a terrible haircut) and Jackson Ramsay (DEF – $257,000) who had 22 disposals and 94 fantasy points. Ramsay played the first 5 games for the Pies last season before getting injured and looks locked in their best 22 for round 1.
A couple of other players to mention were Jarrod Witts (RUC – $395,000) who rucked the majority of the game in Brodie Grundy's absence for a return of 106 points. Brent Macaffer (MID – $199,000) scored a solid 58 fantasy points and seems a good rookie-priced pick and Adam Treloar (MID – $576,000) who was playing his first game in the black and white managing 26 disposals and 90 fantasy points after a very quiet first half.
We can safely cross James Aish (DEF/MID – $293,000) off our watchlist who, along with Brayden Maynard (DEF – $310,000) weren't sighted in the first 3 quarters and had minimal impact when they came on.
Put a line through Aish. He hasn't come on the ground in the 1st half. #SuperCoach #AFLFantasy

— Fantasy Freako (@FantasyFreako) March 12, 2016
All-in-all this was a very entertaining contest involving a number of players that will no doubt be included in a lot of AFL Fantasy teams come round 1.
Fremantle v Geelong – Domain Stadium
Saturday 12 March – By Leighroy
Click here for DT Live stats/scores.
I've said it before and I'll say it again, if you don't have Patrick Dangerfield (MID $589,000) come round 1, your team will suffer. I'm not even over exaggerating here. Dangerfield is an absolute jet who looks to have added even more strings to his bow this year at the Cats. He plays as an inside mid, an outside mid, off the half back flank, in the forward line, everywhere! Early call here so forgive me if I'm wrong but I can easily see him winning the Charlie this year if he remains injury and suspension free. This afternoon his stats were what we have all come to expect for Danger. At the half he had 90 odd Fantasy points and it's probably fair to say he took his foot off the gas in the second half but still finished with an equal game high 112 points from just 73% TOG. He had a game high 30 disposals and managed 2 goals, 1 behind. Seriously find a way to get him in your team.
A favourite this year, Mark Blicavs (MID/RUC $539,000) had one of his better games today and was the second highest scorer for the cats. What I love about his score of 95 (80% TOG) today was that he only had 3 hitouts and played predominantly as a midfielder rather than a ruck. This can be interpreted myriad ways. Some may say this is a bad thing because maybe he isn't going to be rucking much this year thus affecting his points output. Others may argue that this is a good sign because it shows that regardless of how many +1 hitouts he gets, he is still more than capable of racking up a good score. Personally with Blicavs I sit squarely on the fence. I don't have him in my team as a MID or a RUC because I feel there are better options like Gawn who will dominate most rucks this year and ultimately in my opinion is a safer choice heading into the season. Again I may be way off the mark here but bear in mind Geelong boast one of the leagues tallest sides so they are in no short supply of ruckmen. Honestly I like my R1 and R2 to be genuine, proven and consistent rucks like Jacobs, Martin and Goldy who aren't really fighting for the number one ruck spot at their respective clubs. Still a great choice but do some thinking…
Steven Motlop (FWD/MID $496,000) came in third place for the Cats with 83 points for 71% TOG. After a slow start to the season are we seeing a return of 2015 form Motlop?
Jimmy Bartel (DEF/MID $494,000) is another popular premium defender option. Today he scored only 31 points but this was due to him picking up a knock early on in the game and never returning to the field. For what it's worth, in the brief time he spent on the ground (20% TOG) he looked pretty good!
Budget defender Jake Kolodjashnij (DEF $302,000) only managed 32 points from 93% TOG! I'm glad he has an ownership of just a scrape over 1% because I'd seriously question anyone starting with this Kolodjashnij! (Kade on the other hand is a Jet) I digress.
For his part, Cameron Guthrie (MID $468,000) played 80% TOG and amassed 76 points. He is priced awkwardly in my opinion, floating around the likes of Libba (his game today was an anomaly I think) and Greene. He may prove to be a pretty unique POD as he's owned by less than 1% of coaches at present, but I think there are too many unknowns around his role now with Danger in the team and his points output. Pass from me.
Rookie Tom Ruggles (DEF $125,000) played 74% TOG today for a mere 36 Fantasy points. I'm unsure if he will see much more of him this year. Monitor the AFL channels for more info but he's not sitting on my bench just yet.
Unfortunately, we weren't able to see Daniel Menzel play today which is a shame after his performance last week was good and close to 12% of coaches are currently starting with him, hoping his body stays true.
Over to the Dockers and we saw Chris Mayne (FWD $445,000) top score with 112 points from 88% TOG. He did this by gathering 19 disposals, a massive 10 marks and 2 goals, 2 behinds. This is a very respectable score for someone of his price but again you'd have to say no to players like A Hall, S Gray and even T Greene (a little more expensive) to justify picking him.
In second place we saw newly appointed captain David Mundy (MID $584,000) doing what he does best with 23 disposals, 8 marks, and 7 tackles for 111 points (81% TOG). He's currently only in 1.44% of teams because the competition around his price is too fierce. In my opinion, although he's a great team player there are better MIDS out there for you to choose from. What a shame he lost his DEF DPP status L.
Tendai Mzungu (MID $355,000) once again showed what he is capable off with 95 points from only 64% TOG! He is currently owned by less than 1% of coaches but I can see his stocks rising after posting a 92 in his first NAB Challenge and a 69 the week after. One to possibly consider.
Favourites Lachie Neale (MID $563,000) and Nat Fyfe (MID $581,000) plugged away again today scoring 95 and 72 points respectively. I don't know why but after winning the Brownlow last year I think opposition teams will put more effort into stopping the machine that is Fyfe.
An interesting debate this preseason has been the battle at F2/F3 between Michael Barlow (MID/FWD $515,000) and Harley Bennell (FWD/MID $509,000). Today Barlow had 93 points from 75% TOG and Bennell had 71 points from 58% TOG. Again, I'm sitting on the fence and my F2 swaps between these two almost hourly as I tinker away time and time again. Logically you could argue positively for both. Bennell is a superstar bad boy at a new club who is keen to prove the haters wrong whilst Barlow is a proven Fantasy gun who has been gifted a more Fantasy relevant game this year. Honestly I don't know who I'll have come round 1 but it will definitely be one of those two. Discuss in the comments your thoughts on these two!
Lachie Weller (MID $175,000) came on late in the last quarter and played 19% TOG for 16 points. I know a very good friend of mine who has him as M8 and is hoping he gets selected round 1. I'm not convinced he will get the call up yet and there are better options roughly around his price like Macaffer who is only 24k dearer and is almost a certain starter.
Tommy Sheridan (DEF $359,000) has been a popular pick in the 'My Team' column this year and once again posted a respectable 75 points from 80% TOG. I think this is what we can expect from him this year and at his price is a reliable mid-priced defence option to consider.
All in all, another NAB game done and dusted. What did we learn?
Dangerfield is a must (cue haters)
Sheridan is a reliable mid-priced defender option
Mzungu may well have a bit of a sneaky breakout. I say again 95 points from 64% TOG!
My mate that is starting with Lachie Weller is a tad optimistic.
Cheers and feel free to discuss in the comments anything and everything.
Leighroy
Hawthorn v North Melbourne – Etihad Stadium
Saturday 12 March – By Warnie
Click here for DT Live stats/scores.
Hawk Jordan Lewis and Grant Birchall were pulled from the squad before the game started along with Brendan Whitecross (who I think is outside of the best 22 currently). There were pretty close to full strength as was North Melbourne who was probably only missing Shaun Higgins from their best 22. Aaron Black has been on the watchlist for a few, but he played just 25% of the game, so he may not quite be there for the Roos.
In a game where the Hawks put in a massive effort to score 125 and run out 45 point winners, there were going to be a few big Fantasy numbers. As Roy said in a text to me, Sam Mitchell (MID, $574,000) hit beast mode. He finished with 23 kicks, 22 handballs and 142 points. Huge for a NAB Challenge game. Ben Jacobs tried to annoy him, but as the game went on, it was easier for Mitchell to rack up. Still, I can't pick him.
One bloke Calvin may pick again, especially after this, is Josh Gibson (DEF, $472,000). Nine marks and five tackles to go with his 33 touches helped him to 129. Hard to spend that coin on a defender who you can't bank points week to week – especially when we will often see Gibson having to play taller than what he is. He won't have it this easy, even though North have a few bigs up forward.
Other Hawks of note included Daniel Howe (DEF, $265,000) who has had an impressive pre-season. He had 18 points early, which prompted a text from Roy to wonder why people are even questioning him for best 22. From that moment, he was quiet for the rest of the half before 42 points in the second half. It's going to be hard to select him as the Hawks play on Monday and we'll be locked out at the start of the first game on the Saturday, a couple of hours before the Hawks' squad is trimmed before Easter Monday. Still, he would be nice to select as a lower-midpriced defender. Luke Hodge (MID, $615,000) kicked the first goal of the game and racked up 17 disposals in the first half. He was then put on ice (43% TOG). I can't pick him fully priced, but if his game is like tonight's, I doubt he gains DPP (more likely forward than anything… anyway, time will tell). Billy Hartung (MID, $333,000) has had tongues wagging – oh sh*t that was bad – because he wore the vest so many times last season. The Tongue scored 40 from just 20% TOG due to a knee knock that saw him sit out the majority of the game.
I can't write off Taylor Duryea (DEF, $463,000) completely  yet, especially as one of the top defender picks in Elite. He spent a fair bit of time inside defensive 50, but he would run out of the backline to get a cheaper kick up the ground. His 50 points came from 62% TOG.
Really, I feel like the Hawks will continue to score well, etc… as they did tonight, but there isn't a heap of relevance for the salary cap game.
Turning to North Melbourne, Daniel Wells (FWD/MID, $293,000) is a lock. My structure sees him and Kerridge in my forward line and I have no worries about that whatsoever. 24 touches, five marks and five tackles saw him knock up 104 points (77% TOG). If you were considering him, there is no need to take him out. He will gain some dollars and for the first part of the season, should be in the mix as a top forward. 80+ is value for Wells and he should do that easily.
$293K is still a pretty cheap price for Daniel Wells, contrary to the noise a couple of months ago. #AFLFatasy

— DT Talk (@DTTALK) March 12, 2016
Jack Ziebell (MID, $500,000) is irrelevant as a MID only in my opinion, but he can increase his numbers this year. Todd Goldstein (RUC, $630,000) did what Goldy does. Dominated hitouts with 28. He came off the ground at one stage, but went at over a point a minute. If you're picking him, there's no reason not to get him. I'm not purely because I feel his output won't be the 114 he did last season, I'm predicting around 10 points less.
As a cheap dual position player, punters are keen to save some dollars by starting with Jed Anderson (FWD/MID, $224,000) up forward. Just don't. He went at just 55 points per 100 mins in NAB1 and tonight it was 50 in 75% TOG. Not quite enough… and there is the risk of being a bit fringe. Pass.
I think that's enough for me for tonight! Post any of your thoughts in the comments.
Brisbane Lions v GWS Giants – Metricon Stadium
Sunday 13 March – By Anthony
Click here for DT Live stats/scores.
With very scrappy wet weather conditions, both teams struggled at times with being able to hit targets cleanly.
The Lions went into this game were a couple of players down for the majority of this game and it really showed as they ran out of legs from about half way through the 3rd quarter.
Some serious fantasy highlights though so lets get into it!
If you haven't already, log in to your Fantasy team and lock Heath Shaw ($532,000 DEF) into your backline. Today he did what he does best again, floating across the half back line and setting up runs out of defence. Finishing with 118 points, Shaw is the epitome of a lock!
Stefan Martin ($631,000 RUCK) and Shane Mumford ($524,000 RUCK) was a interesting battle to watch today. Mumford went in with a very clear intention to put physical pressure on Martin, sending a big knee into his ribs on the first bounce! Martin just went about it though and stuck to he usual game, collecting 118 points and still looking to still be worth the set and forget price tag! Mumford scored 74 points and sat out most of the last quarter.
Last week Fantasy Freako tweeted that Jack Steele ($324,000 FWD/MID) had attended the most centre bounces of the game and this week looks to have been no different. With 119 points to finish the game (including 11 tackles) Steele was in every contest! It'll take a brave man to believe the preseason hype and lock in this mid priced midfielder, but it's looking like he might reward you if you do!
Another player who found a lot of the ball was Josh Kelly ($406,000 MID). In a game where conditions were anything but perfect, Kelly's disposal was absolutely elite! With disposals like today, you can see why the Giants players were keen to get the ball into his hands. Finished with 32 disposals and 113 points.
Mitch Robinson ($504,000 FWD/MID) is another player who looks to have justified his 'lock-ability' this NAB Challenge. 110 points today but played with the physical intensity that he was drafted for. Really making his physical presence known and finishing the game with 13 tackles.
The game high scorer was 127 points by Dayne Zorko ($500,000 FWD/MID) who looks to have stepped up the physical aspect of his game with 13 tackles as well!
Careful if you're thinking of picking him up though. He was reported for Striking Phil Davis and with the AFL being very strict on high contact off the ball, he could be looking at missing possibly the first and second round.
Stevie J ($479,000 FWD) was his usual self, popping up for 3 goals in the first half. He was showered and dressed by half time so 57 points from half a game is still pretty damn good!
Rhys Mathieson ($158,000 MID) is looking like a great pick up for the Lions. Looked very comfortable at AFL level and should get a lot of game time this year. His score was stuck on 29 after copping a hit early in the 3rd quarter and not returning. You'll want to monitor him if you're thinking about sitting him on your bench however as he was holding his leg after the hit.
If you're like me and considering Tom Cutler ($317,000 DEF) as a POD smokie in your defence then you'll be happy again with his output today. 89 points scored running through the midfield and drifting forward. Ran out of legs with the rest of the Lions towards the end of the game but still a very promising score!
Callan Ward ($555,000 MID) was a bit down on his average, only scoring 79 points but never looking like he was out of 2nd gear. Clearly saving his best for Round 1!
Other noticeable scorers were Daniel Rich ($402,000 DEF/MID) and Toby Greene ($473,000 FWD/MID) with 85 and 89 a piece. Both worked hard all day and spent time floating between the arches. Definitely a tough game to get clean possession though!
Interesting bit of commentary from Lynch during the game on Dayne Beams ($570,000 MID) who wasn't playing. He said that Beams had a shoulder reconstruction at the end of last year. His shoulder is 100% now but he is struggling with a knee injury now. He still hasn't joined in with the main team at training and will definitely miss round 1, if not the first month of the season.
That's all I've got!
Melbourne v St Kilda – Etihad Stadium
Sunday 13 March – By Rumballz
Click here for DT Live stats/scores.
After failing to leave work as early as I had hoped, I finally made it to my seat at Etihad mid way through the first quarter. First impressions were the Saints looked terrible. Definitely rusty -missing the game versus the Lions looks to have had an impact on skills. A lot of player missed targets, and shanked the ball. But it wasn't all rust, the Demons were ferocious and pressured the ball carriers all game.
Jack Steven (MID, $618k) scored 117 from 81% and looks like he's hit the gym hard over summer. Last year he upped his tank, this year he looks stronger and better equipped to handle that inevitable tag. I took him pick 1 in the #DTTalkElite draft and was taunted. TAUNTED! He averaged 111.7 last season and I see no reason why he can't match or beat that.
Leigh Montagna (MID/FWD, $603k) spend the game doing Joey Montagna things. Finished up with 95 points from 88% but didn't look like he was trying too hard. Expensive to start with, but worth it if you want to go lighter elsewhere. A definite upgrade target otherwise.
Jack Billings (FWD, $452k) is an interesting one. Started like a house on fire roaming the forward-50, and kicked three of the first four goals. Finished the game on a wing. Not sure if he attended any centre bounces, but until he sees rotations through the midfield I think his scoring will be reliant on the goal kicking.
Some players who did start inside the centre square were Sam Gilbert (DEF/MID, $420k), Seb Ross (MID, $394k) and David Armitage (MID, $592k). All scored around 83/84. Armo is the only proven premo, but if you're still to draft an Elite team, the other two are viable options you can get in the mid-to-late rounds. The Nick Riewoldt (FWD, $520k) midfield experiment ended up with him running around like a lost puppy, and it wasn't long before he was back in the forward 50, and then off with an apparent calf issue. Jade Gresham (MID, $187k) looked great, cracking the half-tonne in his 38% TOG. If he's picked round 1 he might just end up in my team.
Haven't watched many Melbourne games, so I apologise for the lack of depth.
What I can tell you – which you probably know – is that Max Gawn (RUC, $509k) is a monster. Tom Hickey is 201cm and 94kg and big Maxy just played with him. Just the 87 points this time but he was resting up forward, so if he can snag a sausage roll or two… look out!
Jack Viney (MID, 462k) was barely noticed in the first half, but cam home strong to finish with 102 points. Still wasn't given a tagging role which can only be good going forward.
If you metaphorically have a couple of cantaloupes down your dacks, then maybe you'd consider one Jack Watts (MID/FWD, $377k)? Was strong at both ends of the ground today for his 99 points. Have noticed him going very, very late in draft leagues, and is an absolute steal there.
Clayton Oliver (MID, $238k) looked very good today almost cracking the tonne from only 68% game time. But at that price it's a big gamble. You could really only pick one of him and Callum Mills.
Dom Tyson (MID, $449k) and Bernie Vince (MID, 512k) are another two you could grab at a steal in Elite leagues, for an 80-90 average.
West Coast v Essendon – Domain Stadium
Sunday 13 March – By Anthony
Click here for DT Live stats/scores.
As a West Coast fan, this was a bloody awesome game to watch!
As a fantasy coach though, I'll be going right ahead and ignoring most of West Coast's fantasy scores though. Seriously inflated during this game.
There was a lot of Fantasy information from this game though so lets sift through it!
Essendon played a very attacking brand of footy whenever they had the chance which is possibly a good sign for their scoring.
Joe Daniher ($314,000 fwd) was easily one of their best players, working up the ground on searching leads to find the ball and taking on players when he had it. He's clearly taking on some more responsibility in leading the Essendon forwards. Finished the game with 82 points.
Matthew Dea ($170,000 def) 81 points and Anthony McDonald-Tipungwuti ($162,000 def/fwd) 76 points both played similar roles running out of defence and just based off of today's game, both would seem like solid options in our backlines. Both players backed themselves to leave their opponents and run forward, looking for a handball receive or kick to link up the play and break the lines.
Popular preseason options Mitchell Brown ($194,000 def/fwd) 36 points and Michael Hartley ($125,000 def) 37 points however did the opposite and stuck to their players pretty closely. Brown also started the game in attack but didn't really take advantage of it.
If you're considering Brendon Goddard ($552,000 mid) at all then you wouldn't have been too happy with his 51 points today. Just seemed really disinterested from the outset and made a few pretty glaring errors with the ball that resulted in turnovers. Possibly just an off day but didn't really play with the kind of intensity that you'd hope a captain who's hoping to inspire their side would play with.
Mark Baguley ($417,000 def) had a decent scoring game with 102 points. Seems to have taken Hibberd's old job and could see a lot of the ball this year in this position if he continues to act like the backline general as he was today. My only concern in picking Baguley is that Courtney Dempsey will be back in round 4 after serving the remainder of his 4 game suspension from last year. Dempsey could take that responsibility/score from Baguley when he returns, just something to think about if you're considering him!
Jonathan Simpkin ($226,000 mid/fwd) did enough today to justify his selection if you're wanting him in your forward line. Only the 19 disposals for 78 points but was around the ball a lot. If he can start laying more tackles when Essendon doesn't have the ball he'd be perfect! Just 2 tackles for him today.
On the West Coast side of things, as I mentioned earlier I wouldn't be reading too much into their scores but theres enough there to know a few things.
Matthew Prides ($570,000 mid) with 124 points and Andrew Gaff ($579,000 mid) with 106 points are still ball finding guns.
Elliot Yeo ($nope) should not be picked at all! Played through the midfield today and had every opportunity to ton it up. It's almost like he's allergic to scoring well now… Finished the game with 78 points.
Jack Darling ($391,000 fwd) was used in an interesting way. Scored 109 points (which included 3 goals) but spent the game rotating through the middle of the ground and the forward line in conjunction with Lecras. Probably still not the best option for Fantasy but could certainly be considered for Elite if he continues to play this role in the season.
Not too much else to mention West Coast wise, but if I've missed anyone important then feel free to hit me up in the comments section or on Twitter! @Anthonydsmith86
That was the last game!! Lets get this season started!!!