Jeppa's Juniors – 2016 Midfielders
In a time of need, Jep brings us his best rookie midfielders for 2016. Quality, cheap mids are few and far between this season so take note of what's available for Round 1.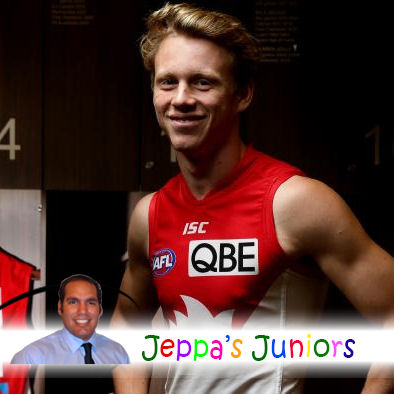 I'm not going to lie, picking the Top 10 rookie mids at this stage of the preseason was extremely difficult. As far as your team's structure goes, I seriously wouldn't have more than two rookie priced midfielders in your starting 22. There are numerous youngsters around the mark but not too many are 'locked' for Round 1. Nevertheless, I have given it a crack and considering role, job security and scoring ability, here are my best midfield rooks TO START WITH this season…
MIDFIELDERS
1. Callum Mills
AFL Fantasy Price: $227,000
AFL Dreamteam Price: $215,800
Predicted Average: 72
Bob Skilton wore it, so did Paul Kelly and now Callum Mills. You don't give a first year Swans player the No. 14 unless they're a jet. Mills was a big ball winner at the U/18 Champs and the NEAFL last year and after an impressive NAB Challenge campaign to date, he's a lock for Round 1. With Shaw retired and McVeigh unavailable early, Mills will start at half back and he's even been entrusted with a few kick ins (kick it to yourself!). Find the extra cash to bring Mills in, he's seriously worth every penny and easily the number one rookie mid choice this season.
2. Josh Dunkley
AFL Fantasy Price: $162,000
AFL Dreamteam Price: $121,300
Predicted Average: 64
Son of a Sydney gun, Josh Dunkley found his way to the Dogs with pick 25 in last year's draft after the Swans opted not to obtain him as a father/son. I think they'll be ruing that decision. Blessed with clean hands and shear size for a midfielder/flanker, Dunkley reads the play exceptionally well and he's a great tackler. In his first NAB Challenge match against the Dees, Dunkley was impressive amassing 8 kicks, 8 handballs, 3 marks, 6 tackles and 78 Fantasy points. Thankfully, coach Luke Beveridge plays the kids and if Dunkley keeps performing then expect him to feature early in the season.
3. Clayton Oliver
AFL Fantasy Price: $238,000
AFL Dreamteam Price: $211,300
Predicted Average: 68
The Dees have found a ready made midfielder in Clayton Oliver. He's strong and loves the contest, more importantly he knows where to go to win the footy and is a natural in front of goal. Everything Oliver touched in last weekend's NAB Challenge match against the Dogs turned to gold! He only had 17 possessions and 48 Fantasy points but it was from just 71% game time. Oliver definitely has a Fantasy game and the senior opportunities will be there this season but like all good youngsters, they come at a cost. Watch him closely…I'm expecting big things!
4. Rhys Mathieson
AFL Fantasy Price: $158,000
AFL Dreamteam Price: $121,300
Predicted Average: 65
Every year there's a draft bargain and this time round it appears to be Rhys Mathieson. Brisbane were ecstatic to 'pinch' the Geelong Falcons product with pick 39 in last year's draft and the signs are good for the contested ball winner. Mathieson was one of the Lions best players in their first NAB Challenge game against the Suns (13 touches, 2 marks, 1 goal & 55 Fantasy points) and he received praise from coach Justin Leppitch post game (source). There are a couple of spots available in the Lions 22 early this season and given his price, he's value for your midfield bench.
5. Darcy Parish
AFL Fantasy Price: $260,000
AFL Dreamteam Price: $206,800
Predicted Average: 64
Plenty of senior opportunities await Parish at Essendon this season. The young midfielder who went at Pick 5 in last year's draft plays both as an inside and outside midfielder and his disposal, contested possessions and clearances are all rated as elite. In Parish's first NAB Challenge hitout against the Blues, he finished with 18 possessions, 5 marks, 64 Fantasy points and his class clearly stood out. He was rested from last weekend's game but will suit up against the Dockers on Sunday…perfect preparation for Round 1. Parish comes at a hefty price but his job security is up there with the best first year players this season.
6. Ryan Davis
AFL Fantasy Price: $125,000
AFL Dreamteam Price: $105,800
Predicted Average: 60
Here's some value! Rookie listed Davis is a mature age player who is likely to feature early in the season given the Suns injury woes. Last year in the WAFL, he averaged 21 possessions, 5 marks, 6 tackles, 1 goal and 100 Fantasy points so there's plenty of appeal not to mention his bargain basement price in both Fantasy and Dreamteam. In Gold Coast's most recent NAB Challenge match, Davis only scored 39 Fantasy points from 46% time on ground but don't panic, he's building. If I'm right and Davis is elevated (ahead of Darcy MacPherson & Tom Keough) and named for Round 1 then pick him!
7. Brent Macaffer
AFL Fantasy Price: $199,000
AFL Dreamteam Price: $214,300
Predicted Average: 65
After a knee reconstruction in August 2014, Macaffer is finally in good touch and he comes cheap this season. Most will know that Macaffer was used as a tagger prior to his injury, a role he'll likely regain this season. It's no secret that he's not the biggest Fantasy scorer going around but his job security is very sound given he's always been one of Buckley's favourites. He's only played half a NAB Challenge game to date (55 Fantasy points!) but he should have a full run this weekend. Note that Macaffer is out of contract at seasons so he'll want to perform!
8. Lachlan Weller
AFL Fantasy Price: $175,000
AFL Dreamteam Price: $231,900
Predicted Average: 62
Ross the Boss typically doesn't play the kids but Weller seems to be a solution for some desperately needed speed at Freo. Last year in the WAFL, he averaged a healthy 20 possessions as an outside midfielder and it's clear that he's worked hard over the summer. In his two NAB Challenge matches to date he's scored a reasonable 59 and 42 Fantasy points from 74% and 65% game time respectively. Assuming he continues to use the ball well in NAB 3 then he should get his opportunity ahead of teammates and housemates Langdon and Blakely but a lot can happen between now and Round 1. There's value here for Fantasy.
9. Jade Gresham
AFL Fantasy Price: $187,000
AFL Dreamteam Price: $148,300
Predicted Average: 60
In his short time at Moorabbin, Gresham has impressed the right people. Just last week, Saints assistant coach Adam Kingsley singled him out as one around the mark for senior footy early this season (Source, Fox Footy interview after washout). Gresham is a small inside, outside midfielder that averaged 29 possessions and 122 Fantasy points in the TAC Cup last year so there's plenty to like from a Fantasy point of view. He played typically as a half forward in the Saints first NAB Challenge game but only scored 37 Fantasy points. Obviously we need another look at Gresham this weekend but he's definitely watchlist material and affordable.
10. Jacob Hopper
AFL Fantasy Price: $255,000
AFL Dreamteam Price: $197,800
Predicted Average: 66
Hard working, winner and future captain…these are some of the terms associated with Jacob Hopper. The rough and tough midfielder has been compared to Joel Selwood given his desire to win the contested ball and ability to break through tackles. He can also take a good grab overhead and was a noted goal kicker at junior level. After being used sparingly in the Giants first NAB Challenge game, Hopper was one of the better GWS players in their NEAFL trail match last Saturday (source). As a result, expect Hopper to play this weekend as a dress rehearsal for Round 1. I just hope the Giants don't nurse him through his first season given his potential.
Other rookie priced midfielders that could come into Fantasy and Dreamteam contention this season include David Cuningham, Ben Keays, Dean Gore, Darcy MacPherson, Ryan Clarke, Jarrad Jansen, Ed Langdon, Jack Trengove, Connor Blakely, Matthew Kennedy, Brayden Fiorini, Jake Barrett, James Polkinghorne, Anthony Morabito, Nathan Freeman, Sam Menegola, Josh Schoenfeld and um Ryan Crowley.
Look out for my post NAB Challenge analysis on the midfield rookies that performed well, those that struggled and maybe one or two that snuck under the radar! Remember rooks are classified as players under $250,000 in either Fantasy or Dreamteam.
FOLLOW ME ON TWITTER: @JeppaDT for all for all things AFL Fantasy, AFL Dreamteam and more!