Versus: The Older or Younger
Tom is back with his excellent Versus series comparing the old and the young.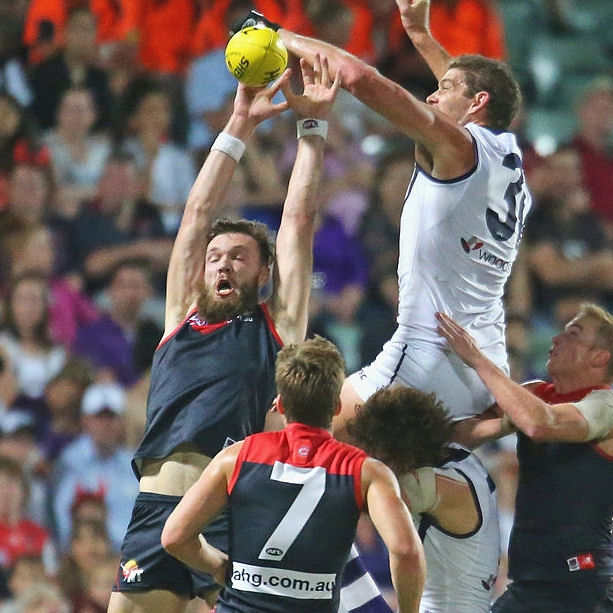 Tom is back with his excellent Versus series comparing the old and the young.
Corey Enright ($505,000, 34 years old) V Rory Laird ($489,000, 22 years old)
Ever since debuting back in 2001, Geelong defender Corey Enright has been a hero. Now 34, Enright is still a quality point scoring option in AFL Fantasy. Seemingly always named in the Cats bests, Enright is also an interception master. Averaging above 80 every year since 2006, 'Boris' as he is known as down at the cattery, rarely fails to deliver. Despite playing lock down roles on multiple small forwards such as the damaging Cyril Rioli, Lewis Jetta and fellow elder statesman Brent Harvey, the evergreen defender keeps on producing some remarkable numbers. Scores of 150, 109, 112, 110 and 126 proving his scoring ability is still flourishing. With the Cats luring in the likes of Lachie Henderson, Zac Smith, Scott Selwood and of course Patrick Dangerfield, what effect could this have on Enright's role? I wouldn't think he would be slapped with a different role so late in his career though. At times last year, Enright spent patches playing as a spare man in defence but was also used to lock down as mentioned before. Enright excels when it comes to pressure and reading the play. If he manages to avoid injury, I'd be expecting another solid season with a 80-85 average.
Adelaide's defence took a sizeable blow when rebounding defender Matthew Jaensch retired from AFL football. Laird endured a fantastic 2015 season, stepping up to fill the gap left by the injured Jaensch. He managed to play every game, finishing the year with an average of 88.3. However with the Crows acquiring half-back/wingmen Paul Seedsman and Curtly Hampton who join the Crows large list of running re-bounders, will Laird return to the role he played so well last year? I believe he will and should be considered for a D2/3 position in your team. As previously stated, Laird played as a rebounding defender for the majority of 2015 and was ranked number one at the Crows for effective kicks and handball receives, second for rebounds and found himself seventh in the league for intercept possessions. If he does occupy a rebounding role, the Crows will look to feed him the ball off half-back to set up attacks going forward, which can only be a positive for Fantasy owners. Laird's Fantasy ownership increased considerably after Jaensch's shock retirement and for good reason. In my opinion an 85+ average is just around the corner.
Verdict: It's extremely hard to go against one of the games all time greats and future hall of famer but the younger blood wins out for me. Both players play similar roles but given Laird's age and the fact he is $16,000 cheaper it's hard to go against the Crow. Perhaps Enright could be more relevant as a possible slider in an Elite Draft?
Loading ...

Click here to subscribe on iTunes.
Jordan Lewis ($613,000, 29 years old) V Nat Fyfe ($581,000, 24 years old)
Hawthorn midfielder Jordan Lewis started his 2015 campaign on fire! The four-time premiership star found himself 80 Fantasy points clear of second place after the opening five rounds. Scores of 156, 119, 152, 130 and 117 were enough for many coaches to jump on the Lewis bandwagon. However his Fantasy form did, understandably, drop off slightly in the remaining rounds. In rounds 10, 12 and 13, Lewis chalked up mediocre returns of 80, 75 and 82. Lewis, who was picked up with the seventh selection in the 2004 draft, was awarded with his first All-Australian selection on the back of leading the Hawks for handball receives, inside 50's and hard-ball gets. Already possessing the unique ability to play an inside or outside midfield role, Lewis slotted nine goals in 2015 proving he can be a threat up forward as well. With no big name midfielder's joining the club during the summer, Lewis' role shouldn't differ too much. Although he comes in with the hefty price tag of $613,000 Lewis can be relied upon at M1 and should be amongst the top scorers come the end of the season. Perhaps the only downside is the fact that it'll prove very difficult for him to better his 2015 output.
Nat Fyfe was quite good in 2015. Actually he was brilliant, collecting the Brownlow Medal as the league's best and fairest player. Fyfe had his most productive Fantasy season to date, averaging an impressive 105 points. But what makes these feats even more special is that he endured four games on the sidelines through injury. Almost always tagged, Fyfe still seems to find a way to influence each match. Ultra competitive by nature, Fyfe has a knack of kicking important goals when the Dockers need him most. His freakish aerial traits combined with his in and under ball winning ability was regularly on show. Fremantle's round 9 clash with the Crows summed up Fyfe well. Going head to head with fellow superstar Patrick Dangerfield, Fyfe amassed 40 disposals, 4 marks, 6 tackles and a goal on a wet night in Adelaide. Despite always being consistent in years gone by, Fyfe has never had a 110+ Fantasy season. Perhaps 2016 could be that year.
Verdict: As good as Fyfe is, I believe Jordan Lewis has a more Fantasy relevant role in the midfield, so I'll have to go with the older man here. In fact some may say it's a bit unfair to call Lewis 'old' as he is only 29. If Fyfe can take his game to the next level in 2016, who knows what he could do? This decision may come down to the cash you have available.
Loading ...
Aaron Sandilands ($485,000, 33 years old) V Max Gawn ($509,000, 24 years old)
Standing at a whopping 211cm tall, Fremantle's Aaron Sandilands is one of the best ruckman to have played Australia's game. However 2015 wasn't his best stint, even though he still managed a good average of 87. Sandilands role in the Dockers unit is simply to give the players in purple first use of the sherrin. It took the big unit from Mount Barker eleven rounds to collect his first ton of the year. Enticing is the fact that Sandilands has recorded scores of 71, 110, 90, 114, 97 and 83 in the opening rounds of the past six seasons, demonstrating that he likes to set the tone from start. Remarkably, his lowest hit out tally of 2015 was 19 against Melbourne in round five. In fact it took a mesmerizing season from Todd Goldstein to prevent Sandilands from accumulating a fifth All-Australian award. So good was his ability to dominate in the ruck that he managed to eclipse Brownlow Medallist Nat Fyfe in the clubs best and fairest. Available for $485,000 in AFL Fantasy, Fremantle's number one ruckman is cheaper than popular big men Sam Jacobs and Mark Blicavs despite having the ability to average just as many as his more expensive counterparts. Be wary of picking him in your starting squad because he will miss round one as a result of a suspension following a head high elbow to the face of Richmond's Ben Griffiths.
Melbourne's resident bearded big-man Max Gawn experienced a rather surprising breakout season in 2015. After featuring in a mere 26 games throughout his first five seasons, Gawn certainly delivered by producing an average of 91.9. His season included massive scores of 139, 146 along with a 125 against Fremantle where he matched one of the best ruckman in the competition. Gawn went from having to consistently fight for a spot in the Demons team, to securing the illustrious role of the number one ruck. It didn't start off all that well for Gawn who missed the opening nine matches then failed to set the world on fire when handed an opportunity in round ten. With the famous number eleven of legend Jim Stynes on his back, Gawn can now arguably be considered a premium in AFL Fantasy. Towering over many at 208cm, the ruckman also knows how to find the football if needed, although not always displaying immaculate foot skills. Disposal hauls of 16, 19, 19, 17 and 21 are numbers that the likes of Martin, Goldstein and Jacobs would be happy with. Despite not being a massive issue, Gawn did give away 20 free kicks against in 2015, however that is justifiable given the number of ruck duels he competes in. Also worth noting is that he averaged 2.2 contested marks and 2.3 one percenters but only 2.2 tackles per game. Interestingly, Gawn recorded only six marks inside 50 which shows he is used mainly only as a ruckman. However with the new interchange regulations kicking in, Gawn may spend more time up forward alongside young gun Jesse Hogan (That particular pairing could well be known as – Hogan and Bogan). Regardless of the certain amount of risk that comes attached when picking Max Gawn, it could prove a master-stroke if he can build on what was an impressive 2015 season.
Verdict: For me, it has to be Gawn here. The fact that Sandilands will miss the first round does not help his cause, however I believe Gawn has more upside this season. Gawn no-doubt has the bigger ceiling of the two (Sandilands did not record any 120+ scores whilst Gawn had three) and given Sandilands is now 33, his body may not be able to keep at it for another long season. Fork out the extra dollars and go with Gawn in my opinion.
Loading ...
Daniel Wells ($293,000, 31 years old) V Jordan De Goey ($342,000, 19 years old)
Injury hampered North Melbourne midfielder/forward Daniel Wells over the course of the 2015 season. Despite his age, Wells still posses the blistering pace which helped him become such a valuable weapon in the Kangaroos outfit. Recruited with pick two in the 2002 draft, Wells injured his achilles against Brisbane in just the second round last year. After making an appearance for the 'Roos VFL team later in the 2015, Wells was disappointingly struck down by a calf strain. Excelling as a line-breaker and supreme finisher, the speedster has had an efficient pre-season so far and looks poised to occupy a role on the wing or across the half forward line. This could see Wells competing for a position alongside new recruit Jed Anderson. In his first major match of the year, albeit the NAB Challenge, Wells was back to his best, scoring 78 Fantasy points from 73% TOG. In that particular outing, Wells recorded 17 disposals (13 kicks and 4 handballs) at 88.2% efficiency, 6 marks and 3 tackles. Although North had numerous star players sidelined, Wells was busy and looked fit. In the past, he has strung together some interesting Fantasy seasons. Having averaged 82, 93, 87 and 83 from 2010 to 2013, Wells is available for just $293,000 – his lowest starting price since 2007. In the 'Roos recent intra-club hit out, Wells had a series of promising moments. He took a collection of good marks, booted four goals, set up team mates in numerous scenario's and tackled hard when the opportunity arose, all in just a half of footy. Wells is a great asset for North Melbourne and should be in the mix for a spot in your team along with the likes of Kerridge, Bird, Simpkin, Kennedy and Menzel. Hopefully his previously precarious fitness stays as a thing of the past.
Perhaps one of the shining lights of Collingwood's 2015 season was the emergence of young midfielder Jordan De Goey. Selected with pick 5 of the 2014 Draft, De Goey is a reasonably tall ball winner who is excellent in one-on-one situations and gives 100% in every game. Playing a similar role to team mate Steele Sidebottom, De Goey burst onto the Fantasy world with a 24 disposal, 6 marks, 2 tackles and 102 Fantasy point performance against Geelong in NAB 2, all in only 77% TOG; impressive numbers for a 19 year old. Throughout his debut season, De Goey averaged 14 disposals and 61.9 Fantasy points but will no doubt be looking to improve on those numbers in 2016. The Magpie also has the ability to play up forward. He often kicked crucial goals during his TAC Cup campaign where he played the majority of his matches in attack. Collingwood see him playing a midfield role in years to come, but with their midfield already oozing class, I doubt he'll feature in there too often this year; perhaps just small stints when being rotated with Swan or Adams. Last year, De Goey wore the infamous vest five times for reasonable returns of 13 (32% TOG), 31 (31%), 46 (68%), 71 (53%) and 48 (40%). If you remove those matches, he has an average of 71.2 Fantasy points. An 18 disposal, 4 marks and 12 tackle showing against Sydney in round 12 will be the type of game De Goey will be looking to replicate this season. I can see De Goey averaging 75-80 in 2016, making him perfect for a F3/4 spot.
Verdict: I prefer De Goey in this case. Wells will most likely play across the half forward line much like De Goey; however if both players were to enter the midfield, De Goey would have an inside role whereas a less Fantasy friendly role on the wing looks more suitable for Wells. Having said that, if Wells can return to his form of previous years, he could end up being a great value pick.
Loading ...