NAB Challenge Notes – Week 3
The DT Talk team compile their notes for every game of the NAB Challenge.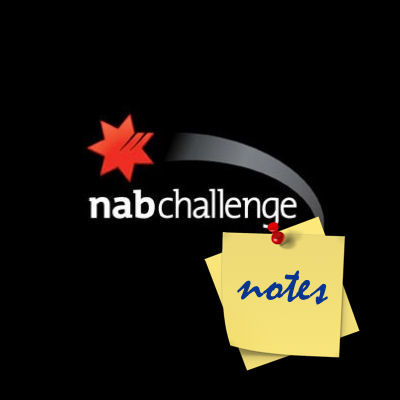 The DT Talk team will update each game of the weekend with our notes from them.
West Coast v Gold Coast – HBF Arena
Thursday 3 March – By Calvin
Click here for DT Live stats/scores.
I heard that the Suns left 11 of their best-22 out of this game and when teams were announced earlier this week, some betting outlets had them paying $13 to win.
McGoven missed a sitter with a minute to go when they were down by 4 and then with 15secs to go he got another chance and slotted a goal to take the lead. Amazing game really, and the Eagles timed their run home better than a $1.10 greyhound out of the red box.
The Suns basically lead from start to finish, but despite the amazing result, a few things caught my eye and let's face it, everyone is here to hear my review of my favourite player, Elliot Yeo (DEF/MID, $436,000).
Positives on Yeo: His role. He played so much on the ball tonight it wasn't funny. For those who only looked at this game for this reason will be happy with what they saw. Similar to what they saw in his first NAB game. With his score of only 42pts tonight, many coaches will be jumping ship. Prior to this game 32% of coaches owned him, this might now change therefore you'll have a potential player of difference from what was such a popular pick, and for good reason. Back yourself in from your initial judgement and it might just pay off.
Negatives on Yeo: He hates finding the ball and he can't score. He had so many opportunities in this game, with quality team mates around him …there's no more excuses. He wasn't against Ablett and Prestia and the other stars of the Suns and he still struggled.

Click here to subscribe on iTunes.
Last NAB game it was the opposite when he had the same role. He was the 'star' of the midfield for the Eagles against quality opposition and he still struggled (37pts). There's no excuses anymore… he's priced at an average of 79 and so far we're seeing form that replicated the rut he was in at the end of the 2015 season. I've said enough on this but for me… the Yeo-Yo has snapped. Good riddance.
Comment below your thoughts on this, and I'd love to hear from Mr. Tbetta himself…
In other news, Mark LeCras (FWD, $464,000) was sensational for his 117 as was Nic Naitanui (RUC, $489,000) who posted 86. Nic Nat is certainly in considerations even more so now as R2.
Aaron Hall (FWD/MID, $422,000) finished 2015 like a steam train and showed those familiar signs again. He had 108 and looked dangerous throughout the night with his 19 disposals and 15 tackles. Yes, 15.
@Fantasy Freako was watching hard again and noted: "Game-high 16 centre bounce attendances for Hall. Priddis with 14, Miller 11 and Yeo 10." Even he agrees Yeo had his chances…
Eric MacKenzie (DEF, $205,000) was one of the bargains heading into the NAB Challenge. He only scored 34 but will cement himself as a certain starter each week for the Eagles he is fit. He'll average 55 if he's lucky though.
Trent McKenzie (DEF, $287,000) got off to a booming start and was on 59pts at the 22min mark of the 2nd quarter. He finished in 105 and is now another mid-priced defender to consider.
No Tom Nicholls meant the world famous R4 Daniel Currie (RUC, $125,000) shown with 68 and will be one of the most selected ruckman on the bench once again. Will he get a run? Maybe he just might, he's been pretty good so far this NAB series.
Finally, Jesse Longeran (DEF/MID, $346,000) was coming off a super last NAB game and started in the same style. He was on track for a 90 but then was seen with an iced up ankle on the sidelines.
Sydney Swans v GWS Giants – Drummoyne Oval
Friday 4 March – By Griff
Click here for DT Live stats/scores.
If Callum Mills (MID $227,000) isn't currently in your team, than you need to stop reading, log in to your preferred platform, and make it happen. After scoring 81 last match, his 63 this week looks like a dip, except he was the 6th highest scorer for the Swans in  a rather lackluster display against the equal strength Giants. With Gary Rohan confirmed as now on the long term injury list, Mills is almost certain to start the season, and is the pick of the rookies, despite his elevated price tag.
Midfielder Luke Parker scored 100 for the second week running (ignore the table below, champion data found an extra handball just for him), and at $533,000 he could prove to be a very nice POD this season.
Fellow Swan Midfielder Tom Mitchell ($593,000) was the only other high scorer for the Swans, who has shown good consistency in the past two weeks, scoring 92 and 93. But now that he's finally found a spot in the Swans team, and at $60,000 more than Parker, you'd want to be sure he'll go big all season before picking him over similar priced midfielders.
For the Giants, Callan Ward (MID $555,000) led the way with a nice 102 from the shortened quarter format of the game, in front of Deck of DreamTeam features Heath Shaw 99 (DEF $532,000), Toby Greene 95 (MID/FWD $473,000), Dylan Shiel 91 (MID $512,000) and Steve Johnson (FWD $479,000).
Despite only being his first hitout, Shaw in particular looks to have reaffirmed his 'must have' status this season, but it was Toby Greene that got me most excited. In a floating role across the field, Toby was allowed to just follow the ball around, and his scoring potential benefited. With Stephen Congilio out with hamstring tightness and Devon Smith not getting up, Toby looks like he may get a run at a midfield spot after all, which makes him a 'must consider' prospect for your forward line.
Stevie J also looked like he has re-found some pre-2015 form, and despite not getting a bucket load of midfield minutes, he showed it simply doesn't matter, kicking three goals and laying three tackles to ease into a simple 85.
In the ruck department Shane Mumford ($524,000 – 25 points) sent a scare through the Giants camp, with Leon Cameron taking no risks by dragging the big man after a left ankle (not the one that he hurt last year) injury. Given his importance to the side, we'll know how bad it is based on if he plays next year.
New Swan Callam Sinclair (RUC $414,000) scored a very nice 79, and would be a valueable handcuff target in trades with Kurt Tippett ($445,000) who scored a mediocre 54. I wouldn't touch Sinclair  in salary based formats though.
For those coaches watching dark horse Zac Williams (DEF $358,000), the news is not good. At the end of last year, he was thrown into quite a few centre bounces, which saw his scoring increase dramatically. Unfortunately with the return of several players, it looks like he will get a lockdown defender position in the backline, and my interest has just about gone. If he can turn it around next week I may readjust, but in a near full strength backline (as far as small/general defenders go) Zac just couldn't get his hands on enough of the ball. He scored 39 points. and I'll personally be backing Gold Coasts Jesse Lonergan (DEF /MID $346,000)to be the breakout midpriced defender in 2016.
Other than that, it was a good night for free flowing football, but not much in the way of fantasy footy relevance. Nicholas Newman (DEF $125,000) didn't do enough to justify a rookie promotion, despite Ben McGlynn currently being injured. Lance Franklin (FWD $425,000) was well held scoring just 49 points, Rory Lobb (RUC $296,000) didn't get going at all with just 43 points and Jack Steele (FWD/MID $324,000) did enough (55 points with 11 contested possesions) to push for a round one selection, but not enough to put him in your team with any confidence.
As for the coaches, Leon Cameron has flagged that next week the Giants will be fielding a full strength team against the Lions, so if you're watching a player from left field and their not named, scratch them. John Longmire suggested that the Swans didn't perform to his expectations, which suggests bigger issues for the Swans. Watch this space.

*Note – The above table was provided before adjustments.
Essendon v Geelong – Deakin Reserve
Saturday 5 March – By Nix
Click here for DT Live stats/scores.
Well I braved the 38'C heat to watch Geelong thrash Essendon in Shepparton, northern Victoria.  However, despite the mismatch we are looking at these teams for different things.  From Geelong we want top or emerging premos, from Essendon we want cheap bench players who are likely to get game time and score a bit.
Geelong – top end players
Dangerfield (Mid, $589k) should have put himself into every team today.  I had not seen him in the flesh much – I was very impressed.  He has performance history and an all round game that will see him always ticking the scoring over – 98 points, in 60 minutes game time, including 9 tackles.  Duncan (Mid, $442k) also scored 87 pts in 60 minutes, and should also be on your short list.  Caddy (Mid, $495k), 75 in 60, and Guthrie (Mid, $468k), 62 in 53, also did well.  But I can't pick those 2 ahead of Danger and Duncan.  Impressive as these cats' scores are, we should note the Essendon mids were Gleeson, Langford, Laverde and Hams a lot of the game, hardly household names, with occasional forays by Bird and Cooney.
The Geelong big men dominated also.  It was strange to see often injured rucks – Vardy (Ruc/Fwd, $360k, 55 pts), Stanley (Ruc/Fwd, $351k, 50 pts) and Zac Smith (Ruc, $389k, 61 pts) – all playing at the same time.  They scored OK but you wouldn't have them in your team.  However, there are 2 important things about their form – firstly the Geelong mids should get plenty of ball this year, second Blicavs (Ruc/Mid, $539k, 58 pts) isn't going to get as much of a go this year.  At that price you would have to flick the Blic if you haven't already.
At the value end, the only standout for the cats was the other Kolodjashnij boy, Jake (Def, $302k), who scored 68 points.  Fantasy Defence looks a bit tricky this year, so he is worth keeping on your list of possibles.
Ruggles (Def, $125k) scored 66 points, but I don't think he will get games.
Essendon – the value end
Essendon named a weak squad to start with, and then pulled Zaharakis and Zach Merrett before the start of the game.  So the midfield was always going to get smashed and the team had trouble taking the ball from defence to attack particularly in the first half.
I think what Worsfold was sorting his fringe players and particularly his rookies in today's game.  Essendon can upgrade 2 rookies to the senior list before round 1.  The 4 likely candidates were all out there today –
McDonald-Tipungwuti (Def/Fwd, $162k), 50 pts from 67 mins
Hams (Fwd, $155k), 46 pts from 67 mins,
McKenna (Fwd, $210k), 39 pts from 72 mins
Long (Fwd/Mid, $125k), 36 pts from 56 mins.
Essendon will only upgrade one of these rookies, when they want to play them in seniors, as they can all play VFL as rookies without upgrade.  So upgrading one is a sign they will be named to play that week.  I think they will upgrate Tippa before R1, and hold off on choosing between Hams, McKenna and Long as they haven't done enough to push others out of a R1 spot.
Those who follow me on twitter will have been receiving tweets with hashtag #Tippa in connection with AFLFantasy since December.  He was the best performing rookie today and for the last 3 weeks.  So let's be clear about this Anthony McDonald-Tipungwuti will be upgraded, will play as a running, preferred-kicker, half-back, and will play first 6 rounds scoring 50 to 70 points per game.  I could write a lot as to why this will happen, just trust me it will.  At $162k he should be in your defence.
Of the rest:
Kommer (Fwd, $125k), 64 pts in 73 mins.  Finally got some points.  At that price he is hard to resist but is only borderline for best starting team.
Simpkin (Mid/Fwd, $226k), 51 in 72 mins.  Looks overweight, I don't think he is in best starting team.
Jamar (Ruc, $226k).  No.
Sam Michael (Ruc, $140k), 23 points.  A good option for R8.  He will get games and can score 40 to 50 points.
Grimley (Ruc/Fwd, $226k), 22 pts in 68 mins.  No good today, without Daniher, but I think he is a good option for R7 as he will get games.  He will play as starting full forward with Daniher at CHF.  Can mark and can kick goals.
Dea (Def, $170k).  52 points.  He did OK, but I don't think he is going to get enough ball to be fantasy relevent.
Bird (Mid/Fwd, $321k). 32 pts in 57 mins.  Have seen him 3 weeks in a row, he won't be in my forward line.
Edwards (Fwd, $225k) 11 points in 38 mins.  He look sick today and didn't spend much time on the ground.  Whether it was a virus, a knock or heat who knows.  However, there is a good chance this guy will be a starting midfielder for Essendon as Crowley and Goddard will play forward.  Edwards can score 70-80 points, which is good value at his price.  Watch list for next week.
Morgan and Long – nice cameos, but unlikely to get enough games or points to interest us.
Hams and McKenna – can't play until upgraded.  McKenna is expensive for what he can bring to fantasy.  Hams as a cheap fresh-meat mid might be interesting if he gets upgraded at some point in the year.
Hartley (Def, $125k), 34 pts in 80 mins.  Likely to play, but not score enough to be relevant.  Bench consideration to make some cash.
Brown (Def/Fwd, $194), 36 in 78 mins.  Not good today.  He played 2nd-half as a forward.  I think he will play as a defender, but needs to score more.  At that price, should still be in consideration for your defence.
North Melbourne v Collingwood – Robertson Oval
Saturday 5 March – By Tbetta
Click here for DT Live stats/scores.
Both sides took relatively strong sides into a scorcher at Wagga Wagga, so we actually had a decent contest which we can't talk for gospel in the management-heavy NAB Challenge.
Obviously, Dane Swan couldn't be stuffed in the heat, while Sidebottom, De Geoy and Treloar were also missing from the Collingwood engine room. If we learned anything from the past fortnight, it's that Collingwood could be a real threat this season and with the quality surnames littered throughout that midfield, the fantasy scoring will be typically flowing out of Pieland.
HOT
We can safely say that last year's breakout from Taylor Adams ($560k AF, MID) wasn't just a fluke. He picked up right where Sidebottom left off last week in that free-wheeling midfield role, seemingly sought after by teammates for link-up purposes. After scoring a healthy 33 from 36% TOG against the Cats, Taylor played a full game this week and stuffed the stat sheet with 26 touches, 3 marks, 3 tackles and 2 sausage rolls.
2014 was a career best year for two sloggers at North Melbourne, with Greenwood averaging 101.7 and Gibson 96.9. Greenwood might have switched blue stripes for black, yet both regressed massively last year and dropped off the DT radar. Once again their fates seem to be intertwined, as both players scored upwards of 90 to hint a return to fantasy relevance. Greenwood ($454k AF, MID) would be my pick of the pair but he's in a hotly contested price range.
There's not much to report on our "set and forget" behemoth in Todd Goldstein ($630k AF, RUC). 14 touches, 16 hitouts and a goal were typical Goldy numbers accounting for the TOG – if you had him sitting at R1, there's no need to reconsider based on this effort.
At the end of the day, all eyes were on the comeback of Daniel Wells ($293k AF, $179k DT, FWD) and whether it was more fact or fable. While he ended the day with 78 points (3rd highest for the Roos), I have to say it was more than just the stats that whet my whistle. Wells was lightning quick around the footy all day and even if he's not a huge accumulator, he found a way to get a fantasy return for his on-field impact. I had written him off a fortnight ago but he's too cheap for what he'll produce if he can stay fit – Wells is back on the radar.
I should mention that Alex Fasolo ($397k AF) followed up last week's 113 with 82 points and looked generally pretty capable. However, given the price and the other options surrounding him in our AFL Fantasy forward lines, I'm not sure he's worth seriously considering. Happy to be proven wrong on this one, though.
LUKEWARM
We all know what Scott Pendlebury ($615k AF, MID) can do, and that includes Nathan Buckley – so why burn him out? Pendles looked to be nursed through this one, stationed predominantly forward with brief stints through the guts. 75 points from 18 disposals was just an entrée for what you can expect from him once the ribbon is cut on Round 1.
This is the 2nd straight week that James Aish ($293k AF, DEF) was solid without being spectacular, scoring 60 off a back flank. He looked okay but that's just the problem – he just looks okay. Aish is stranded in an unforgiving price range and he's running out of chances to impress.
ICE COLD
Thankfully, none of the guns on the radar failed to fire in this game… But on the other hand, not one rookie put up his hand for selection.
For the Kangaroos, Mitchell Hibberd ($165k AF, DEF/MID) looked jumpy on his way to 34 and Aaron Mullett ($162k AF) kicked a nice goal early and played his role for 57 but hasn't made any waves in terms of cracking the Roos' best side. For the black and white, Matthew Goodyear ($125k  AF, MID) was lively early for 49 but dropped off the cliff hard, while Tom Phillips ($125k AF, MID) junked it up late for 46, yet both are a fair way off the best 22 at this point.
Western Bulldogs v Melbourne – Highgate Recreational Reserve
Sunday 6 March – By Roy
Click here for DT Live stats/scores.
Between UFC and the NBL decider, it has been a big day, so let's just focus on the points that mattered between the Dees and the Dogs.
It is hard to ignore the talent of Lin Jong, who scored and equal game high 97 from 73% game time, or Jack Watts who had a promising 97 from 10 marks and 3 goals but lets face it… they are not in the mix at this stage, so I'll review the guys that matter.
If you were anything like me, the majority of your focus was on Libba, Tom Liberatore (MID, $443,000) to see if the hype was warranted upon his return from a knee injury that cut him down on the eve of elevating his game to the elite Fantasy level. If you are with the many coaches considering grabbing him, do not hesitate, he looked outstanding on his way to 79 from 81% game time with 16 touches and a whopping 10 tackles. The beauty of this is, the possessions will come… Jump on.
Josh Dunkley (MID, $162,000) has always been a favourite of ours after growing up watching Andrew Dunkley strut his stuff at Aurora Stadium (York Park) before moving to the Swans. Josh more than threw his hat in the ring with 16 touches (10 contested) and six tackles for a very impressive 78 from 82% game time. If he is named round one, it will be hard to say no.
We are all chasing value in the backline and Marcus Adam (DEF, $155,000) put his best foot forward for a spot on the bench after taking 8 handy marks on his way to 67
As much as it hurts me to say, Warnie's mate Will Minson (RUC, $384,000) was very good against a respectable ruck in Maximus. He only played just  56% game time and had 7 hit outs, yet still scored an impressive 63. I still think it would be a very gutsy selection, but I stand corrected that it deserves consideration.
Max Gawn (RUC, $509,000) proved he is worthy of a ruck selection if you can not justify spending the extra cash on either of the big two. On the back of his break-out season, Maxy looks set to continue his rise toward a triple figure average after continuing his NAB challenge trend of owning the hit out tally by dominating with 46, on his way to 86 from 82% game time. Locked in for me at this stage.
Brisbane Lions v St Kilda – Harrup Park Country Club
Sunday 6 March – By Warnie
MATCH CANCELLED.
Today's game between @brisbanelions and @stkildafc has been cancelled. #NABChallenge

— AFL (@AFL) March 6, 2016