NAB Challenge Notes – Week 2
The DT Talk team compile their notes for every game of the NAB Challenge.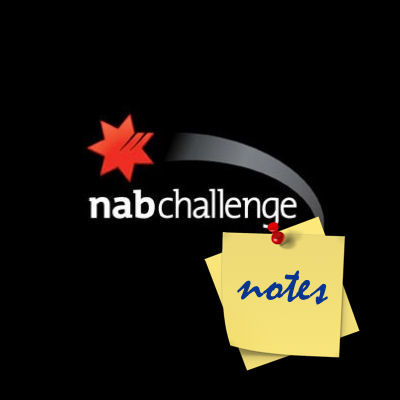 The DT Talk team will update each game of the weekend with our notes from them.
GWS v Western Bulldogs – Startrack Oval, Canberra
Thursday 25 February – By Griff
Click here for DT Live stats/scores.
In what was a rather one sided affair, the GWS Giants focussed on getting run into the legs of their young players whilst the Western Bulldogs played at near full strength to work on refining their game plan. The fantasy scoring reflected this one sided nature with the Bulldogs up by a total of 258 fantasy points by the end of the night, despite fielding two players less that the Giants.
For the first three quarters it was the Jake Stringer  (FWD $419,000) show. The forward dominated the inexperienced backline and managed a very nice 88 points before the Dogs decided enough was enough. With an ownership rate of just 5.1% 'The Package' showed signs of a breakout year that could have the pup pushing 100+ this season. Watch with intent!
Koby Stevens (MID $462,000) was the top scorer of the night with a fine 109 playing off the half back flank. Unfortunately Stevens is a MID only in all formats of the game (including Ultimate Footy), so you'd want to see an equal output for the next two games to justify the risk. He may be a worthwhile pick in drafts/AF Elite however, as he's every chance to pick up a position change mid year.
I went into the match keen to see the output of breakout candidate Lachlan Hunter (MID $433,000) and I wasn't disappointed as he racked up 83 points. Currently he's sitting in my midfield instead of Jaeger O'Meara following his end of year run in 2015, and a full preseason. His role against the Giants was as a wing/high half forward flanker, and he amassed 25 disposals and a whopping 13 handball receives (thanks Fantasy Freako). His role may be subject to change once Libba is added to the mix, but if it doesn't, he's my pick for midfield breakout candidate of the year.

Click here to subscribe on iTunes. (Please leave a rating and review to help us move up the charts).
Other Bulldogs of note included Matt Suckling – 76 points (DEF / FWD $444,000) who started slow but worked his way into the game, Nathan Hrovat – 77 points (FWD $274,000) who was lively up forward and Kieran Collins – 47 points (DEF $136,000) who played a defensive post position. The rookie has an AFL ready body, and if the Dogs play him during the year he has shown he will get free of his man for some +6s as the switch man.
For the Giants it was the Rory Lobb (RUC / FWD $296,000) show as the ruck come forward scored a nice 81 points. As a third ruck option who will likely force his way into the Giants best 22, he is expensive, especially if you are thinking of a set and forget ruck combination of Stefan Martin and Todd Goldstien. That aside, Lobb showed his damaging overhead marking in front of goal and he was easily strides ahead of fellow ruckman Dawson Simpson (RUC $195,000) who scored just 21 points from 76 minutes game time.
Rhys Palmer (FWD $389,000) followed the ball all night collecting the top score for the Giants of 82 points, but it isn't something he is likely to do when Dylan Shiel, Callan Ward and Ryan Griffen return to the side.
Smokie defender option Zac Williams (DEF $358,000) who averaged 80+ last season without the vest struggled to get into the game with just 46 points, whilst fellow rebounding defender Nathan Wilson (DEF $266,000) was GWS' best performing defender, with a mere 52. With no Nick Haynes, Phil Davis or Heath Shaw, it's not worth reading into the Giants backline just yet – and Williams is still on my radar.
For the Giants first and second year players, it was Jack Steele (FWD / MID $324,000) who impressed most, with a handball happy 17 disposals, and despite each having their own moments of brilliance, neither Jacob Hopper (19 points – MID $255,000), Matthew Kennedy (33 points – MID $183,000) or Jarrod Pickett (28 points – FWD $183,000) set the world on fire.
Sadly, we didn't learn much from the Giants except that Rory Lobb could be a dark horse in the ruck division.
For the Bulldogs, we learnt that if they learn to kick straight, they have the potential to kick on from their 2015 season, and prove their dramatic turnaround wasn't a fluke.
Apologies to: Will Minson (RUC $384,000) who looked at home in the #1 ruck spot with 69 points and Josh Kelly (MID $406,000) who kept on keeping on for 75 points.
Geelong v Collingwood – Kardinia Park
Friday 26 February – By Leighroy
Click here for DT Live stats/scores.
In the words of the legendary Brian Taylor BOY OH BOY WOWEEEEEE WHAT A GAME DARCE!!!! Tonight's Nab Challenge clash was played between two teams genuinely capable of making it to September based on the quality of their respective lists. In terms of AFL Fantasy many players of interest put on a display today and some left fielders showed us what could be in store come round 1
Let's start with Geelong.
Many players from Geelong are Fantasy relevant however none more so than new Cat Patrick Dangerfield (MID $581,000). Everyone down at the park today was there to see how well Danger fit in amongst the Cats line-up. Personally, he's been my M1 since Fantasy 2016 opened so I may have a tiny amount of bias…. Regardless, Dangerfield was everywhere. It literally took him about 2 ½ seconds to chalk up his first centre clearance and he was on the board with a bang. In total he amassed 28 disposals (equal 1st), 14 handballs, 14 kicks and 3 goals for a total of 105 Fantasy points. Interestingly he laid 1, yes 1 tackle and still cracked the ton. He looks fit, and hungry and with J Selwood back he will only get better. Choosing not to have Danger is a real risk in my opinion as I'd wager he wants to go one better this year and win the coveted Brownlow after a few years in the top 5. He's one of those players who after one quarter may only be on 20 points, then he's up to 60 before you know it, just like that. He is comforting to own as you know he'll get the job done one way or another. Do yourself a favour and avoid the headache, get him in. Another player who is firmly locked at F5 for me is Daniel Menzel (FWD $266,000). The feel good rehab story that is Menzel was on fire tonight and showed no signs of his troublesome injury riddled past. He gathered 19 disposals, 1 super goal, 1 goal and 1 behind for a total of 85 points. At his bargain price there's no reason why you shouldn't look to start with him…. (Actually I want him as a POD so, 'This isn't the man you're looking for, move along').
The big man Zac Smith (RUC $389,000) also showed no signs of his injury riddled past and put on a great display with 15 hit outs and a cheeky super goal to his name for 78 points. If you're looking for a cheap ruck option he may be your man, however I worry about his job security with all the big men at the Cats… monitor with interest. Mitch Duncan (MID $442,000), Cory Gregson(FWD $311,000) and George Horlin-Smith (MID $266,000) all played solid games with 84,80 and 78 points respectively. George Horlin-Smith may be a cheap and viable cash cow but again monitor over the next few games. Steven Motlop (FWD/MID $496,000) looked sluggish with 53 points so avoid unless he changes his game in the next couple. A lot of Fantasy teams I see in the 'My Team' section have Sam Menegola (MID $127,000) floating as a bench option. He looked really good and I checked my team to make sure he was still there when suddenly, he got injured. The extent and seriousness of the injury is currently unknown however from my experience I'd start shopping around for another basement price option just in case the injury proves to be mid/long term, Reading Jeppa's Juniors is by far in a way the best tool for this, cheers Jep!
Mark Blicavs (MID/RUC $539,000) had a quiet day at the office and wasn't really used as a ruckeman at all. He only had 3 hitouts and 12 disposals for a mere 35 Fantasy points. I'm not quite sure what to make of this, I'm hoping for the sake of 16.50% of coaches this was a once off and he'll be back next game considering his price tag of $539,000!
Corey Enright (DEF $505,000) did alright with 63 points but again for that price… ickk. If anything it just goes to prove my belief that this year a good defence is a cheap defence and you're probably better off looking for value picks like Simpson, Yeo and Gilbert. Hawkins and Lang were also both uninspiring for 49 and 36 points respectively.
Over to Collingwood and the news is good. The Pies looked a new team this evening and after being behind by a fair bit at halftime, put on a show in the third quarter with 9 unanswered goals propelling them to a thrilling away victory. Three players cracked the ton from the Pies, them being, Steele Sidebottom (MID $565,000), Alex Fasolo (FWD $397,000) and Jordan de Goey (MID/FWD $342,000) with 119, 113 and 102 points respectively. Sidey who was playing captain tonight, looked a class above with 28 disposals, 17 kicks, 11 handballs and a cheeky goal. Fasolo went about cracking the ton by racking up 15 kicks, 4 handballs and 5 goals! He was reading the ball coming into the forward 50 far better than anyone else out there tonight. De Goey was amazing at the stoppages chalking up multiple clearances and centre clearances and kicking the ball far more than handballing it which is always fantasy gold. Brodie Grundy (RUC $504,000) did well with 71 points but it looked as though Jarrod Witts (RUC/FWD $395,000) was the more prevalent ruckman, accumulating a game high 32 hitouts.
Even though he played 80% of the game, the original 'Pig' Dane Swan (MID $609,000) only had 60 points. This is interesting, does it now mean he will play predominantly up forward and if so will his scoring suffer? Personally I think Fantasy wise his days may be slowing down. MASSIVE call I know but he didn't get any clearances tonight and even with 3 goals he didn't return an acceptable score for his price. Don't get me wrong he may provide a great pick at some point during the season (Probably when/if he gains DPP) but at a starting price over 600k it's a big fat no from me. Especially considering I predict he will drop in price BIG TIME so starting with him will be like burning cash. Watch him now prove me wrong……
James Aish (DEF/MID $293,000) is another bloke on everyone's radar and I'm still yet to see why. He had an acceptable 15 disposals however only kicked the pill 6 times. For someone who spends 80% time on the ground I expect more than 46 points. Pass for now.
If Mason Cox (RUC $125,000) isn't on your bench at R3 or R4 after his performance tonight you're probably not going to do too well this season. They American played like a boss and looked at home as a deep forward target. He slotted 2 goals and walked away with 43 Fantasy points. Yes, he played a fair chunk of time for that score but at $125,000 you'd be happy with 30 points… Taylor Adams (MID $560,000) had a brief 36% time on ground cameo but didn't really set the world on fire. Jack Crisp (MID $506,000) played 74% time on ground but like Adams didn't do anything to exciting ending up with 65 points.
That's it from me tonight. What did we learn? Danger is a beast!
Cheers, Leighroy
Port Adelaide v Melbourne – Playford Alive Oval
Saturday 27 February – By Dunny
Click here for DT Live stats/scores.
Talk about a game of two halves!  Last game it was caused by the weather, but this time it was the play.  Port were all over it in the first half, but then the Dees were dominant in the second half.  There was plenty of space as the oval is quite a big one at Elizabeth with deep pockets too.  However, Angus Brayshaw didn't get to see much of it as he was off with a knee injury after the first tackle of the game.  Not sure how serious it is yet though.

The first battle I wanted to see was Lobbe v Gawn.  Many of us were locking in Lobbe as our R2 and throwing away the keys.  However, he certainly let us down here.  Not his best effort.  Only 60 points.  He had his customary high tackle count with 7.  26 hitouts and just the 6 possessions whilst giving away 3 free kicks.  Not what we want.  However, big Max Gawn was fantastic.  15 posessions and 42 hitouts on his way to 88.  He is a $509k ruckman in AF and a $532,900 ruckman in RDT.  He averaged 91 last year and there is no reason why he can't do that again this year with performances like this one.
Sam Gray was again the focus for most of us and this week, in what was a near full strength Power side (Wingard, Carlisle and Dixon missing), he returned 48 points.  He did have 19 touches, but 15 of them were handballs and he gave away 3 free kicks.  He did attend a few centre bounces, but I think he won't attend enough still to boost that score too much.  Keep an eye on him in their last hit out against Richmond next week.  Power recruit Jimmy Toumpas seemed to be relishing his spot in the side and had just 17 touches but he netted 77 points as most of them were kicks.  He was good, but I think he will be a fringe player who may be in and out of the side at this stage.
Other Power players of interest were Karl Amon who had 46 touches, he didn't play badly, but may find it difficult to keep his spot, as will Ah Chee who had only 9 touches for his 33 points.  I didn't notice him too often and that isn't a good sign.  He needs to have an impact to keep that spot.  Ollie Wines returned to the side after his injury from last year, and it showed.  Just the 9 touches and gave away 3 frees and had only 3 tackles.  He certainly needed this hit out and one more to get back his form.  Keep a close eye on him next week to see if he can regain some form before locking him into your midfield.
Boak went about his work in his usual manner.  22 touches topped the possession count for the Power and was second highest on the ground in his 103 point performance which was boosted by 3 goals, two of them late when the game was well and truly shot.  So just take that score with a bit of a grain of salt.  Having said that 5 tackles don't come easily and that is what he had.  Robbie Gray was a little quiet with 16 touches and a goal for his 64.  As the old saying goes he will be better for the run.  He showed glimpses of brilliance, but I think just lacked a bit of match fitness (which after all is what these games are all about).  Don't lock him in just yet.  And just for you @jamessammutt Brad Ebert (a favourite of Tbetta) had a fairly quiet day with 14 touches for 67 points.  I won't be talking you into him at this stage.
Over to the Dees and there were led by Aaron Vandenberg who had 19 touches for his 92 points.  6 tackles helped him along to that tally.  Should he be in your starting side at $409k Mid/Fwd in AF and $428,600 Mid/Fwd in RDT?  Well I am not so sure of that.  They were without Bernie Vince and Nathan Jones who will take a lot of the midfield points.  Another youngster Jack Viney was the top possession getter on the ground with 28 touches.  He had 86 points.  However as with Vandenberg I am not sold on putting him in my team at this stage.  He certainly looked good, but I would like to see a bit more of him maintaining this yet before we put him in.
Ben Kennedy was certainly lively in the second half and finished with 15 touches and 62 points.  He was strong and took some good pack marks.  Just $221k mid/fwd in AF and $250,400 mid/fwd in RDT.  His average from last year of 43 was vest affected as Buck's liked throwing it to him (wore it in 12 of his 25 games so far), if he can hold a solid spot he could make some good cash.  Christian Salem seemed to be getting a lot of it and finished with 14 touches, but just the 54 points, he would be a pass for me at this stage.  Clayton Oliver averaged 100 in the TAC cup and that is why he was pick 4.  He had a good game with 11 touches (9 HB's) and 4 tackles on his way to 41.  Looked good I thought but we will need to see him again.  Have him firmly on your watchlist.
Oscar McDonald and Sam Frost didn't produce much to write home about at this stage.  Jesse Hogan was in a lot of teams last year, he was a bit quiet today with 44 points, he isn't on my radar.
Tom McDonald got off to a flyer last year and had a great average early on.  He had 61 points from 17 touches.  This is probably a bit lower than what some expect from him, but I don't think he will average above the 80 from last year, but he will get better as the preseason goes on.  Bugg made the move to Melbourne from GWS at the end of the season and he was solid with 7 tackles contributing to his 67 points.  He did a bit of tagging at GWS so it will be interesting to see how Roos uses him at Melbourne.  He can get the footy and had 17 touches today (in a game where only two players had more than 20).  Keep an eye on his form, but at $327k in defence in AF he is a bit awkwardly priced.
The biggest takeaway for me from this game was that Matt Lobbe isn't the massive lock that we all thought he would be.
Cheers Dunny.
Richmond v Hawthorn – Holm Park Recreation Reserve
Saturday 27 February – By Nic
Click here for DT Live stats/scores.
The NAB Challenge rolls on and in typical NAB Challenge fashion, the reigning premiers have been defeated by 71 points.
Round two of the NAB Challenge has provided us with a little more Fantasy relevancy and this game was no different with four players breaking the 100 point barrier for the Tigers.
The victorious Tigers were the standout Fantasy team with Anthony Miles (MID, $485,000) top scoring 120, 26 disposals and nine tackles.
Miles is fairly experience which will put people off, but the tackling machine could be fantastic value for money this season.
Richmond's other premium price players didn't disappoint with Brandon Ellis (MID, 568,000), Dustin Martin (MID/FWD, $573,000) and Trent Cotchin (MID, $506,000) all scoring 95 or more.
Martin in particular put a lot of Fantasy coaches' minds at ease showing that he's more or less a lock for your forward line.
Connor Menadue (MID/FWD, $138,000) was the best of the rookie priced players for the Tigers scoring 67 points from 77% game time.
Menadue is a fantastic kick and a player to watch this season and given he's a second year player, he might be more likely to stay in the Richmond side if named for round one.
The Hawks can take a lot from this game despite loss and many coaches will be circling Daniel Howe (DEF, $265,000) who was impressive, finishing with the third highest score for the Hawks.
Howe is an awkward price meaning you'd have to throw the magnets around to fit him in, but he'd be a reliable player in that hard-to-fill D5 position.
Brendan Whitecross (DEF/FWD, $232,000) is the other player putting his hand up to fill that D5 position, scoring decently in this match and probably having better job security than Howe.
Both players are probably fighting over Matthew Suckling's old spot in the side which makes it hard to pick between them as they're probably going to be in and out of the side for each other.
Liam Shiels (MID, $549,000) top scored for the Hawks with 91 points and if he's freed up from a tagging role, he might be a unique option to throw other teams off.
Hawthorn rookies Blake Hardwick (FWD, $136,000) and Kieran Lovell (MID, $163,000) impressed with Lovell having a decent impact once getting a good run in the second half.
Picking Hawthorn rookies however is always risky considering they usually get long stints in the VFL.
It wasn't all good news though, with two injuries coming out of the game.
Hawthorn superstar Cyril Rioli (FWD, $432,000) limped from the ground in the second quarter and Jack Fitzpatrick (DEF/FWD, $182,000) injured his knee.
Quite a few Hawthorn players scored poorly, but considering this is a NAB Challenge match, don't be too alarmed by the likes of Grant Birchall and Billy Hartung scoring low for the obvious reasons associated with the NAB Challenge being a pointless competition.
If you're considering one of the Hawthorn mid-pricers in Howe, Hartung or Whitecross, you should be a little more sure now than you were before the NAB Challenge, but don't be too worried about the scores of premium priced players.
My biggest takeaway from this game was the KFC I had before it, because there wasn't really anything definitive to take out of it. Next game!
Carlton v Essendon – Ikon Park
Sunday 27 February – By Warnie
Click here for DT Live stats/scores.
My first chance to see the new look, topped up Bombers was a nice experience as they knocked off arch rivals, Carlton on their home deck. Not that the result matters, but it's a good thing for the young Essendon outfit who will have their backs up against it this year.
The Bombers dominated the game from a Fantasy perspective; 1568 points to 992. 374 disposals to 234, with the Bombers adopting a fair bit of keepings off taking 95 marks to Carlton's 55.
David Zaharakis (MID, $414,000) will be one of the midfield leaders this year and he started his 2016 campaign well with 101 points from 80% TOG (28 disposals, six marks and three tackles). Brendon Goddard (MID, $552,000) spent time through the midfield and pushed forward to kick three goals for 85 points (78% TOG).  He was allowed to do what he wanted, however you'd think the screws will be tightened when round one rolls around.
There's no reason to remove Zach Merrett (FWD/MID, $501,000) from your side based on his game which saw him grab 24 disposals.
Alright lets get into the Essendon players on everyone's watchlist… the top-ups and bargains:
Mitch Brown (DEF/FWD, $194,000) – Lock and load! 19 touches and eight marks, the replacement was everywhere for his 83 points from 83% TOG. Big body, all of the things the Bombers will want/need. Play him on field down back.
Ryan Crowley (MID, $226,000) – Greeted with plenty of boos, Crowley with his black sweatbands was able to find his own ball, shedding the tagging role that he has done for a large part of his career. Woosha said in his presser that he would rotate between the midfield and forward line (DPP coming up?). 17 disposals, six marks and a goal for 77 points from 80% TOG.
Craig Bird (FWD/MID, $321,000) – Only played 60% of the game for a tidy 67 points. I didn't actually notice him a lot, but racked up a massive 9 tackles. Mr Accountable – is this a good thing for role? I need to see more… won't be moving him on, but his spot isn't safe yet.
Michael Hartley (DEF, $125,000) – A popular bench selection, and his scoring today is probably his ceiling, however, that is not too bad for someone basement priced. He'll play round one. Important for the team.
Darcy Parish (MID, $260,000) – GUN! Will win a Brownlow. Maybe I'm excited as a Bombers supporter, however he was great. Sadly, I think we will find better value than him at $260K, but will play the majority of the season (with some rests to manage him).
Sam Michael (RUC/FWD, $140,000) – I think he's a good chance to play after his 60 points from 49% TOG. He had the most hitouts for the Bombers with 15, leading McKeran with 14. A lot of questions still on Leuenberger who missed the match. Worth being your R3/4.
Jonathan Simpkin (FWD/MID, $226,000) – Worked har for 17 disposals to rack up 55 points form 75% TOG. Don't dump him off the back of that. He'll be fine and make us some good cash.
Worth noting that Orazio Fantasia (DEF, $312,000) was solid for 60 (75% TOG), and we'll definitely be seeing Sam Grimley (RUC/FWD, $226,000) playing up forward with Joe come round one. Not sure what to think of Nick Kommer (FWD, $125,000) in the forward line. Will make cash, but could be worth looking elsewhere for a F7/8.
Oh, apparently the Blues were out there too.
Nick Graham (MID, $353,000) put in another impressive performance with 90 points. Breakout? I don't think I'll pick him in salary cap, but he could be a handy one for your bench in Elite.
Eyes were on Jacob Weitering (DEF, $232,000) and he delivered in spades for Blues fans. We aren't picking him at that price and the fact he's KPP, but 19 disposals, nine marks and 78 fantasy points was special!
Considering how bad the Blues were, Andrew Gallucci (FWD, $125,000) finished with some decent numbers (11 disposals, 4 tackles, 48 fantasy points) and looked more composed as the game went on. It's doubtful that he will start early, but could be one to remember as a downgrade target.
As for a lot of the other guys we have been watching, I really don't want to make too much of a judgement on them. Sam Docherty (27 points, 43% TOG), Kade Simpson (21 points, 50% TOG), Ciaran Byrne (34 points, 80% TOG) weren't really numbers that we wanted to see today.
Bombers play again next week, but we have to wait until NAB4 to see the Blues again – and hopefully we see them with their best 22 playing and at their best. The fantasy goldmine we thought they would be may not quite come to fruition… but the Bombers on the other hand, oh boy! It is going to be a fun season! Plenty of points could be racked up by the boys in the red sash!
Fremantle v Adelaide – Sounness Park
Sunday 27 February – By Anthony
Click here for DT Live stats/scores.
Adelaide made the trip out to Mt Barker to take on Fremantle in this one and it turned out to be quite a decent contest!
Fremantle took in a side pretty close to their best 22 where as Adelaide left some experience back home for this trip.
After watching a pretty one sided match against young West Coast last week, I was really looking forward to seeing what these players would score like with some extra pressure! 
The story of this match may be that we're needing to pay more attention to Matt Crouch after he seemingly brought his own ball to the game! He went about it today just racking it up through the midfield and finishing with 105 points from 67% TOG. He was in absolutely everything and is putting his hand up for 'breakout' potential. At $396,000 he's certainly looking like improving on last years 71, but this will still depend on how much midfield time he is given in a full strength Crows 22. After this NAB performance though I'd thinking he will be given every opportunity.
The other question we've all been wondering about is 'which crow will get the rebounding role'?
Paul Seedsman ($353,000 mid/def) looked to be getting a lot of chances at this role but hasn't done enough yet to really own it. He finished with 72 points from 83% TOG but still seems to be playing more of a seagull role as opposed to demanding those handball receives like we'd be wanting from a rebounding defender. Still did some great things throughout the game but just not enough!
While Brodie Smith's ($391,000 mid/def) 41 points don't look great at a glance, keep in mind this was from 29% TOG! Smith left the game at half time looking pretty groggy (possibly due to the heat).
But for mine it's Rory Laird ($489,000 def) who has locked this role down! 87 from 86% TOG saw Laird completely controlling the game across the half back line.
Richard Douglas ($459,000 mid)  also showed that he'll continue on his form from last year with 97  from 71% TOG. Douglas dominated with his tackling pressure adding to his score.
Rory Sloane ($527,000 mid) showed glimpses of his best when swinging through the mids today but also spent a lot of the game forward. I'd expect this was just a case of easing him into his first game for the season but 72 points from 85% TOG is a little less from what we've come to expect.
Dean Gore ($125,000 mid) and Troy Menzel ($260,000 fwd) are 2 players who I was told to keep an eye on today. While Gore with 20 points didn't get the same opportunity that he had the week previously, missing the first half with only 45% TOG, Menzel just struggled to get into the action. Finishing on 30 points from 80% TOG games time, the camera would often pan oven him just hovering in dead space. Possibly just an off game for Menzel but had practically no impact.
Keep an eye on Rory Atkins ($265,000 mid) throughout the season though, 79 points from 73% TOG today but looked very composed with ball in hands and knows how to find it, if he gets his opportunity in the mids he could kill it!
Seeing Fremantle's side was quite interesting today as I mentioned before, this was pretty close to their best 22 again.
Standout for me today was Tommy Sheridan ($359,000 def) who is slowly locking himself into my defence! He has started this season like he finished the last, adding 89 points from 76% TOG today. The best thing about picking Sheridan in defence is how much time he spends running through the midfield, in particular feeding off Fyfe! Watch this kid this year, if given the opportunity he'll be a great Fantasy pick up!
Michael Barlow ($515,000 mid/fwd) is the other Fremantle player who may be finding himself firmly intrenched in every Fantasy side this year. Scoring 90 points from 68% TOG today, Barlow looks to be spending just as much time in the midfield as he did in his better seasons but is tackling like a madman, looking very intense laying 9 today!
Of course, Nathan Fyfe ($581,000 mid) was Fremantle's top scorer with 98 points from 85% TOG and he looks in great nick after a solid preseason. Expect more of the same this year, can't see a Brownlow hangover happening!
Garrick Ibbotson ($399,000 def) played a lockdown role in defence today and looks to have resumed that role with Johnson back in the team. 37 points from 74% TOG says that if you're considering Ibbotson this year, you've been warned!
In a game that was controlled between the arches today, Lachie Neale ($563,000 mid) was underwhelming. 62 points from 77% TOG is a lot less than we've come to expect! Especially considering he was left to run free and do whatever he'd like today.
That's my Fantasy take on todays game! Thanks for reading!
Anthony