Jeppa's Juniors – 2016 Forwards & Rucks
More rookie analysis from Jeppa has arrived! Check out which forward and ruck 'juniors' are the must haves this season. There is plenty to consider.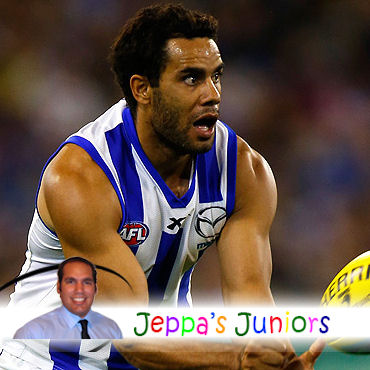 This year, quality rookie forwards come at a cost. We'd all love to spend circa $125,000 on multiple youngsters with guaranteed job security but that's not the case. The price hikes for proven players in Fantasy make your decisions even more challenging.
As for the rucks, well we're actually spoilt for choice compared to previous seasons. A handful of experienced ruckmen are available to us at reasonable prices.
Considering role, job security and scoring ability, here are my best forward and ruck rookie options (not in order) TO START WITH this season…
FORWARDS
1. Daniel Wells
AFL Fantasy Price: $293,000
AFL Dreamteam Price: $178,500
Predicted Average: 77
Wells falls outside the rookie category for Fantasy but he's a Dreamteam lock if he can see out this preseason. The two-time North best and fairest winner has been let down by his body in recent seasons but he's finally fit and raring to go. In the Kangaroos's intraclub match a couple of weeks back, he proved that he hasn't lost any of his class, kicking 4 goals in a half of footy! I've always been a guns and rooks man but even at $293,000 in Fantasy, dual position Wells is giving me something to think about. Here's hoping he can stay in hot form and injury free.
2. Nic Kommer
AFL Fantasy Price: $125,000
AFL Dreamteam Price: $128,200
Predicted Average: 56
With Essendon's situation, Nic Kommer is a safe bet at the F8 position. Knee tendinitis issues have hindered the small forward over the past couple of years however those problems appear to be behind him after he got through unscathed in Essendon's intra club match last week. Kommer's pressure acts and tackling inside forward 50 are super important in the modern game and he can find a bit of the footy from time to time. John Worsfold describes his role this season as both an offensive and defensive forward. Just don't expect huge scores from him, he's purely a bench warmer.
3. Sam Kerridge
AFL Fantasy Price: $299,000
AFL Dreamteam Price: $177,100
Predicted Average: 74
Like Wells, Kerridge comes cheap in Dreamteam and although the extra tax in Fantasy stings, it does appear justified. In Carlton's first NAB Challenge match against Hawthorn, Kerridge was used predominately in the midfield and he was arguably the Blues best player after amassing 28 possession, 8 tackles and 88 Fantasy points. Early signs and comments from Brendan Bolton point to Kerridge the midfielder not the forward! More time on the ball equates to more Fantasy points and an average of around 75 is not out of the question. Get on the Kerridge bandwagon, he'll be a very handy cashcow.
4. Jed Anderson
AFL Fantasy Price: $224,000
AFL Dreamteam Price: $256,900
Predicted Average: 64
The acquisition of Anderson in the offseason (giving up pick 15!) implies to me that the Kangaroos really want to add speed to their team. Other than Boomer, there's not many players at Arden Street that can break the lines and impact the scoreboard like Anderson. Note that Jed is an impact player not an accumulator and from his 10 career games to date, his highest Fantasy score has only been 69. That's where I see his average sitting at best this season so it's likely he wont be the fastest earning cashcow with a starting price well over $200,000. I'm leaving him out of my teams but that's not to say he's not a good pick.
5. Christian Petracca
AFL Fantasy Price: $238,000
AFL Dreamteam Price: $128,200
Predicted Average: 72
There's plenty of hype this preseason surrounding the 2014 No. 2 draft pick but Petracca may not be ready for the start of the season. Breaking his toe over the Christmas break playing hoops with mates has put him behind the eight ball and he's been ruled out of Melbourne's first NAB Challenge match against Port on Saturday. Petracca can be defined as a powerful inside midfielder with an ability to hit the scoreboard. He'll reach a few Fantasy tons later in the season but like most young players there will be a sour game here and there. Assuming he's named for Round 1 then he's a lock for Dreamteam and a likely pick in Fantasy too.
6. Jonathan Simpkin
AFL Fantasy Price: $226,000
AFL Dreamteam Price: $275,200
Predicted Average: 71
Get around Simpkin! The depleted Essendon list will need 'Joffa' in their engine room if they're going to be competitive and we've been blessed by the Fantasy gods with his dual position, forward / mid status. Simpkin won a truckload of the ball and was dominant in the VFL last season but it was extremely difficult to break into the star-studded Hawthorn 22. How big Simpkin goes this season is hard to judge but we'll learn plenty when he lines up against Carlton on Sunday. He is pricey but you really should find a way to fit him in your team, especially Fantasy.
7. Corey Ellis
AFL Fantasy Price: $166,000
AFL Dreamteam Price: $197,100
Predicted Average: 62
Ellis has the tools to be something special this season. The second year midfielder had his rookie campaign marred by injury but he's raring to go this year after a great summer. Ellis was one of Richmond's best against Freo in their NAB Challenge game last weekend after gathering 17 possessions, 1 mark, 3 tackles and 53 Fantasy points from 72% time on ground. His skills are elite and he's an excellent decision marker. There's no doubt that the Richmond hierarchy will want him winning the ball and hitting their big forwards lace out, inside 50 as often as possible. A smokey pick for the 2016 rising star award in my opinion, paying 41 to 1!
8. Dean Kent
AFL Fantasy Price: $171,000
AFL Dreamteam Price: $218,800
Predicted Average: 58
Kent's 2015 season was ruined by multiple hamstring injuries but the hard running half forward has had his best preseason to date and I'm expecting some sound scores from him early on. He gives the Dees speed on the outside, skill into forward 50 and plenty of pressure on the opposition. Kent is capable of hitting Fantasy scores in the 70's and 80's but it remains to be seen if he can do it consistently. Some have said expect a breakout season from Kent this year but I'll need to see some pretty hot form in the NAB Challenge to justify the extra spend.
9. Ben Kennedy
AFL Fantasy Price: $221,000
AFL Dreamteam Price: $250,400
Predicted Average: 71
Kennedy comes at a cost but his job security is secure and there will be no more green vests! Little opportunities at Collingwood have always hindered his Fantasy scoring potential so a breakout season from the exciting mid / forward is definitely on the cards. Kennedy will add some much needed pace to the Dees 22 and he has no problem finding the footy, averaging 24+ possessions in the VFL over the past three seasons. Playing for the lower ranked Melbourne, I do expect some inconsistent scores from Kennedy and if Wells and Kerridge and are all up and about then some tough decisions will need to be made. He's not a lock!
10. Jonathan Beech
AFL Fantasy Price: $125,000
AFL Dreamteam Price: $105,800
Predicted Average: 64
Finally some value. Beech is a mature age player drafted by the Crows to add depth to their forward line. Playing for West Adelaide in the SANFL last season, Beech averaged an impressive 18 possessions, 7 marks, 2 tackles, 1.5 goals and 85 Fantasy points per game and he was a big part of their premiership success. Champion data rates him elite for marks, goals, score involvements and score assists (see his highlights here). An injury to Charlie Cameron boosts Beech's chances for round one but he needs to play in the Crows last NAB game and be elevated off the rookie list. Watch this space!
Tom Phillips and Dougal Howard have had great preseasons to date but I don't see them getting named for Round 1. Both are viable downgrade options and we should all keep a close eye on them throughout the year.
Other rookie priced forwards that could come into Fantasy and Dreamteam contention this season include Jayden Hunt, Wayne Milera, Liam Sumner, Peter Wright, Jarrod Pickett, Nakia Cockatoo, Callum Ah Chee, Mitch McGovern, Will Hams, Yestin Eades, James Polkinghorne, Connor Menadue, Aaron Black, Jed Lamb, James Sicily, Josh Schache, Charlie Curnow, Tom Keough, Jordan Dawson, Shane Yarran and Andrew Gallucci.
Loading ...
RUCKS
1. Sam Grimley
AFL Fantasy Price: $226,000
AFL Dreamteam Price: $128,200
Predicted Average: 53
Grimley is another Essendon top up player and he's set for a forward line role in 2016. The former Hawk has good endurance for a big man and he was the joint leading goal kicker in the VFL last year with 46 majors. The Bombers don't have too much tall timber they can play at full forward this season so expect Grimley to get plenty of game time. He'll probably pinch hit in the ruck but don't expect huge scores from him because there will be a lack of supply into Essendon's forward 50. Dreamteam relevant only due to price but it's all about job security with Grimley, not scoring potential.
2. Sam Frost
AFL Fantasy Price: $156,000
AFL Dreamteam Price: $206,800
Predicted Average: 50
Frost's first year at Melbourne wasn't ideal after playing just three AFL games. The athletic big man is thankfully back in business after a solid preseason and no injuries. Frost will play as a second tall option alongside Jessie Hogan this season and he'll pinch hit in the ruck when Gawn needs a rest. A concerning point is his scoring potential but secondary rucks aren't renowned for their output. Frost is a solid R3/R4 option in Fantasy due to price and he's in my Fantasy side because of his job security and dual position status.
3. Trent West
AFL Fantasy Price: $160,000
AFL Dreamteam Price: $165,200
Predicted Average: 54
West is an experienced ruckman that comes relatively cheap to coaches this season and he'll be a popular back up option in both Fantasy and Dreamteam. Playing second fiddle to Fantasy great Stefan Martin does significantly hinder his time on the ball but West can play an important role up forward and provide protection to youngsters Schache and Hipwood. 10 possessions, 10 hitouts with a couple of marks and tackles isn't unreasonable output to expect each week and the big fella is expected to suit up in Brisbane's second NAB Challenge match next weekend. Watch him with interest.
4. Daniel Currie
AFL Fantasy Price: $125,000
AFL Dreamteam Price: $128,200
Predicted Average: 48
Big Daniel Currie is value for your ruck bench. The Suns second choice ruckman is a small chance to play alongside Nicholls this season but I suspect Eade will run with Sam Day as a pinch hitting, secondary ruckman. Currie did team up with Nicholls against the Lions last weekend in the NAB Challenge and he finished with a reasonable 7 possessions, 2 marks, 17 hitout, 3 tackles and 47 Fantasy points. Currie's move to Gold Coast (his 3rd club) is make or break at AFL level and I therefore expect a supreme effort from him when he's given an opportunity to play. Cheap, cheap, cheap.
5. Dawson Simpson
AFL Fantasy Price: $195,000
AFL Dreamteam Price: $249,300
Predicted Average: 49
If Shane Mumford goes down with injury then it will be up to Dawson Simpson to carry the load for GWS as their number one ruckman. Traded to the club as insurance for Mummy, Simpson is no stranger to the centre square and he's a brute competitor. His best AFL Fantasy score last season was only 55 but he can hit three figures when given plenty of time in the middle. Simpson is too pricey for me but if something happens to Mumford between now and Round 1 then he'll be the hottest thing since sliced bread.
Luke Lowden, Archie Smith and Andrew Phillips are third string ruckmen waiting in the wings. Injuries to players ahead of them will allow them to see senior action.
Other rookie priced rucks that could come into Fantasy and Dreamteam contention this season include Mason Cox, Daniel Gorringe, Sam Naismith, Sam Michael and Harry McKay.
Loading ...
Look out for my post NAB Challenge analysis on the forward and ruck rookies that performed well, those that struggled and maybe one or two that snuck under the radar!
Remember rooks are classified as players under $250,000 in either Fantasy or Dreamteam.
FOLLOW ME ON TWITTER: @JeppaDT for all for all things AFL Fantasy, AFL Dreamteam and more!