Jeppa's Juniors – 2016 Defenders
Jep is ready for another huge year as our resident rookie expect. Over the next two weeks he will look at the best rookie options in each position, starting with all the value defenders. This is not to be missed!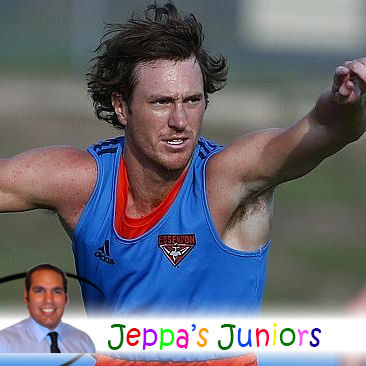 As my namesake would say…I'm back baby, I'm back!
It's time for some hardcore Fantasy and Dreamteam planning so I hope you're ready? To kick off, I thought we'd look at the tricky defender options available.
Decent cheap defenders aren't in abundance this season so plan carefully. With a lack of scoring punch evident, I think it is sensible to start with only one or two rookie priced defenders on your field. Essendon's Mitch Brown is a lock for everyone and the others are on personal preference.
Considering role, job security and scoring ability, here are my best defender rookie options (not in order) TO START WITH this season…
1. Mitch Brown
AFL Fantasy Price: $194,000
AFL Dreamteam Price: $121,300
Predicted Average: 72
Make no mistake, Mitch Brown has the best job security of any rookie priced player this season. The mature age recruit can play forward or back and he averaged an impressive 13 kicks, 6 handballs, 7 marks, 2 tackles, 1 goal and 87 Fantasy points for Sandringham in the VFL last season. I suspect Worsfold will start Brown down back and have him push forward in moments throughout each game…a bit like Harry Taylor at Geelong and how Adam Hunter was used many moons ago at West Coast. Brown's forward dual position status is an added bonus and he needs to be in everyone's team. An easy pick.
2. Nathan Broad
AFL Fantasy Price: $125,000
AFL Dreamteam Price: $121,300
Predicted Average: 63
Broad is a mature age defender that meets a lot of Hardwick's requirements. Athleticism and gut running are his two best traits and he's great at reading the play. Broad hasn't put a foot wrong this preseason and he was one of the better performers in the Tigers intra club match last weekend (source). Stats wise, he gets plenty of +6's from an uncontested mark and kick game but surprisingly for a defender he doesn't tackle that often. Broad still needs to work on his kicking efficiency too but my gut feel is that it's either him or Jake Batchelor for a spot in Richmond's back six. Watch him closely during the NAB Challenge.
3. Eric Mackenzie
AFL Fantasy Price: $205,000
AFL Dreamteam Price: $237,000
Predicted Average: 62
My insider at West Coast tells me Kenz is set for a big year after an excellent preseason to date. The 2014 Eagles best and fairest winner missed all of last season after rupturing his ACL but don't worry he is in great physical condition and he hasn't lost any of his speed. The Mackenzie Fantasy question is basically this…are you prepared to pay a little more for a star defender who is likely to average a sound 60 to 65 Fantasy points per game? Those coaches that start with Kenz will sleep better at night because he's low risk.
4. Riley Bonner
AFL Fantasy Price: $158,000
AFL Dreamteam Price: $121,300
Predicted Average: 61
Young Bonner has the tools to become a champion footballer. He's a running machine who plays at half back and is up there with the best of them for score involvements. I shouldn't compare him to Andrew McLeod but that's how he plays. Port were thanking the heavens when he slipped through to pick 37 in the draft and us as coaches pick him up dirt cheap as a result. It should be noted that Bonner isn't much of a tackler thus I expect his Fantasy scores to hover around 60. Still he's decent bench back up to start the season if all goes to plan.
5. Marcus Adams
AFL Fantasy Price: $155,000
AFL Dreamteam Price: $121,300
Predicted Average: 64
Not all AFL rooks are as fit and strong as mature age defender Marcus Adams. The West Perth product is doing plenty right this preseason and the Dogs are desperate for his presence down back. Last year in the WAFL, Adams averaged an impressive 12 kicks, 5 handballs, 6 marks, 3 tackles and 74 Fantasy points and in my opinion, he's ahead of popular manchild and teammate Kieran Collins. To be totally honest, I am surprised there hasn't been more Fantasy hype about Adams this preseason. Adams is currently sitting as my D6 in both Fantasy and Dreamteam. Put him on your watchlist!
6. Michael Hartley
AFL Fantasy Price: $125,000
AFL Dreamteam Price: $121,300
Predicted Average: 59
Hartley is another mature age player ready for his shot at the big time. He was named in the 2015 VFL team of the season at centre half back and was also the joint winner of Coburg's best and fairest award. Essendon obviously liked what they saw and after their latest intake of top up players, it appears Hartley is set for a starting key defender role in the black and red this season. Hartley isn't going to be a huge scorer but he's cheap as chips and is ideal for one of your bench spots. Don't ignore him.
7. Aaron Mullett
AFL Fantasy Price: $162,000
AFL Dreamteam Price: $207,200
Predicted Average: 70
Mullett has been around for a while now but last season was one to forget for the 24 year old defender. A shoulder injury didn't allow him to have any preseason, hindering his fitness base and he could never catch the pack ahead of him. Now with a clean bill of health, Mullett is ready to rock (source). He's an attacking half back that averaged a notable 74 Fantasy points in 2013 however, competition for spots in North's 22 is rife. With no guarantee to be selected each week, picking Mullett is a risk but it's a case of high risk, high reward because he's someone that can give you an excellent Fantasy return. Watch this space.
8. Matt Dea
AFL Fantasy Price: $170,000
AFL Dreamteam Price: $163,500
Predicted Average: 62
Dea gets a second chance at the big time after being signed by Essendon as their 7th top up player for this season. Interestingly, the attacking defender is being reported as the likely replacement for suspended Fantasy favourite Michael Hibberd (source). Dea is a little pricey for a rookie and he was a pretty average scorer at Richmond but considering his mature body, experience and job security it might be worth starting him. I'm treading carefully at this stage but I'll be looking intently at his NAB Challenge performances to see if he can consistently reach scores greater than 65.
9. Ciaran Byrne
AFL Fantasy Price: $125,000
AFL Dreamteam Price: $144,900
Predicted Average: 63
Byrne me once and I'm hoping it's not a case of Byrne me twice. Ciaran's 2015 season was cut short by injury but an excellent preseason to date has him back in Fantasy contention. A young Carlton team means there's plenty of opportunity for the hard running Irishman and new coach Brendon Bolton has already endorsed him during the AFL's ask the coach promotion (source). Note that Byrne is still rookie listed so he's gona need to do everything right to get promoted before Round 1. He's named to play tonight so let's see what he can produce. Fingers crossed.
10. Kurt Heatherley
AFL Fantasy Price: $125,000
AFL Dreamteam Price: $128,200
Predicted Average: 54
Who you ask? Heatherley is another Hawthorn gem they're yet to unveil. The key defender could fill the Brian Lake void and he's recently been endorsed by teammate Josh Gibson (source). Unfortunately from an AFL Fantasy point of view, Heatherley is your stereotypical full back and he doesn't get his hands on the ball too often. Note that he averaged just 13 possessions, 5 marks, 2 tackles and 63 Fantasy points at VFL last season so buyer beware. With injury prone Matt Spangher having an interrupted preseason, Heatherley could feature early in the season. You could do far worse at the D8 position! He's also playing tonight in the NAB Challenge.
It appears that Aaron Francis and Andy Otten are not going to be ready for Round 1. Francis is being managed through a groin issue and Otten has almost overcome a knee problem but has lost most of his fitness base. Look to these players as trade down options during the season.
Brendon Whitecross and Curtly Hampton miss my top 10 for being expensive fringe players. Their job security could obviously change but at the minute it's a no from me.
Other rookie priced defenders that could come into Fantasy and Dreamteam contention this season include Ryan Harwood, Sam Collins, Kieran Collins, Tyrone Leonardis, Alex Neal-Bullen, Jacob Weitering, Eric Hipwood, Clem Smith, Mitch Brown (WCE), Josh McGuinness, Harrison Wigg, Jeremy Finlayson, Zaine Cordy, Tom Lee, Sam Durdin, Harry Marsh, Nic Newman, Mitchell Hibberd, Darcy Tucker, Alex Morgan, Josh Cowan, Jack Fitzpatrick, Anthony McDonal-Tipingwuti and Tim Mohr.
Look out for my post NAB Challenge analysis on the defender rookies that performed well, those that struggled and maybe one or two that snuck under the radar! Remember rooks are classified as players under $250,000 in either Fantasy or Dreamteam.
Loading ...
FOLLOW ME ON TWITTER: @JeppaDT for all for all things AFL Fantasy, AFL Dreamteam and more!