Versus: Premium Options
Tom has been pondering which player to pick across the lines and today he has given us a look at some premium options.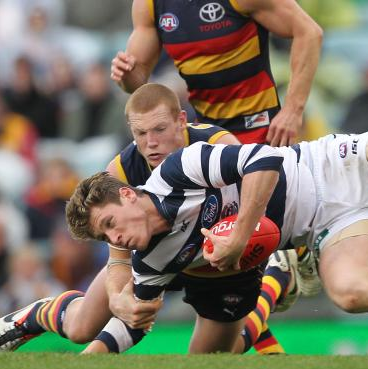 Thanks to Tom for sending in his thoughts on some players he has been pondering between.
Heath Shaw ($532,000) V Jarrad McVeigh ($538,000)
When dashing defender Heath Shaw joined the Giants for the start of the 2014 season, he looked a decent option straight away. Although Shaw has been a solid Fantasy performer over the duration of his career, not many would've predicted he would have his best season in 2015 at 29 years of age. Not since 2005 has Shaw averaged under 80, a remarkable statistic. Whether he's sprinting off down the wing or rebounding from the half-back line, the former Magpie rarely has a game under 20 disposals. In fact he only went three games under the 20 disposal mark last year, highlighting his promising ball winning ability. Shaw averaged a respectable 23.5 disposals, 6.6 marks and 2.8 tackles per game, resulting in a Fantasy average of 96.05. Another handy point worth acknowledging is Shaw's kick to handball statistics. He loves to run, have a bounce, create something, then dish it off by foot and his Giants team mates love the ball in his safe hands. Whilst averaging 19.1 kicks he only recorded an average of 4.4 handballs. This can only be a positive for Fantasy owners.
Swans veteran Jarred McVeigh has been an ultra-consistent part of a Sydney team packed with superstars such as Franklin, Kennedy and Hannebery for many years now. Like Shaw, McVeigh has got better with age in the Fantasy side of things. Despite recently undergoing knee surgery, a highlight of McVeigh's game is his knack of staying on the park. He has played 22 games in a remarkable seven seasons all whilst constantly averaging over 80. As stated above, McVeigh has been brilliant in the past three seasons, averaging 91, 97 and 97. However he did post under-par scores of 72, 55, 66 and 65 in 2015 but they were his only scores under 80! Again up there with the best Fantasy defenders in 2015, McVeigh managed ten tons including seven of over 110. You know your going to get quality form McVeigh so lock him in if you're after a consistent point scorer.
Verdict: Both players are in their 30's but are still going as strong as ever. Shaw has had his fair share of controversy over the coarse of his career but is coming off his best Fantasy season to date. Adding to his list of positives is McVeigh's ability to play through the midfield at times. Shaw scored eight tonnes compared to McVeigh's ten (finals included) and I think we'll see a better season from McVeigh this time around, but if you can afford it, why not go with both?
Loading ...
Steele Sidebottom ($565,000) V Brandon Ellis ($568,000)
Steele Sidebottom endured an injury interrupted start to season 2015. After playing just 55% of the Magpies round one clash with the Lions, Sidebottom was taken off with a thumb injury, eventually resulting in six weeks on the sidelines. However after his return, Sidebottom resumed his role in the Collingwood midfield whilst also proving a worthy selection for AFL Fantasy. At his best, Sidebottom is very good. He's a great accumulator of the ball, highlighted by the fact he had just one game under 20 disposals since his return to full fitness. Sidebottom posted scores of 118, 131, 106, 107, 128, 130, 113, 131 and 111 as well as a 91. Staggering statistics considering the 'pies won just three games when he 'tonned up'. Another highlight of Sidebottom's game is his marking ability, recording under four marks in just four games. He has also averaged 104, 96 and 108 in years gone by. However with the addition of Treloar and Aish adding to a midfield already consisting of Pendlebury, Adams and Swan, what role will Sidebottom have in the team?
Richmond midfielder Brandon Ellis was Mr.Reliable in 2015. Incredibly, he posted just two scores under 80 in the 24 games he played in. Ellis didn't miss one match and recorded a whopping 13 tonnes for the season, which is well and truly up there with the best midfielder's in the league. Despite averaging 96 in 2014, Ellis never really caught the attention of many people in pre-season. Like Sidebottom, Brandon Ellis loves to collect the cheap +6's around the wing zone which has caused some people to question his ball winning ability. Although Ellis prefers to sit at the back of packs looking for a quick release handball, his Fantasy owners were blessed with ultra-consistent scores and hardly any bad games. However perhaps the most remarkable aspect of Ellis Fantasy season was that he went through the entire season as a POD with low ownership levels. But will he have the same role and be as consistent as last year?
Verdict: Incredibly tough decision here. Huge upside in both players but I like Sidebottom here. Hopefully he can play a Fantasy friendly role somewhere in the midfield, perhaps on the wing, and rack up some good numbers. Will teams start to pay more attention to Ellis this year?
Loading ...

Click here to subscribe on iTunes. (Please leave a rating and review to help us move up the charts).
Sam Jacobs ($533,000) V Mark Blicavs ($539,000)
Crows ruckman Sam Jacobs, nicknamed 'sauce', is as durable as they get. The big man has hardly missed a game since fleeing Carlton ahead of the 2011 season. Whilst having to play the vast majority of his games in the blue, yellow and red as the lone ruckman, Jacobs has been a consistent fantasy performer. Jacobs' 2015 season was yet another ultra solid one. He recorded thirteen tonnes in 24 games. Interestingly, of those thirteen tonnes, eight were over 110, proving his ability to go big. He averaged 15.5 disposals, 4.2 marks, 37.3 hit outs and 97.7 Fantasy points (Finals games included). Jacobs has been one of the leagues best ruckman for numerous years now and there's no reason why he can't do it again. With the sub rule gone, Jacobs will likely find himself resting in the goal square more whilst Josh Jenkins pinch hits in the ruck. This will hopefully result in a few more goals from 'sauce'. If your tight on money and can't afford the likes of Martin and Goldstein, Jacobs will save you around $100,000 and still score you good points on a regular basis.
Mark Blicavs had an incredible 2015 season. Who would have thought the former steeplechaser, who was vying for selection ahead of the 2012 olympics, would become a prominent figure in the Geelong team. Taken with pick #54 in the 2012 rookie draft, Blicavs came out of the blue in 2015 to average 97.3 Fantasy points. This year, Blicavs comes in at $539,000 and is, along with Jacobs, a great selection without splashing out the big bucks for the games most expensive players, Martin and Goldstein. A highlight of his game is his running ability which has to be said, isn't always ruckman's strength. Geelong used Blicavs through the centre of the ground often and despite averaging just 16.3 hitouts, used his big frame to record an impressive average of 18.2 disposals, 4.6 marks and 6 tackles. So flexible is Blicavs, that he comes with the unique Ruck/Midfield combination for the second season in a row. Geelong have also stated they plan to play Blicavs in midfield and across half-back so look for his disposal numbers to improve.
Verdict: I'd personally be going for Blicavs here. If he does end up playing a role across half-back and up into the midfield, then he is capable of pushing for an average of 100. Jacobs could well do this too, but for now, I think Blicavs just wins here.
Loading ...
Brett Deledio ($530,000) V Luke Dahlhaus ($540,000)
At his best, Brett Deledio is damaging and quite capable of finishing the season as the top averaging forward. Since his debut in 2005, Deledio has averaged 61, 77, 76, 97, 96, 89, 91, 110, 95, 96 and 95. So there is no doubt he has what it takes to become the top forward. Last year didn't quite get of the ideal start however, playing just 69% of the Tigers Round 1 game before being subbed off with injury, resulting in a score of 53. When he did return to AFL 'footy', Deledio scored 61 in just 64% gametime. But it didn't take long for the dangerous midfield/forward to return to peak form, and fitness for that matter. He posted eight tonnes in the remaining games including a big 137 against Collingwood. He was suspect to a few under-par performances throughout the season, however. Deledio has had an interrupted pre-season and faces a battle to be fit for round 1. If he's fit and firing, Deledio is crucial for the success of the Tigers and his Fantasy owners.
Unlike Deledio, Western Bulldogs 178cm powerhouse Luke Dahlhaus endured a brilliant start to his 2015 campaign. After averaging 74, 70 and 87 in previous seasons, Dahlhaus lifted the bar in 2015 and finished with an impressive average of 97.6. With eight tonnes in the first ten matches, Dahlhaus continued to reward his relatively low percentage of owners. With just two matches under 20 disposals underlining his excellent ball winning ability. Despite scoring just three tonnes in his final ten games, Dahlhaus still proved that he was a genuine option, finishing the season as the forth top scoring forward. Although he is highly priced this year, the Bulldog has a chance to be even better given team mate Tom Liberatore's likely return to the big time. Hopefully this strips Dahlhaus of any chances of collecting a tag from the opposition.
Verdict: Both forwards come with the Forward/Midfield DPP ability and will both be looking get off to good starts. Dahlhaus and Deledio are definitely chances of being amongst the top six forwards. If you have the funds, both players are great options. I prefer Dahlhaus at the moment as Deledio is coming off an annoying achilles injury and may not even make it to round 1. But if Deledio does prove his fitness in time, I'd certainly be inclined to select him instead.
Loading ...