The Stats That Matter – Part Two
We all have opinions when it comes to fantasy footy, but numbers don't lie. Join mbrucie for a look at the Hawks to the Bulldogsin a special stats filled article.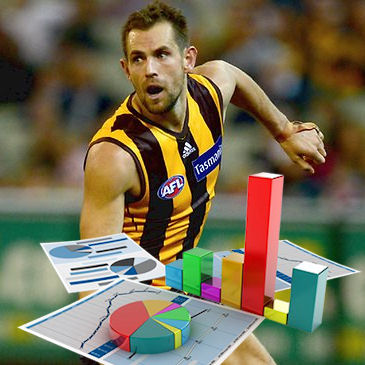 I love a good number. After all, so much of this game that we love is based on statistics; possessions, averages, breakevens, ceiling, vest affected games, goals, the list goes on. We will all have opinions, but the numbers never change, so I will try my best to keep this as unbiased as possible, and let the facts do the talking. The aim of this two-part series is to provide a stat or two from each club which are designed to make you consider someone else, maybe reconsider your current selection, or even just to reaffirm your current thinking. Anyway, let's get cracking with some numbers!
Luke Hodge is a match winner – both for the Hawks and potentially for your Fantasy team. In 2016, I see Luke Hodge as the definition of a POD – someone who has proven scoring ability, someone who can be relied upon and someone with a massive ceiling, all boxes which Hodge ticks and then some. From his last 23 matches (including finals), Hodge has gone over 130 on a remarkable seven occasions. Over this period, Hodge has gone at 115.43. These numbers make Hodge a genuine captaincy option, especially at Aurora Stadium, a ground which he has averaged 129.33 in his last six matches there, only once dropping below 120. There are obvious concerns about Hodge's to stay on the park, with suspension, resting and even the odd injury all legitimate reasons to opt against starting with Hodge. However, if you see the rest coming later in the season, a viable option in Fantasy could be to sideways trade him to another firing midfield premium before his R15 bye and potentially get the best of both worlds.
Sure there are a few Fantasy stars of the future in the Demons lineup, but I don't see one specific senior player as extremely relevant in terms of our starting lineups, so this will be more of a team stat. Between Rounds 1-21 last season, the Demons averaged 1451 DT points per game, ranked 3rd lowest in the competition. However, in the final two rounds of the season, the Dees posted 1697 points against Fremantle and 1724 points against GWS. These two games saw some massive scores from some key players including Jack Viney (130 and 122), Bernie Vince (122 and 121), Max Gawn (125 and 86), Jack Grimes (105 from three quarters and 110) and Nathan Jones (sub affected 18 and 123). Whether this was simply Roos giving his players a little more freedom at the end of the season or a sign of things to come (or maybe just the positive influence of Lumumba missing these two fixtures) remains to be seen, but definitely worth keeping an eye on, in the latter stages of a draft, if nothing else.
Make no mistake about it, Ben Jacobs is the most effective tagger in the competition. From Round 11 last year, Jacobs not only matched it with, but comprehensively beat some of the best midfielders going around, restricting his opponent to an average of 26.73 points below their unvested seasonal average. Only Ablett (119 – 56 point last quarter), Martin (111 – 48 point last quarter) and Bontempelli (93) were able to better their seasonal average against Jacobs, while others didn't fare so well at all. Throughout the season, Jacobs' biggest scalps included Cotchin (35), N. Jones (46), Shiel (52), Rockliff (53), Shuey (57), Heppell (58), Hannebery (65) and Steven (78). His likely targets in the first month of the year loom as Sloane, Beams/Hanley, Nathan Jones and Fyfe, so something to watch out for there.
With all the value options in midfield this year, it is inevitable that players will be overlooked. So far this preseason, I have seen a lot of hype about Hartung's scoring potential when given a full game, but haven't seen much talk about Power young gun, Brendon Ah Chee. He copped a vest in six of his eleven games in his debut year; five green and one red. But from his five full games, he averaged 90.8, including a run from R20-23, where he scored two tons at an average of 95. But what impresses me most about Ah Chee is how complete his Fantasy game is, especially for someone which such little experience at the top level. From those five games, he averaged 21.6 disposals, 4.2 marks and 4.4 tackles, while kicking 6 goals in the process. Keep in mind that if he continues to play a similar role to last year, he could be in the mix to pick up MID/FWD status throughout the season in Fantasy.
Obviously if you were picking Brandon Ellis, you would be picking him as a season long keeper, but it's always nice to jump on guys who could go big early and Ellis has as good of a chance as most of being among the top handful of players in the early rounds. Ellis top five scores in 2015 were 140, 127, 122, 121 and 117. Pretty impressive numbers, but nothing extraordinary, right? Well, here is the kicker. These scores came against Collingwood (x2), West Coast, Carlton and Port Adelaide, respectively, all teams which he faces in the opening six rounds of the 2016 season. Conversely, Dustin Martin faces a Carlton side in R1, who he has historically struggled against. Given he is close to a lock to finish in the top three forwards come season's end, it would be foolish to leave him out on the basis of one fixture in the limited trades formats, however, in AFL Fantasy where premiums are now more exchangeable than ever, could there be merit in passing on Dusty and looking to pick him up at a discounted price? Maybe. Martin has a career average of 67.8 against the Blues, making them easily his worst team to play, never scoring above 91 against them and averaging 60 in his last five.
Nick Riewoldt, an absolute champion of the game and one of the few key forwards who have been able to churn out consistent scores for the last decade. There is an argument that Riewoldt is actually underpriced, after a nasty concussion against Adelaide in the first quarter limited him to just 26 points. With the removal of this score, Riewoldt's average jumps to 98.16, putting him behind only Montagna and Dusty in the forward line. Riewoldt's consistency for a key position player is nothing short of extraordinary. Excluding his sub affected match, Roo only went under 75 once from his 16 games (6.25%). This stat becomes even more impressive when compared to other premium forwards in Gunston (14.29%), Merrett (17.65%), Martin and Dahlhaus (18.18%), Deledio (18.75%) and Barlow and Robinson (22.73%).
I can't believe I am saying this, but Kurt Tippett is a genuine Fantasy option this season. In his last eight games of 2015 (including finals), Tippett averaged 109.25, only dropping under 109 on two occasions. To put these numbers in to perspective, Martin was the only ruck to average more in this period. The obvious doubt over whether he can replicate this form is the addition of Callum Sinclair to the Swans, however priced at just a tick over 80, I still think Tippett could represent immense value. Given his explosive ceiling and ability to string together big scores when given the right role, he could generate cash at a much quicker rate than others in his price range. In this eight week period, Tippett demonstrated an ability to score in all facets on the game, registering 33 shots on goal, despite playing extended minutes in the ruck. Will veer slightly off track here for a second and share my thoughts on ruck strategy. Does going with both Martin and Goldstein tie up too much cash in one line? Is going with one of Martin/Goldstein and one of Blicavs/Jacobs/Mumford really set and forget given the difference in scoring potential between the top two and the rest? Can we realistically rely on Leuenberger, a bloke who has played just 42 games in four seasons? Depending on your answers to these questions, you might have just realised that going with one of Martin/Goldstein and one of Tippett/Lobbe could be the way to go.
Elliot Yeo has been one of the most hyped players this preseason, with a strong argument that he is underpriced, after being forced to play a variety of roles in the 2015 season. Most of these poor scores have been put down to the undermanned backline, with Brown and Mackenzie missing the season and Schofield and McGovern spending time on the sidelines. However, was it in fact the presence of fellow mid-pricer, Matt Rosa, which inhibited his scoring potential? In the eight games that Rosa missed last season, Yeo averaged 96.86, collecting 20.71 disposals per game. Compare this to the 14 games Yeo played alongside his now ex-teammate, Rosa, where he went at 69.64 and 16.07 possessions. With Rosa now plying his trade on the Gold Coast and Yeo reportedly doing stoppage work, could we see him thrown in to a more permanent midfield role this season?
It has been well publicised among both AFL and Fantasy circles that the Western Bulldogs play their first seven games at Etihad Stadium, but what effect does this actually have on our Fantasy stars? A quick look across the stats suggests that veteran defender, Matthew Boyd could be one of the biggest beneficiaries of this fixture quirk. Boyd averaged 110.8 at Docklands last year, compared to just 92.5 elsewhere. Could be a huge point of difference early in the season, with many serious coaches opting to pass on him. Speaking of PODs, fellow Bulldogs defender, Robert Murphy averaged 90.22 in his last nine games under the Etihad roof in 2015 and could prove to be a great differential, with most opting for Yeo, Duryea or Rosa in that price range. Potential breakout contender, Lachie Hunter averaged 109.2 in his five full games at Etihad in 2015, including three scores over 120. Other relevant Dogs including Dahlhaus, Macrae and Liberatore all averaged quite similar at Etihad to other grounds, and all remain solid options to start the season, but I would be a little wary of the unknowns surrounding the Dogs' midfield structure.