Tom Rockliff – Deck of DT 2016
The AFL Fantasy website should be beginner-proof, with Rocky sitting pretty in your midfield the second you sign up. Unfortunately, he's not, so I'm here simply to educate the 52% currently without him.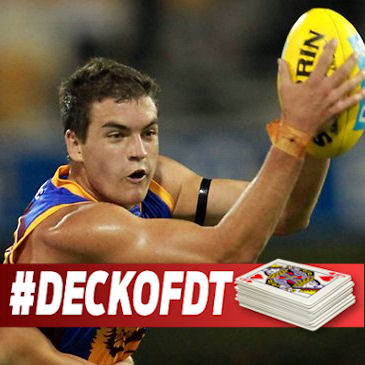 Name: Tom Rockliff
Club: Brisbane Lions
Position:  MID
AFL Fantasy: $579,000
AFL Dream Team: $606,900
Bye Round: 15
2015 Average: 104.6
2015 Games Played: 16
Predicted Average: 129
Click here for DT Live profile. 
Why should I pick him?
In my opinion, you shouldn't have to. The AFL Fantasy website should be beginner-proof, with Tom Rockliff sitting pretty in your midfield the second you sign up. Unfortunately, he's not, and he's currently in just 48% of squads. These next few paragraphs are here simply to right the wrongs of the remaining 52%.
If you don't already know Rockliff's a dead set gun, then I might as well be playing charades with the blind here. Even though 2015 kicked off to an undeniably rocky start (sorry) courtesy of a pair of nasty rib injuries, the Lions' Captain still managed to salvage his season by dropping below 90 points just once in his last 13 games. Consistency gets a massive tick.
This is where your pants should tightening for fantasy reasons – we're blessed with huge value for picking the guy that'll likely don the 'C' for your squad in the majority of games this year. Let's not forget that Rocky owns the World Record 134.7-point seasonal average from just two seasons ago, and now he's in his physical prime. We're essentially getting a Ferrari for the price of a BMW, or in raw currency, a $166k discount on his best work. Value: tick.
Speaking of his best work, that's exactly the type of form he was exhibiting to punctuate the 2015 season. I can't decide what sounds more impressive – that he averaged 126 points from Round 15 onwards? Maybe the 6-week run of 120+ scores to end the season? Or perhaps it was his scorching run of 143, 140, 159 and 149 in the midst of fantasy finals? Form, tick. Massive ceiling, tick.
While we're here, let's finish off the wish list for what we want in a Super Premium. Durability is a huge factor across the board, and despite missing a chunk of games last season, I'm not worried at all. Broken ribs is a freak injury, unlikely to repeat after a year of healing and certainly not worthy of the same concern as chronic soft tissue injuries or talent-dulling knee calamities. His medical history had been rock-solid (sorry) previously, missing just 10 games since his debut season – with a few of those for getting a bit too cheeky with opponents.
I could talk about the fact that he's a perennial Triple Trouble threat (25 touches, 5 marks, 5 tackles, basically guaranteeing a century-plus average) or honestly anything about "Lockliff" for hours on end, but I'm wary of boring all the sane people who've locked him in. Plus, if you're not sold by now, you're either insane or so stubborn that you probably never will be.
TLDR – Gun. Fit. Lock.
Why shouldn't I pick him?
Error 404 – Cons not found.
Seriously though, there is no downside. Zero. Unless you hate winning, happiness, or bargains, there's nothing worth speculating here.
Deck of DT Rating:
ACE – I strongly considered not writing this article and going with Beamer instead (which, by the way, I could have replaced 'Rockliff' with 'Beams' throughout this entire article then tweaked a few numbers and it would have made almost perfect sense. Beamer's worth a serious look… But I digress.) – he's just that big of a lock. But what would AFL Fantasy be without Rockliff, and DT Talk's Deck without its latest Pig-like sensation?
If all things run smoothly and sensibly this year, Rockliff WILL be the highest averaging fantasy player for 2016. You might say that's boring, but you'd be wrong. Trust me; watching Rocky bust out absurd totals for your Classic side while tipping back a few red cordials on a Saturday afternoon is far from boring, and enough to make you near suicidal if you're stupid enough to overlook him. Don't be that guy.
Loading ...
FOLLOW ME ON TWITTER: @Tbetta9 for a largely sarcastic view of fantasy AFL. Want to slam my latest addition to the deck? Tweet me your abuse or just use the hashtag… #DeckofDT.