Kade Simpson – Deck of DT 2016
Today Roy has a look at re-energised Blues veteran, Kade Simpson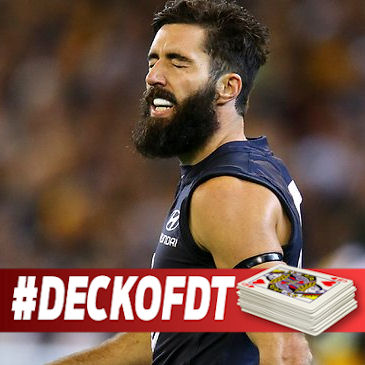 Name: Kade Simpson

Club: Blues
Position:  DEF
AFL Fantasy: $474,000
Bye Round: 13
2015 Average: 86
2015 Games Played: 20
Predicted Average: 93
Click here for DT Live profile.
Why should I pick him?
Judging by Kade's attitude and body language last season, it appeared he had lost his spark and he looked completely unmotivated to continue his career. Enter Brendan Bolton and a complete revamp in attitude at the club and all of a sudden Simpson is talking 2017.
It's ok to talk the talk you say, but can he walk the walk? Well actually he can do better than that! He is having a cracking pre-season which has defied all odds, recording a number of running PB's despite turning 32 during the upcoming season.
Prior to Malthouse's arrival, Simpson was a Fantasy stud with averages of 102, 95 and 93 and I am confident that Bolton will have a Fantasy friendly role in mind for him.
Simpson is as durable as they come and let's face it, we don't want to be shuffling 'premium' defenders  around, as Matty Boyd owners were forced to do during the finals last year. In the last ten years he has only missed five games which is phenomenal.
In 2010, his ability to 'go big' and crack the ton was on full display, reaching triple figures on 11 occasions, highlighted by 143.
Bolton is coming from the Hawks, where the highly skilled back flankers are asked to handle plenty of the ball and Simmo is the obvious man for the job.
Why shouldn't I pick him?
Simmo is getting old, so it isn't fair to expect him so somehow recapture career best form.
There are a number of younger under-priced defenders available this year and let's face it, it is not much fun paying big bucks in the back line.
Carlton are still bad, and despite their best intention to take steps in the right direction, it will take a miracle to turn their fortune around and significantly improve their Fantasy production.
Deck of DT Rating.
King– Simmo has a spring back in his step and his recaptured passion will be reflected by an increase in average this season which means he is under-priced. It is always nice to have a reliable defender back there in the number one spot and he ticks all boxes including ability, durability and scoring potential.
Loading ...
FOLLOW ME ON TWITTER: @RoyDT for all thing AFL Fantasy (and more). Got something to say about the deck? Use the hashtag… #DeckofDT.