Dylan Roberton – Deck of DT 2016
A left-field selection from Anthony Wingard today in the Deck of DT sees Dylan Roberton profiled.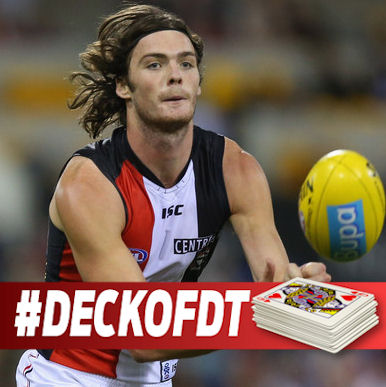 Name: Dylan Roberton
Team: St Kilda
AFL Fantasy: $459 000
AFL Dream Team: $480 300
Bye Round: 13
2015 Average: 82.9
2015 Games Played: 20
Predicted Average: 80
Click here for DT Live profile.
Why should I pick him?
Dylan Roberton. Who?
There's a reason I left Roberton until my last Deck of DT piece. Partially because it was difficult to write, but also because Roberton is such an inconspicuous choice for any fantasy team. As I scroll through the My Team threads, I am yet to find one team which features Roberton, making him a delicious point of difference. As it stands, Roberton is currently in 0.78% of leagues.
Roberton has been at the forefront of St Kilda's renaissance in 2015, not that anyone had noticed. After stockpiling recycled players across halfback, the Saints were looking for a rebounding defender and Roberton has been one of the better picks in the bunch. He played 20 games on the year, posting career bests for disposals (20.2 avg) and marks (6.0). But unlike most medium sized defenders on the roster, Roberton has the ability to push up onto the wing. Given Sam Gilbert was injured for most of the year, leaving a hole and lack of experience in the defensive half, Roberton's game time on a wing suggests the light the coaching staff see him in.
He finally cemented his place in an AFL team last season, missing all but two games. In those 20 games, he posted twelve scores above 80, seven of which eclipsed 95. In comparison, Kade Kolodjashnij, who is $5k dearer than Roberton in AFL Fantasy, played two more games and had fourteen scores above 80 and eight above 90. With a scoring ability similar to Kolodjashnij although minus the preseason hype, Roberton could be a worthwhile investment this year.
Why shouldn't I pick him?
Roberton is very much on of those players you're unlikely to recognise if you sat next to him on the tram. This alone is probably enough to deter most people away. But we'll continue…
After he shed his locks, Roberton posted a career best seasonal average in 2015. Aside from that, he has done little. An average of 66.2 in 2013 was his previous best average which is certainly nothing to ring home about. A
He shares the Round 13 bye with much more appealing backline options. Laird, Docherty, Simpson, Kolodjashnij and Houli are all similarly priced for that D2 spot, and all carry the same bye as Roberton. Arguably, Roberton falls below most of these names both in a general opinion and reasonable fantasy output, especially for a bloke who has had only one fantasy relevant season.
Finally, Roberton's scoring relies heavily on his ability to mark the football. Across 2015 games, there is a positive correlation between the two stats. Every time Roberton scored above 80 points, he recorded above six marks – of course, the more marks, the higher the score. Only once did he record a score above 80 without having six marks and only one did he take 6+ marks and not have 80 or more points (see red dots). A reliance on marks usually results in a great variation in a player's score given the dependant nature of the stat.
Deck of DT Rating:
JACK – Without question, Roberton is definitely worth a shot if you are willing to take the risk. He's the perfect unique option in defence, but poses a lot of question about his scoring ability, consistency and fantasy history. Realistically, I can't see him averaging above 85, which doesn't justify his price at all. He may appeal to some, but to the majority, he won't be, especially with the other names available for a similar price. I'm not feeling much with Roberton in salary cap formats, but is definitely worth selecting in draft leagues.
Loading ...
FOLLOW ME ON TWITTER: @AntWingardFP for all thing AFL Fantasy (and more). Got something to say about the deck? Use the hashtag… #DeckofDT.