Toby Greene – Deck of DT 2016
Toby Greene. Fantasy Pig or Fantasy Tease? Griff run's his eye over the young GWS Giant and determines – he's a wildcard.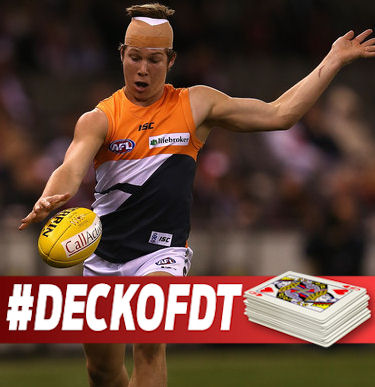 Name: Toby Greene
Club: GWS Giants
Position:  Forward / Midfielder
AFL Fantasy: $473,000
AFL Dream Team: $496,200
Super Coach: $446,900
Bye Round: 15
2015 Average: 85.7
2015 Games Played: 22
Predicted Average: 79 – 109*
Click here for DT Live profile.
Why should I pick him?
Why shouldn't I pick him?
So here's the go. Usually we all follow a predictable format outlining the pros and cons of picking certain players. But I'm not going to tell you one way or another if you should or shouldn't pick Toby Greene in 2016.
In researching the Greene Machine, every time I think of a reason to pick him, the same reason aligns with why you don't want to pick him.
Toby has shown all the signs suggesting he will become a fantasy football pig, but he also has all the signs to suggest he will become a fantasy football tease. It's up to you to roll the dice on him, and all I can do is show you why I'm so divided.
Career to Date
When he debuted for the Giants in 2012 Toby was an inside/outside midfielder who seemingly had open reign to follow the ball around all day. He averaged 96.2 points per game from 19 games that season and was the next big thing.
In 2013 Toby's lack of defence pressure saw him playing much of the season off the back flank, learning to be accountable for his opponent. He averaged 76.5 points per game from 19 games that season and was the next big flop.
In 2014 Toby was used by new coach Leon Cameron to feed off packs and drive the ball forward, but his lacklustre disposal saw him slowly pushed out of the midfield for better users like recently drafted Josh Kelly and pushed forward, to limit any damage from missing a leading barn door target. He averaged 102.9 points per game and was back on the radar.
In 2015 Toby found himself a niche role off the half forward flank. His natural instincts still pulled him forward towards the midfield, but it was clear that Leon Cameron was most comfortable with Toby playing forward (despite not having a huge impact on the scoreboard – kicking 15 goals 12 behinds from 22 games). He averaged a respectable 85.7 points from 22 games.
What's Next?
In 2016 Toby is a midfielder/forward dual position player at a tempting price. Being able to pick him as a forward makes him more desirable as our forwards are expected to score less than our midfielders, reducing the risk in picking him.
With the departure of Adam Treloar he may see himself used more in the midfield like in 2014. But at the same time incoming players Matthew Kennedy and Jacob Hopper are contested beasts with cleaner disposal.
Jack Steele continues to make improvements and is two inches taller than Toby, making him a more unique prospect to play out of the midfield, again, with better disposal efficiency.
Tom Scully and Dylan Shiel will return to the team after extended absences in 2015, and they are first choice midfielders over Greene.
Steve Johnson comes into the team and will be more damaging as a high forward flanker than Toby and second year Giant Jarrod Pickett is fast developing in a similar role.
It has to be asked; is Toby even in the best 22?
Is Toby Greene going to remain in the Giants best 22 all season?
Yes. (77%, 809 Votes)
No. (23%, 247 Votes)
Total Voters: 1,056
Loading ...
The thing Toby has got going for him is that he doesn't give up. His attitude on the field is one of dogged determination and when he is picked to play, he gives everything he's got. He's shown he is versatile by playing midfield, defence and now forward, and he is one of the more mature bodies available for the Giants.
A Value Pick?
Currently, 16.64% of coaches think that he is under-priced in AFL Fantasy, and have him locked into their team. He did wear the substitute vest twice last year, scoring 38 and 75, so there is an argument he has some improvement if he plays the exact same role.
If his role doesn't change, there's not too much likelihood of an increase in Toby's value. He spent 45% of his time behind centre square in 2015, so it's not like he was chained to the goal post.
Then again, if he is seen as the logical replacement for Treloar by Leon Cameron, and new (to the Giants starting 22) players (Steve Johnson, Matt Kennedy, Jarrod Pickett or Jacob Hopper) introduced in his role on the forward flank instead of the midfield, you could be landing a forward who will average 110+ across 22 games.
Deck of DT Rating.
JOKER – Jokers are wild.
Toby could be the card you need for the Ace high straight flush in your fantasy football team, or he could be the card that turns your 'all in' to 'all out'. The reality is that Toby is an unknown entity going into 2016.
Despite posing the question, I can't see him being left out of the best 22, as he offers too much – at the moment. He's poor disposal makes him a liability, but his effort makes him incredibly valuable. He can score 140s, and follow it up with 60s. He can win the Giants the game, and then get suspended. He… You get my point.
*On the 25th of February the Giants will play the Swans in the NAB Challenge. Watch him like a hawk and if he looks like he's Treloar's replacement, you have to consider him – he could go close to a 110 point season. But if he looks to be a bench rotation, or a forward six option, you'll probably want to pass on an 80 point season.
FOLLOW ME ON TWITTER: @RLGriffinGWS for all thing AFL Fantasy (and more). Got something to say about the deck? Use the hashtag… #DeckofDT.