The CashCows 2015 – Season in Review
What are you aiming for? Highest overall ranking, a league premiership or both? Tim went to take out his league. Here's his story.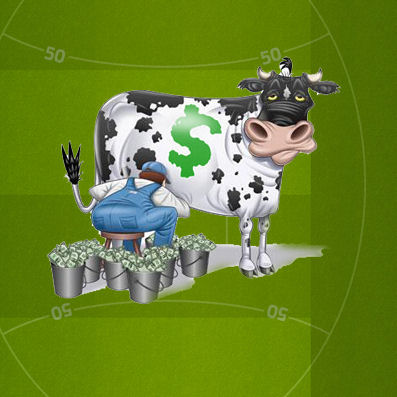 As an AFL Fantasy player, coaches either find the balance between striving for the highest overall ranking possible and competing for the premiership within their own head to head leagues or go all out on just one of those options. The tactic I have trialled is for the latter option, where I create a team purely for trying to win my head to head leagues. This team was known as the 'CashCows'.
As the name suggests the team is filled with players who I see as the best cash cows. This means loading up with the best rookies combined with mid priced players I see as performing well above their price tag. When these players max out in price they are traded to the best value premiums available, eventually creating a complete side much faster than the traditional fantasy trading tactic and leaving you with a lot of cash to spend on your preferred premiums. This means come finals time, you will have a side filled with all the in form premiums and should take an undefeated charge through finals as you take out the comp.
The team last year that I started with looked as follows:
Hunt, McIntosh, Geary, Newnes, Bewick, Oxley (Saad, Goodes)
Rockliff, Sloane (c), Rich, Griffen, Sheed, Newton, Ellis­-Yolmen, Vandenberg (Cripps, Acres)
Leuenberger, Bellchambers (Naismith, Phillips)
Swan, Dahlhaus, Bontempelli, Adams, Salem, Honeychurch (Boyd, Clark)
Remaining Salary 1.8 million
Obviously there were a few shocking picks within this team, which is bound to happen when trying to pick up all the best rookies. So the likes of Bewick, Griffen and Leuenberger were quickly upgraded to players such as Hodge, Lewis and Goldstein within the first few rounds. This points out a positive of the system because in a standard fantasy team you might have to pick between two rookies for one spot. And in many cases if your chosen rookie flops you have to sideways trade to the other rookie who has already gone up in value. But with this system, you already have both and with the leftover cash you can upgrade the poor form rookie to a premium who is performing. In standard teams you choose certain premiums to start in your team and if this premium fails in the first few rounds and you look to trade him out, you have already lost out on a lot of money and wasted a sideways trade. But with my tactic a player losing value is a rarity and you avoid this landslide loss of money.
An issue with the system is obviously the team's ability to score in the opening rounds with a team full of rookies and mid priced players. After the first few rounds my team was surprisingly ranked within the top 10 000 teams thanks to a lot of under performing premium options in many teams (eg. Ablett, Beams). And so the team managed to sneak a few early wins. However as most coaches started to get a grasp on their teams, the CashCows started to suffer a lot more losses as the rookies became very inconsistent with their output. Approaching round 6 was one of many low points throughout the season, with Lewis getting reported, Sloane breaking his jaw and Ellis-Yolmen also seeing the sideline for the week. Ensuring I maintained my goal of picking up the biggest cash cows, I copped the zero in my midfield so that I could see one of the greatest pickups of all time enter my team.. the mighty Josh Glenn. He scored me a solid 28 points before rotting on my bench for the rest of the season. Some rounds however the boys would get up and score enough to ensure that we were on track to be finals bound with the likes of Swan and Goldstein seemingly carrying the team.
With the plan to create the best possible team as soon as possible, I would carry players through injury or suspension (Rockliff the 2nd time, Hodge, Lewis) and this would test the depth of the team, especially during the bye rounds (which no I did not plan for at all). Sure enough after losing all 3 of my bye round fixtures in most leagues, the chance of finals looked shaky. My lack of scoring from these rounds dropped my overall ranking to roughly 48 000, which was a low point in my life.. but at least I had the old 'I'm not going for overall rankings' excuse. However sorting out my team post bye rounds I found that with everyone coming back my team was starting to look complete and my form from then into finals ensured that I did finish between 5th and 8th in all my leagues.
The week leading into the finals my team looked as follows:
Hodge, Boyd, Mundy, Picken, Shaw, McVeigh (Rosa, J.Kolo)
Lewis, Pendlebury, Armitage, JPK, Sidebottom, J.Selwood, Rockliff (Browne, Dumont)
Goldstein, Martin (Nankervis, Phillips)
Swan, Mitchell, Dahlhaus, Bontempelli, Motlop, Bartel (Daniel, Reid)
With decent coverage in all positions (excluding ruckman) I was also able to combat the resting of basically the whole backline. In the last 6 weeks I ranked in the top 1000 every week including top 200 three times. My team went from that high ranking that I don't ever want to mention again, to finish with a ranking of 5066. More importantly however, no one was able to challenge me over the finals period and sure enough I went onto win in all my leagues.
Overall the CashCows ensured a solid finish to the season, in what would be described as a very high and low journey, with the low points reached after my early success from my rookies was a very very dark place for any fantasy player. However with the end goal of winning all my leagues, the season was a success for the CashCows. In regards to the value of my team, I didn't quite get the goal of having the most expensive team but I did finish 26th overall for team value. The performance of the team showed that by applying this CashCow approach, you are left in a great position to take out your league, however as expected your overall ranking will suffer.
Follow me on twitter @CashCowsDT to see how the team goes this year.