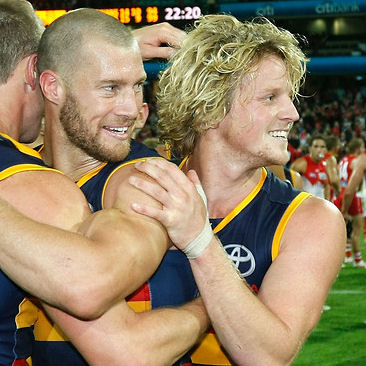 Hello to my fellow AFL Fantasy addicts. Please be gentle as this is my first article I've ever written. I decided to do a few articles comparing two 'Premium' midfielders from every team and this is the first one encompassing five teams. I did this to hopefully give you a comparison to go off when selecting your own 'Premo Mids'. Please keep in mind that I am aware some teams have more than two premium mids and as such, I have chosen the two whom I believe are the closet statistically and are about the same starting price, (Give or take). In the case of Carlton I have compared two people who last year were the shining lights in the team. I have also chosen to avoid players with DPP like Dustin Martin, Barlow etc and focused on sole MIDS. These comparisons are impartial and based predominantly on statistics gleaned from myriad sources. The beauty of Fantasy footy is that everyone can have their own opinion and as such, people may disagree with who I'd pick in the end. Enjoy.
THOMPSON $538,000 VS SLOANE $527,000
With the departure of Dangerfield to the cattery in the off season, both Sloane and Thompson will be required to step up to fill the void. I'm fairly sure Sloane will cop most of the taggers attention and with only an 11k difference in price, starting with one or the other may provide a much needed leg up early in the season.  Last season, Thompson averaged slightly higher points per game than Sloane at 97.4 and 92.9 points respectively. Thompson also had a higher average when it came to kicks, handballs and tackles in 2015 playing quite a friendly fantasy role. Not to be outdone though, Sloane recorded a higher average of goals per game and more marks. Last year with Dangerfield in the mix, a lot of opposition attention was deflected away from these two and subsequently they both had great points output. Thompson was able to increase his yearly average from 96 to 97.4, whereas Sloane wasn't able to make any gains on his previous year's average, dropping from 105 to 92.9. Ironically, the much older Thompson played in all but one of Adelaide's games whereas Sloane managed 18. This year Thompson will be 33 years old, in my mind, the only thing holding me back from picking him is this fact and whether or not I have confidence in the veteran's body lasting a full season. With the increased workload and the plethora of young talent, who knows what toll it may or may not take. Sloane enters the 'Prime' of his career and there hasn't been a better time for him to step up and prove his elite status. I fully expect both to average 95+ this year but I'm hesitant to pick up either come round one until I see their exact roles and how having no Dangerfield affects them. It's not all bad news though, Crouch will hopefully be back firing and that should alleviate some of the pressure. My advice would be to monitor pre – season games and re-assess come round one.
If I had to choose one: Every fibre in my body wants to pick Sloane but purely based on the likely new attention Sloane will cop I'd choose Thompson. Just.
ROCKLIFF $579,000 VS BEAMS $570,000
There is a lot of depth in the Lions' midfield, Zorko, Robinson, Christensen etc, however I've decided to focus on arguably their top two players. In 2015, both had injury riddled seasons and as such, I'd argue that they are somewhat under-priced (Rocky especially). At only 9k difference there really isn't much between them, which makes me lean towards picking Rocky over Beams. When comparing the stats, the similarities continue. Due to injuries, both managed only 16 games, both scored roughly the same yearly average (104.7 for Rocky and 103 for Beams) and, for their part both spent roughly the same amount of time on the ground. The main difference between these two comes by analysing HOW they accumulated the points. Rocky laid a staggering 129 tackles in his 16 games. That's 8.1 per game (This was helped by his 17 tackles laid against Melbourne in round 16). That kind of tackling is bound to propel your scores and combined with his natural footy prowess and leadership skills there were few clearances he wasn't a part of. Beams on the other hand used his sheer disposals dominance on the ground to gather his numbers. He had more kicks, more marks, he won far more contested possessions, was paid more free kicks and even contributed on the scoreboard more. Both are in the prime of their respective careers, both turn 26 this year (10 days apart from one another) and both have very similar body types. You could make an argument for starting either one of these two and you're probably not going wrong with either.
If I had to choose one: Based on how similar their starting prices are, I'd go for Rocky. Come on….. It's Rocky
MURPHY $544,000 VS CRIPPS $477,000
In comparison to other clubs, Carlton's midfield depth is somewhat lacking. This makes comparing two of their midfielders quite difficult because of the shear price difference between what I'd call their best two MIDS. Cripps undeniably had the second year of his dreams. The stats speak for themselves. The boy from East Fremantle played 20 games and in those 20 games spent a staggering 79.6% of the time on the ground. He gathered 471 disposals, 69.1% of which were effective, kicked 6 goals, and laid 98 tackles. What a beast for a second year player who would have no doubt won the AFL rising star award had it not been for Hogan. He was the engine room in a somewhat lacklustre Carlton midfield. The frustrating thing about young Cripps was how he disposed of all those possessions. In 2015, Cripps went by hand 313 times and by foot 158 times.  Compare this to Murphy who had 510 disposals and went by foot 291 times. Unfortunately being handball happy generally does not equate to big scores, however, ironically Cripps' highest score came in round 4 against St Kilda when he posted 137 points even though he handballed 25 times! He only had 8 kicks that game, imagine if the figures were reversed! Like I said, Beast. It almost feels silly comparing a proven midfielder in Murphy, to a second year player in Cripps, however I do assure you the similarities are there. As I alluded to above, Murphy chose to go by foot far more than Cripps. This resulted in him beating Cripps when it came to total Fantasy points (1868 vs 1723), even though he played one less game. He was able to mark the pill more, and received nearly double the amount of free kicks. Cripps won when it came to tackles (98 vs 65), and unfortunately gave away double the amount of free kicks (26 vs 13). Personally I don't see either of their roles changing much this year and expect both to average over 90 points per game. Another Solid pre-season into Cripps and the sky's the limit for the kid.
If I had to choose one: At a difference of $67k, choosing a midfielder from Carlton (although unadvisable) is quite easy….. It's Cripps. Pick Cripps.
SIDEBOTTOM $565,000 VS ADAMS $560,000
I've chosen to compare Sidebottom and Adams because realistically the likes of Swan and Pendles are a known quantity. That, and the fact there is only 5k difference between Sidey and Adams makes the decision to include one of them over the other a potentially difficult task. It could be said that Collingwood did extremely well on the trade table in the off season. They secured Aish from Brisbane and young gun Treloar from GWS. This adds needed depth in their midfield but also raises question marks over the roles of individual players. Some believe Swan may take on a more forward role and this could hurt his points output. Assuming Sidebottom and Adams get roughly the same midfield time how do they compare statistically? Admittedly Adams played two more games than Sidebottom who was hampered by a broken thumb early in the season, but even still looking at their respective stats it shows that both play a very similar game. Their average disposals, kicks, handballs and times they hit the scoreboard are borderline the same. The only noticeable and relative stat difference I can see is the amount of free kicks Adams gave away in comparison to Sidebottom (26 vs 5). Adams had a personal best year averaging 101.2 points per game, and although not his best year, Sidebottom still averaged a lazy 102 points per game. Like I said, monitor the pre-season games to see who you think has the most fantasy friendly role and pick accordingly. At a difference of 5k you wouldn't be criticised for starting either one come round 1 especially considering Swan and Pendlebury are priced at $609,000 and $615,000 respectively.
If I had to choose one: I'd pick Adams. He's slightly cheaper and last year had a higher ceiling than Sidebottom when he reached 146 in round 11 against GWS.
FYFE $581,000 VS NEALE $563,000
I have chosen to compare Fyfe and Neale for two reasons. Firstly because, at some point during the year I'd imagine most fantasy coaches having one, if not both of them and secondly, to show how two very different fantasy game styles equate to similar average points (103.8 for Fyfe vs 99.7 for Neale both having a personal best year). Fyfe needs no introduction. The 2015 Brownlow medallist dominated the home and away season and etched his name as one of the all-time greats of the game. He played 18 home and away games (sometimes through injury) and still managed to average over 100. From round 1 to round 14 he posted a staggering 11 scores over 100 points and in that time his lowest score was still a respectable 95. He went beast mode in round 9 against the Crows where he amassed 40 disposals and 150 fantasy points in an unforgettable 1 on 1 battle with Patrick Dangerfield. Like Pendlebury, Fyfe became the poster boy for consistency and was a set and forget M1 or M2 until injury nearly ruined his season. When comparing Fyfe's 'per game' stats to Neale's there is a clear winner. Fyfe wins when it comes to total disposals, kicks,  handballs, goals, behinds, tackles, inside 50's and contested possessions. There's little wonder he won the Brownlow. Then how did they average roughly the same points per game you ask? Simple. When Neale turned up, he went BIG. Neale was never Mr Consistent like Fyfe but he made it count when it mattered. Both he and Fyfe reached over the ton 12 and 13 times respectively. The difference comes when you look at how many games they took that ton to 120 plus. All season, Fyfe had one game at or over 120 points (Round 9). Compare that to Neale who turned 7 of his 12 tons into 120 or above including a MASSIVE 162 point game against the Eagles in round 3. Neale could singlehandedly win you a match up one week, and cost you it the following. This was demonstrated in round 3 where he scored 162 points and then promptly followed it up a week later with 36 points against the Swans. It was a very love-hate relationship with Neale but that's the game we play. I'm really hoping Neale can find some consistency in 2016. If he does, his price tag may become out of reach before you know it. As for Fyfe, to me he's a bit like Pendlebury. He will be consistent again this year if his pre-season injury woes subside before round one.
If I had to choose one: I'd pick Neale. Yes I'm a sucker for punishment but I think 2016 will be his year. He's injury free, cheaper than Fyfe and has a potential to make or break your season.