Lachie Neale – Deck of DT 2016
Could this player be the key to fulfilling your life goals in winning AFL Dream Team? Benjo believes Neale could be the pinnacle of your AFL Fantasy career.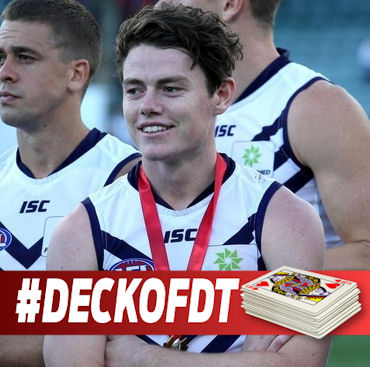 Name: Lachie Neale
Club: Fremantle
Position: MID
AFL Fantasy: $563,000
AFL Dream Team: $589,200
Bye Round: 15
2015 Average: 101.64
2015 Games Played: 22
Predicted Average: 107.8
Click here for DT Live profile.
Why Should I Pick Him?
Starting the season at 455k, the 6.57% of coaches that started with Neale labelled him as one of the best breakout options of the year, following his above average finish to the year, in 2014.
What a year it was to be for the Fremantle youngster. Neale polled 15 votes in the Brownlow Medal, while also winning the Ross Glendinning medal for best afield in the Dockers' round three win over the Eagles in the Western Derby. Now, how to do these facts relate to his fantasy output?
In his breakout season, Neale recorded 5 scores over 125. This is the equal 6th most for scores in this category. These numbers were recorded in his so called 'breakout season'. Who knows how many of these beastly numbers he can produce in years to come.
Although I'm not one to take away scores from his average, Neale played while sick in the round 4 match against Sydney, in which he struggled and scored 36 points. In Fremantle's round 23 clash with Port Adelaide, Neale was one of the tiny majority of players who didn't miss out the game. As Fremantle's place had been locked away on top of the table, he got given the red vest at HT while on 73 points. Yep, you read that right.
So, what does this mean? By taking his round 4 'flu affected' score out, he averaged 105. Furthermore, by doubling his round 23 score of 74 (subbed out at half time) against Port, his average sky rockets up to 108. Based on this he is potentially underpriced.
Neale averaged 5 marks and 3.7 tackles a game in 2015. We all know how big Neale's ceiling is, recording up to 9-10 marks and more than 7 tackles on numerous occasions. This is a big positive to Neale's game, as he doesn't have to have massive disposal games just to get over the 100 mark, ie players like Lewis, Kennedy.
Neale is young and still has a lot of growth in him, gradually increasing his DT average every year. Although this looks threatening to other teams, I suspect that the general tag should go towards the likes of Fyfe, Mundy, even Bennell before Neale.
Neale comes in at 563k, and will save you some cash and should be a unique point-of-difference for your team. Fremantle also has the handy round 15 bye.
Fremantle has probably the easiest starting DT draw for Fremantle midfielders. The Dockers face the Bulldogs, Gold Coast, Eagles, Kangaroos, Carlton, Adelaide and GWS in their opening 7 games. But this doesn't mean Neale will average more than he usually would. Wrong.
(Important stat coming in) Neale averages 130 in wins over 20 points. Yep, you read that right.
Why Shouldn't I pick him?
Neale recorded 3 scores under the 70 mark last year, while scoring between the 70-80 mark on five occasions (Round 23 against Port he was rested at HT). This is concerning especially if he doesn't turn out the way you wanted him to.
Could you pick Neale over potential value picks like Parker, Sloane, Adams and Prestia who could have the same or slightly better average for a cheaper price?
Is he a captaincy option?
Deck of DT Rating.
KING – You know how Brad Ebert has those flying starts to the year? I believe Neale could average up to 120, before his bye. This would make him the ultimate unique player to start the year off with.
Neale is a hidden AFL Fantasy gem. It was almost impossible to think of any disadvantages to his game apart from the fact that there could be better options…
Stick him in at M3/4, keep him quiet, reap the rewards, finish number one in the world for DT, enjoy the cash, watch the GF live at the MCG, live life happily ever after… or maybe it doesn't quite go like that. Anyway, just pick him.
Loading ...