Jack Billings – Deck of DT 2016
Finding that breakout player is a key to Fantasy success and it pays off even more if they're not named as a midfielder.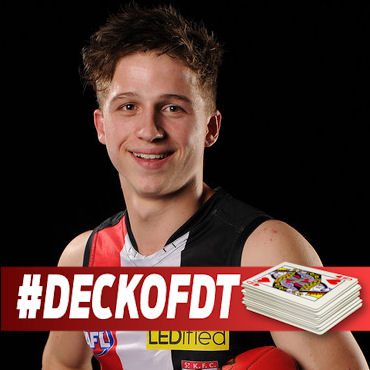 Name: Jack Billings
Team: St Kilda
Position: FWD
AFL Fantasy: $452 000
AFL Dream Team: $487 600
Bye Round: 13
2015 Average: 84.1
2015 Games Played: 9
Predicted Average: 85
Click here for DT Live profile.
Why should I pick him?
Billings showed every indication of a breakout 2015. In fact he did, only it was cut short by injury. Despite playing just nine games, Billings left an optimistic impression amongst most footy fans, however we'd have to wait until now to see it transpire. A typical breakout is looming large this season as he'll hopefully play the entire season in the same manner he did across last.
As a fantasy coach, I prefer players who I can watch with anticipation. You know these guys because when they have possession, you have the impression that something influential is going to happen. Heath Shaw in defence, Scott Pendlebury in the midfield and perhaps, Jack Billings in the forward line all fit this description. Last season we saw that He is more than capable of winning the game off his own boot, as the clear difference maker between St Kilda and the Western Bulldogs in Round 6.
In a fantasy perspective, he is a great POD. Despite his early season hype last year, Billings will be an uncommon commodity in salary cap fantasy formats. With scores of 85, 90, 93, 96 and 122 last season, Billings is more than capable of being a legitimate threat in 2016 and a fantastic POD.
Allan Richardson has also hinted at a more midfield centric role for Billings this season which can only validate his fantasy relevance.
Why shouldn't I pick him?
Billings has played just a handful of great games in his young career. It's a small sample size to go off which leaves plenty of unanswered questions. He is yet to showcase his fantasy best across a full year and is yet to play a full year at the top flight.
He is also an awkward price. Wedged in-between the likes of a proven performer like Toby Greene and similar up and comer, Dom Sheed, he is a speculative option at best. Billings has quite a lot to live up to if he intends to make his price worthwhile and most coaches, myself included, would much prefer spending an additional 21k to nab Greene.
He is also just a forward. I'm really scraping the bottom of the barrel here, although it's important to note. Come in-season trading, flexibility is key and a mid/fwd could be the difference of nabbing a quality cash cow or not. This is minute too given the murmurs of Billings playing more midfield, position change updates could soon rectify that.
Deck of DT Rating
QUEEN – Billings is on the up and there is little to suggest otherwise. While not a popular fantasy choice, if he is able to replicate his form from last season across an entire year, taking an early season gamble will pay off. I am still firmly on the fence, but am more inclined after each thought. He is definitely a personal choice this year, but ticks the boxes as a POD if you are looking for an edge.
Loading ...
FOLLOW ME ON TWITTER: @AntWingardFP for all things AFL Fantasy (and more). Got something to say about the deck? Use the hashtag… #DeckofDT.