Sam Gray – Deck of DT 2016
With Angus Monfries suspended, does Sam Gray cement himself a spot in the best 22? Dunny looks at the pros and cons of the 'other' Gray at Port.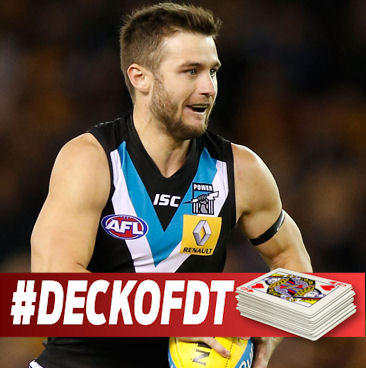 Name: Sam Gray
Club: Port Adelaide
Position:  Mid/Fwd
AFL Fantasy: $427,000
AFL Dream Team: $446,900
Bye Round: 14
2015 Average: 77.1
2015 Games Played: 10
Predicted Average: 83
Click here for DT Live profile.
Why should I pick him?
Sam Gray has been with Port for two seasons now and spent 2014 on the rookie list before being upgraded to the senior list last season.  This is his second year on the senior list.  Gray had been lighting it up in the SANFL which meant that it was only time before he broke into the senior side.  He joined the team in the middle of the season for 4 games from rounds 8 to 11.  This stint wasn't his best form.  However, when he broke back into the side in round 18 it coincided with the Power's return to form (apart from the loss to the Dogs).  Over that stretch his lowest was 73 and scored 115, 117 and 120 in the last three weeks.
His higher scoring was due to him playing a more of a midfield role than he did in the previous stint.  This is his natural role, it is the role he was doing in the SANFL that saw him hit top form.  His possession count was well up with 20, 21, 25, 34, 37 and 34.  That last 6 games also saw him with 22 tackles.  He really relished the role and the fact that you can put him up forward makes him all the more attractive.  He might be priced at just 77 but his average over his breakout span was 98.16.  Can he average that each and every week for 22 weeks, probably not, but can he average more than the 77 he is priced at?  With this midfield role he most certainly can.
Why shouldn't I pick him?
I have heard a lot of people say how Sam Gray is an absolute lock for their team based on what I just said about those last 6 weeks.  However, before you go ahead and get your sharpie out and ink him a contract with your side there are a few things you need to remember.  That last 6 weeks of the season he was playing in a side with out Ollie Wines for the last 5 weeks and Ollie was out for the majority of the first game Gray was back.  This was also coupled with the fact that the side was without the outside runner, Jared Polec.
Gray was able to rack up all those possessions because he was thrust into that midfield to pick up the slack from those guys being out.  With both of those guys now on track to rejoin the team for round one, Gray's role isn't quite as secure.  Below is what I see as being the Power's best 18.
Backs:         Hombsch, Carlisle, Broadbent
Half Back:    Hartlett, Trengove, Pittard
Centre:         Ebert, Boak, Polec
Half Fwd:     White, Dixon, Westhoff
Fwd:            Wingard, Schulz, S Gray
Rucks:         Lobbe, Wines, R Gray
Then we have the following guys that are fighting for the bench spots.  Impey, Krakouer, Young, Colquhoun, Amon, Ah Chee.  There is a lot of competition for spots at Port.  So he will need to be on his A game to secure and keep that spot. However, as you will note, he is a forward in this lineup.  As we saw above, when he moved into the team in the early part of the season we saw that his scores weren't as high.  If he doesn't get that role in the midfield his scores will suffer.  He will be a part of the midfield rotations, but he certainly won't get the minutes in that part of the ground without any injuries.
Deck of DT Rating.
Jack – I'm not quite as hot on Sam Gray as most people are, his role in that team won't be what it was at the end of 2015 and as a result he won't be scoring quite as well.  I think he provides some value up forward, but not the scoring that you are hoping for if he doesn't see that midfield time.  The key will be to keep an eye on what Kenny does with Sam in the pre-season, particularly that last game as that is generally the best dress rehearsal for round 1.  Am I saying don't pick him?  Certainly not, I am just suggesting you need to temper your expectations for his scoring potential.
Loading ...
FOLLOW ME ON TWITTER: @pkd73 for all thing AFL Fantasy (and more). Got something to say about the deck? Use the hashtag… #DeckofDT.