Mark Blicavs – Deck of DT 2016
The unique MID/RUC dual position isn't the only thing Fantasy relevant about Blicavs, he's in the mix as one of the top rucks for many years to come.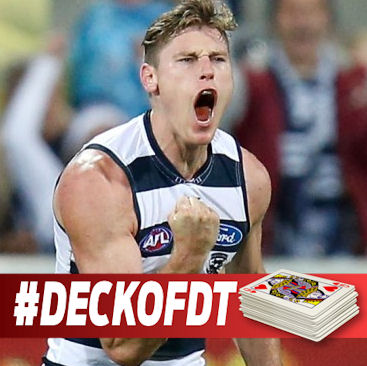 Name: Mark Blicavs
Club: Geelong
Position:  RUC/MID
AFL Fantasy: $539,000
AFL Dream Team: $564,500
Bye Round: 15
2015 Average: 97.4
2015 Games Played: 21
Predicted Average: 101
Click here for DT Live profile.
Why should I pick him?
Since the addition of DPP's to Fantasy we've been trying to select as many midfielders as possible, however we've never been able to select one in the ruck! Blicavs has been named as both a ruckman and a midfielder, but we'll consider him a ruckman for obvious reasons.
A couple of years ago he was simply known as the steeplechaser, he could run all day but had no idea how to find the pill. In 2015 that all changed. Blicavs bumped his average up from 63 to 97 and now must be considered a premium ruck. Averaging 18 disposals and 6 tackles a game as an agile big man, his ball winning ability makes him gold in Fantasy. I love a big man who can tackle.
He collected 27 disposals on 3 separate occasions last season, surpassing the 120 mark 3 times amongst his 7 tons for the season. Even better than that, Blicavs ability to win his own ball meant he was extremely consistent for a ruckman, scoring 90+ on 15 occassions. For comparison, Sam Jacobs managed it 13 times. Thanks to his huge tank Blicavs tends to run his opposing ruckman into the ground, similar to Stefan Martin, who has now proven capable of averaging 110+. This new age style of rucking has huge scoring potential.
Ruckman are famous for getting injured and causing us Fantasy coaches all sorts of headaches, so Blicavs durability is a massive tick. He has played 66 games during his 3 seasons at the Cats, missing just one in his career so far.
Lastly, Blicavs is only getting better. Big men usually take a while to get going, so aged 24 he has plenty of room to grow. His rucking skills will get better this season, having only averaged 16 hitouts per game last year. The potential to average 100+ is clear.
Why shouldn't I pick him?
I mentioned his low hitout count and said there's room to grow, but that's not a guarantee. Perhaps Blicavs will never become a number 1 ruckman, rather a mobile big man who can share the ruck duties with a more experienced teammate. He averaged 16 points less than Martin last season, and it's no coincidence that he also averaged 16 less hitouts. Blicavs only managed 30 hitouts twice all season, so those disposal numbers become less of a bonus and more of a necessity.
Geelong recruited Zac Smith over the summer, which could be taken one of two ways. With Nathan Vardy and Rhys Stanley the only alternatives to Blicavs, Geelong needed a proper ruckman for back up at the very least. It's also a big possibility that Geelong only see Blicavs as a support ruckman and have brought in Smith to be the number 1 ruck. It really comes down to what role Blicavs will have, and that's up in the air right now. Pre-season should tell us more.
Having averaged just 63 in 2014, there's not much data to go on. Sure Blicavs has the potential to increase on last years average, but it could also have been a fluke. You're taking a gamble on an inexperienced footy player (Being an athlete before he was drafted) with no guarantees that he can match last season's average. It also means that Blicavs is very expensive. You're selecting him hoping that he can push that average past 100, which is a big ask. Considering that you can lock in Leuenberger for $230k less, you would want nothing less.
Deck of DT Rating.
KING – I backed in Stefan Martin last season when everyone thought it was a fluke and he repaid me in spades. If Blicavs can hold down the number 1 ruck role for the Cats then his potential is through the roof. There are however a few questions that still need to be answered before I lock him in. You'll do yourself no favours by ignoring him, durable ball winning ruckman don't come around often!
Loading ...
FOLLOW ME ON TWITTER: @mattcraigDT for all thing AFL Fantasy (and more). Got something to say about the deck? Use the hashtag… #DeckofDT.