Brad Crouch – Deck of DT 2016
He's a ball magnet capable of averaging 100. But with just 25 games in just three years, can Brad Crouch be trusted?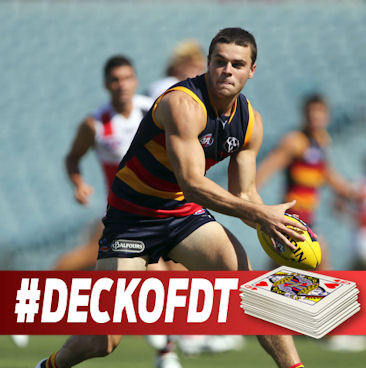 Name: Brad Crouch
Team: Adelaide
Position: Midfielder
AFL Fantasy: $415,000
AFL Dream Team: $321,900
Bye Round: 13
2014 Average: 93
2014 Games Played: 11
Predicted Average: 99
Click here for DT Live profile.
Why should I pick him?
If you can trust anyone in the AFL it's Brett 'the birdman' Burton.
Birdman: "He (Brad Crouch) is progressing well and is pain free now… We expect him to be available for round one." Burton said.
Based on these trustworthy words from the great man, this is why you need to be selecting Crouch.
In 2016, Crouch comes in priced at $415,000, that's at an average of only 75. He has so much more to offer.
In seasons 2013/14 he averaged 92 and 93 respectively and should push past those numbers this year. Crouch is a ball winning machine and will be right in the thick of things from the word go.
Let's face it, if fit = lock! Check out this video
Brotherly love … @brad_crouch @mcrouch2 #weflyasone https://t.co/nQPWSFkH1r

— Adelaide Crows (@Adelaide_FC) January 18, 2016
Here you can see him flying. Chasing and working over his little brother just like big brothers should. Does this look like someone who is struggling this pre-season?
On the other hand let's have a quick chat about his little bro, Matt.
Matt enters his 3rd and break-out season and copped five vests last year and might be one of the men to take over the extra load left behind by Dangerfield. Last year, Matt averaged 85 (10 games) when he wasn't in the vest and being priced at 71 gets me excited as he could be a huge smokie heading into Elite Drafts.
Why shouldn't I pick him?
Oh… and then Birdman went on to say this… "You need to be delicate with him, he's had a number of issues with that foot and as you know with feet they're pretty important so we have to be careful with that and make sure we're progressing along slowly."
"The last thing we need is a setback so it's more on the cautious side with Brad."
"There's always time pressures but you're talking about a third-year player, we want him to be around here for 12-15 years and playing 200 games so you obviously lean on the side of being cautious and making sure we give the time to heal and progress him at a rate that doesn't risk injury."
We need to remember, that Crouch missed all of 2015 with injury. Although he has averaged 92 (14 games) and 93 (11 games) in the two years leading into last year, he hasn't played much and doesn't have much AFL experience.
His scores can occasionally disappoint… as Crouch is handball happy .
A great example of this is what happened in round 17, 2013 when he racked up 40d for only 101pts. In his career, he averages 25 touches a game but uses his hands 54% of the time. Compare this to Warnie's mate Stanton (34%) and our rudey nudey mate Swanny (39%) you can see my point.
Because of this, he doesn't have a high ceiling. He has scored over 100+ in 44% of his games but his highest score was against the Suns in 2013 of only 121pts (31d, 6m, 6t).
Deck of DT Rating.
QUEEN – I think Crouch is certainly capable of a triple figure average. His handball happy nature and his poor run with injuries does honestly have me worried. The best thing about Brad though in 2016, is that he's training and appears to be fit and firing. His NAB Challenge games are so important. This will give us a true picture of how the club will manage him and how he is really travelling.
At the end of the day, he'll average more than what he's priced at and should be in your team come round one, providing he shows us what we need to see in the NAB.
Loading ...
FOLLOW ME ON TWITTER: @CalvinDT for all thing AFL Fantasy (and more). Got something to say about the deck? Use the hashtag… #DeckofDT.