BBL Fantasy: Semi-Finals Preview
Four teams have been sent packing and now we are down to the final three games of the Big Bash season. What does that mean for your Fantasy side?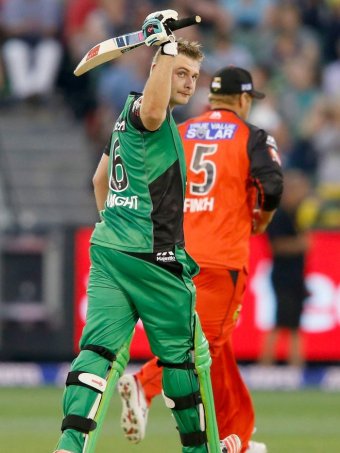 Four teams have been sent packing and now we are down to the final three games of the Big Bash season. What does that mean for your Fantasy side? Find out below!
Unlimited Trades!
Obviously, with half the competition eliminated, anything other than unlimited trades would've been team suicide. You now have the ability to clear your entire team and start from scratch, which is what you should do. Don't worry about your current team whatsoever, pick the best team for this round and do it entirely from scratch. You'll get unlimited trades again next week to restart the process.
The Little Things
Here are a bunch of little things that are important for this round:
Watch out for the semi-final on Friday night. There will be rain in Melbourne on Friday and it's entirely possible the game is washed out. If the game is washed out, the highest ranked team goes through. No replays, nothing. However, they will play the game if they can get five overs in. Either way, it will heavily restrict your scoring.
Don't have too many batsmen or bowlers from the same team. Spread the love across all four teams. If you have Ludeman, Head, Hodge and Dean in your team, odds are most of them aren't going to score big and if one does score big, he's going to restrict someone else from scoring. So try to keep your batting as spread as possible.
Go unique. You ain't going to be the top scorer this round with an obvious team because odds are, there's going to be someone else with the exact same team as you. So get creative and hope for some luck.
The likes of Shaun Marsh, Scott Boland and any other player in the ODI squad will NOT be playing in the BBL Finals because Cricket Australia haven't got their priorities sorted. Usman Khawaja, however, will be available for selection.
Sabotage your opponent's team. Get their password and stuff them up. You have my permission.
Captain's Semi-Finals
As mentioned above, creativity is going to get you the best possible score in this finals series, so while this top five will contain who I think will be the highest scorers, remember to keep your options open and take advantage of the captain's loophole on Friday night.
Andre Russell

: If you want to play it safe, there is no one safer than the man who averaged 80 points across the tournament. He is your guy.

Usman Khawaja

: Khawaja has been a class above every time he's appeared in this tournament and this being a final shouldn't make a difference. Khawaja is actually averaging 104 points across his two games so he is another great option.

Adam Voges

: Voges isn't the fastest scorer in the tournament by any means, but in situations like a big final, he's the player I'd be backing in outside of Khawaja as the player you could trust most to score big.

Kevin Pietersen

: KP is the Stars player to back in this round. Experience is the key criteria for a final and Pietersen has that in spades. Expect him to be the dominant player for the Stars, should the rain stay away. Otherwise, pick your captain from the other game.

Travis Head

: Head's form in Adelaide is incredible and he's shown an ability to score points even when he fails with the bat, ending up as man of the match last round despite a donut on the run sheet.
Smokie: The smokie for this round is Jono Dean. The Strikers should switch around their batting order, allowing Dean to open with Jayawardene and dropping Ludeman down the order. Dean hit the ball as well as anyone in this tournament against the Renegades and he could be a very prominent unique option if he gets an opportunity up the order.
Good luck in the semi-finals!
… but seriously, sabotage.