Craig Bird – Deck of DT 2016
Bird is the word in today's Deck of DT. Warnie is locking in the new Bombers and throwing away the key.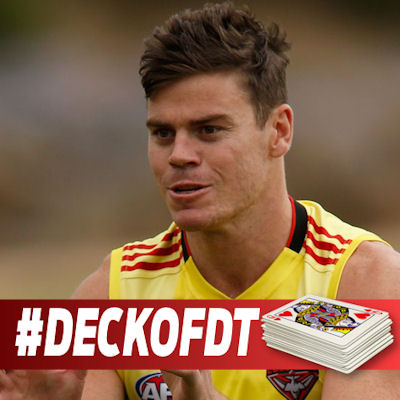 Name: Craig Bird
Club: Essendon
Position:  FWD/MID
AFL Fantasy: $321,000
AFL Dream Team: $343,500
Bye Round: 14
2015 Average: 65.83
2015 Games Played: 6
Predicted Average: 85
Click here for DT Live profile.
Why should I pick him?
Opportunity, opportunity, opportunity.
Bird moved the the Bombers during the trade period after playing just six games last season for the Swans. Being on the outer, a fresh start is what the almost (birthday is on the 21st Jan) 27-year-old is needing to let his Fantasy game flourish.
The premiership player played all but four games from 2011-13 but it was 2014, where he played 18 games, that his best Fantasy numbers came. Bird averaged 83.3 which included four tons, including a 134 and 131, with a sporadic role. That is, the FWD/MID has been used as a tagger across his career.
The suspension of 12 Bombers can only be a positive thing for Bird's job security and role.
In an article on AFL.com.au prior to the CAS finding, Bird expected to spend the majority of the time playing as a ball-winning midfielder (good for Fantasy). He has also been earmarked to be used off half-back where he was occasionally placed in his 137 games with the Swans. Even if he is doing some defensive roles at times, his scoring won't be completely stunted and priced at under 65, he is value.
There's around 20 points of upside in Bird and a fresh start in a favourable role at a new club, he'll be flying high in 2016.
UPDATE: Crowley has joined Essendon.
Why shouldn't I pick him?
Bird is mid-priced. That can be scary for coaches as they might want him to be a keeper. Even a predicted average of 85 might not be enough (and is possibly a little high in all reality…) to call him a keeper, or enough to have him in that place for at least half of the season.
If you look across his numbers, as good as he has been at times, the consistency isn't there. We can argue that it has been his up-and-down role, but it's nice to see a decent patch of games strung together for a prolonged period, especially considering he is entering his ninth season.
I'm still a little dubious on how he will be used. If Crowley is signed by the Bombers, then there shouldn't be any doubt… however, if he isn't, you would think that Bird will have to play as a tagger/stopper to help slow down some of the star midfielders when they come up against the inexperienced Bombers.
Deck of DT Rating.
QUEEN – Bird is the word for the Warne Dawgs. I will be starting with him not only because he is a new Bomber in the undermanned team, but because I believe he offers fantastic value at that price and truly think he'll average in the mid-80s – plus play every game. We're having to hunt for a heap of value in AFL Fantasy this year and Bird delivers that. I will need to watch how exactly Woosha uses him in the NAB Challenge, however, if it looks like he's going to play as that ball-winning midfielder, I expect to throw away the key and I reckon there will be plenty of coaches following me.
Loading ...
FOLLOW ME ON TWITTER: @WarnieDT for all thing AFL Fantasy (and more). Got something to say about the deck? Use the hashtag… #DeckofDT.