Jack Steven – Deck of DT 2016
After a breakout year, Wingers takes a look at how Steven should be used in your 2016 Fantasy teams.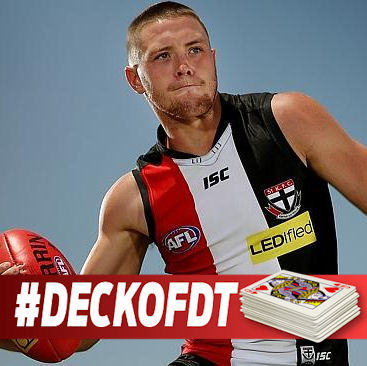 Name: Jack Steven
Team: St Kilda
Position: MID
AFL Fantasy: $618 000
AFL Dream Team: $647,400
Bye Round: 13
2015 Average: 111.7
2015 Games Played: 22
Predicted Average: 110
Click here for DT Live profile.
Why should I pick him?
2015 was a huge year for Jack Steven. He claimed his second Trevor Barker Award in three years as St Kilda's best and fairest player, and finally broke through the glass ceiling and into fantasy's elite. So, why should you pick Jack Steven?
Well, he's really good at football. His natural playing style allows him to accumulate the footy in great numbers, resulting in fantasy scores you could set your watch too. He excels in both disposals and tackles, the two most influential statistics for fantasy midfielders. These two facets combined made Steven the top scoring fantasy midfielder in 2015 and a consistent one at that.
Across his 22 games, Steven dropped below 20 disposals only twice, and on both occasions laid ten on more tackles. On the opposite side of the spectrum, Steven collected 30+ disposals on six occasions and 25+ a further eight times.
Steven hit the ton fourteen times which calculates to a 64% strike rate. His scores remained at a constant throughout the whole season. Not only did he consistently post ton after ton, he also had a high ceiling. In between normal 100s, and scores in the 90s which may as well been tons, Steven produced the following: 122, 136, 142, 133, 166, 142, 124, 138. His scoring certainly speaks for itself.
Despite what seems to be game-changing numbers, Steven was tagged only three times in 2015.  Those games produced scores of 142, 87 and 70 fantasy points. Should he be tagged more in 2016 as it generally takes a year to notice breakout players and think to tag them, we ought not to fret. After all, that lone score of 70 was his only figure below 80 for the season, so we should all be able to cope with one or two more off games.  That is however, if Steven gets tagged. As we know, his teammate David Armitage also broke out in 2015 and is a far more influential player in a footballing sense.
Why shouldn't I pick him?
In 2016, midfielders are a dime a dozen. Coaches are spoilt for choice thanks to the subsidies on premiums such as Ablett and Rockliff and mid-priced improvers in the vain of Tom Liberatore, Jaeger O'Meara and Brad Crouch. These five names will feature in a decent percentage of teams, and in addition to them, it's unlikely coaches will opt for more than one player priced above that of Rockliff and Ablett. Steven is already $37k dearer than Ablett and honestly, there may just be better options for that price. Guys like Jordan Lewis and Scott Pendlebury, who have been proven uber premiums across multiple years would sit much more comfortably with my conscience. This brings me to my second point.
Steven has been long hailed a potential fantasy premium, but only broke into the fold in 2015. It was his first average above 100 and second only above 90. Keep in mind, and contrary to his baby-faced appearance, Steven was drafted in 2007 believe it or not. Trent Cotchin, Patrick Dangerfield and Cyril Rioli headlined the 2007 draft class and all built a reputation within the league much earlier than Steven. He has been a slow burner which leaves the question, can he even do it again?
His 2015 was no doubt, phenomenal, but it too was just a blip on his otherwise pedestrian scorecard. Think of Steven's fantasy career thus far like a corker of a joke – frequently good, occasionally poor, but only once is truly great. While the analogy runs true in comparison to Steven's career, 2016 won't replicate a stale joke, but more likely a new joke entirely.
Deck of DT Rating:
KING – While 2015 was Steven's lone season averaging above 100, he certainly instilled a lot of confidence for those eager to test the waters again in 2016. His consistent high scoring leaves me with no doubt that he will replicate those figures in 2016, proving his breakout year wasn't just a one off. Whether or not he fits into team plans given the number or discounted premiums at hand is another story and for that fact only, I'll view Steven as an upgrade target as opposed to a Round 1 starter.
Loading ...
FOLLOW ME ON TWITTER: @AntWingardFP for all thing AFL Fantasy (and more). Got something to say about the deck? Use the hashtag… #DeckofDT.