Liam Shiels – Deck of DT 2016
Crutt deals up a nice left-field card for the Deck with a look at the Jay Cartwright look-a-like, Liam Shiels.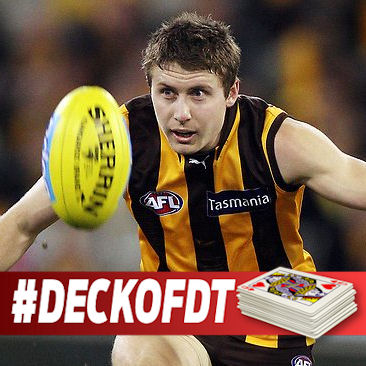 Name: Liam Shiels
Club: Hawthorn
Position:  Midfielder
AFL Fantasy: $549,000
AFL Dream Team: $575,500
Bye Round: Round 15
2015 Average:  99.2
2015 Games Played:  18
Predicted Average: 103
Click here for DT Live profile.
Why should I pick him?
Whilst I could sit here writing about Jordan Lewis (already have), Sam Mitchell and Luke Hodge, you know what you are going to get with those three champions. Enter Liam Shiels. Whilst many of you know Liam Shiels after his breakout season in 2011 when he (somewhat inexplicably) averaged 102.7, and was touted as a premium fantasy midfielder, he went on to disappoint fantast owners in the next 2 years, averaging only 79.5 and 63.4 in 2012 and 2013, primarily due to his tagging role.
Released from the shackles in 2014, he went on to average a respectable 94.3, and followed that up averaging 99.2 in 2015. His 2015 average would have been higher in 2015 if not for a red-vest affected 39 in round 1 against the Cats (he subsequently missed the next 3 weeks with a thigh injury). His ceiling is high, scoring a massive 154 against the suns in round 9 (including 14 tackles). In fact, he averaged over 8 tackles per game in 2015 (i.e. 32 fantasy points per game), including 17 against the eagles in round 19!
And when he goes big, boy does he go big! Of his 9 games in 2015 when he scored 100+, his smallest was 112, and it included that 154, a 130, 126, 121, 120, and 118.
He can also push forward to kick goals. He scored 13.6 in 2015, including a run of 5 straight games when he kicked 1 in each game. Very handy when you consider most of his points come from tackles and possessions, it's always nice to see your midfielders roam forward and slot a nice sausage roll.
His job security is unquestioned. When fit, Shiels is a walk up start in the Hawthorn midfield. And as the likes of Mitchell, Hodge, Lewis, Burgoyne etc get older, it is up to Shiels and the younger guys to step up and take the reins. I think Liam Shiels as Sam Mitchell attributes (tough in-and-under midfielder, quick hands, ability to find space), and while we might see Mitchell and Hodge managed a bit more carefully in 2016, the 24 year old, 124 game veteran Shiels will be there to pick up the slack and stamp his authority in the Hawthorn team, and the competition.
The hawks are the highest scoring AFL fantasy side in the competition. We all know about their uncontested style of football, which allows the midfielders and flankers to pick up handy +6's at will. Liam Shiels is no exception. Whilst far from the quickest player at the club, his footy smarts and his role in the team allows him to create space and be a valuable link up player between defence and attack.
Why shouldn't I pick him?
Typically, you will only have 1 (maybe 2) players from each team in each position in your starting midfield. With the likes of Jordan Lewis, Sam Mitchell, Isaac Smith, Luke Hodge etc, can you fit Liam Shiels in?
One of the questions marks on Shiels is games played. Since his breakout year in 2011, he has played a total of 19, 14, 18 and 18 games over the next 4 years. There's not much confidence that he can play a full season. Typically these are soft tissue injuries, however you wouldn't exactly call him injury prone.
He is Alistair Clarkson's "go to guy" when an opposition player gets off the leash. He's lined up Sloane, Gray, Selwood and Shuey in 2015 when they started having an impact. He only scored 57 when lined up on Robbie Gray in round 21 – but mind you, most of the hawks had a stinker that night.
Deck of DT Rating.
QUEEN – Hard to find a midfield spot for young Shiels, but he is the kind of risk/reward selection that could make (or break) your season. Don't expect another slump like he had in 2012 and 2013 – Alistair Clarkson was teaching the young man about accountability and playing his role for the team. Shiels is rated extraordinarily high inside the confines of Waverley Park, with some expecting him to be a future (if not the next) captain of the club.
Loading ...
FOLLOW ME ON TWITTER: @cruttonhutton for all thing AFL Fantasy (and more). Got something to say about the deck? Use the hashtag… #DeckofDT.