Paul Seedsman – Deck of DT 2016
New club = More chances… and it's safe to say, Seedsman surely needs it. He struggled with Collingwood last year so what does Calvin think he can produce in 2016.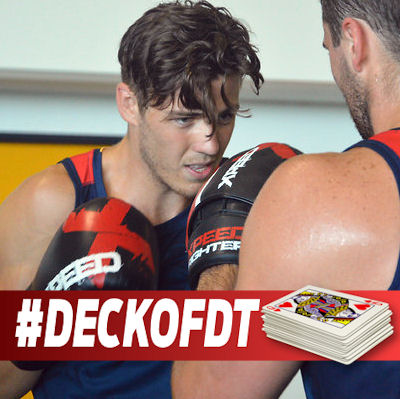 Name: Paul Seedsman
Team: Adelaide
Position: Defender/Midfielder
AFL Fantasy: $353,000
AFL Dream Team: $371,500
Bye Round: 13
2015 Average: 63.75
2015 Games Played: 12
Predicted Average: 79.52
Click here for DT Live profile.
Why should I pick him?
TICK – A new club means more opportunity. Seedsman struggled to get a game with the Pies last year and a few injuries along the way didn't help. He'll settle nicely in the Crows team and therefore based on that alone, should increase his average.
TICK – The vest rule is gone. Last year, the out of favour Seedsman wore a vest on 5 occasions which hurt is average and pushed it down to under 64. In games when he didn't wear a vest… he averaged 78! Yep, 78!
TICK – He's a defender. At the price he is, he only needs to average 75 to make the pick justifiable. We all know defenders suck… and these mid-priced guys could be the answer.
TICK – He can score. We all heard about his 128pts this year when he won the ANZAC Day medal with 31 touches, but he did average 79 back in 2013.
Why shouldn't I pick him?
CROSS – What will his role be exactly? Will he be a 'Brodie Smith Type' or will he be more of a lock-down defender. It will be interesting to see how the Crows use him but over the NAB Challenge we should get more of a picture.
CROSS – He's not that good. Or is he? This year he was red vested out of three occasions. Once when he had a corkie for 60pts and the other two times were because he couldn't get a touch and vested in the 3rd term with scores of 56 and 34.
CROSS – He's sort of strange. I don't know, he just has this thing about him that I find weird.
Deck of DT Rating.
JACK – Seedsman is a huge mystery in 2016. We know he can score massive but on the other hand we know he can go missing. For me… he's a huge 'watch-list' player over the NAB Challenge. If he is finding the ball and floating up the ground without too much responsibility, he'll fill a spot in my back line as a cheap defender and not one I'd expect too much from.
Loading ...
FOLLOW ME ON TWITTER: @CalvinDT for all thing AFL Fantasy (and more). Got something to say about the deck? Use the hashtag… #DeckofDT.