Ben Kennedy – Deck Of DT 2016
Jeppa's excited about new Demon, Ben Kennedy. See why he's high on the priority list here.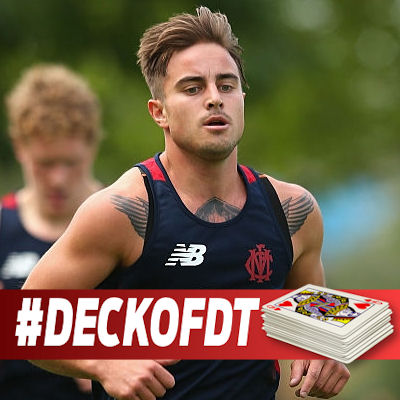 Name: Ben Kennedy
Club: Melbourne
Position: Forward/Midfielder
AFL Fantasy: $221,000
AFL Dream Team: $250,400
Bye Round: 14
2015 Average: 43.2
2015 Games Played: 5
Predicted Average: 71
Click here for DT Live profile.
Why should I pick him?
No more green vests! As a running midfielder that can go forward, Kennedy was susceptible to wearing green but with the vest now history, Kennedy's average is set to take a big jump this season.
A former Top 20 draft pick, Kennedy's got the goods and the Dees have always been big fans (source), bringing him to their club during the November trade period and giving up a fair bit in the process (Howe and Toumpas). He's in favour with coach Paul Roos who refers to Kennedy as tough, hard and competitive (source). Kennedy will play predominately on the half forward flank this season and get a healthy amount of time on the ball. An average of just 10 kicks, 7 handballs, 4 marks, 4 tackles and 70 Fantasy Points is definitely not out of the question and he's proven to be durable in the AFL and VFL over his first three seasons.
Value! It's not everyday that a cheap forward/mid with excellent job security is at our disposal. $250,000/$220,000 is a pittance to pay for a player likely to earn over $150,000 at the bye rounds. These likely earnings combined with his role at Melbourne make him a low risk pick in my opinion.
Why shouldn't I pick him?
It wont always be smooth sailing with Kennedy. There's no doubt he'll play the poor game here and there, which will affect how quickly he escalates in price. Those coaches that are a little inpatient may want to look elsewhere but remember that no cashcow is perfect.
Support. Melbourne don't have an abundance of stars which means that there will be very little 'easy' ball for young Kennedy. Instead of linking up with Pendlebury, Sidebottom, Adams and Swan he'll need to rely on Vince, Jones and Tyson hitting him lace out each week. Hopefully season 2016 will be about Kennedy coming of age and winning his own footy.
For a forward/mid, Kennedy doesn't kick that many goals and he isn't the biggest tackler. He'll need to work on these areas over the remainder of preseason to maintain a decent Fantasy scoring rate for coaches.
Deck of DT Rating
JACK – Picking Kennedy is about picking a cashcow. He's simply a stepping-stone for bigger things later in the season. As a young player at a new club, Kennedy will be looking to make an immediate impact and by all accounts, he's doing everything right so far this preseason. Forward rooks with excellent job security are not in abundance thus spending a little more on someone set for a big year makes sense. Depending on your forward line structure, Kennedy alongside Daisy, Jed Anderson, Wells, Kerridge, etc may be overkill. At this stage I'm going with two midpricers in my forward line and Kennedy is one of them. I'm not expecting huge scores though, just hoping for a consistent 70+ each week.
Loading ...
FOLLOW ME ON TWITTER: @JeppaDT for all thing AFL Fantasy (and more). Got something to say about the deck? Use the hashtag…#DeckofDT.