Jed Anderson – Deck of DT 2016
Moving from the Hawks to the Roos, does Jed Anderson a) get opportunity and b) finally become a Fantasy relevant player?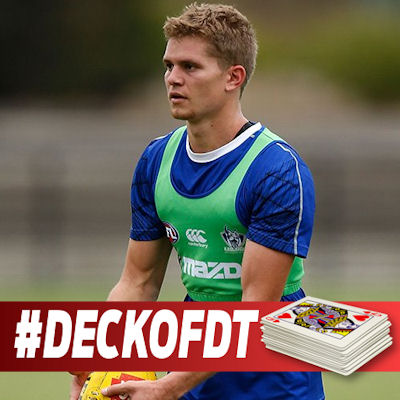 Name: Jed Anderson
Club: North Melbourne
Position: FWD/MID
AFL Fantasy: $224,000
AFL Dream Team: $256,900
Bye Round: 15
2015 Average: 49.25
2015 Games Played: 4
Predicted Average: 80
Click here for DT Live profile.
Why should I pick him?
Price and potential. These are the 2 biggest reasons to select Jed Anderson this season. The same 2 reasons we've had to pick him every season so far… but here we go again!
Coming in at the price of an expensive rookie, you'll be getting a guy who has spent 3 seasons on the Hawks (see team that has won the last 3 flags) list and developing his AFL conditioned body.
His debut season in 2013 showed enough to get Hawks fans very excited for his future. He then unfortunately missed all of 2014 due to injury and then struggled to break into a full strength Hawks midfield throughout 2015, wearing a vest most times he was given a chance.
Given this stalled start to his AFL career we have been gifted Anderson as a cheap option in our midfield or forward line!
At the end of this year, Anderson put his hand up to leave the Hawks and was secured by the Kangaroos with their 15th pick in the National draft. This is possibly a telling move in itself as it shows the Kangaroos were chasing a ready made player instead of a rookie, which possibly gives us more hopes for his job security that he will slide into their squad easily.
In his limited game time at the Hawks we've seen mixed results, in his 2 games last year Anderson scored 69 and 61.
Here is why I believe Anderson is certainly worth a look this year though. He only played 4 AFL games last year, 2 full, 2 vested. In the 2 full games Anderson laid 6 and 7 tackles. In his sub affected games he laid 5 tackles against Geelong and even managed 2 against the Western Bulldogs when he only played 1 quarter. While playing for the Hawks, Anderson was certainly not in their 1st choice midfield (competing with Hodge, Mitchell, Lewis, Hill, Rioli ect) so what his high tackle count tells us is that even while taking a back seat to other ball winners, Anderson still fought to make an impact defensively.
With more opportunity at the Kangaroos we should definitely see Anderson getting his hands on the ball a lot more, but those tackle stats tell us that even if he isn't setting the world on fire with possessions, he'll keep his fantasy score ticking over with plenty of +4's! Kind of like his new team mate Swallow…
As we are going on limited data available when making this selection, I thought I'd also include a table here of Anderson's VFL stats from last season. You can see a further example of Anderson's efforts to tackle more when he isn't getting his hands on the ball, particularly in this table we can see it evidenced in that he lays more tackles (TKS) in games where he has kicked less or no goals.
Why shouldn't I pick him?
Anderson is yet to prove himself in any kind of fantasy sense.
Durability has to be the biggest reason here. After debuting in 2013, Anderson played 3 games before injuring his hamstring. He missed 4 games then started working back through the VFL when he injured his hamstring again in round 12. In 2014 he played 1 VFL game before injuring his shoulder and missing the rest of the season. 2015 has been his best season so far injury wise… only missing 2 games with a back injury. Yet to play a full season does not bode well for selection confidence.
Also while the Kangaroos seem to have full confidence at the moment (in the press) that Anderson is the missing piece to their midfield puzzle, there were times last season where Anderson was unable to even crack Box Hill's VFL side!
The Kangaroos still have a finals capable playing midfield without him (helped by silver service from the big man) so Anderson will have to earn his place.
While we haven't had a chance to see much of Anderson's consistency at AFL level, going off his VFL games tells a pretty interesting story.
Multiple games last year saw Anderson put in completely dominant displays while trying to earn his spot back in the Hawks line up. Unfortunately though if we look a bit further into his stats it tells a story of serious inconsistencies.
Examples can be seen by sifting through the table above. In 1 week against Coburg we saw Anderson push his claim for a senior spot wth 6 goals and 27 touches, 18 of which were effective disposals. The very next game he followed it up against the Werribee Tigers without hitting the scoreboard but he had 32 touches and 10 tackles. While fantasy wise that looks like great (and that'd still be a decent scoring game) 22 of those disposals were ineffective, that would explain why he wasn't rushed back into the Hawks AFL side and why we'd have concerns about him holding his spot in the Roos best.
The gap between Anderson's best and worst is still quite obvious. Especially when we take a look later in the season, after playing a great game against Geelong's VFL side with 3 goals and 21 disposals, he followed up the next week against Footscray with a poor performance that saw him dropped the next week. He came back the week after against Sandringham but did not perform much better. After that game was a bye and then Anderson turned it back on for finals footy. But we can certainly see the inconsistency between his best and worst.
We can hope as mentioned above, that if he is having a down game possession wise he'll still be tackling enough to boost his score, but if he ends up being a rollercoaster scorer it can make for a very frustrating season!
Deck of DT Rating.
JACK – Honestly, Mr Anderson is currently sitting in my forward line. His lock-ability however is completely dependent though on how well he slips into the Roos line up during NAB or if any other rookies show better potential.
Worst case scenario – Anderson plays poorly/not at all and you switch him to another rising rookie.
Mid case scenario – Anderson reaches his potential and average an 80 to start the season, he could be a great stepping stone to a fallen premo during the bye rounds.
Best case scenario – Anderson thrives without fear of being vested ever again and becomes a keeper!
These aren't terrible scenarios!
Loading ...
FOLLOW ME ON TWITTER: @Anthonydsmith86 and don't forget to hashtag #DeckofDT