Mitch Robinson – Deck of DT 2016
Like the mastermind advertisers who splash words like 'SALE' or 'DEAL' in neon lights on street corners, Robinson's store has a sizeable 'DPP' sign hanging above it. But is there more to Robbo?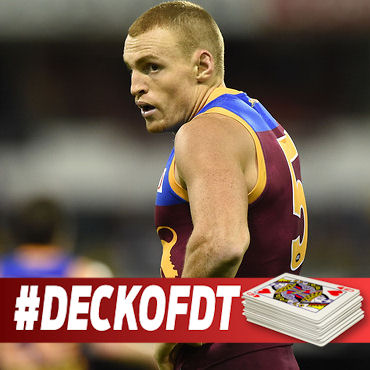 Name: Mitch Robinson
Club: Brisbane
Position:  MID/FWD
AFL Fantasy: $504,000
AFL Dream Team: $527,800
Bye Round: 15
2015 Average: 91.0
2015 Games Played: 21
Predicted Average: 98
Click here for DT Live profile.
Why should I pick him?
Like the mastermind advertisers who splash words like 'SALE' or 'DEAL' in neon lights on street corners, Mitch Robinson's store has a sizeable 'DPP' sign hanging above it. But how often do we ever utilise the DPP of Premo forwards? Hands up if you never moved Dustin Martin out of your forward line last season? That's a lot of hands.
While DPP is a nice buzzword that quickens the pulse and whets the palate, the real takeaway here is that we potentially have another full-time midfielder that we can stash incognito in our fantasy forward-lines. Robbo might not warrant much attention as a MID-only prospect, but in a line bereft of our usual DPP depth, he deserves your undivided.
Positional eligibility aside, Robinson's resume comes with some heavyweight numbers to back up the intriguing cover page. While we all remember the days of Mitch as an elite FWD option in his earlier Carlton days (averaging 92 over 2011-12 seasons), we could be excused for having glazed over his blistering finish to his freshman year in the blue, gold and faeces. Numerically, that was a huge 110.1 average over his last ten starts, with a hefty 81-point score his basement over that scorching run.
As it always seems to be with Robinson, a single-minded approach to the footy was key to his fantasy success over that period, wrestling his way to 9.6 tackles per game in that time. While you might write that off as just a purple patch or disregard it due to the small sample size; I urge you to consider the fact that in the first half of 2015, Robinson was sitting off a flank, itching to get near the pill (or the man unlucky enough to be holding it). Then, due to a combination of floundering teammates, untimely injuries to prime movers and his own unwavering passion, Robinson found himself in the guts and the rest is history.
Besides, you don't accidentally accumulate double-digit tackle figures regularly (6 times in last 10 games) without actually having a taste for it. If there's one thing I'm sure of with Mitch 'Waterboy' Robinson, it's that if there is a footy in his eyeline, he's not going to let a mere opponent get in the way of him owning that pigskin.
Why shouldn't I pick him?
There has to be some concern about Robinson's role in the side, even if all the evidence from that latter stages of 2015 suggest he's a natural follower. There have been stages throughout his career where he's played as a high half-forward and even as a defensive forward (gasp!), and evidently that's where the Lions saw him early in his career on the upper East Coast. Re-signing for a further two years is a positive sign; but are they looking to lock up a chop-out forward, or a key part of their on-ball unit?
A change of personnel often shakes up the midfield rotation, and there's every chance that imports in Bastinac and Bell are preferred in the clinches. However, with Aish and Redden out of the door, I'd suggest where he sits in the pecking order isn't strongly influenced by the revolving door of midfield talent at the Lions. But hey, I never thought Donald Trump would be a serious shot at becoming President of the World, so track his NAB Challenge role for further clues and/or confirmation.
Once you move past the role, you're left with the price-tag. Is north of $500k the kind of cash you're willing to part with for this one-minded battering ram? It's a lot of money to part with – enough to make him the 9th most expensive forward – if you're not 100% certain he'll be uncaged as he was in late 2015.
Deck of DT Rating.
KING – There's no question that he's not quite in the Dustin Martin echelon of premium FWD's, but Robbo's certainly worthy of consideration alongside other forwards with question marks hovering over them at a similar price. Barlow, Bennell, Motlop, and Greene come to mind, and I'd argue that of that lot, Robinson might have the most value and least uncertainty.
Given that Robinson has the potential to push his average up towards the century mark, I'll be strongly considering him for my F3/F4 and, ultimately, his NAB Challenge GPS will be a huge factor in decided whether he's worth half a million of the salary cap at Tbetta Than You.
Loading ...
FOLLOW ME ON TWITTER: @Tbetta9 for a largely sarcastic view of fantasy AFL. Want to slam my latest addition to the deck? Use the hashtag… #DeckofDT.