Tom Liberatore – Deck of DT 2016
Libba was rolling along nicely before doing his knee in last year's NAB Challenge. Will a hefty discount make him highly picked… or not.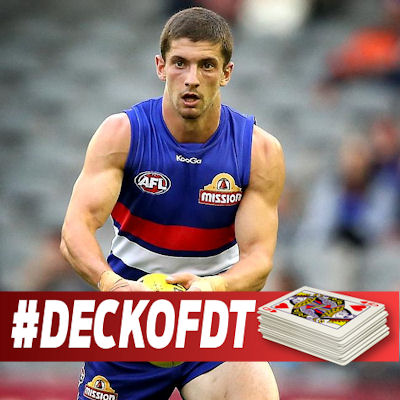 Name: Tom Liberatore
Club: Western Bulldogs
Position:  MID
AFL Fantasy: $443,000
AFL Dream Team: $343,300
Bye Round: 14
2015 Average: NA
2015 Games Played: NA
(2014 Average/Games: 98.6/22)
Predicted Average: 92
Click here for DT Live profile.
Why should I pick him?
As soon as the Grand Final finishes, keen Fantasy coaches try to work out who the bargains for the upcoming season (some who threw in the towel do this a little earlier). The first lot of players considered are those who didn't play a game and are up for a hefty discount.
Tom Liberatore has been on everyone's lips from the get-go after missing 2015 with a knee injury sustained in the NAB Challenge.
In 2014 the son-of-a-gun busted out a 98.6 average and took our the Doggies B&F after posting 97.2 the previous year. Both seasons he played 22 games and was looking like the next big thing for us in Fantasy considering they were his third and fourth seasons and the Bulldogs were on the up.
Libba has received a 20% discount in AFL Fantasy on his previous year's average, pricing him at approximately 80 points per game. Some have wanted more (RDT and SC went the whole hog and given him 30%), but at the end of the day, he is value for what he can produce.
The inside midfielder averaged 24 disposals in 2014 but the real reason for his big Fantasy numbers was his tackling prowess. He averaged 8 for the season, but from rounds 6 to 13, Libba knocked up 10, 8, 14, 12, 10, 14 and 10 tackles and finished with fantasy scores of 111, 110, 146, 111, 129, 112 and 126 respectively.
Click here for McRath's Deck of DT write up on Liberatore from last year… before the knee.
Based on his past he's possibly around 15-20 points under-priced – maybe more if you think there is some natural progression in the high scoring Bulldogs' line up.
And we love that Libba is a lad too…
Why shouldn't I pick him?
…Libba is a lad.
Yep, he's got a strike for illicit drugs, he got in some trouble mid-way through last year partying and missed some compulsory meetings at the club. Subsequently, he wasn't able to embark on a planned Euro-trip, instead doing his rehab in Thailand. This is a very minimal reason not to pick him, as it seems he has been toeing the line since. Libba has been training and doing all of the right things, or so the media tells us.
The real concern is that he's coming back from an ACL.
Liberatore opted for a traditional knee reconstruction, as opposed to LARS, and started running in mid-November. At this stage he is on track for a round one return.
Okay – he's playing round one, that would be great… but should we start him? It's all about expectation. If you think he's going to hit that 99 or so average, or maybe push over the 100 mark, then lock him in. However, we should possibly lower that expectation. Players coming back from an ACL can often start slowly and he could even be managed in those early rounds – whether that is with TOG, roles or a week off here-and-there.
The other reason is, depending on structure of your team, where does Libba fit? As a mid-pricer heading into the 90s, that's all well and good for a stepping stone, but how many of these guys do you need? Are there better options at (or even below) his price?
Even though he smashed out a brilliant average in his last year, his first five round and last six rounds he posted an average of less than 90. Consistency is in question here. This is coupled with the Bulldogs' progression. He is obviously going to fit into the mix and he plays his best footy inside, but quite a few players developed a lot in the last 12 months from the kennel. This is another question mark over his head.
Deck of DT Rating.
QUEEN – At his best, I think he is a lock being priced at 80. Starting 2015 we probably expected him to knock up over the 100 point average barrier and he would have just continued on his merry way. I'm worried about him coming off his knee and taking a little bit of time to settle in. Even at his discounted price, there are just one or two worries that makes him not the lock I thought he may have been before writing this Deck of DT! On the fence, but possibly a pass for me… that will of course change when he plays his one or two NAB Challenge games and looks fit as a fiddle…
Loading ...
FOLLOW ME ON TWITTER: @WarnieDT for all things AFL Fantasy (and more). Got something to say about the deck? Use the hashtag… #DeckofDT.