BBL Fantasy: Round Six Preview
We'll be losing some players for the ODI's this round. Nic has all of the info you need before the round 6 lockout begins.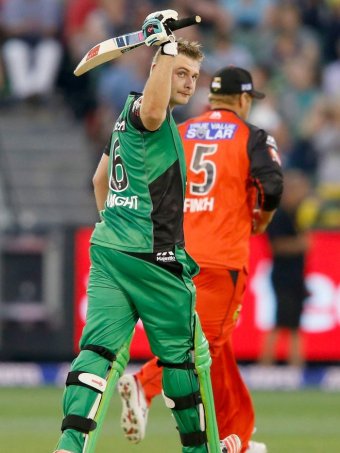 With three rounds remaining in the BBL Fantasy home and away season, we're getting into crunch time now which means you have to nail every little decision you make to maximize your overall points in this low scoring game.
Gotta Ditch 'Em All
Because Cricket Australia decided a meaningless ODI Series against India was worth derailing the BBL over, you now have to trade out any player in the ODI squad as of the 8th of January… which is in the MIDDLE of this round. Players from the Hobart Hurricanes, Perth Scorchers and Sydney Thunder will all play this week so you can hold them, but the Melbourne Renegades, Adelaide Strikers and Brisbane Heat players will all be unavailable so trade them out. The Melbourne Stars have a bit each way as they have a double game round. They'll be available for game one, but won't be available for game two on the 9th.
Who Do You Prioritize?
Obviously, get rid of any ODI squad players from the Renegades, Strikers and Heat as they are now officially out for the remainder of the eight round tournament. Hold onto your Hurricanes, Thunder and Scorchers players for another week, even if you wanted to trade them because you'll probably need your three trades elsewhere. You could probably also hold your Melbourne Stars players as they'll still play game one.
The ODI squad: Steve Smith, David Warner, George Bailey, Scott Boland, Josh Hazlewood, James Faulkner, Aaron Finch, Mitchell Marsh, Shaun Marsh, Glenn Maxwell, Kane Richardson, Joel Paris and Matthew Wade.
Expect the Unexpected
With players becoming unavailable, it means lesser known players will have to come in and fill the void. This means batting orders could become very unpredictable over the next two rounds. For example, David Willey, who opened the batting for the Scorchers before the tournament started, could return to that role in the absence of Shaun Marsh. The Scorchers could also elevate Harris or Bancroft as well as bringing back Michael Carberry. The Renegades lose both Finch and Wade which means they'll probably turn to Matthew Short while bringing back Peter Nevill to replace Wade. There are a lot of different scenarios that could affect your team so make sure you're watching when the teams are announced each night.
Give'th and Take'th
While we lose all of these players to the ODI squad, we could potentially gain back the test players who are no longer on international duties. The likes of Peter Nevill, Usman Khawaja, James Pattinson, Joe Burns and Nathan Lyon should all become available for their sides immediately. However, we have no confirmation of when or if they'll come back in so keep an eye out for teams this week. Remember, the last test match finishes tomorrow so it mightn't be until next round for some teams. By the way, New South Wales, you had one job to do… and they say Victoria rains a lot!
Captain's Round Six
In a week of chaos, it's going to be a difficult week to nail your captain with a lot of leftfield options looming as potential options.
Andre Russell: Russell is averaging an insane 75 points for the tournament and continues to produce big scores week after week. If you're looking for a safe option in all this carnage, he's the guy.
Luke Wright: Wright will be one of the few Stars players who will actually play both games this week. On top of that, we know his recent form against the Renegades is excellent having blasted 109 not out less than a week ago against them.
Dwayne Bravo: Bravo had a poor week, but expect him to bat a little higher up the order with Wade going out and he's usually pretty consistent when it comes to decent scores. If he fails with the bat, he usually delivers with the ball or vice versa.
Travis Head: On current form, you have every reason to pick him as your captain. He's averaged 78 points in his last three games and now comes up against the bottom of the table Brisbane Heat. He's a leftfield option, but a good one at that.
John Hastings: Hastings is another Stars player who will be available for both games this week. He was unlucky to miss out on ODI selection and the big man will probably be fired up to perform. He has a great record against the Renegades and should be a lock for a good score.
Smokie: This week I'm only going to give one smokie as I feel like I've been defeating the purpose of a smokie by picking five. This week's choice:  Cameron White. White's form has been up and down, but coming up against his old side at home with the added pressure of having to carry the team without Finch and Wade, he just might go big. I mean, he might not, I don't have any substantial evidence either way, but hey, smokie!
Good luck!