Ollie Wines – Deck of DT 2016
Could Ollie Wines be your sneaky pick this year? He missed 9 games in 2015 through injury, without two injury affected red vest games he could have had his first year averaging in triple figures. Can Ollie do it in 2016? Have a read to see what Dunny thinks about his chances.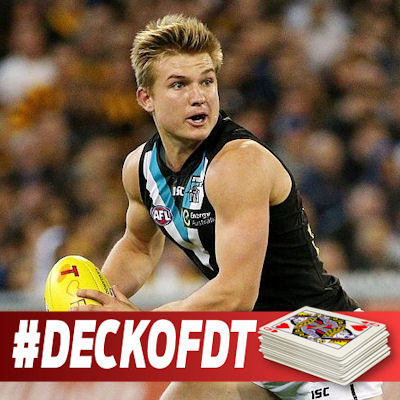 Name: Ollie Wines
Club: Port Adelaide
Position:  MID
AFL Fantasy: Approx $513,000
AFL Dream Team: $536,900
Bye Round: 14
2015 Average: 92.6
2015 Games Played: 13
Predicted Average: 102
Click here for DT Live profile.
Why should I pick him?
After playing every game for his first two years in the league, Ollie missed 9 games last year due to injury.  He dislocated his wrist early in the last quarter of the game against North in round 3 and was subbed out on 80 and then he injured his shoulder and had a full reconstruction after the St Kilda game in round 18 where he was subbed out on just 11 points.  Is this convincing me to pick him you ask?  Well, if we take those two scores out of his average for the year he rises to 101.18 (even if we leave that 80 in his numbers his average only drops to 99).  His average of last year probably isn't the best indication of his trajectory.  In year 1 he was at 74.23 then rose to 91.23 in his second year.  Without injury last year he would have continued his growth, maybe not 17 points again, but certainly over 100.
On top of this, he played the bulk of his games during the Power's horror mid year run.  Of his 12 nearly full games (so not including the Saints game where he was subbed early) Wines played in only 5 wins from 12 games.  This is significant in my opinion.  He averaged 106 in the victories and only 94 in the losses.  The important part of this is that it was widely recognised that Port have an easier draw for 2016 and with the acquisition of Charlie Dixon and a fully fit Wines and Polec they are expected to win more games than they did last year.  Wines has the propensity to score big.  A 136 v Collingwood on a wet night in a close win at Adelaide Oval was his best.  However, the narrow loss to Fremantle in round 1 saw his second biggest score of 131.  He only scored under 85 on 5 occasions last year.  Two of them I will write off as his red vest games where he would probably have gone over 85 had he played the whole game.  Of the other three they were 73 v Adelaide (only 72% TOG in a tight loss),  78 v Carlton (81% TOG in a terrible game for Port) and 84 v Sydney (84% TOG in low scoring 10 point loss).
Quite rightly Wines will draw attention from opposition teams, but he most certainly won't be the first man on the tagging list, or the second or maybe even the thrid.  Boak, Gray and Ebert are more likely to fill those positions than Ollie.  With those guys rotating through the midfield and playing well Ollie should be able to get his own ball and do something with it.  Late last year Sam Gray was one of the beneficiaries of Ollie's injury and he had a great finish to the season with the way the team was playing. If they can keep this up then Ollie should slot back into the side nicely and pick up his scoring.
Why shouldn't I pick him?
Last year we all thought the Power would be the ones to beat and had already booked accommodation for the GF.  Well we all know how that ended up. Whilst Ollie's average when the team aren't going well isn't terrible, he will certainly score better if they are winning.  But it is that concern on whether the team can pull it together this season that remains.
The other elephant in the room is that he is coming back from a shoulder reconstruction.  We all saw how tentative Gary Ablett Jnr was when he first returned last season before he got it going, will the effect on Ollie be as high?  This is a question mark for me. He is a player that relies on his bullish nature to dive in and get the ball out of a pack, will his shoulder be on his mind?  I think the one thing that he has on his side here is the invincibility of youth, he is young enough that he will just play the way he always has.
Contract talks? Well I am firmly of the opinion that this will be resolved before the season starts and won't be a distraction for him.  I can't see him wanting to leave, particularly when most of the other younger players are all committing (Hartlett, Gray, Boak and Wingard).  However if it isn't resolved by round 1 it could pose as a distraction.
Deck of DT Rating.
QUEEN – I am quietly confident on his output for this year.  If he can stay injury free and that shoulder is 100% right to go, I believe that Ollie can have a breakout season and push past the 100 average this year.  I know a 9 point jump in average is a big one, but just take that 11 out of his return from last year (and remember that he was subbed off with just 9% TOG when the Power won by 63 points at home) and he would have gotten a 99 average.
Whilst you are always looking for averages over 110 from your midfielders, I think that Ollie is priced at least 10 points lower than what he can average and for that reason you are making a nice little saving on cash whilst getting in a 100+ average potential who maybe could take that next step to 110.  Lastly, if you are a player that likes to go for a bit of a unique, I think that he could be one to look at.  Last year just under 9% of teams started with him, that could be less this year and if he gets going he could win you some matchups.
Loading ...
FOLLOW ME ON TWITTER: @pkd73 for all thing AFL Fantasy (and more). Got something to say about the deck? Use the hashtag… #DeckofDT.