Patrick Dangerfield – Deck of DT 2016
Happy New Year! Will it be a good one for Danger? Matt Craig profiles the new Cat to kick of 2016.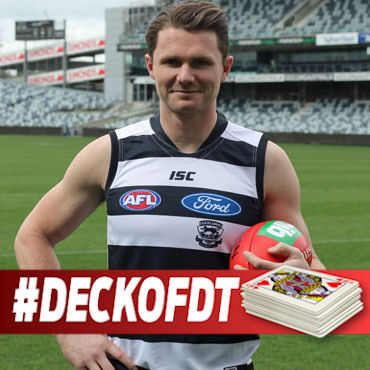 Name: Patrick Dangerfield
Club: Geelong
Position:  MID
AFL Fantasy: Approx. $590,000
AFL Dream Team: $616,400
Bye Round: 15
2015 Average: 106.3
2015 Games Played: 21
Predicted Average: 110
Click here for DT Live profile.
Why should I pick him?
It's Patrick Dangerfield, everyone likes to own the best players in the competition and Danger is exactly that. In a couple of years time he may even be the best. The point is that Danger still has time to improve, he's only 25 after all. Heading into the prime of his career, I don't think anyone can argue that last seasons average of 106 will be Danger's ceiling.
Having finally achieved his dream to live closer to his family, Dangerfield should thrive on the opportunity to play for the Cats. It was often argued that Danger needed more help to fight off the tags, I think it's safe to say that having two Selwood's in the team alongside tough nuts like Caddy should help with that.
He has always had the capability to go big, passing 130 on at least 3 occasions for each of the past 4 seasons. Consistency had previously been his downfall, however last season he scored 100+ 12 times and only fell below 86 twice.
I always like to refer to the Michael Clarke rule. What is that you ask? Let me explain. Clarke had scored 17 test centuries but had a habit of getting himself out shortly after, managing a high score of 168. On the 18th occasion (against India), he went on to score his first double century. After that he ended on a lazy 329*. Having realised there was more runs to be had after reaching 150, his next 3 centuries read as 210, 259* and 230. Dangerfield has never reached 150 DT points, it's a scary thought to think what he could average if he breaks through this mental barrier! 106 is certainly not his limit.
Danger will be a popular selection for a lot of casual Fantasy coaches, however as he's 'fully priced' (Not to mention the amount of times he has burned us) I think Dangerfield will be more of a unique pick for us serious coaches. With a host of tasty premiums available and mid-pricers such as Liberatore and Crouch, finding room for Dangerfield will be difficult. Being a match winner, he would make the perfect differential to win a league matchup! As he's so expensive, it won't be easy to get him in if he starts on fire…
Dangerfield has a high ceiling and is now becoming more consistent. I don't think it will be long before he is posting an average comfortably above 110, but will it be this season?
Why shouldn't I pick him?
There are obvious question marks that need answering before we consider splashing the cash. Danger is a big risk, and while he's capable of producing a month of pure brilliance, he could just as easily produce a month of tripe and find himself close to $500k. He will be expensive at approximately $590k, you'll be able to get guys like Ablett, Rockliff and Beams cheaper.
Even though Geelong has bolstered its midfield over the summer, I can't see much changing for Dangerfield. It's likely that he will get the hard tag almost every week, and he hasn't proven to be as good as Gazza when it comes to breaking a tag. Not that anyone is as good as Gazza…
Dangerfield is a notoriously slow starter to the season, averaging 97, 81, 85 and 81 in his first 4 games over the past 4 seasons respectively. If he follows that pattern again, his price could take a huge hit before every man and his dog picks him up cheaply.
We won't know which bye is most suitable until pre-season competition is well and truly underway, so forget about that for now…
Deck of DT Rating.
ACE – Dangerfield is in the best 5 players in the comp, and finally his Fantasy scores are starting to represent that. He is a player capable of blowing the competition apart and averaging 115+, but he could also cause you more trouble than Dustin Martin with a pair of chopsticks.
Loading ...
FOLLOW ME ON TWITTER: @mattcraigDT for everything AFL Fantasy (and more). Got something to say about the deck? Use the hashtag… #DeckofDT.